It was with great excitement that I booked the huts for the Milford Track in New Zealand for April 9 next year. Despite being over 6 months away, some of the dates were starting to get booked out, so I decided to pick a date and reserve the huts, which are the shelters you stay at each night. It is after all one of the most popular hikes in the world, and it is highly controlled because of that. You have to do it in 4.days, and you have to stay in the designated huts on each night.
After 8 months in South America, I will be returning briefly to Los Angeles in mid-January before flying to New Zealand in early February. I still want to do all the 9 Great Walks in 3 months, so I estimate that after two months I should have done the 6 walks north of Milford Track, as I start from north to south.
The New Zealand Department of Conservation has a great website for all the Great Walks, with detailed information, maps, elevation profiles, videos, and so much more. You can also easily book everything online.

In total, the reservation came down to 362 NZD, which is around USD 285. Pretty expensive for a 4-day/3-night unguided trek. It does include transportation to and from the starting and ending points. Each of the three huts cost 54 NZD, the rest of the fees are for two boat rides and two buses.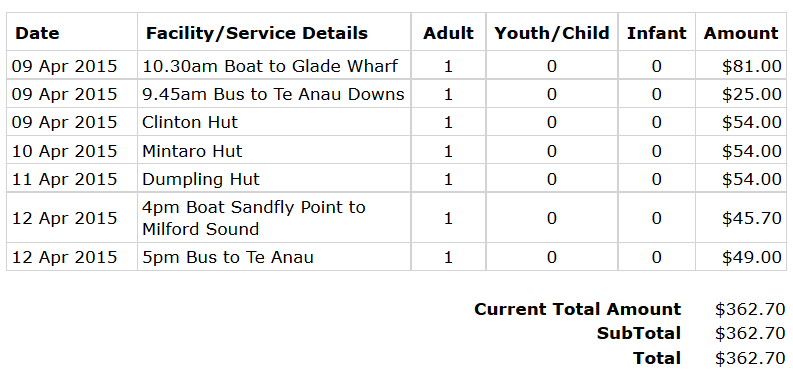 Of of the 9 Great Walks, Milford is the hardest one to book. As for the rest of them, I believe a couple of them will have be get booked a couple of weeks in advance, and the rest could just be done a few days prior.