Part of the New Zealand Great Walks Journal
Previous entry: Day 2 – Clinton Hut to Mintaro Hut
Journal entry for April 11, 2015
Distance Hiked: 14.0 km
The night was slightly colder than the previous one. My old down sleeping bag has compartments where there's almost no down feathers in them, and on cold nights I can really feel it. There was a kid in the hut who was having dreams or nightmares and was screaming really loud.
When I woke up at 7 everyone else was already up. I made an effort to be on the trail by 8 since it seemed like it could be a long day with the 1.5-hour side trip to Sutherland Falls.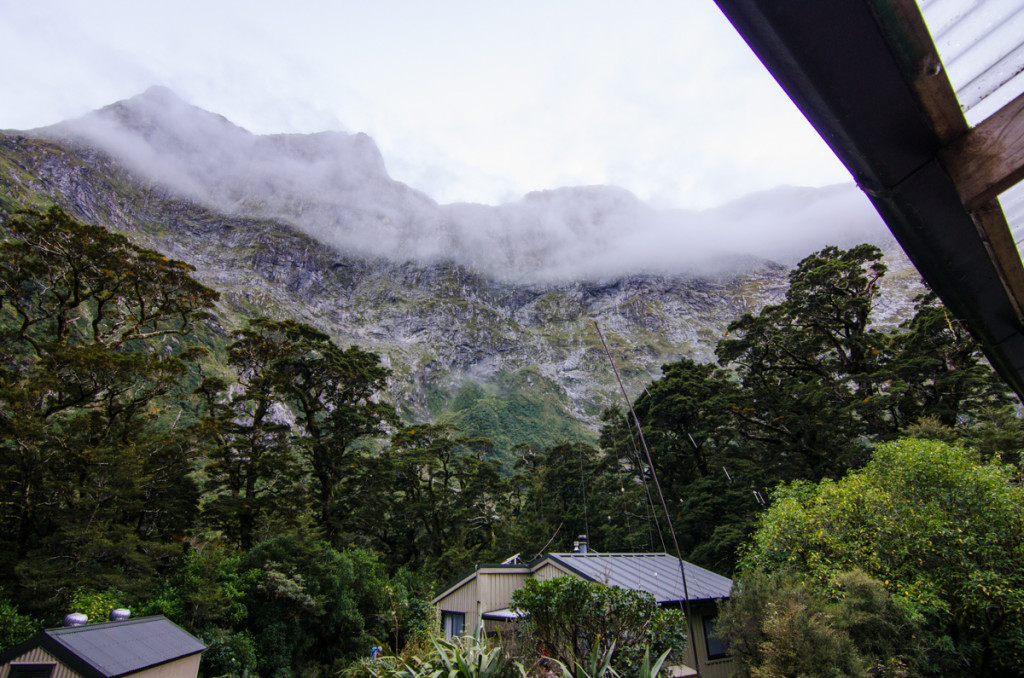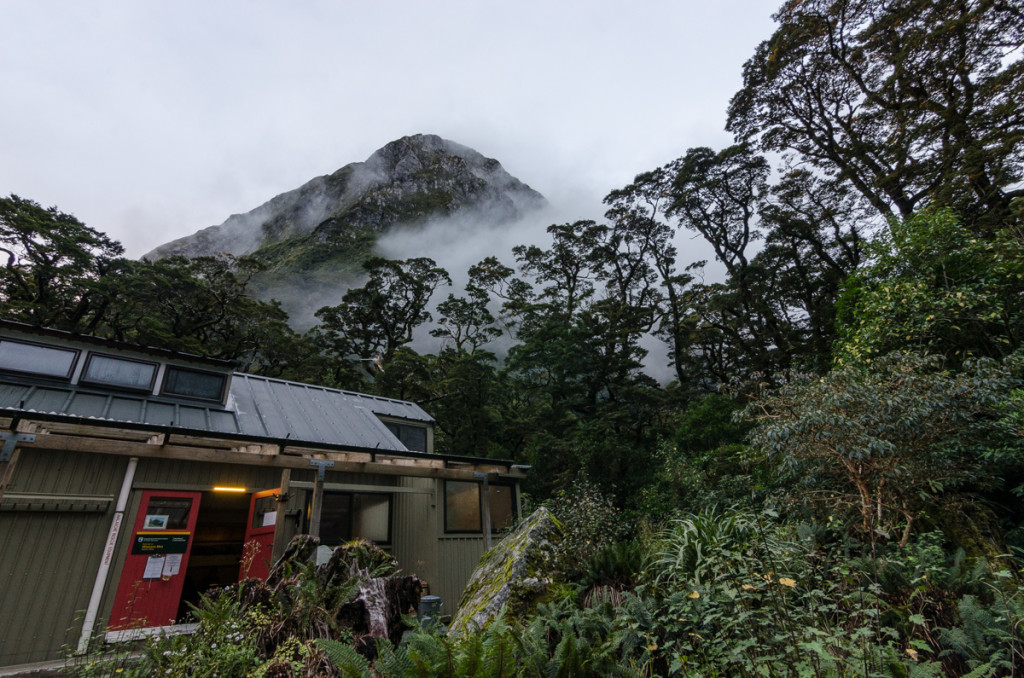 While there was still no rain, it was very cloudy and foggy in the morning. I started hiking with down jacket and gloves on, but soon warmed up going up to Mackinnon Pass. The ascent wasn't too bad. It was super foggy and windy at the top. My thermometer indicated 4°C.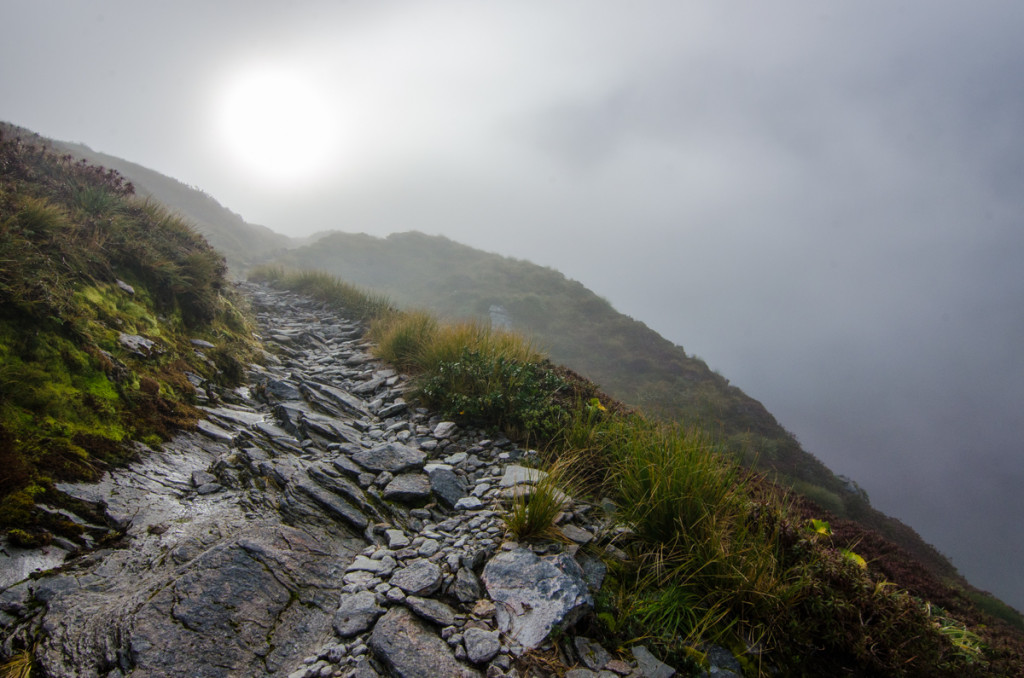 There's a memorial up at the pass for Quintin McKinnon (I don't know why they spell the pass differently), the surveyor who first discovered this walking route from Lake Te Anau to Milford Sound.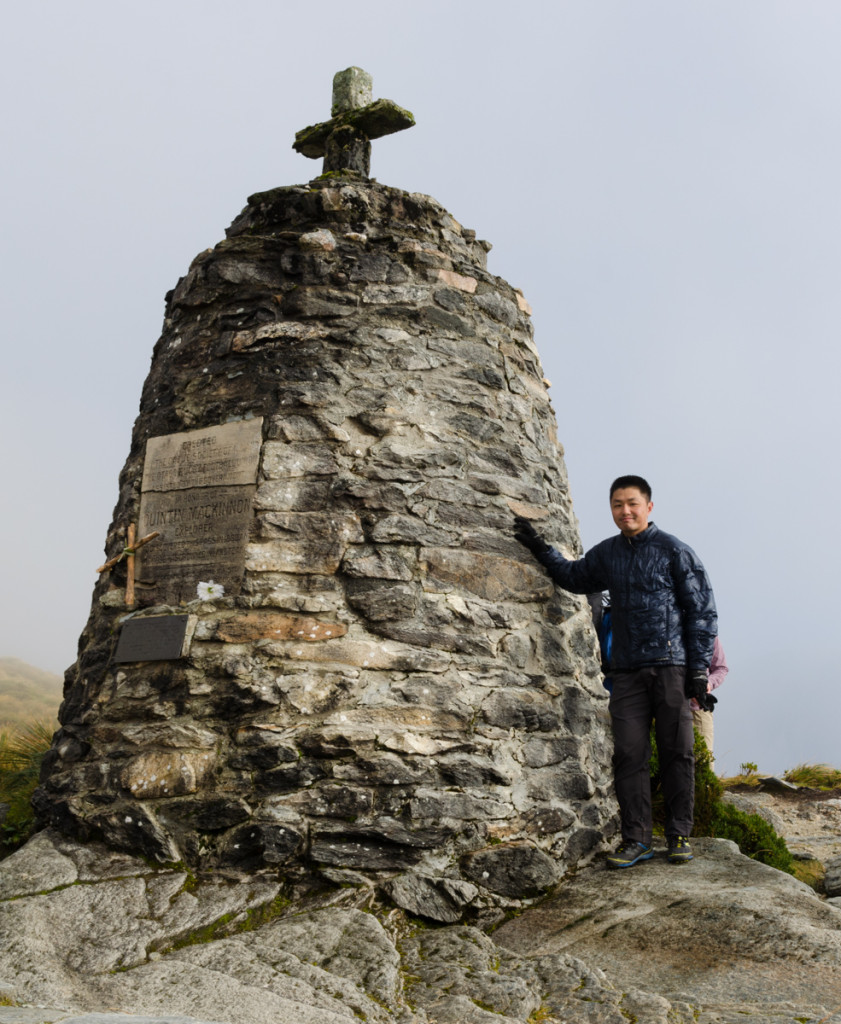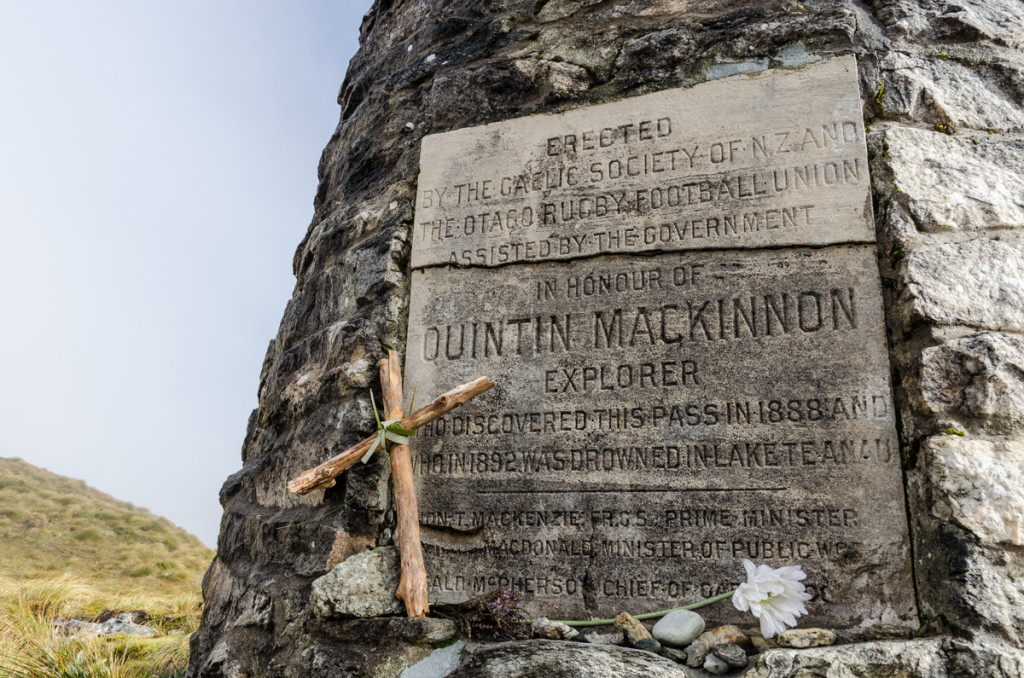 It was very special seeing the clouds and fog move so fast because of strong winds. I stayed at the memorial with Dor (the guy from Israel) for a while, hoping that the clouds would soon clear to finally give us views of the surrounding mountains. I was freezing after 10 minutes and decided to move on.
On the other side of the pass is a shelter, and there was another example of the segregation on the trail.
There are two ways to do the Milford Track. One is to do it independently while staying in huts, the other way is through guided groups by the company Ultimate Walks. At over 2,000 NZD per person, hikers get all of their meals cooked for them, and stay in private lodges with hot showers and regular beds. I don't have a problem with people wanting to pay so much for added comfort, I'm sure hardcore mountaineers might feel that staying in huts like I was doing is too easy and luxurious. So it's all relative. But I don't like this flat-out segregation in a shelter, as if they just couldn't mix with us "regular" hikers.
After lunch at the shelter, the clouds finally cleared, so Dor, Anna, and I made the 10-minute trek back to the pass to enjoy the views.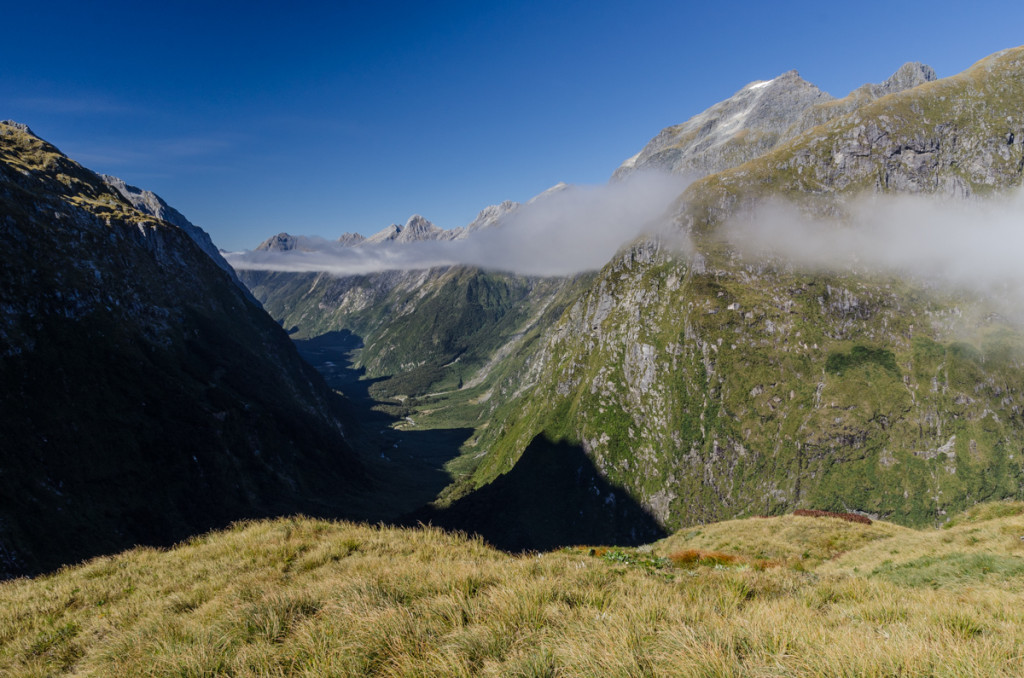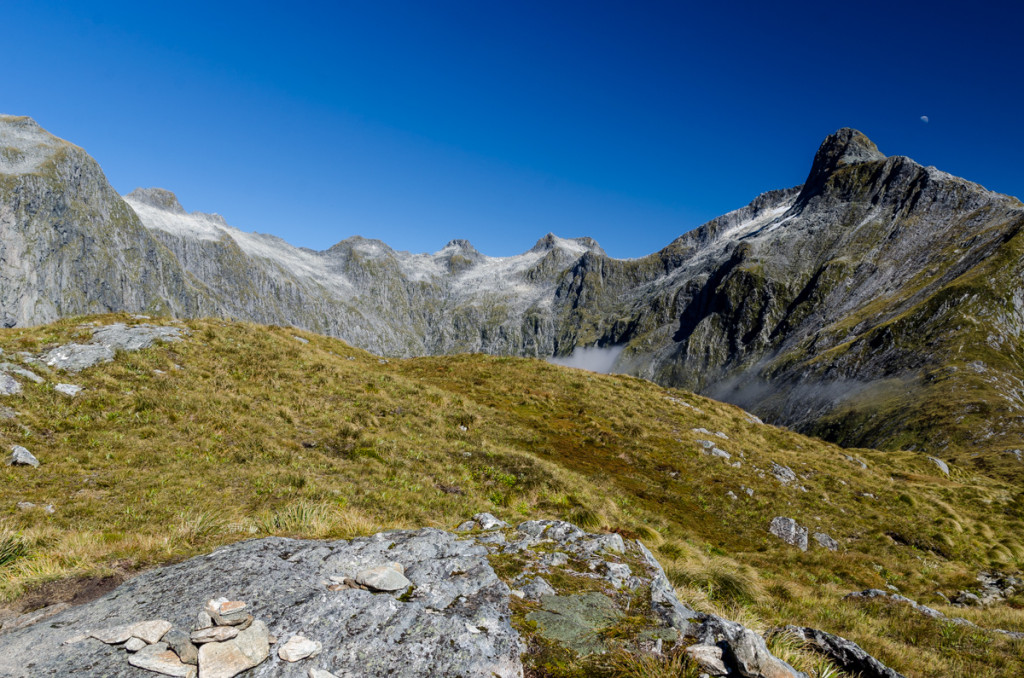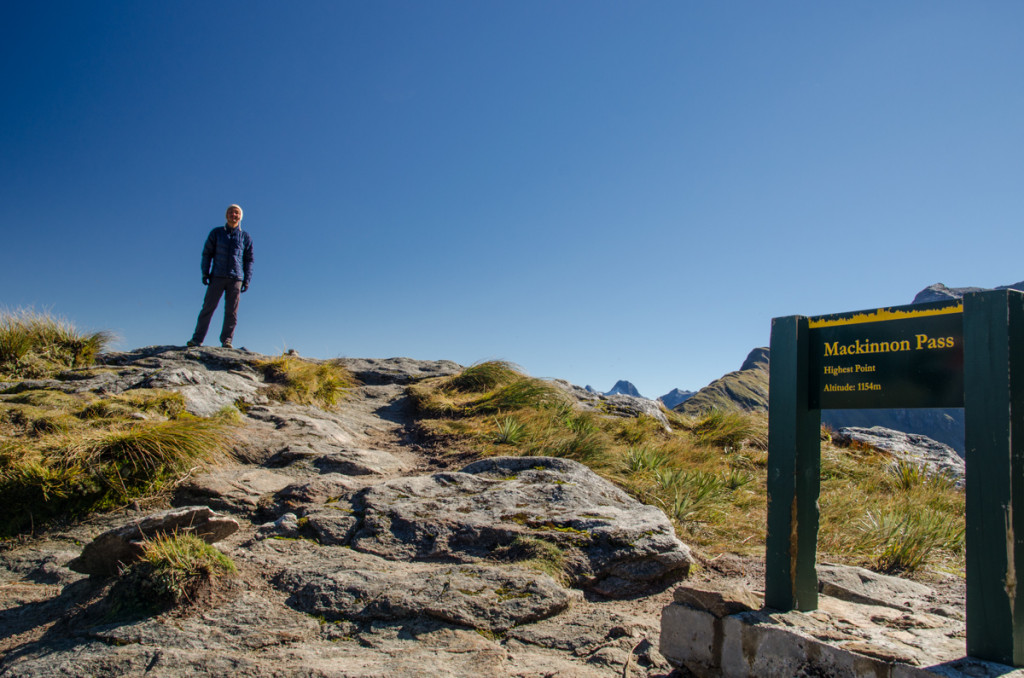 The trail starts to descent from the pass, passing through a few streams and small waterfalls. The steeper sections all have stairs and boardwalk for the hiker's convenience. I still had to concentrate with each step, and make sure I didn't re-injure my knee.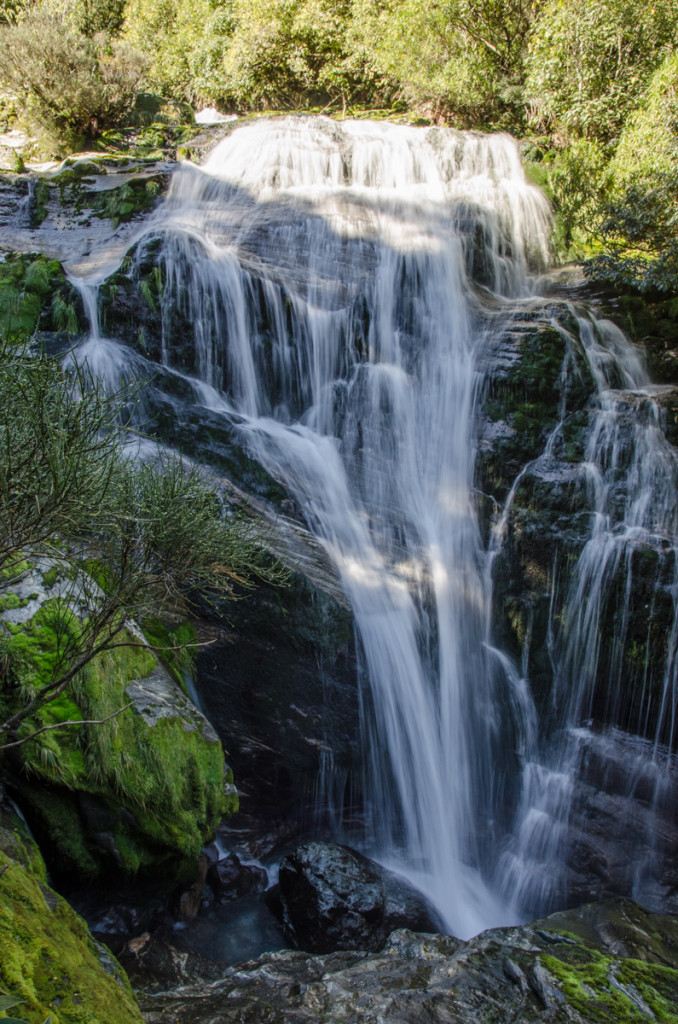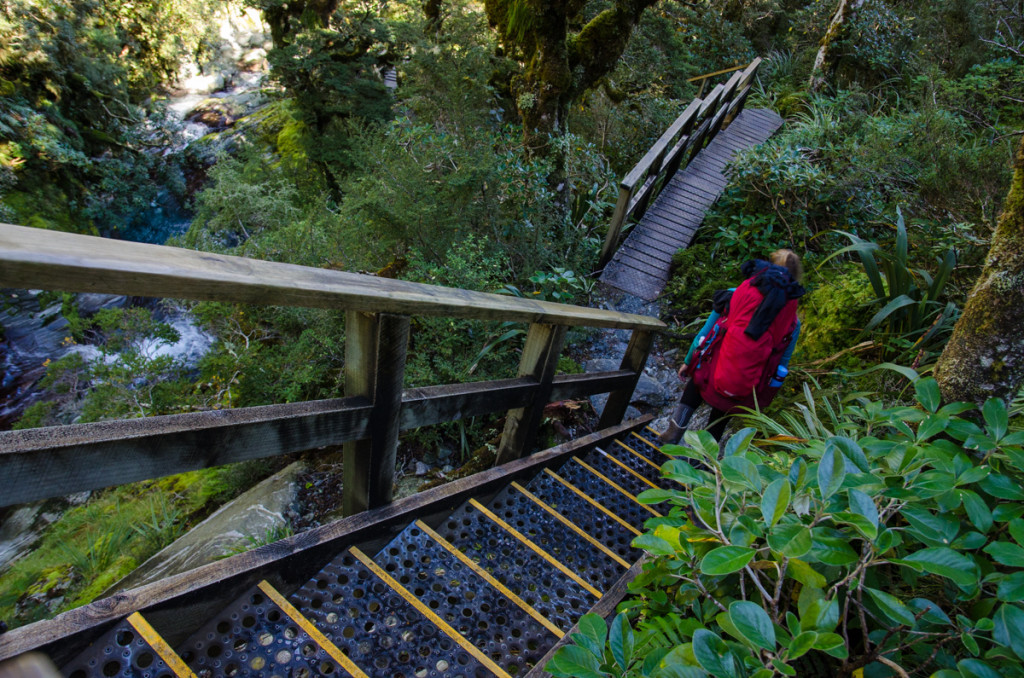 I stopped at Quintin Shelter to eat a snack, and have some free coffee offered there. Maybe they were provided by the Ultimate Walks company, which owns the nearby hut? Maybe they are not that elitist after all?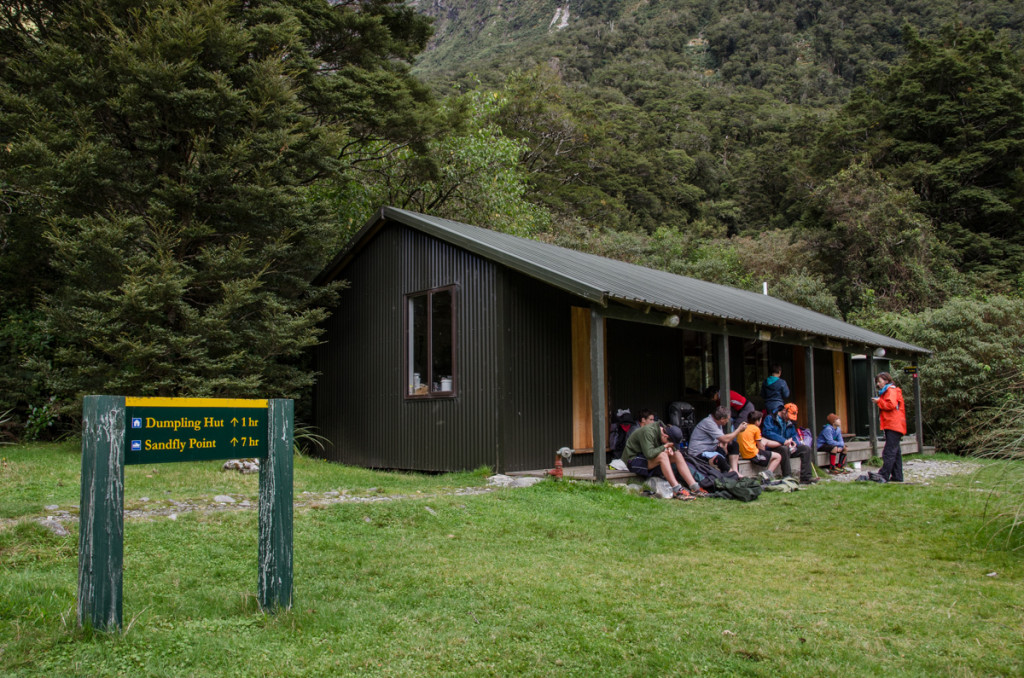 From the shelter is about a 45-minute walk to Sutherland Falls. As usual I don't like to read about a place or look at pictures before a visit, as I don't like to form high expectations. I had no idea about Sutherland Falls but when I saw it I was more than impressed. At 580 meters, I would have hiked three days just to see these falls. The weather and lighting were also perfect by the time we got there. Thirty minutes before that the sun was still too strong.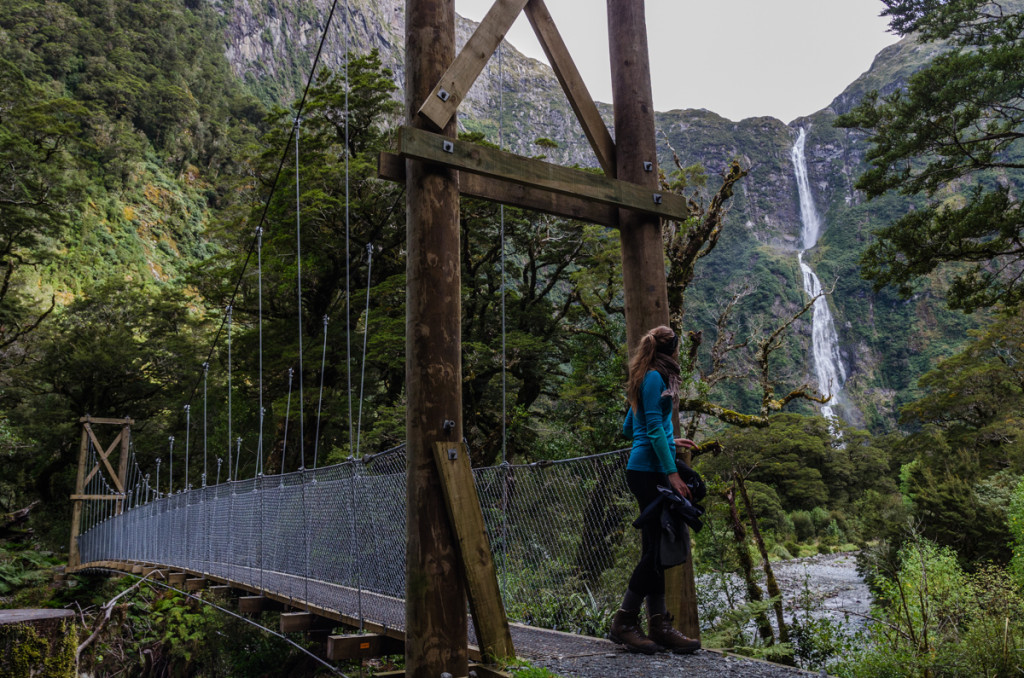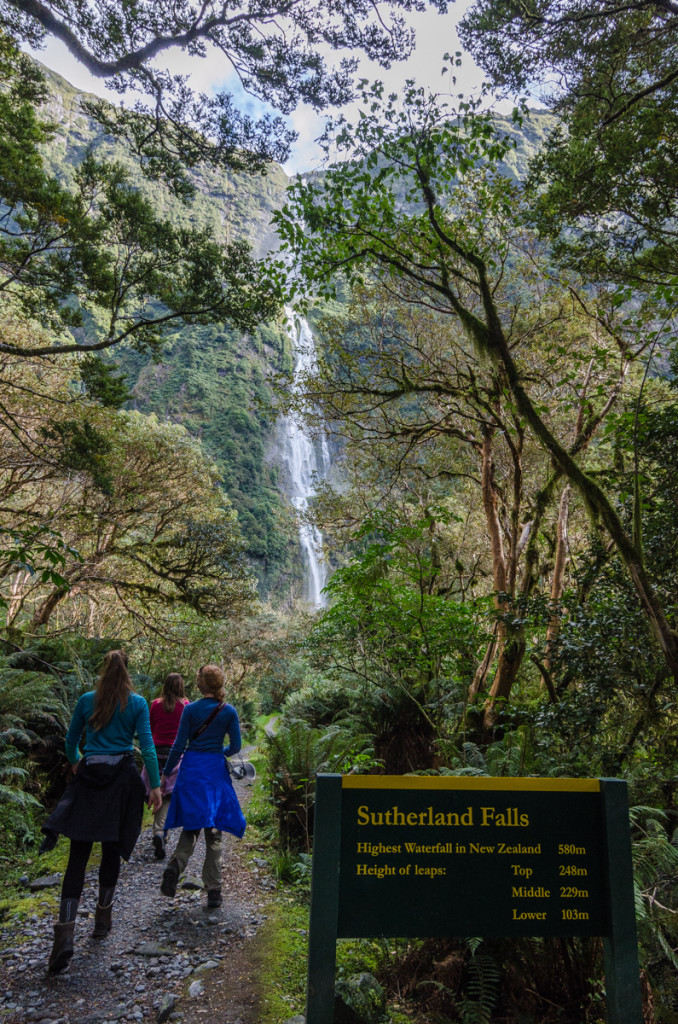 Back at Quintin Shelter, it was another 45-minutes to Dumpling Hut, the end of the third day on the Milford Track.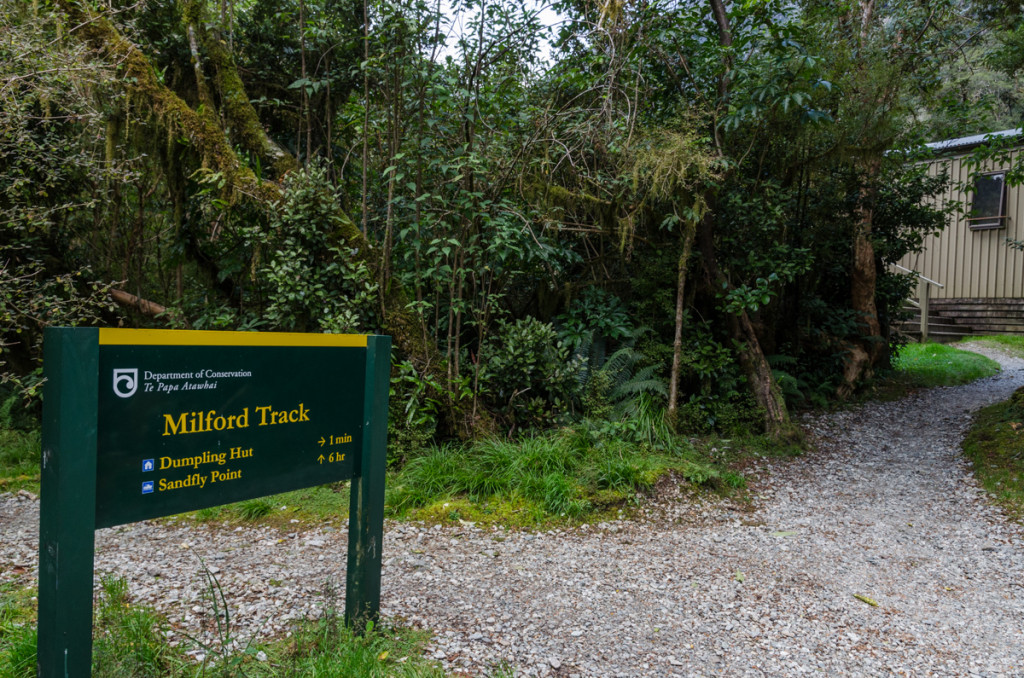 The hut has four separate bunk rooms, each with 10 beds. I shared one with the seven Australians.
As I finished the third day, I felt very lucky to have gotten no rain at all thus far. But that was certainly going to change on the following day. Jen the hut ranger told us that rain (and maybe even hail) was coming for sure that night. She also told us that some sections on the track were prone to flooding, so if it rained strongly throughout the night, she would wake us all up at 6am, so we could be out by 7 to try to go through those sections before the flooding got too severe.
---
More info:
NZ Department of Conservation's brochure and video for this walk.
---
Next entry: Day 4 – Dumpling Hut to Sandfly Point
Part of the New Zealand Great Walks Journal