Previous entry: Stewart Island, In Between Great Walks
Part of the New Zealand Great Walks Journal
Journal entry for April 22, 2015
Distance Hiked: 18.8 km
I usually sleep very well but every once in a while I get a horrible night of sleep, and the night before I started the Kepler Track was one of those. As I laid in bed around 8am after sleeping for only about one hour, I thought about delaying the start of this hike for another day, but after getting up and feeling not too bad, I walked to the nearby Department of Conservation office to get the latest update on the track conditions.
The plan was to do this track one week before, after the Milford Track, but sections of the Kepler was closed due to heavy snowfall. After hiking the Rakiura Track in Stewart Island, I had gotten back to Te Anau the previous day in a hurry, as there was a window of good weather starting this day. I went ahead and booked the hut tickets. Being close to the end of the season, there were plenty of spots left. I could see that the snow from nearby mountains had melted, and the DOC office confirmed that most of the trail was snow-free. I'd be doing it in four days and three nights, as suggested by the official brochure.

Kepler Track is one of the three Great Walks in this area, the other two being Milford and Routeburn Tracks. Being a loop, the Kepler is the most accessible one of the three, as it starts and ends only a 45-minute walk away from Te Anau. This means no expensive shuttle/ferry services.
After getting the hut tickets I went back to town and to finish packing and get lunch. I didn't start hiking until noon, and arrived at the trailhead after a 45-minute walk on the shores of Lake Te Anau. With only one day of rest after finishing the Rakiura Track, I was starting the Kepler Track.
The first section is through beautiful, peaceful, flat forest. Lots of big mushrooms everywhere.
The trail hugs Lake Te Anau until it hits Brod Bay Campsite, after which it starts an 800-meter ascent through long switchbacks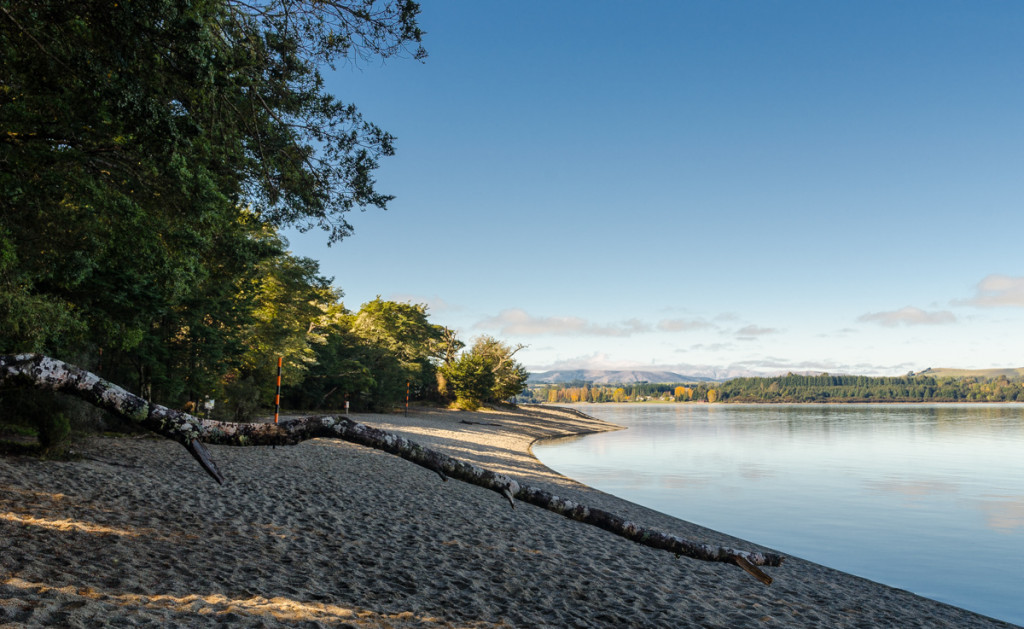 The grading of the trail during the ascent is such that it never felt too steep or demanding. As usual per Great Walk standards, the track was in great condition. I was feeling alright despite the lack of sleep. After passing through some beautiful limestone bluffs, the trail clears the treeline and reveals spectacular panoramic views. Mountain ranges everywhere. The sun was dropping and it shined directly into my face. A memorable moment.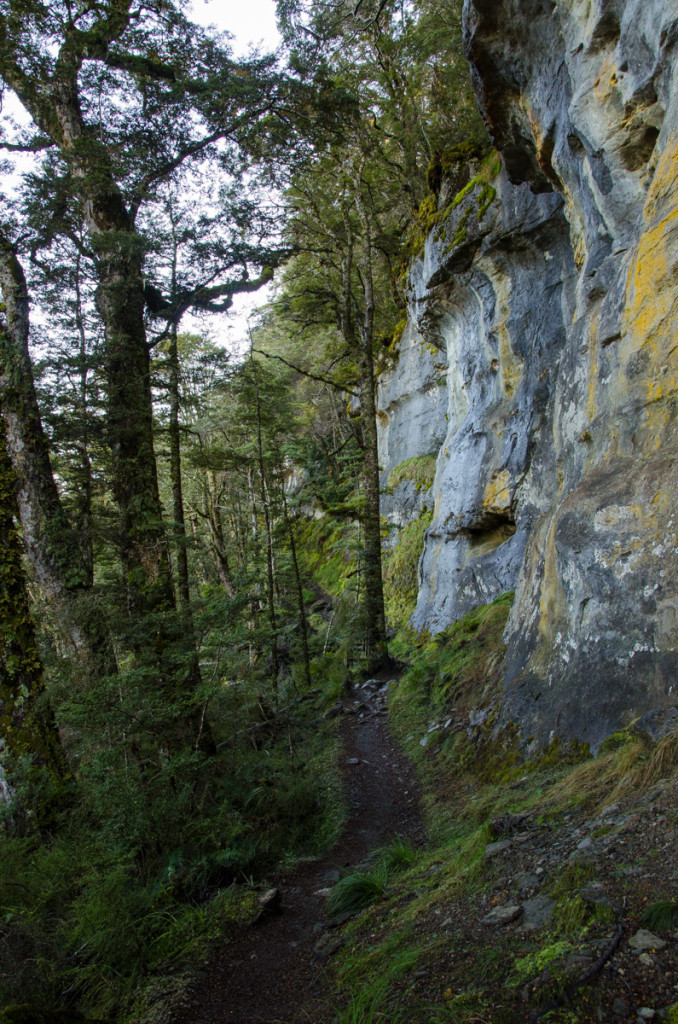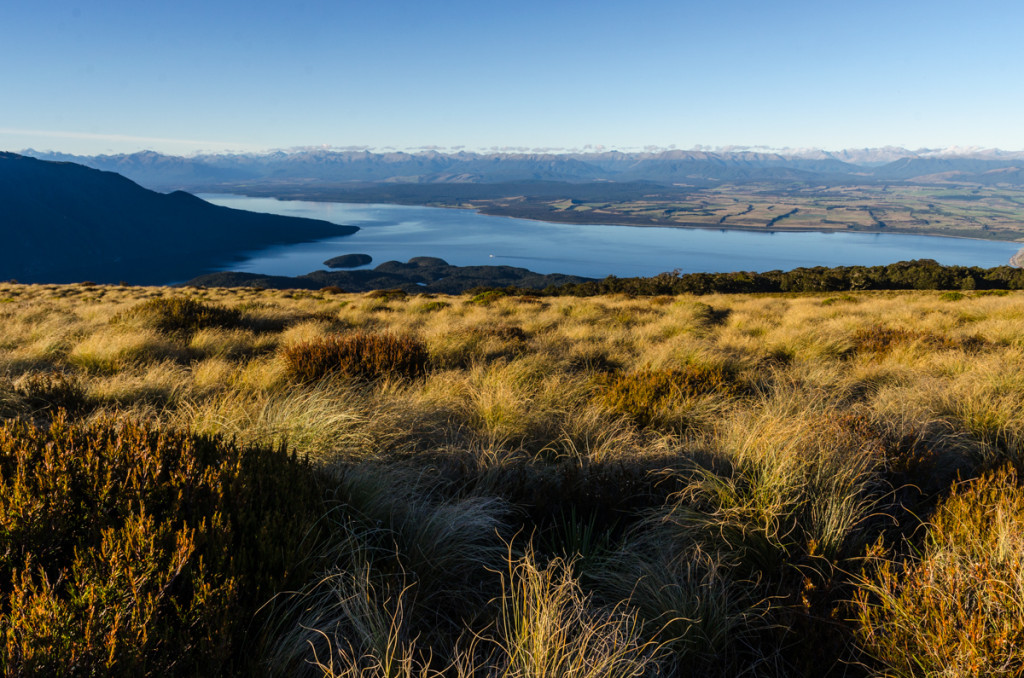 The trail becomes a boardwalk before arriving at Luxmore Hut. With 54 beds, the hut is huge and modern and has great views of Lake Te Anau, especially during sunset.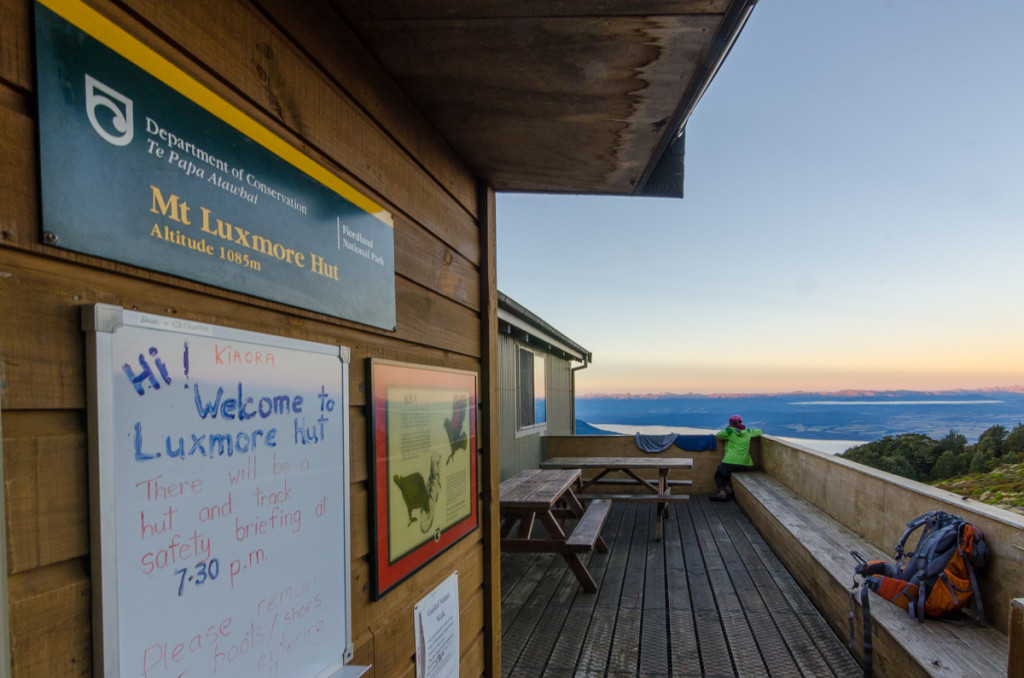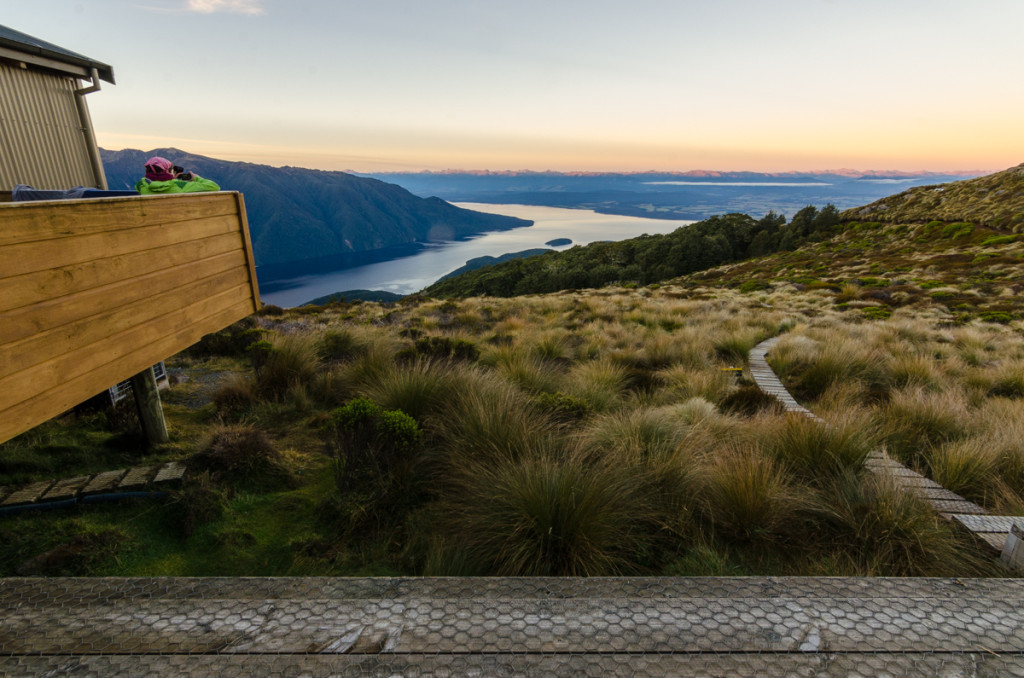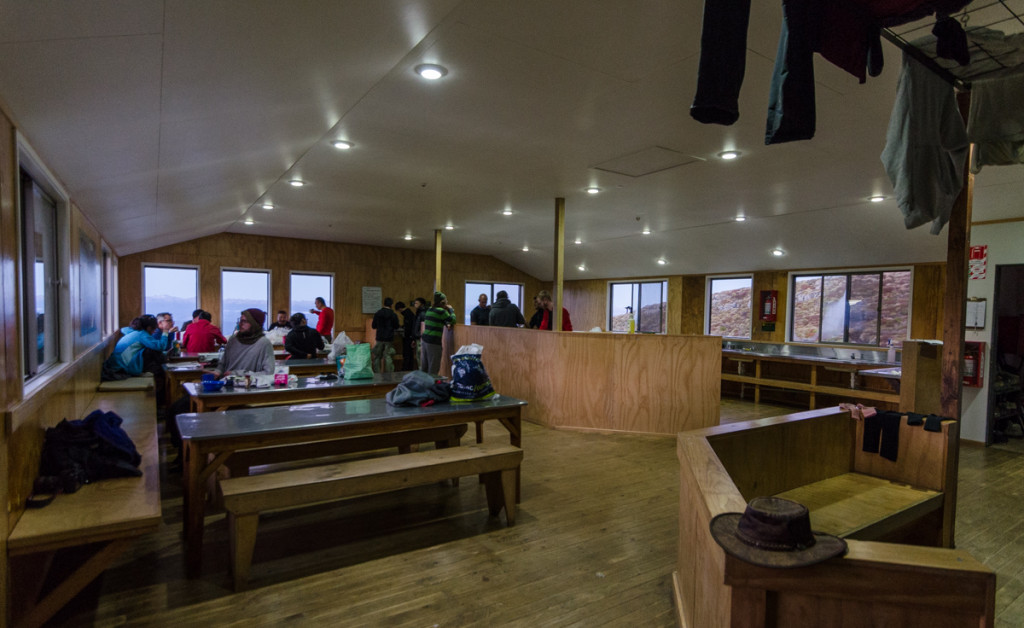 I was feeling fine most of the day, but as soon as I stopped hiking I felt exhausted. There were many people in the hut but nobody had started a fire. I saw a guy trying to light up a huge log with cigarette lighter, so I offered my help. I quite enjoy starting fires and getting better at it. This one was a little difficult to start because of the lack of small pieces of food. After blowing into it and babying it for about half an hour, it finally got going. I ate dinner quickly and went to bed before 8pm. I was so tired that I felt asleep right away without wearing earplugs, and didn't get bothered by the usual noise of people in huts as they go to bed.
---
More info:
NZ Department of Conservation's brochure and video for this walk.
---
Next entry: Day 2 – Luxmore Hut to Iris Burn Hut
Part of the New Zealand Great Walks Journal