Previous entry: Kepler Track Day 4 – Moturau Hut to Te Anau
Part of the New Zealand Great Walks Journal
I did see a bit of the Milford Sound (mainly the southern tip) from the ferry after finishing the Milford Track, but I didn't feel like I got to know it very well at all. The day after finishing the Kepler Track, I run into Oliver, Martin, and Oscar (whom I had met a couple of days before on the same hike) at the hostel I was staying in Te Anau. They told me they were going to drive to Milford Sound and do a 2-hour cruise ship tour the following day. They invited me to come along and I gladly accepted. We ended up choosing the cheapest mid-day 2-hour tour available with Go Orange, at 70 NZD per person.
Averaging 7 meters and 182 days of rain per year, Milford Sound is one of the wettest places in the world. When it rains the visibility is bad, but you get to see the hundreds of waterfalls come alive. Most of these falls dry up a few hours after the rain stops, so you can't really get both the falls and good visibility unless you happen to be there when the sun comes out right after a storm. For us though, it was full on rain all day long, so it was foggy but we got to see crazy waterfalls.
The 2-hour drive from Te Anau to Milford Sound?was fantastic, with the same hundreds of waterfalls I saw when I took the shuttle back from Milford Sound. There are about five companies all offering similar tours at the southern tip of Milford Sound. The Go Orange ship that we took was decent, and we were given a small portion of "free" fish and chips.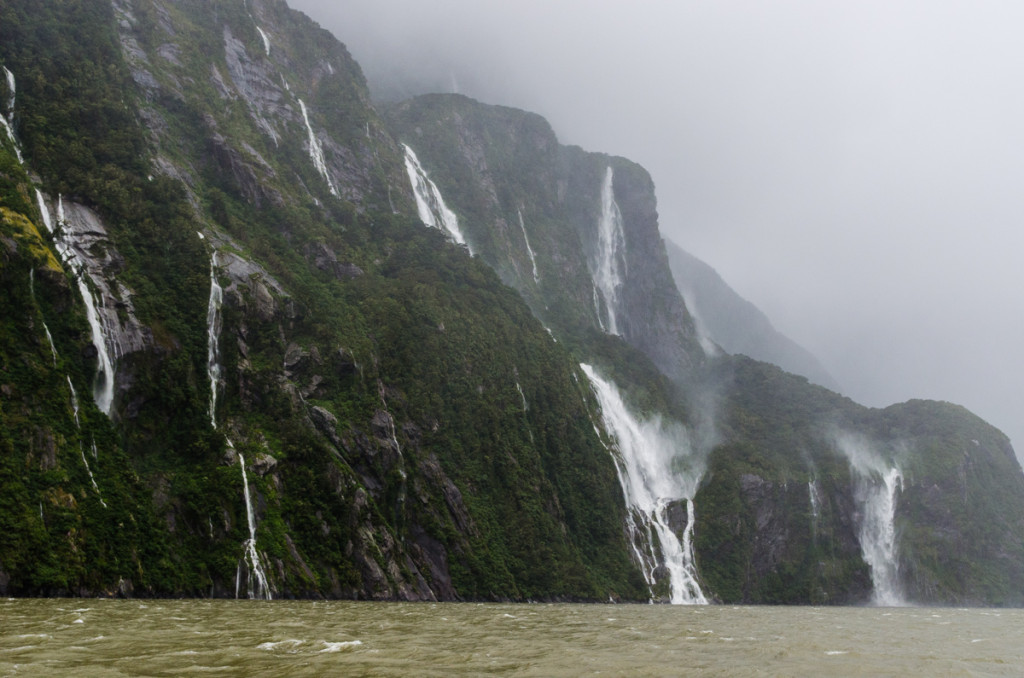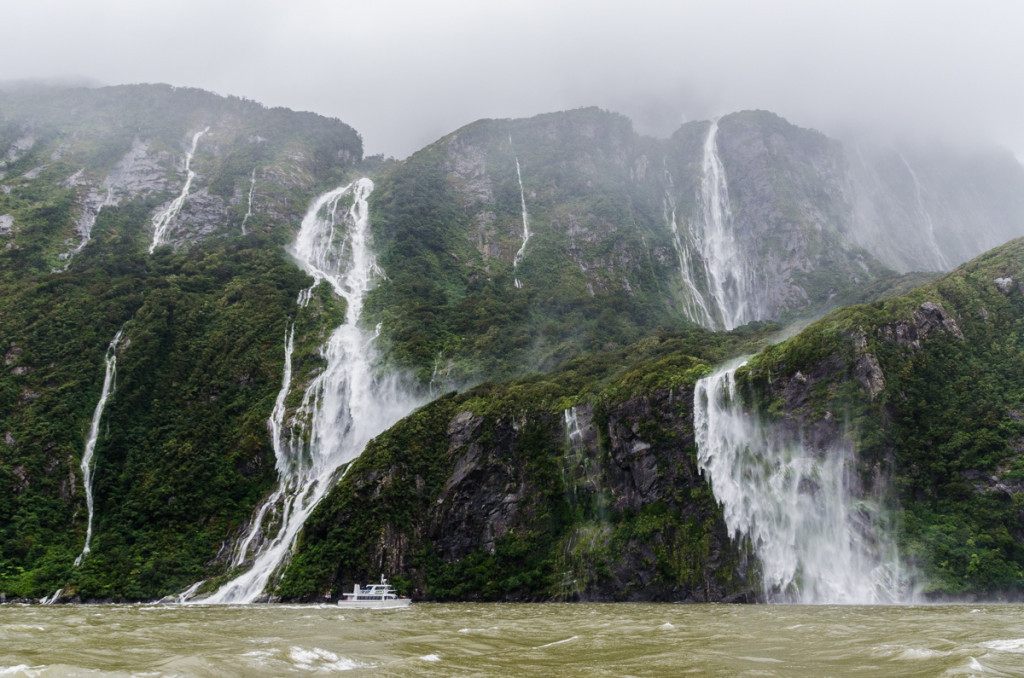 I was glad to get the chance to properly see Milford Sound. With this I felt that my time in this region was complete. The weather was turning colder by the day, so I was happy to move north to warmer climates.
Next entry: Coastal Pacific Train, Hitchking, And Nelson, In Between Great Walks
Part of the New Zealand Great Walks Journal