Part of the New Zealand Great Walks Journal
Previous entry: Day 3 – Mitaro Hut to Dumpling Hut
Journal entry for April 12, 2015
Distance Hiked: 16.0 km
Jen the hut ranger had told us the night before that if there was heavy rain throughout the evening, she would wake us up at 6am so we could be out by 7 and hike through flooded areas before they became too dangerous. That's exactly what ended up happening. I could hear throughout the night the heavy raindrops hitting the hut's roof.
Everybody was scrambling in the rain and darkness to get ready to hit the trail. I left around 6:45 with Carla, Alicia, and Anna, and we stuck together for the rest of the day. It was still dark and hiking with a headlamp was a bit hard. Switching it off made me see better as the sun was slowly coming up.

It was exciting and I was having fun. It was the last day and I didn't have to worry about getting my clothes wet since I knew I'd be returning to town that day. The thunder, lightning, rain, and water flowing everywhere made for a long adrenaline rush. It was cold, must have been around freezing temperature since soon enough it started hailing.
I was hiking with my usual trail running shoes and in situations like this I find the first big puddle of water and step right into it, just to get it over with. The shoes and non-waterproof pants were going to get wet anyway, so I might as well do it right away. It felt liberating. It moments like this I feel very good about my choice of not hiking with heavy waterproof boots because it doesn't matter if you pair them with waterproof pants and gaiters, they will get wet, and once water gets inside, it won't come out. Running shoes on the other hand drain the water out after only a few steps.
We were soon hiking by the Arthur River, and the amount of water and the speed it was flowing at was unbelievable. There was water flowing everywhere, between trees and on the sides of the trail. Water fell down hundreds of meters through waterfalls from mountains all around us. Small water streams became big ones. Some of them were knee-high and we had to cross many of them without bridges. There were dozens or perhaps hundreds of waterfalls everywhere. Such an unreal and energy filled experience.
We passed a bunch of people. We were walking very fast mainly to keep ourselves warm, but also to try beat the rising water streams. The hut ranger had told us that we would start the day at mile marker 22, and the sections most affected by flood were those between miles 22 and 28. The worst part was when we reached this swampy area with a big pool of water, about 25 meters long. The bottom of it consisted of slippery uneven mud. The water came up almost to my waist. Other than that, the other parts of the trail were pretty flat and non-slippery.
We reached mile 28 with a bit of relief, and slowed our pace down after that. The rest of the trail borders Lake Ada. The rain had let down a bit. It also felt colder for some reason, maybe because of our slower pace. I hiked the last mile or so with Carla, as Alicia and Anna dropped back a bit. We were the first ones to arrive at the shelter at Sandfly Point, the end of the Milford Track. It took us 3.5 hours to get there. We were glad that it was an enclosed shelter and not just a roof. No fireplace inside though, but we were just happy to be able to change into our dry clothes. The rest of the hikers who shared this adventure with me over the last 4 days arrived one by one to the shelter over the next 2.5 hours. This was the friendliest group of people I had met on the four Great Walks I had done thus far.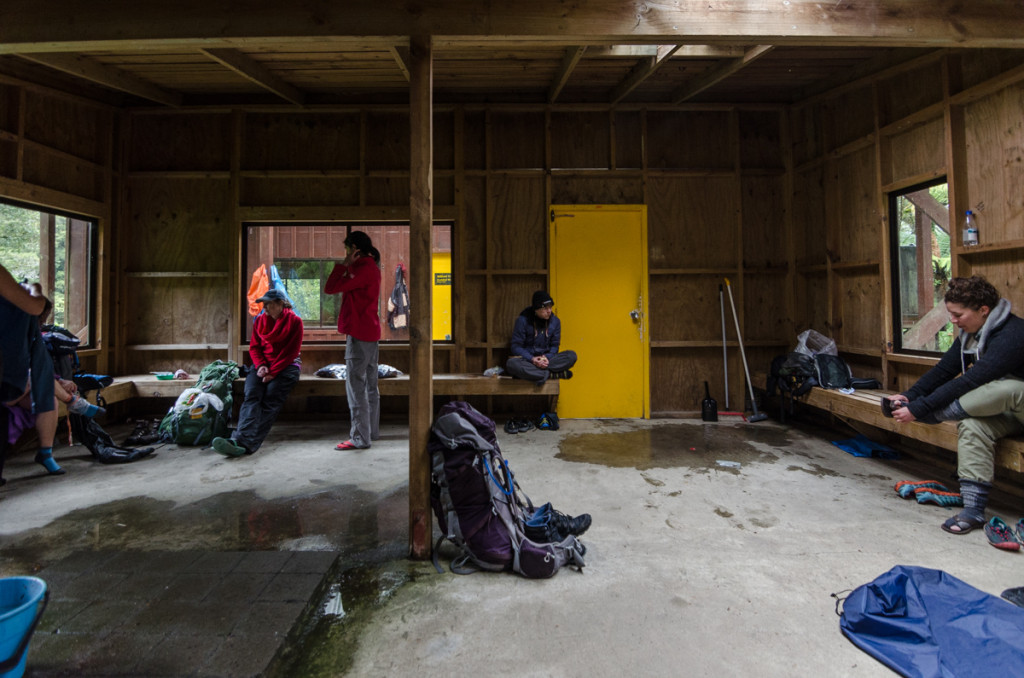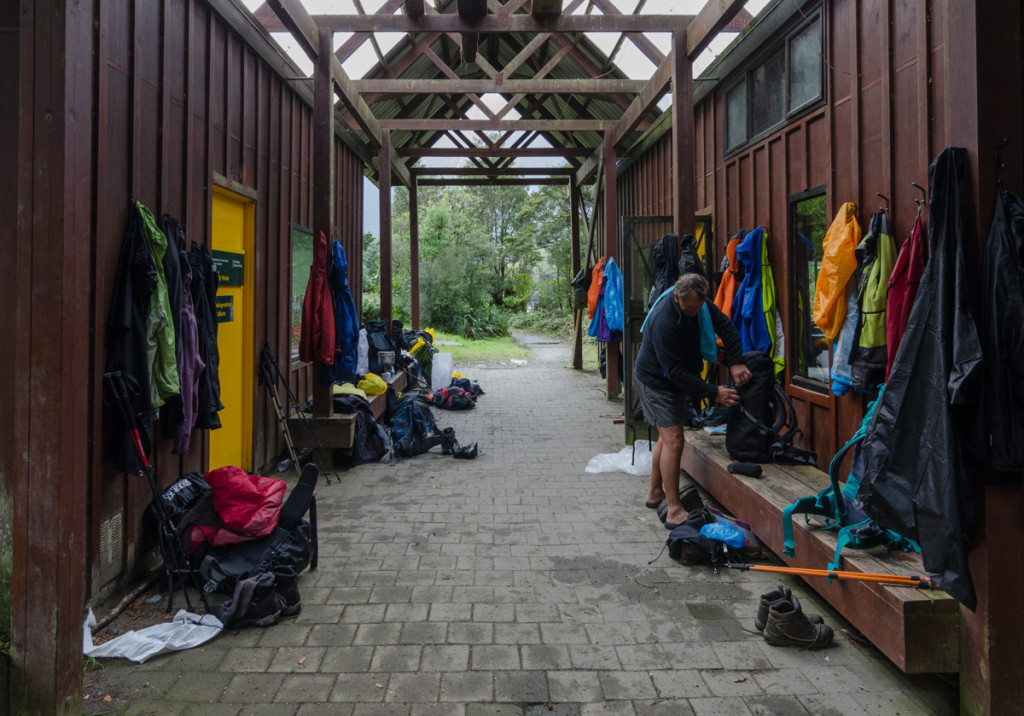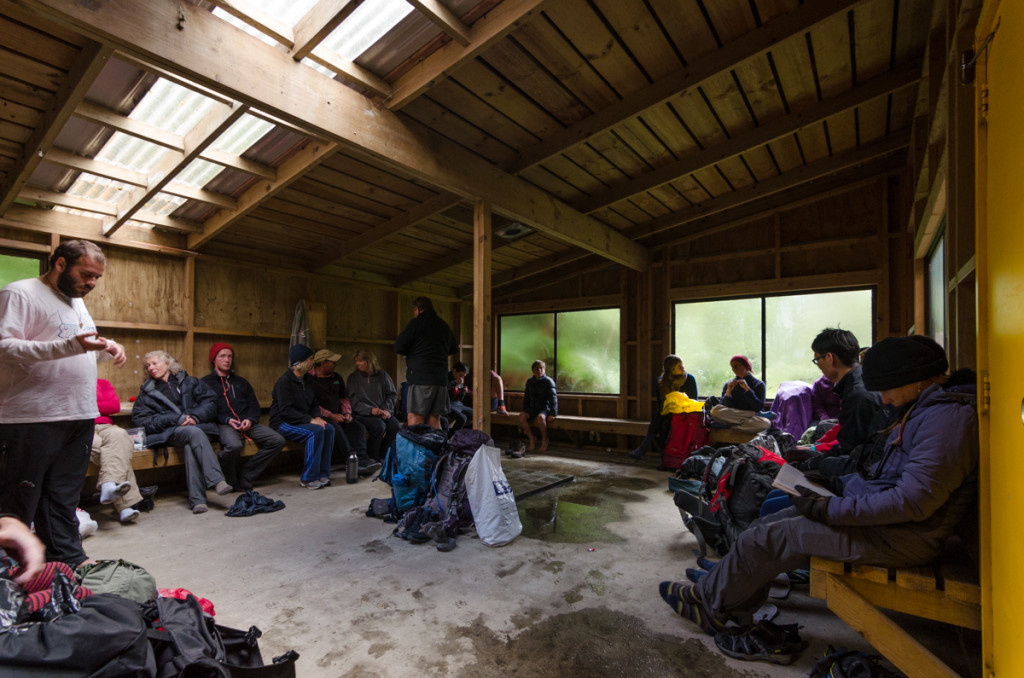 The first views of Milford Sound were amazing, surrounded by mist, waterfalls, and snow on top of the peaks.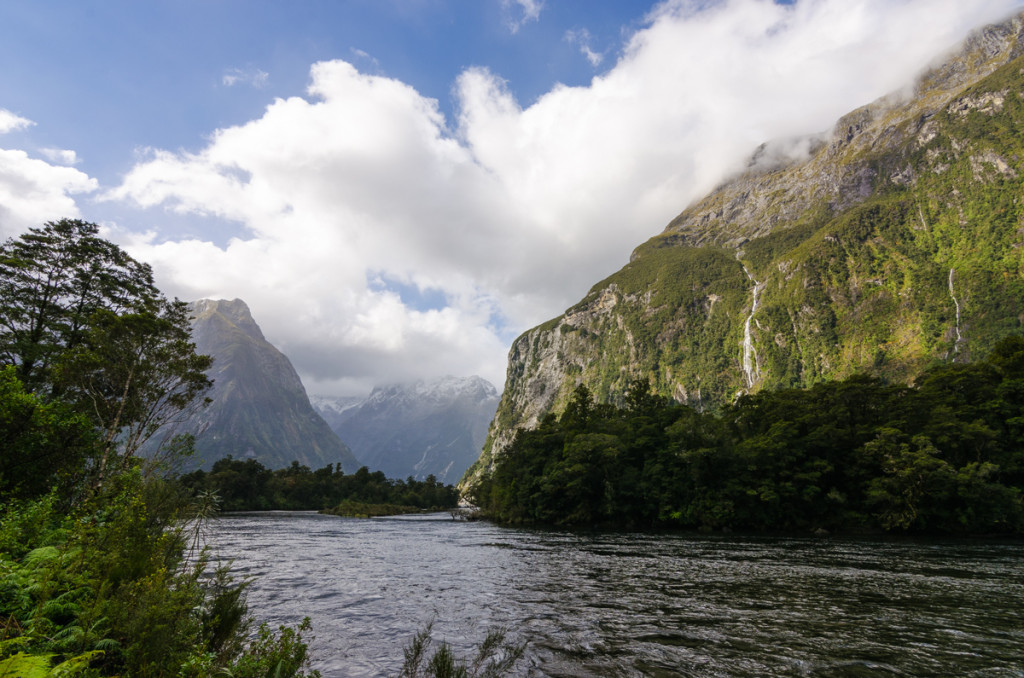 My reservation was for the 4pm ferry to Milford Sound, and the 5pm bus from there to Te Anau. Thankfully they let me and everybody else board the 2pm ferry and 2:30 bus.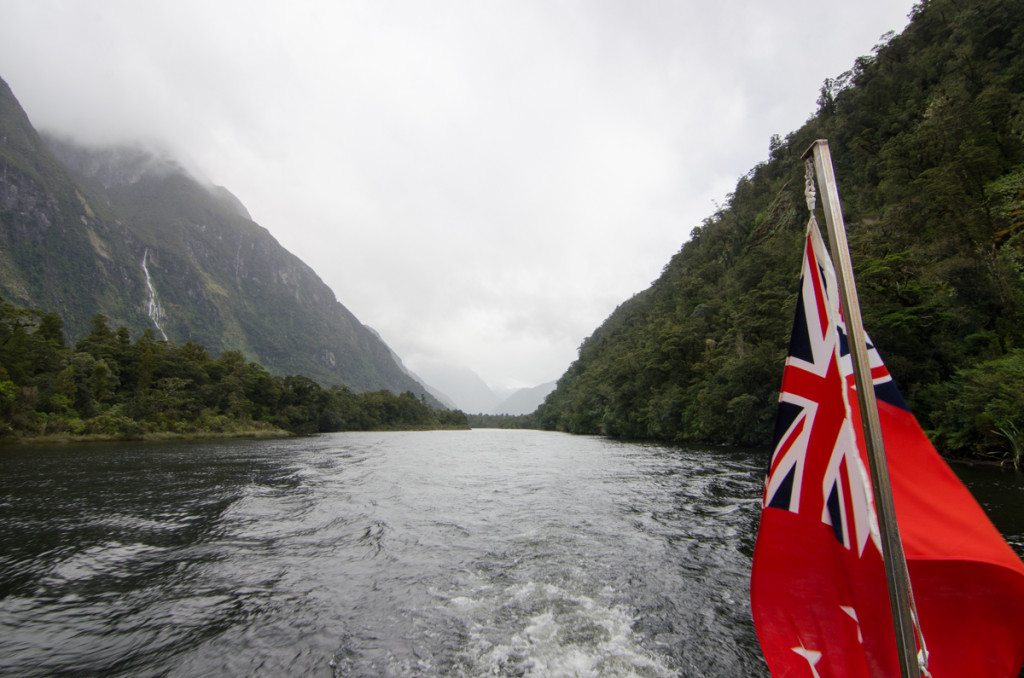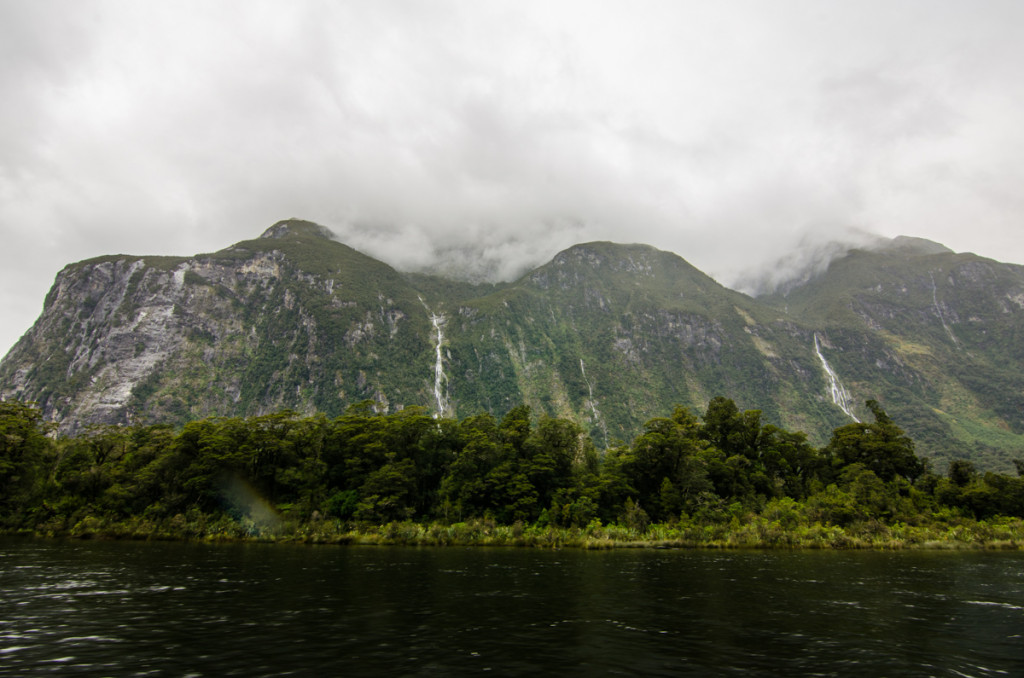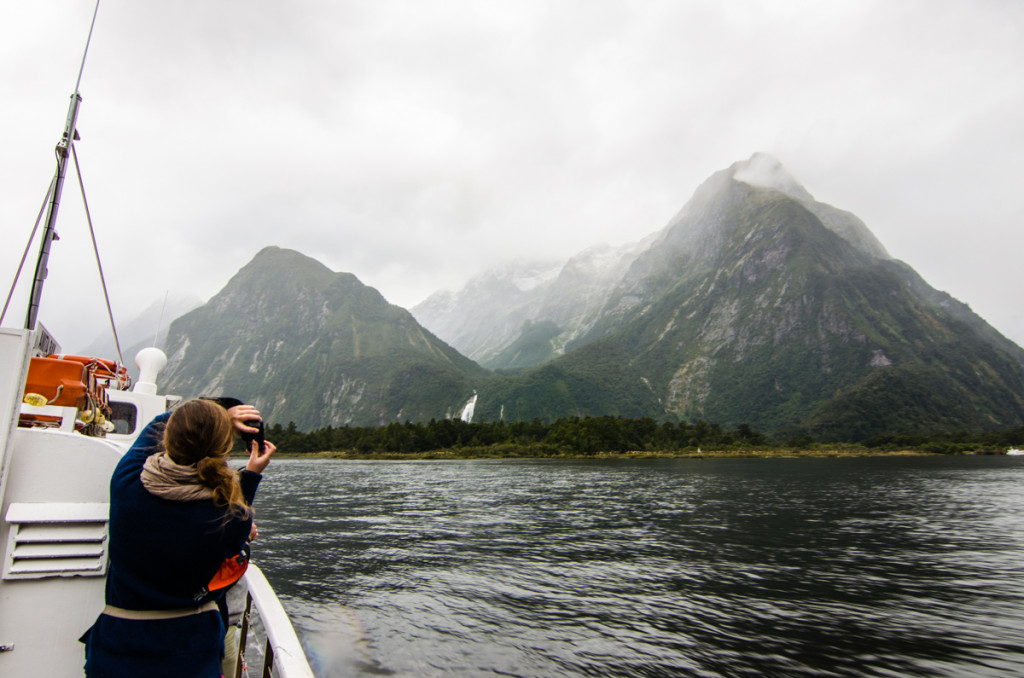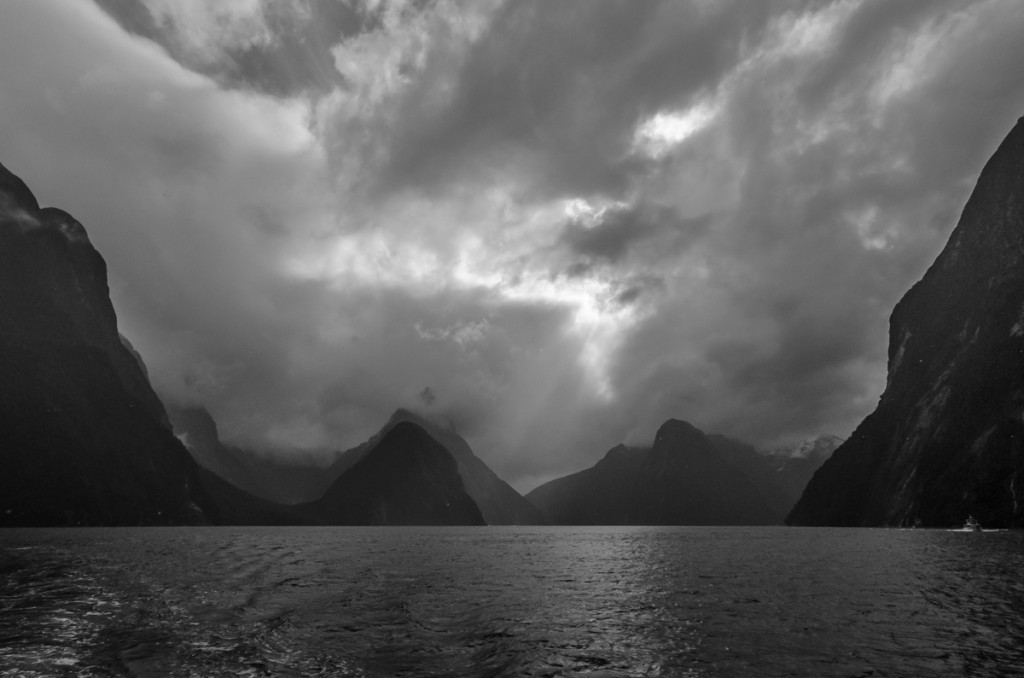 Later in evening I joined Carla, Alicia, and Cathy for a massive burger and a few drinks in Te Anau.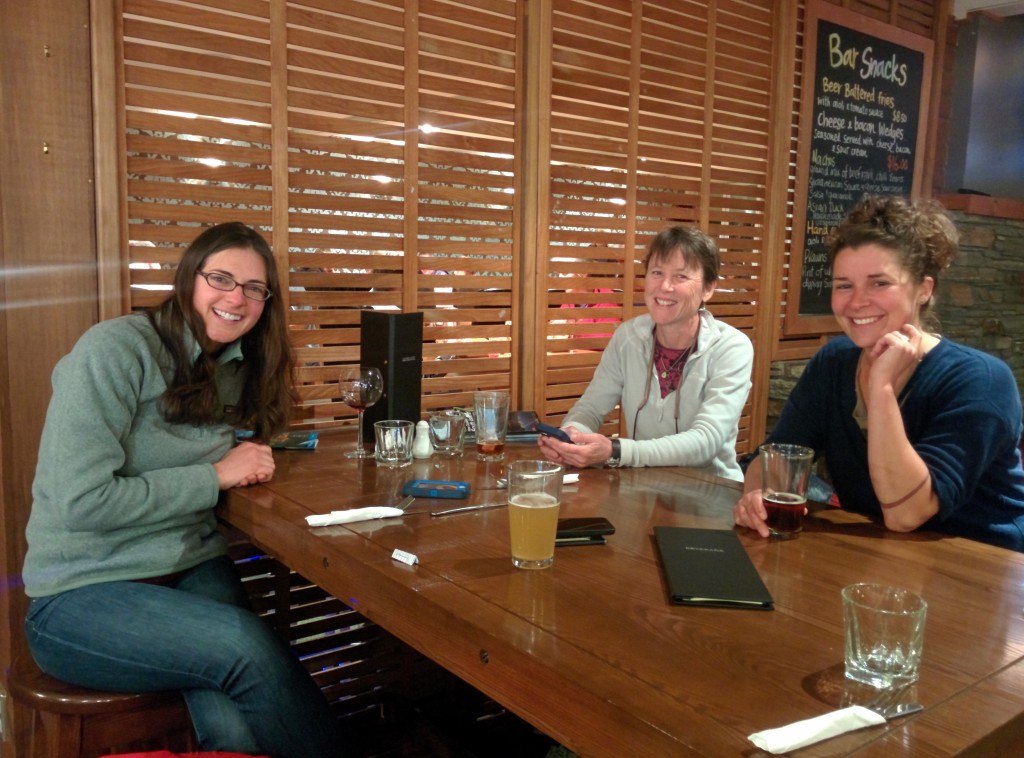 Milford Track had been a dream of mine for a long time. It's hyped as "the finest walk in the world". It fueled my wanderlust and motivation during all those years of working and saving money, to get to a point where I could make a long trip like this a reality. I have since then learned to lower my expectations with places like this, but I must say that it was a truly beautiful experience. I saw things I had never seen anywhere else. I was also very fortunate to get almost ideal weather, including the heavy rain during this last day that made it so much more special and exciting.
There are not many hikes that I have done and would want to do again, but just like Torres del Paine, I know I'll be making an effort in the future to return to the Milford Track.
---
These are my ratings for the track:
Scenery: 9 – Beautiful forests, mountains, and dozens if not hundreds of waterfalls. A very unique landscape.
Difficulty: 5 – The last day was a little difficult due to flooding. Otherwise, a very laid-back walk.
Trail Condition: 7 – Very well-groomed trail, but I was surprised to see the lack of bridges in some flooded areas.
---
More info:
NZ Department of Conservation's brochure and video for this walk.
---
Next entry: Te Anau, In Between Great Walks
Part of the New Zealand Great Walks Journal