I was longing for some relaxation after the hiking done in Chapada Diamantina. A lot of people had recommended Marro de Sao Paulo which is about 2-3 hours away by boat from Salvador, where I had returned to for one night. I arrived at Morro the following afternoon.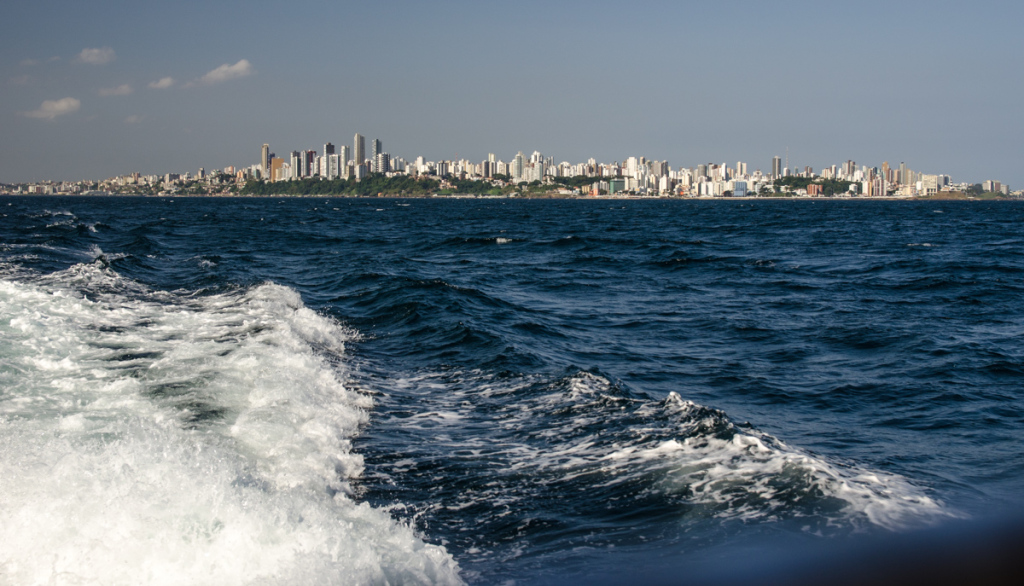 I don't usually like to see pictures of places before visiting because they lead to high expectations and eventual disappointment. The postcard-like pictures you see online are usually taken under optimal conditions by very good photographers, and most times the places don't look the same with your own eyes. I expected Morro do Sao Paulo to be similar to Ilha Grande, but what I found was different. After checking into my hostel, I went out for a walk and what I saw was a parade of endless pousadas, restaurants, bars, and shops, most of them on the higher end. Maybe I didn't give Morro a fair shot, but I decided right away that I was going to move to the the island directly south called Boipeba, which was highly recommended by my Argentine friend Alejandro.
Getting to Boipeba required first a boat and then a bus to the hectic town of Valença. When I got off the bus there, and before I could even figure out where I was or where I needed to go, I saw that the bus parked right in front was had a sign with destination for Boipeba. I asked the driver how much was it, and was told R$20, which sounded fair. The bus too me to a little village where I hopped on a boat right away and was on my way to my final destination. In total it took me about 2.5 hours to go from Morro de Sao Paulo to Boipeba, at a cost of R$28.
I knew right after stepping off the boat that Boipeba was more of what I was looking for: a quiet and relaxing place with unspoiled beaches. After some asking around, I found the Abaquar Hostel and was received by the owner Fernanda. She told me that there were four other guests who were going to cook pizza along with a local Argentinian guy. I was invited to join them. Great hostel by the way. The room I stayed in was a little musty, but for the five night I stayed in there, I was the only person in the 4-bed dorm, so it felt like a private room. The outside areas though are really amazing, with hammocks, wooden decks, lots of trees, and even a small river. The absolute highlight was the gourmet breakfast cooked by Fernanda. She changed things up every morning so it wouldn't feel monotonous.
Later that night I met Jackeline and Azul (both from Brazil), Stephanie and his boyfriend (both from USA), and Martin (Argentina) and his amazing daughter Olivia. The pizza was amazing as Martin makes a living cooking and selling pizza and empanadas on the island. They became instant friends.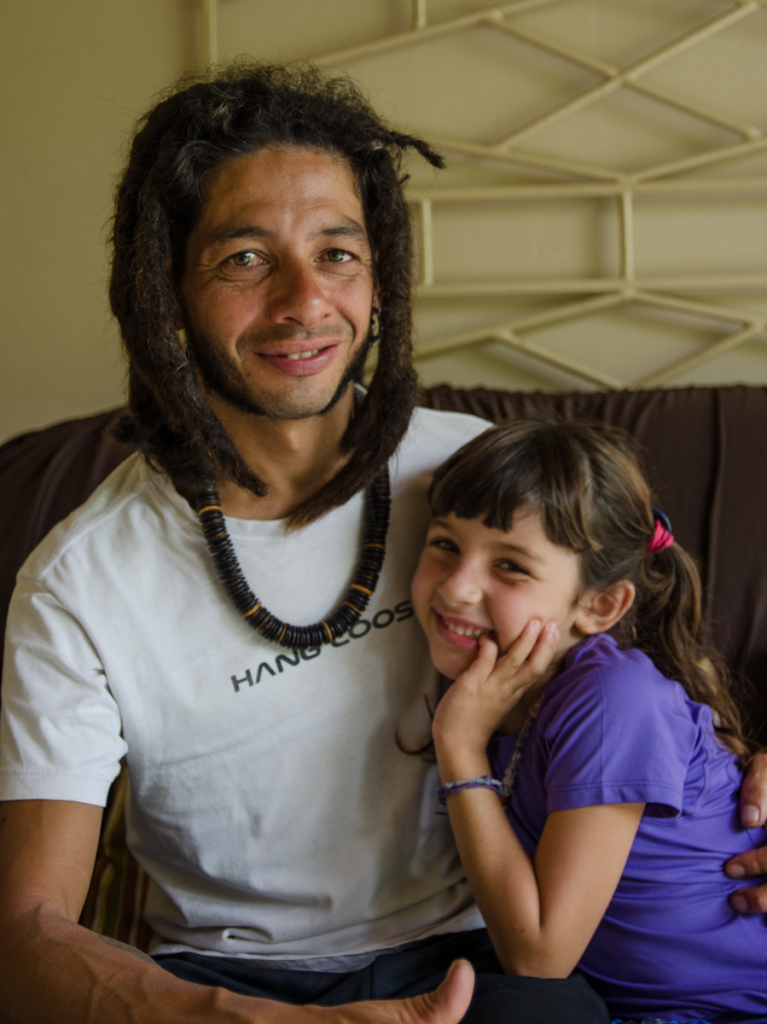 The following day I joined the people at the hostel into a long excursion to the remote beach of Ponta de Castelhanos. We took a young local guide with us who honestly didn't know much what he was doing. It took us four hours of get here traversing the entire island from north to south. We passed through knee high water pools, jungle, and a lot of sand.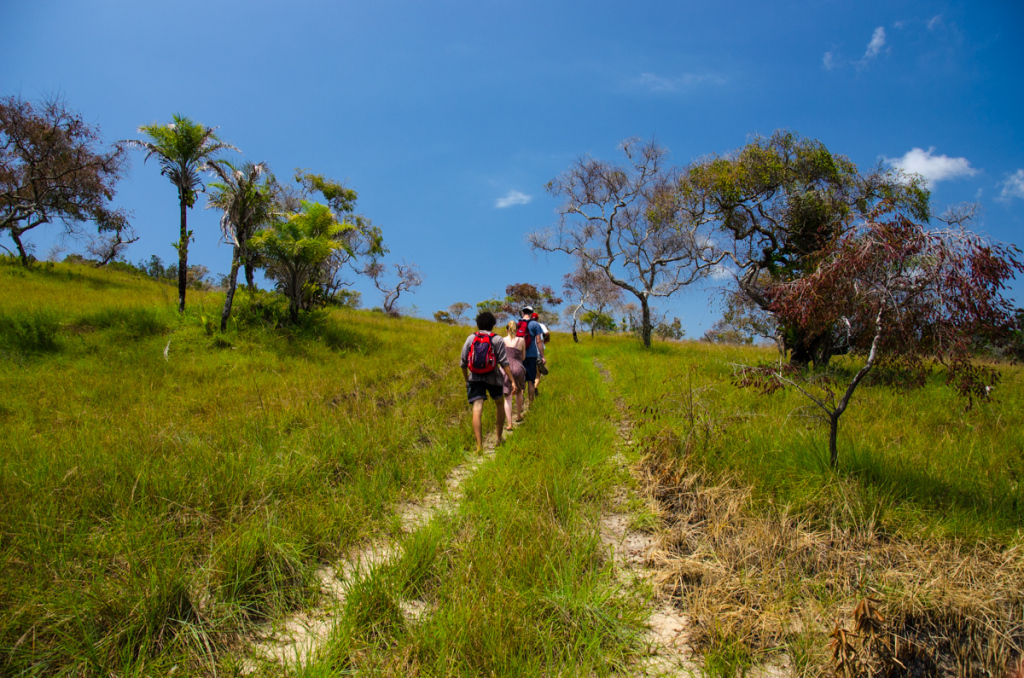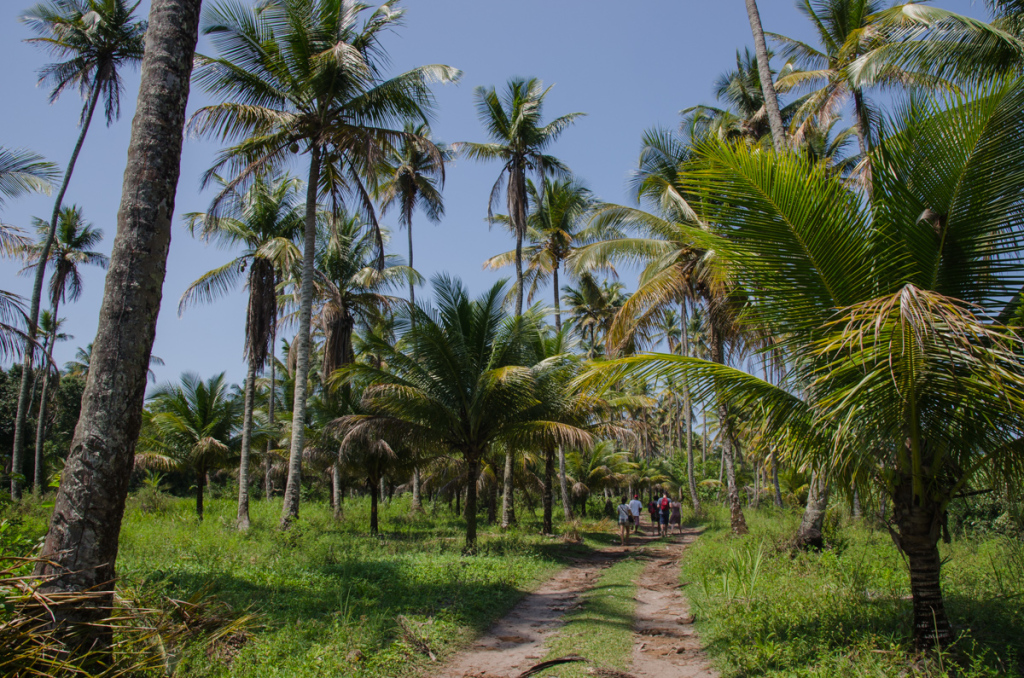 After asking for directions in the last stretch, we finally arrived at Ponta de Castelhanos, a long and amazingly beautiful beach with no other person on it. The water was very warm and shallow. It was simply paradise.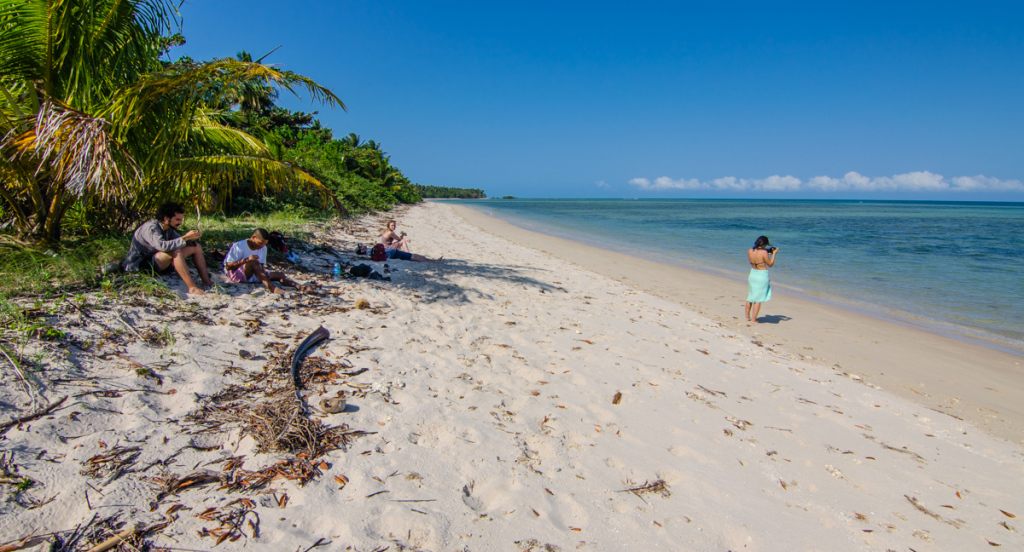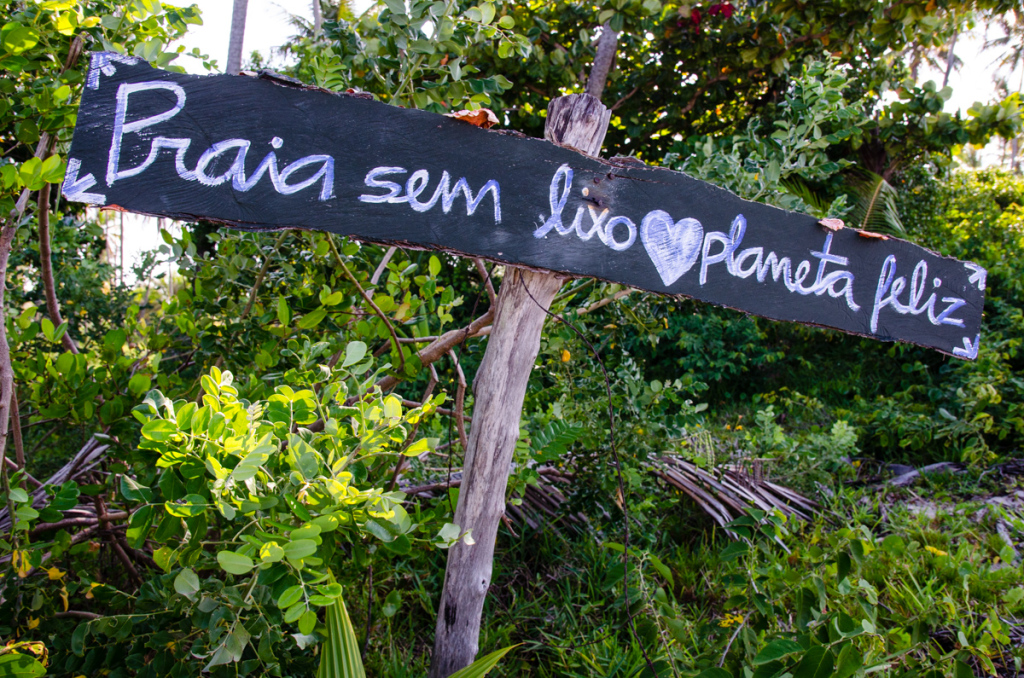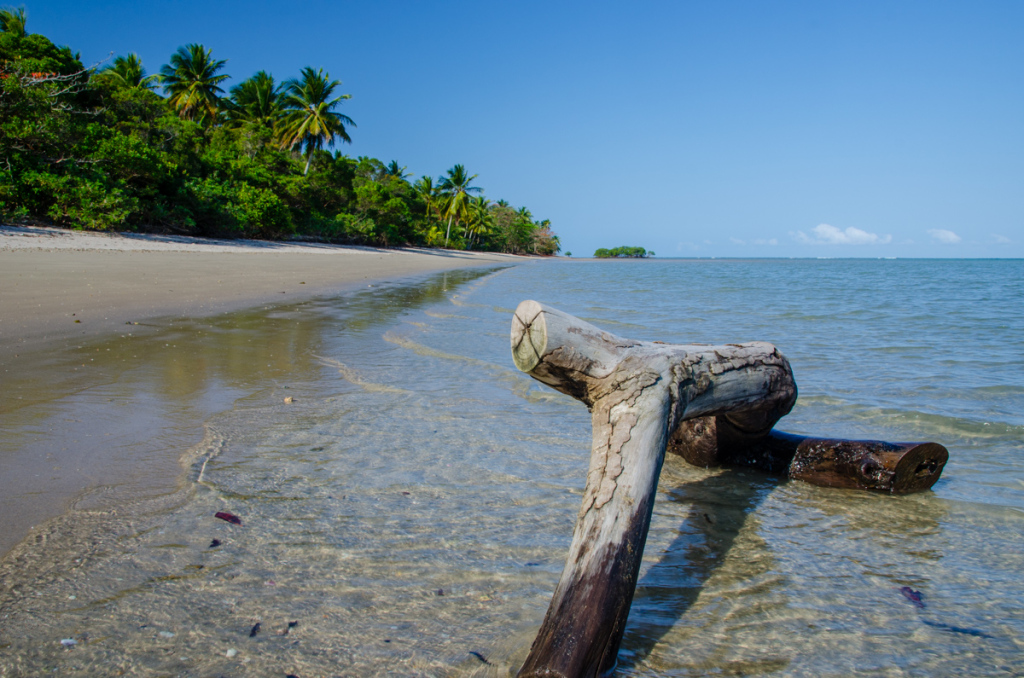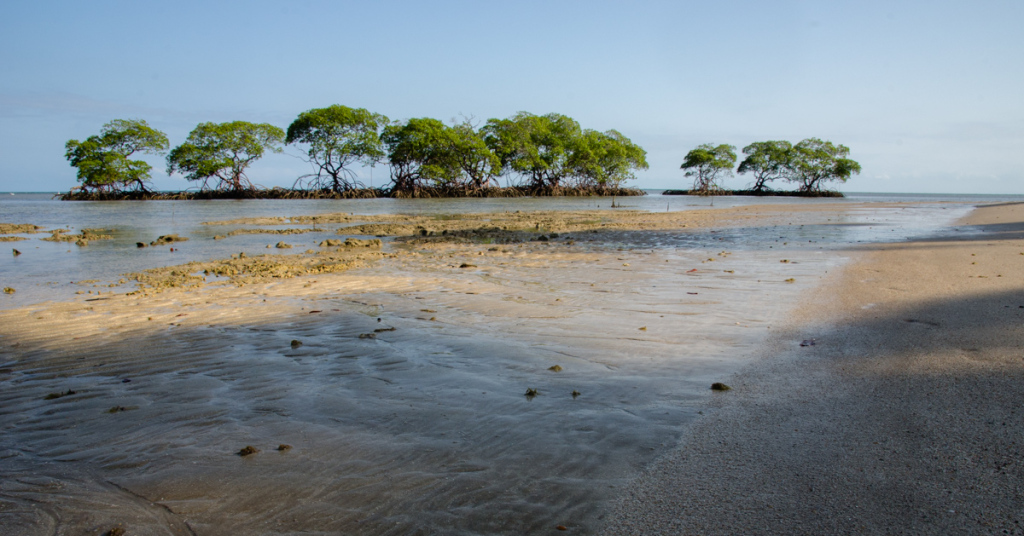 It was already 2pm so we didn't have much time to enjoy knowing that we still had a long walk back. Our guide suggested we take the coastal route since the tide would be low enough to cross the wide river just north of us. When we got there we realized that 1) the tide was still pretty high, 2) on the other side of the river we would have to walk through mangrove for one hour, and we would still have to walk another hour though the beach to get back to our hostel. Aside from the fact that I can't swim very well due to my inability to float in water (I'm not joking), there was no way to get our backpacks dry to the other side of the river. As the sun was falling (sunset around 5:30pm), we decided to walk back the same way we came. It was a long hike which was aided by the near full moon. Exhausted, we got back at around 9pm.
One thing that worried me before I left Salvador to these islands was the weather forecast, with 50% change of rain pretty much every day for the next week and a half or so. The following day the rain finally arrived with great force. Crazy winds bent the coconut trees everywhere in incredible ways. I didn't leave the hostel except to go grab some dinner. The American couple left the following morning. The sun finally came out that afternoon and Jackeline, Azul and I had a chance to visit Praia da Cueira. It was there where I had the best meal I'd had in Brazil thus far. The lobster restaurant of Guido is famous for a reason. I'm not a foodie and while I love a nice meal like anyone else, I can also go many days eating just sandwich cookies (like I did while hiking in Dominica). The coconut pineapple lobster I had that day though was just incredible. A mix of flavors that just melted in my mouth. The beach was also great, with strong waves that kept me entertained all afternoon.
More rain the next day, but in the afternoon it cleared up again. This time we walked further to reach the beaches Moreré and Bainema. Each different in its own way, but both really beautiful. We run into Martin again, and he suggested we walk back on the beach (we had taken the inland trail to avoid the earlier high tide). The sun was already down and the walk under the full moonlight on the deserted beach, with the reflection of the palm trees on the wet sand was really surreal. It felt like I was in a different planet. I tried taking a picture with my cell phone but there was no way it would be able to capture the moment.
I would have stayed in Boipeba for much longer, but constant threat of rain made me leave the following day to go back to Salvador. I really enjoyed my time there, but I think what made it truly great were the people I met. I wonder how different things would have been if I hadn't met anybody to hang out with. But that's a topic for another upcoming post.