Why I Went There?
I went to Peru nine years ago and for a while I have been wanted to go back to Salkantay Trek and Machu Picchu. It was also a cheap place (using airline miles) to fly into from Los Angeles.
Where Did I Go?
Lima, Ica and Huacachina, Nazca, Cuzco, Salkantay Trek, and Machu Picchu.
My Other Blog Posts on Peru
Fighting Fatigue on First Day in Lima
The Desert Oasis of Huacachina
Flying over the Nazca Lines
Altitude Sickness in Cuzco
Salkantay Trek To Machu Picchu Journal
Machu Picchu, 9 Years Later
Salkantay to Machu Picchu Day 1: Mollepata to Soraypampa
Salkantay to Machu Picchu Day 2: Soraypampa to Salkantay Pass to Huayracpunko
Salkantay to Machu Picchu Day 3: Huayracpunko to Colpapampa
Salkantay to Machu Picchu Day 4: Colpapampa to La Playa
Salkantay to Machu Picchu Day 5: La Playa to Llactapata
Salkantay to Machu Picchu Day 6: Llactapata to Aguas Calientes
Salkantay to Machu Picchu Day 7: Machu Picchu
Expenses
Total Days: 18
Total Expenses: 1,003 USD
Average: 56 USD/day
How Is It to Backpack in Peru?

Peru is very easy to travel, especially on the so called "Gringo Trail, which includes Lima, Cuzco, Machu Picchu, Puno, and Lake Titikaka and the way to Bolivia.
Because of the large number of backpackers, there's usually a very good number of great hostels in each city. Some of them are mega-hostels with bars, restaurants, movie rooms, terraces, etc.
Bus travel is very comfortable and convenient, especially with the better companies such as Cruz del Sur. You can book seats online and pay with credit cards, and the buses are modern and very comfortable.
Favorites And Not So Favorites
Favorite Places: Cuzco and Machu Picchu, second time there and found them even more beautiful than the first time.
Favorite Moment: When it started snowing at Salkantay Pass.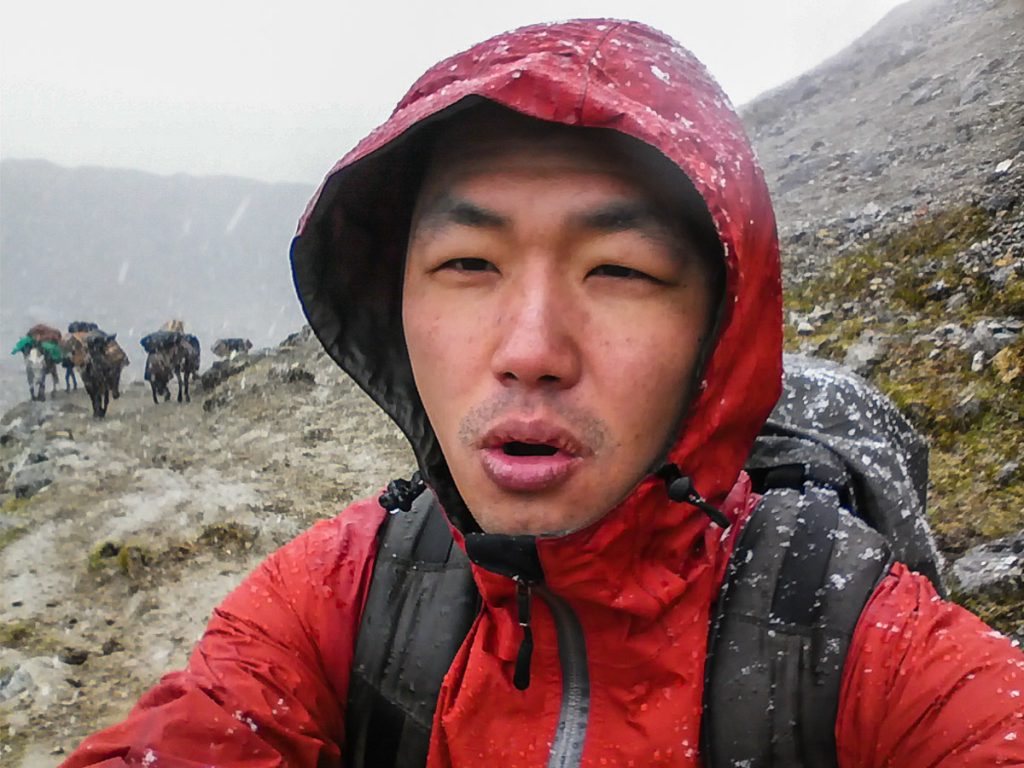 Favorite Food: Ceviche
Other Things I Liked: Comfortable buses. Lots of bathrooms on the Salkantay Trek.
Most Annoying Thing: The constant hassle from vendors at the most touristy places such as Aguas Calientes and Cuzco.
My Recommendations
Pariwana Hostel in Lima.
Cruz del Sur bus company.
Getting a group of 4-6 people together and hiring a guide at Machu Picchu for a 2-hour tour.
Conclusion
I would have liked to stay longer in Peru, but my compressed schedule in the first month of travel didn't allow that. While I had already previously been in Lima, Cuzco, and Machu Picchu, I enjoyed the last two even more than the first time. I found Peru more modernized than nine years ago, and much easier to travel around.
It was an easy destination to start my long trip around the world, since I speak the language and had previously been there. It is also one of the easiest country to travel around in South America.
My Favorite Pictures