Previous entry: Day 6 – Llactapata to Aguas Calientes

Gerald and I got up at 4am to get breakfast at the hostel and try to be one of the first ones to enter Machu Picchu.
There are 2 ways to go up the steep hill to the entrance for the ruins: by bus or by foot. The gates outside Machu Picchu open at 6am, but there's another gate right before Puente Ruinas at the bottom of the mountain that opens at 5am. When we got to Puente Ruinas at 5am there were already 200 people in front of us. Pretty impressive to see so many fellow hikers choosing to do it the hard way. Nine years ago we hiked up in 1 hour 15 minutes and that felt like a big accomplishment. This time I did it in 46 minutes. Gerald got there a few minutes before me. The climb is through a relentless uphill trail made of stoned steps.
When we got to Machu Picchu a few minutes before they opened the gates, the first few buses had already arrived. It really pisses me off that the buses get there before most hikers. I really think that if you are willing to get up at 4am and hike up a very steep hill in less than 1 hour, you should be able to get in before the bus riders. There's no reason why they can't open the gate at Puente Ruinas at 4:30am for example.
In the end, all the effort was worth it to see Machu Picchu in the early sunrise light. Like everything else on this trek, it looked more beautiful than I remembered. Seeing how rainy and foggy the ruins were the previous day, we were very lucky to have the first dry and warm day in almost a week.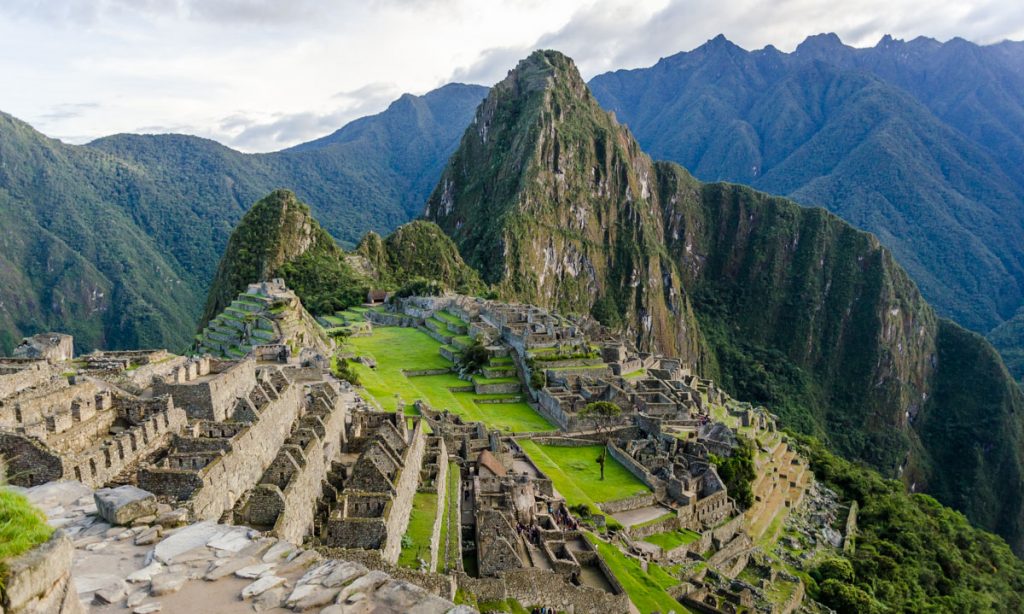 After snapping a few pictures. We headed to the gate for the hike up to Huana Picchu. This is the very steep mountain that appears in most pictures of Machu. We had a timed ticket for entry between 7am and 8am. Only 400 are allowed to hike up there per day. Gerald and I got the tickets 1 month in advance. When Rich tried to buy them a few days later, they were already sold out. Half of the 400 people go up in the first group, the second group starts going up at 10am. They organize this so that when you go up, you don't encounter people coming down, and viceversa.
I had read online articles on how dangerous this hike was, but I felt that while steep, it would take a really big mistake and bad luck to fall off the cliff. I had very high expectations and I must say that I was a little underwhelmed by the views from the top. It is still worth the hike though.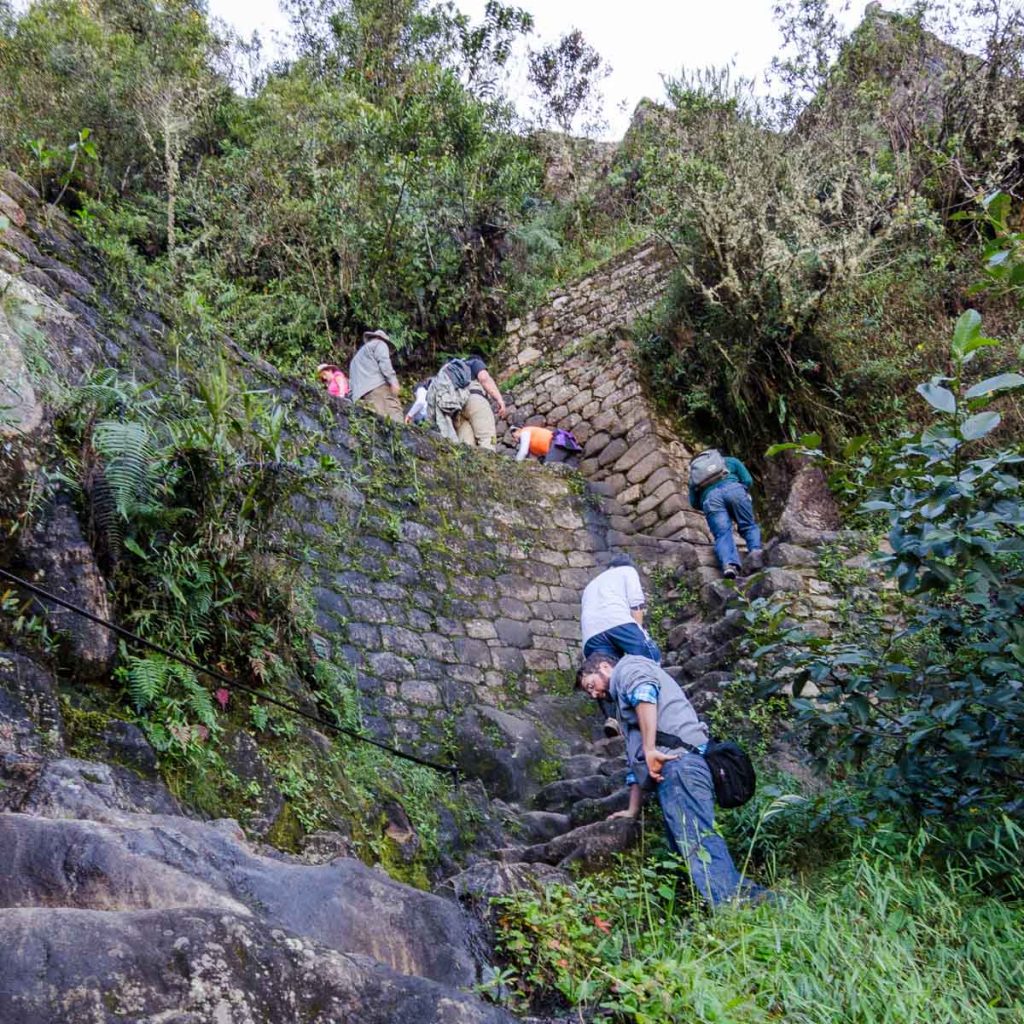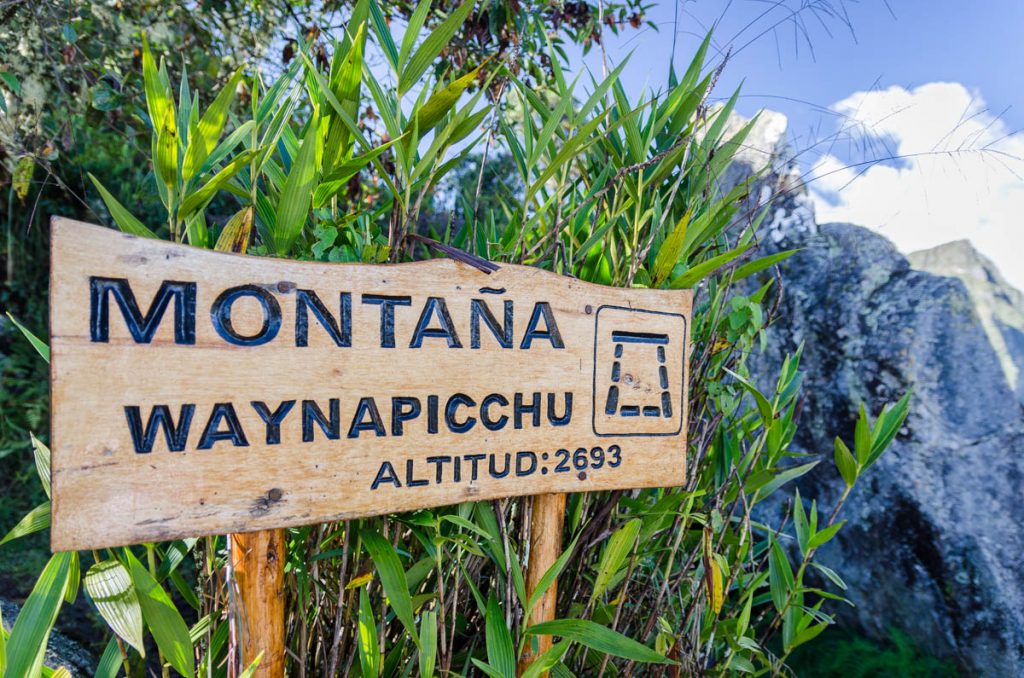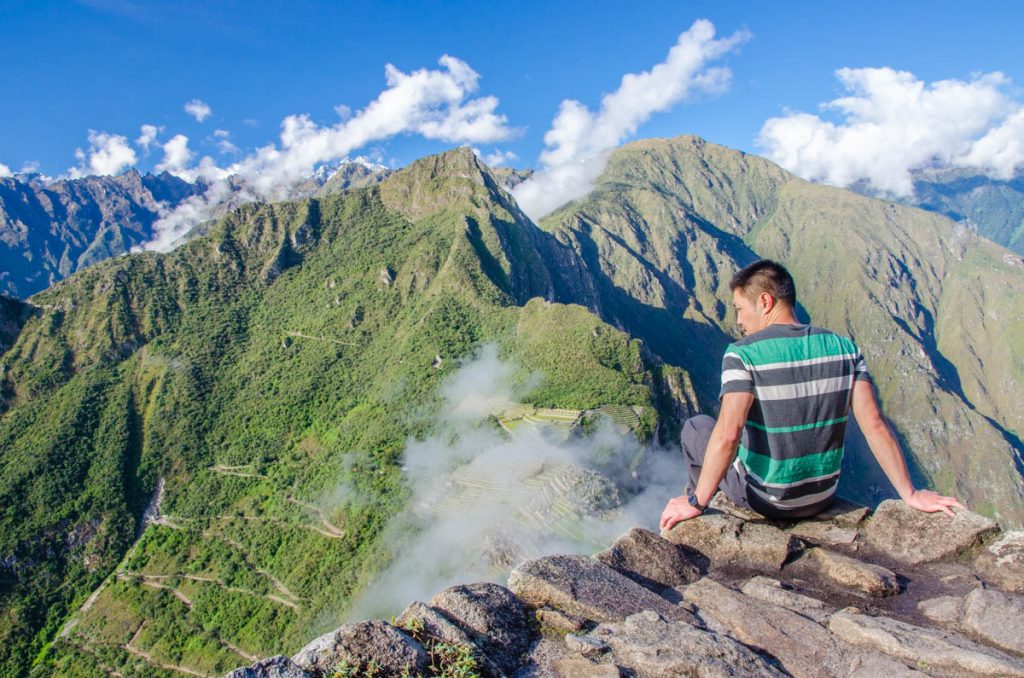 The way down was even more exciting.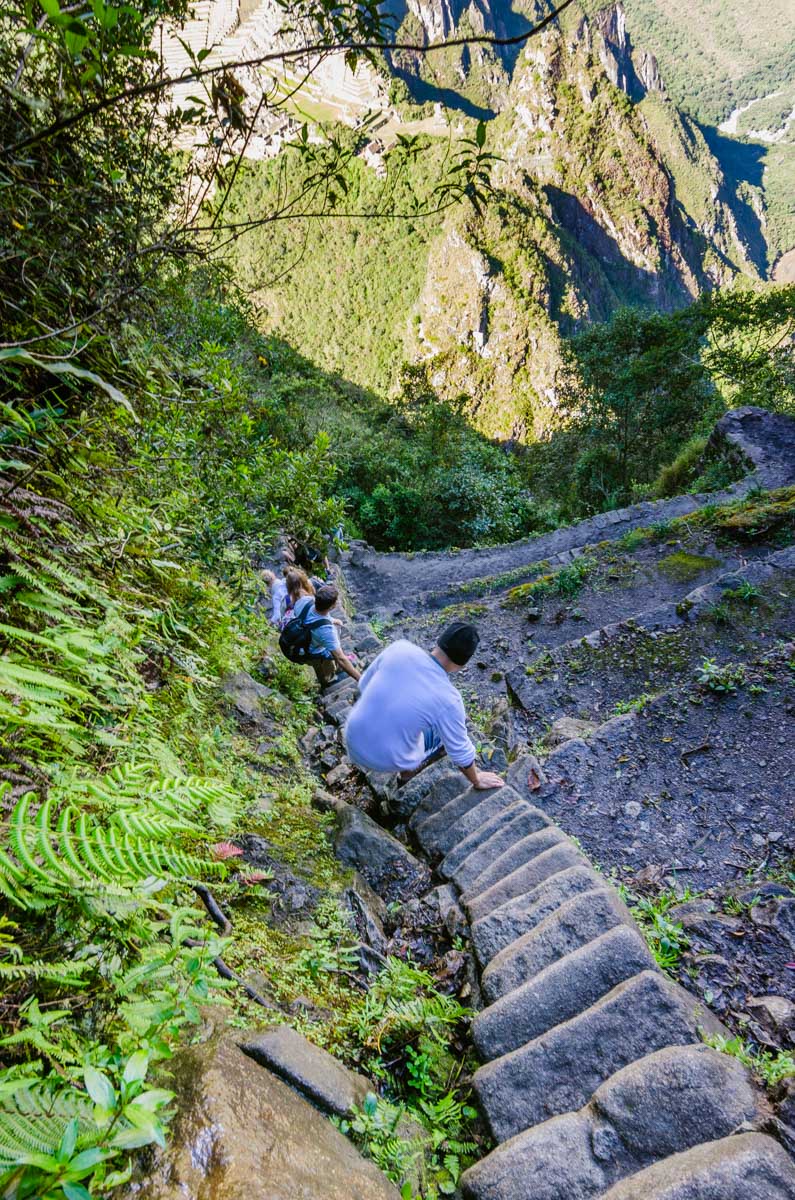 Gerald and I headed to the restaurant by the entrance to get some food. You are allowed to leave and come back in as long as you have your ticket and passport. Right by the entrance you can also stamp your passport with a Machu Picchu stamp.
The food outside is overpriced but at least the portions are big. At 11am we met with Rich, who had hiked up Machu Picchu mountain, on the opposite side of Huayna Picchu. I took a quick nap since I was pretty tired. Rich had also met a cool British guy named Jay, who joined us for the rest of the day. After avoiding the midday sun, the 4 of us, along with another couple from Florida, hired a guide to walk us through the different sections of Machu Picchu. It cost us 25 soles each, and I would say that the 2 hour tour was well worth it. Our guide Lucio was knowledgable and entertaining at times.
We snapped a few more pics after the guided tour. As we were leaving the ruins, I had a hard time taking my eyes off it. Who knows when I will see this beautiful site again. Maybe in another 9 years? What I do know is that when there's a will, there's a way.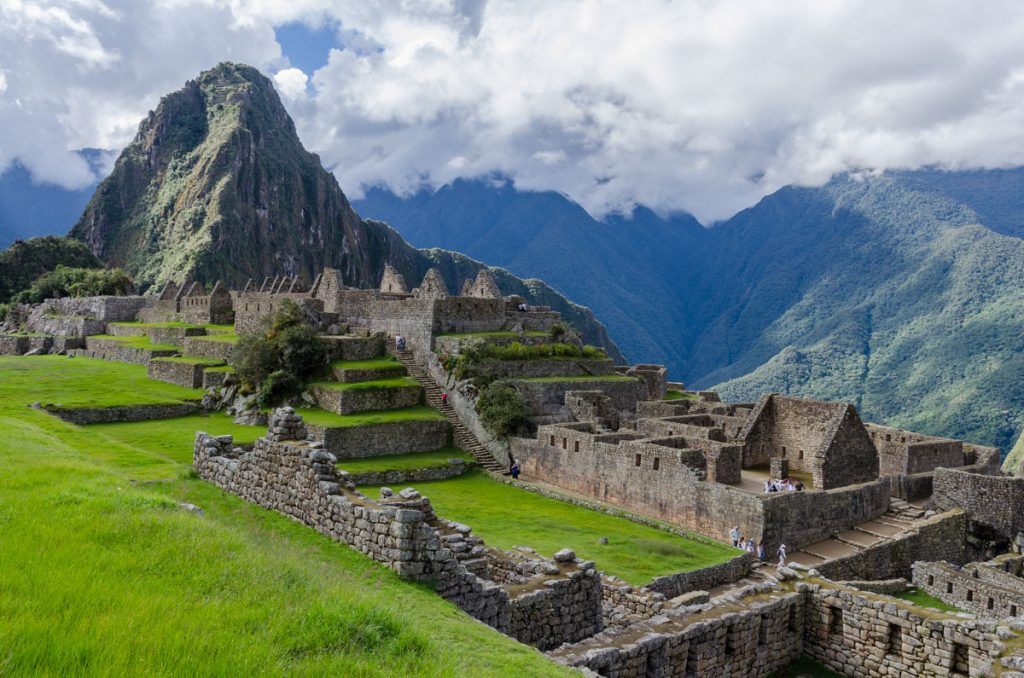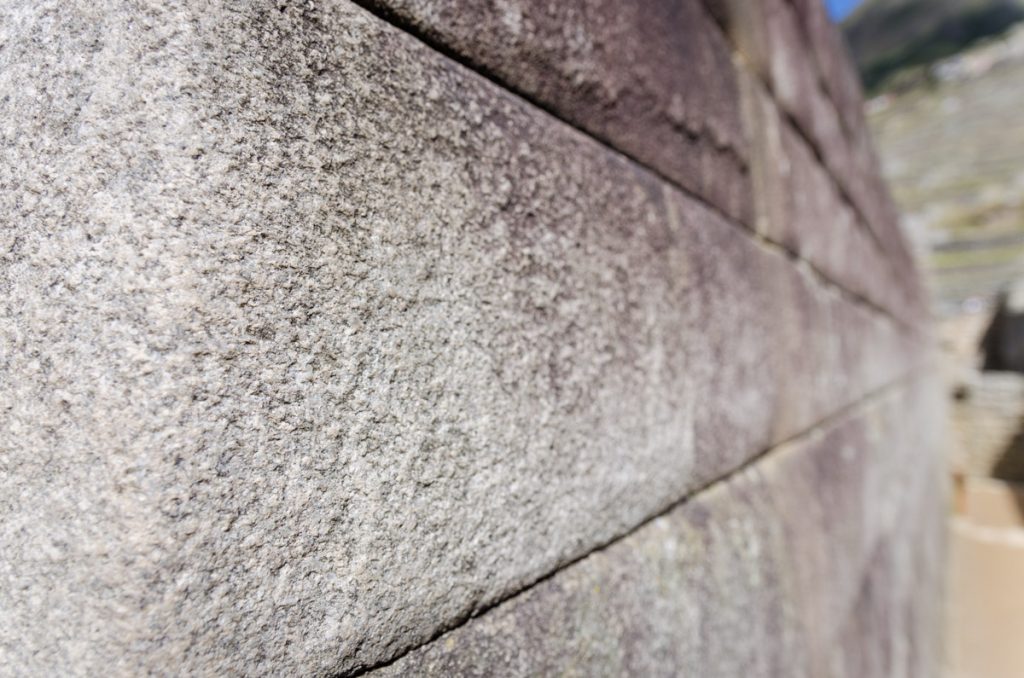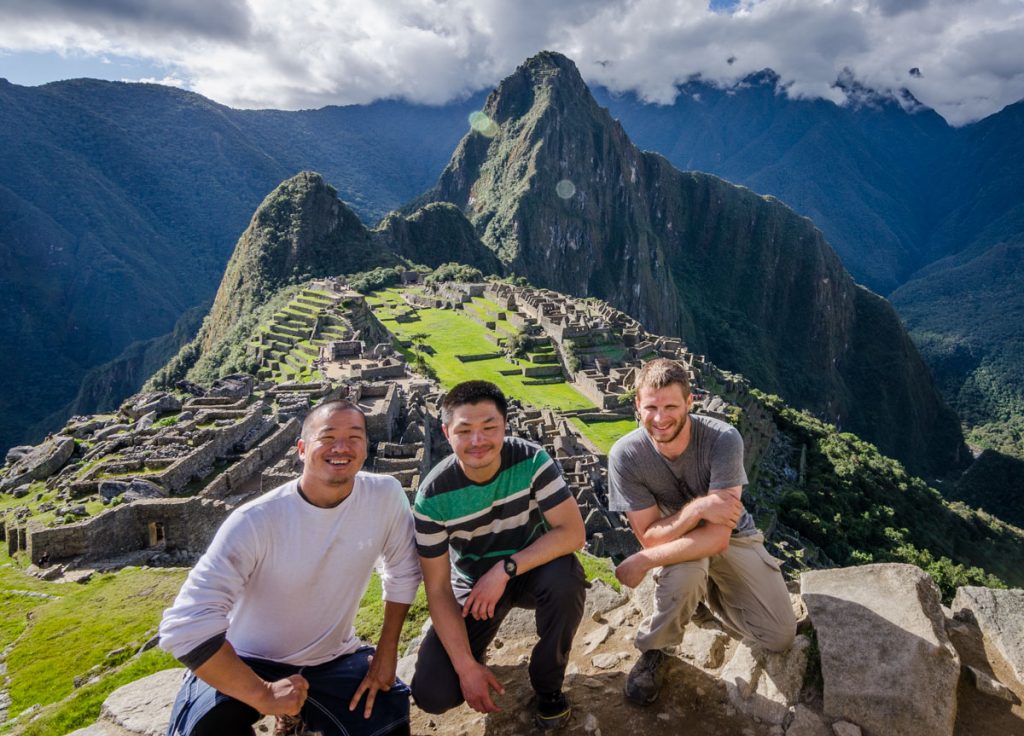 The following day we took the Perurail Vistadome train (the only tickets we could find) back to Cuzco. While expensive (about $100 for a 4.5 hour ride), the seats are comfortable and they do serve snacks and drinks. The sights were nice but it got dark halfway through the journey.
Being the second time for me doing the Salkantay Trek and visiting Machu Picchu, I must say that it exceeded all my expectations. Everything was more beautiful than I remembered. I really hope that they don't make the Salkantay Trek a guide-only trail. I would love to go back again in the future.