A priority destination for this round the world trip, I timed my visit to Japan to coincide with the climbing season of Mount Fuji. The route to the top is an easy walk, and can only be done from July to mid-September. At a height of 3,776 m (12,388 ft), the only possible problem hikers face is altitude sickness.
After Takayama, I went to Tokyo and stayed there for a night before taking two trains to Kawaguchiko, at the base of Mount Fuji. I rented a locker and put everything I didn't need for the hike in it. I then took the bus to Fuji Subaru Line 5th Station. This is where people start the most popular trail to the top: the Yoshida Trail. There are other alternate trails, and this is one of the most accessible and easy ones, but also the most crowded.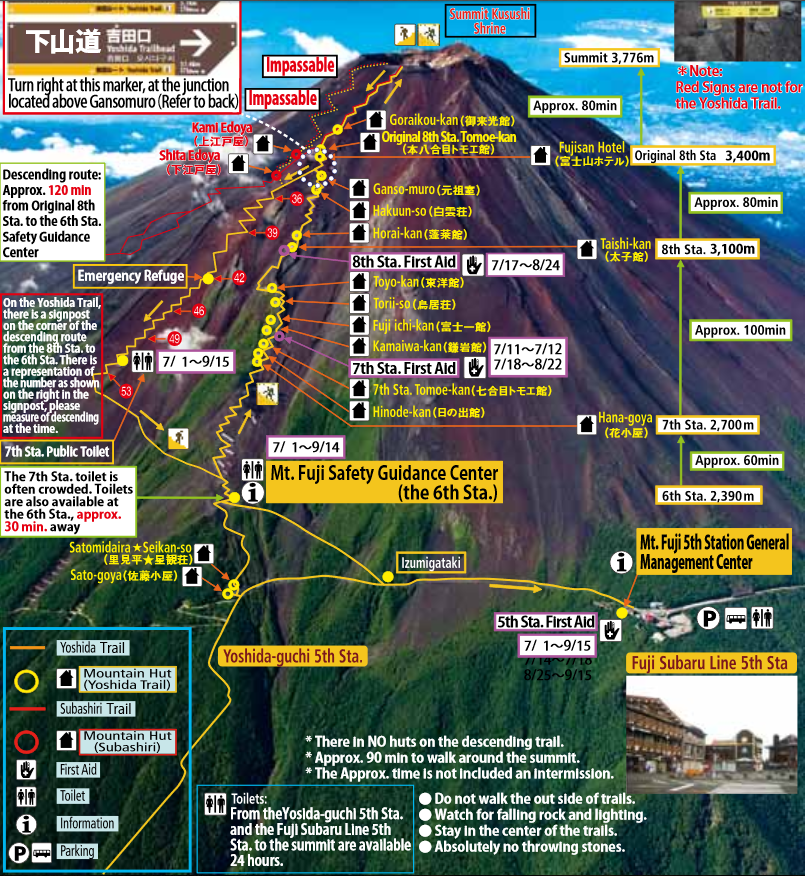 Most hikers try to be at the summit for sunrise, and there are two ways to do this. You can start the hike from 5th Station late in the day and hike all night to the top. The other option is to book a bunk bed at one of the mountain huts, where you can have dinner and get a few hours of sleep before continuing to the top. I didn't feel like hiking all night, so I booked a night at Goraikou-kan, the last hut you can stay at before reaching the summit.
It was raining so bad when I arrived at 5th Station that I couldn't even see Mount Fuji. There are various "stations" on the way to the top. It's a nice way to track your progress and to know how close a hut is to the summit. 9th station is the summit, and the Goraikou-kan hut is unofficially named 8.5 Station.
I spent an hour trying to decide whether to go ahead with the hike or not. The forecast said it would rain all night and well into the next morning. That meant that it'd be raining during my whole hike to the top, while waiting for sunrise, and during my descent as well. With almost zero visibility, I didn't see the point. I really didn't care for bragging rights, and I was resigned to not hiking Mount Fuji during this trip to Japan. It then occurred to me that I could just shift my hike to the following day, when weather was supposed to improve. I sent an email to the hut, asking them to change my reservation. I also contacted the Airbnb host in Kawaguchiko (where I was staying the night after descending) and asked them to change my reservation to the previous night. This ended up being the right decision, as the weather was much better the following day.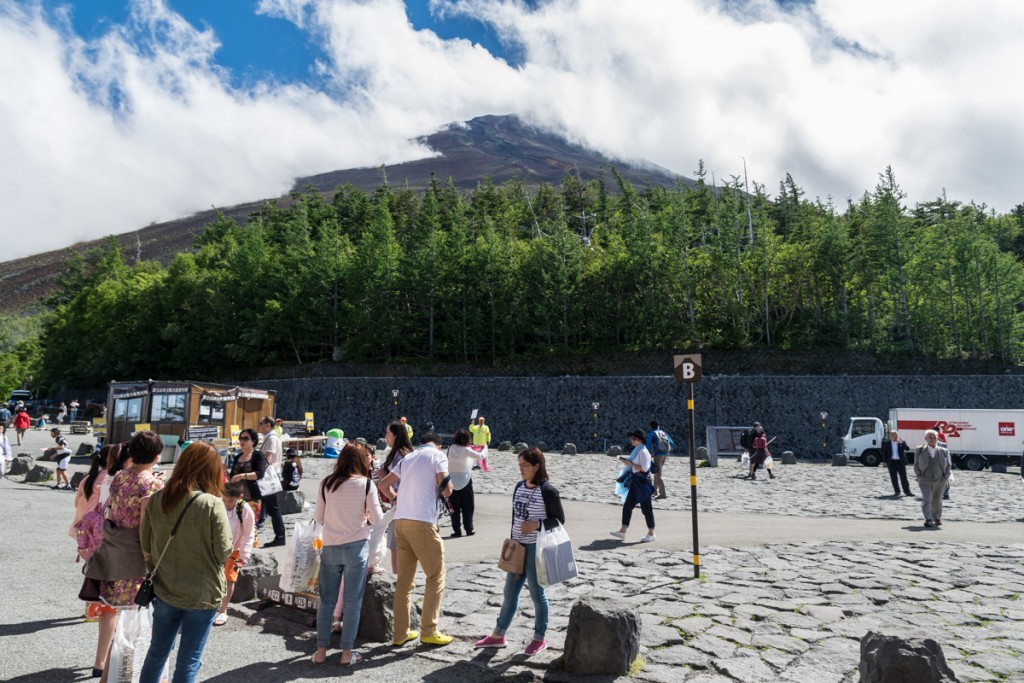 I started the hike around 2pm. A lot of people go to 5th Station to get a closer glimpse of the mountain, but most of them don't do the hike. The further you walk up the trail, the less crowded it gets.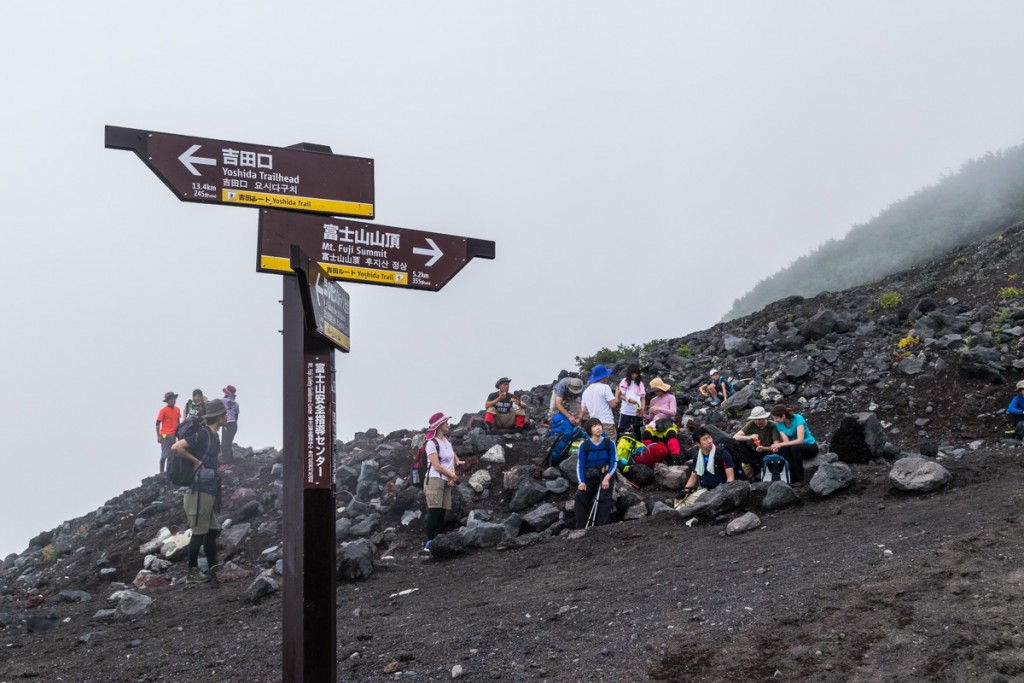 The trail is well maintained and marked, consisting of mostly volcanic rock and ash.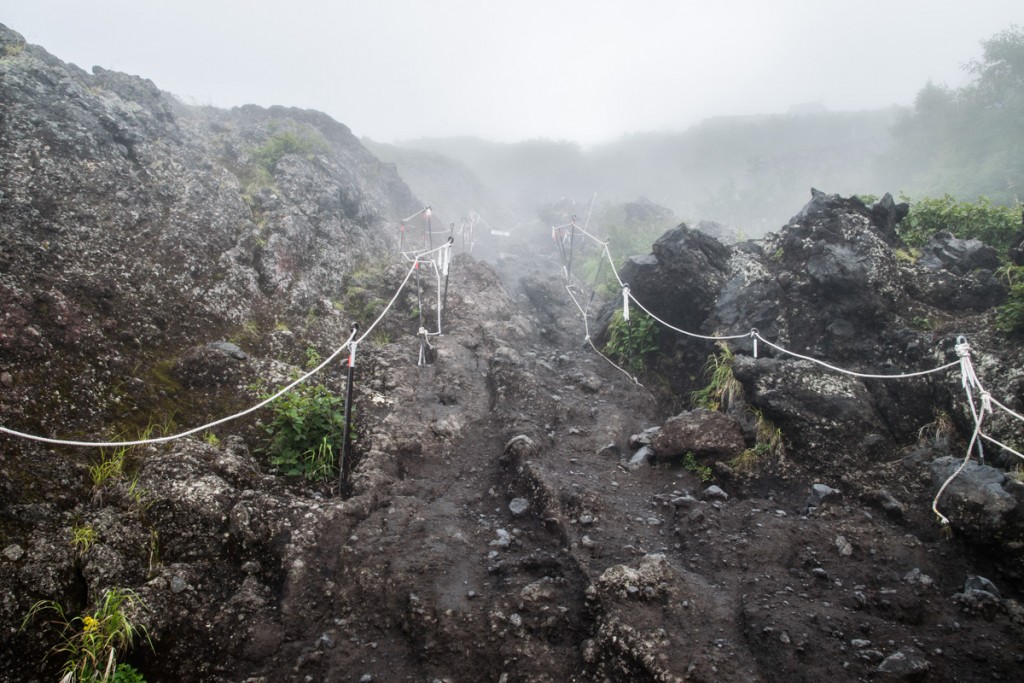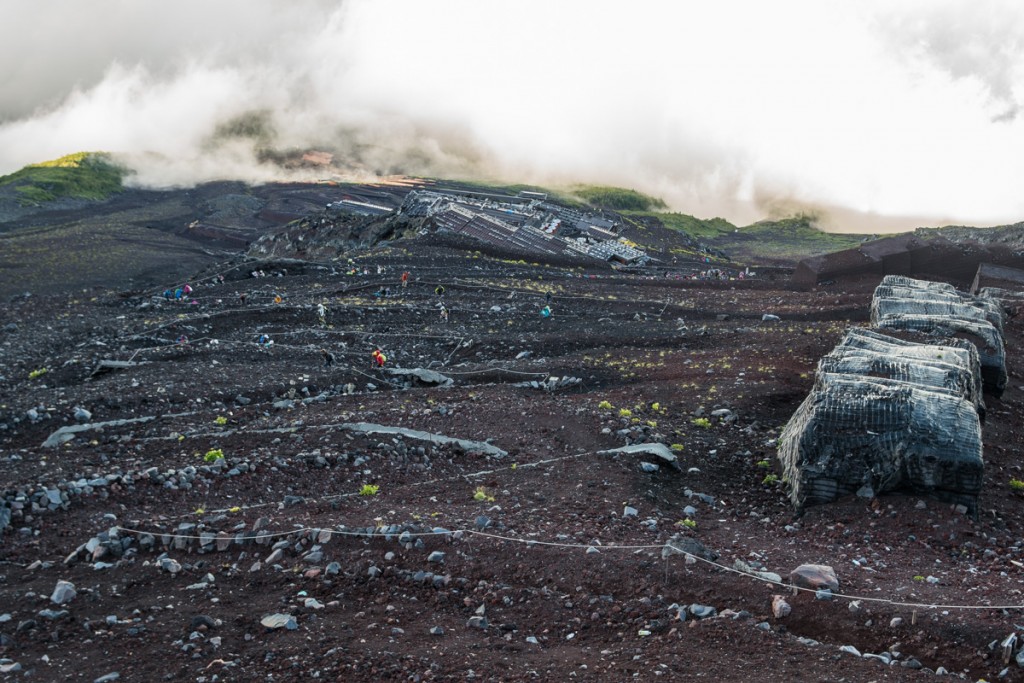 I passed many huts. Most of them sell snacks and beverages, some at very expensive prices. They also have paid toilets. Many people get a wooden walking staff at 5th Station, and get a brand/stamp from each hut on the way up. Some were charging 300 yen for something that takes 5-10 seconds to make. It felt like a tourist rip-off to me.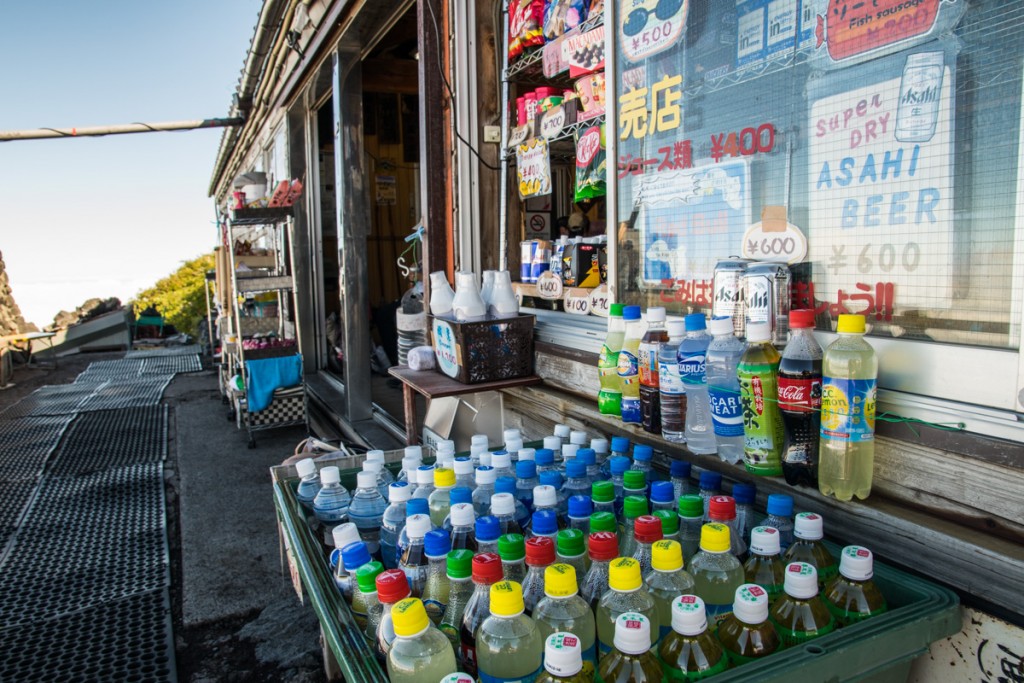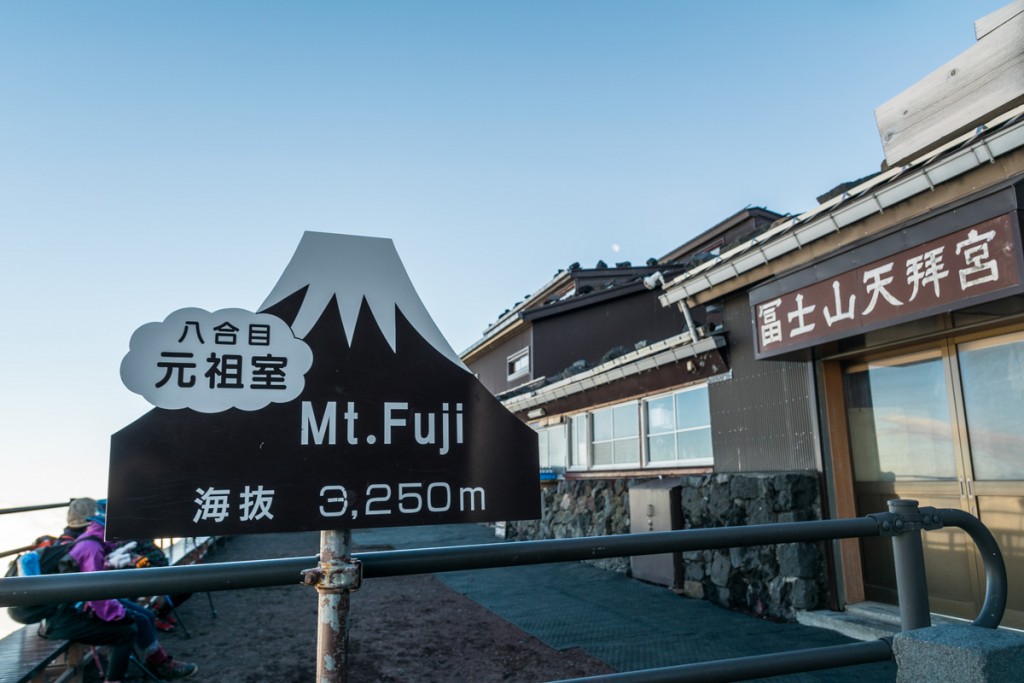 At 6:30pm, after 4.5 hours of hiking, I reached the last hut before the summit: Goraikou-kan. This was where I would be spending the night in. At 3,450 meters high, it is only about 300 meters in elevation from the top.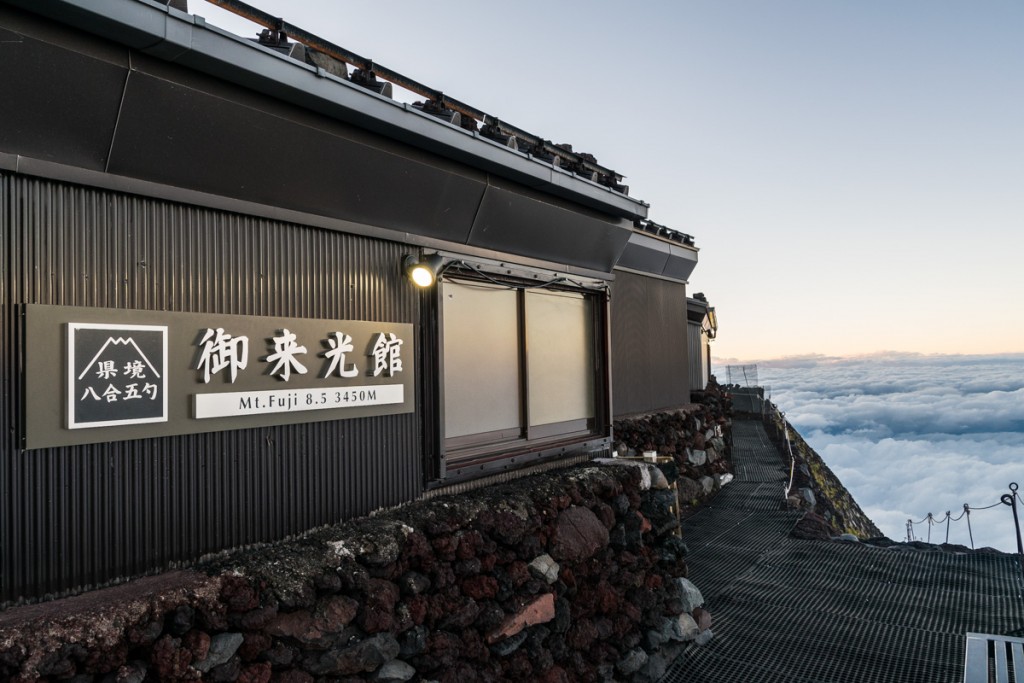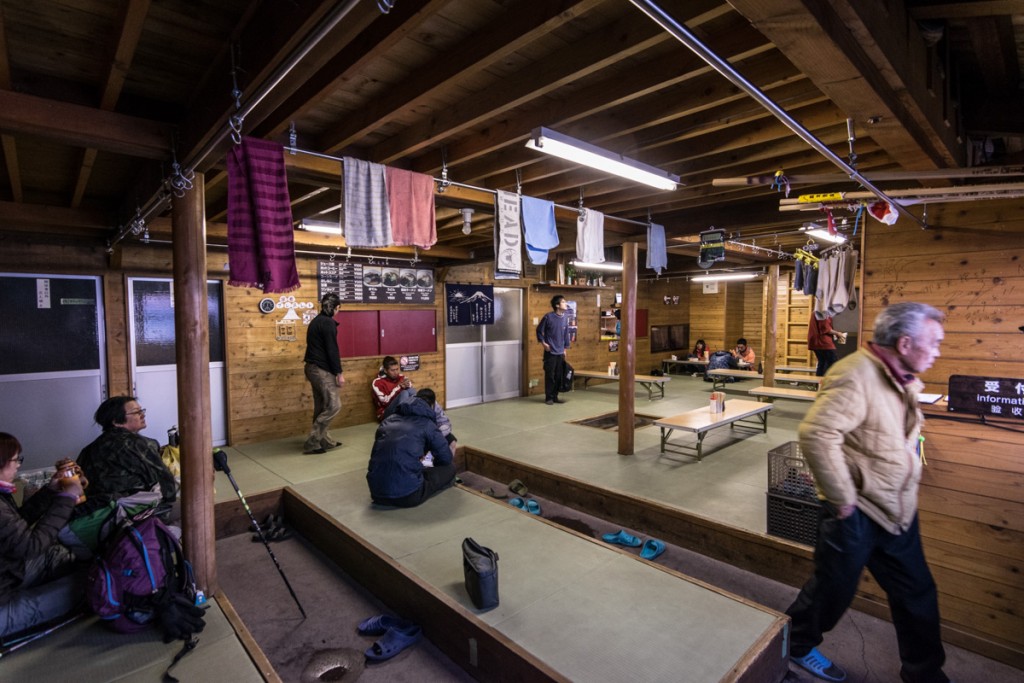 They checked me in, and told me that dinner would be served at 7pm. Wake up call for the next day would be at 2:30am, and I would be given a boxed breakfast to take with me. I don't know why they need such an early wake up call, since the sun wasn't coming out until 5am.
The bunk bed space is very tight. There's a hook inside above your feet where you can hang your backpack. I believe the blankets are shared between two people. If there's one thing I dislike more than using an old unclean blanket, is sharing an old unclean blanket with a random stranger, which in this case was an older man who spoke no words to me. Good thing I anticipated this and brought my own sleeping bag. During dinner I met a nice couple of the US, and I retired to bed around 10pm.
I must have gotten around 3 hours of uncomfortable sleep before the wake up call at 2:30am. Everyone soon scrambled to get ready to hit the trail. I went outside and saw that the weather was pretty clear. I could even see the stars in the sky. But the most impressive sight was below, where hundreds of headlamps were making their way up. These were the hikers who had either walked all night, or had staying in one of the lower elevation huts.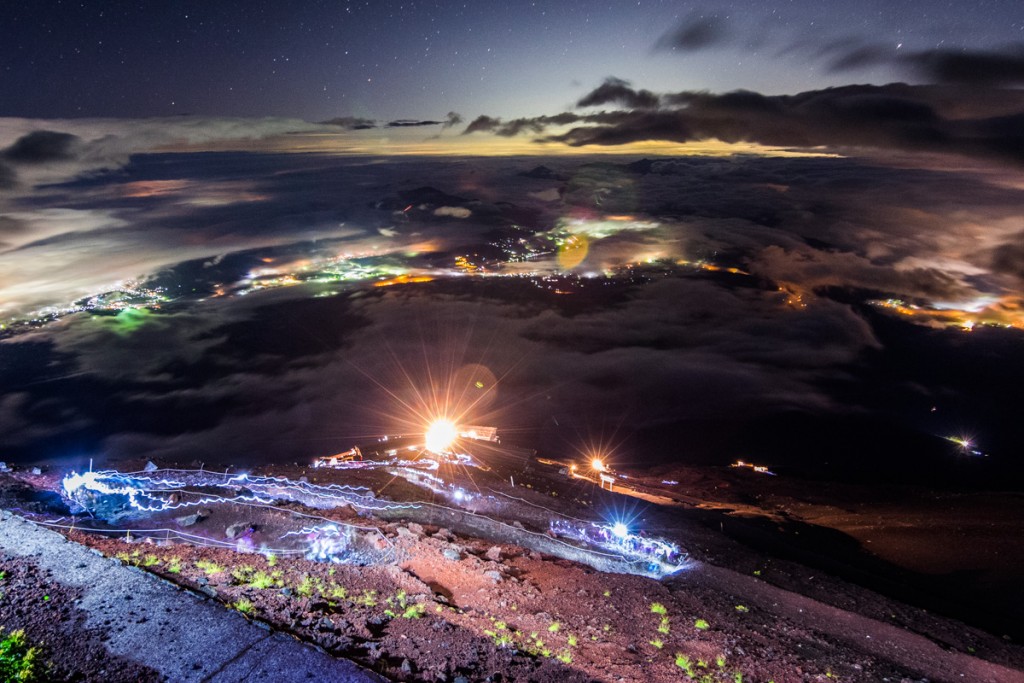 While the trail was mostly traffic free the previous day, during the few hours before sunrise it turns into a traffic jam. You have to stop often after a few steps, and the pace is excruciatingly slow.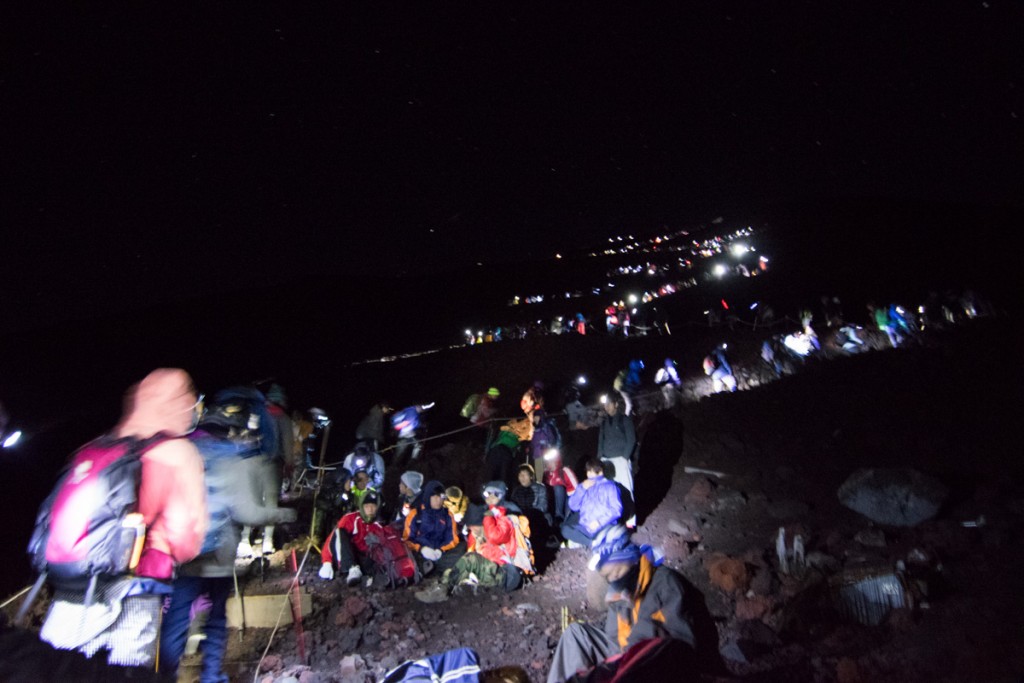 Some people were struggling. Others were sucking on oxygen from a canister. It took me almost one hour to ascend the last 300m of elevation. Hundreds of people were already at the summit. There are many shops selling snacks, hot drinks, and souvenirs at the top. Most of the best sitting spots facing the sunrise were already taken. I was able to find a small place to stand in a corner.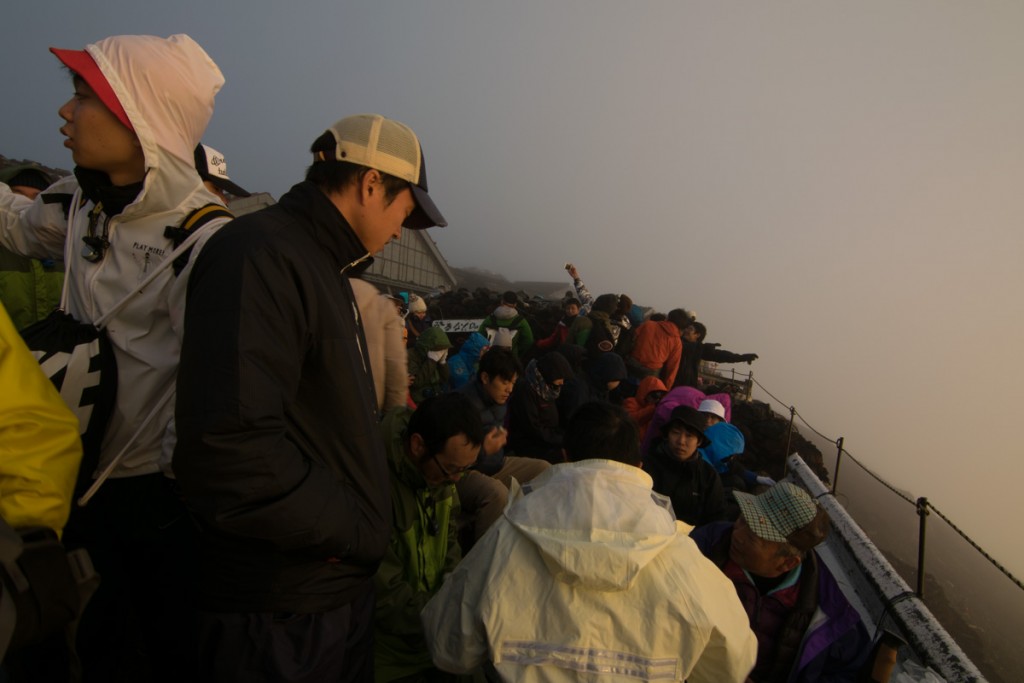 The weather was looking good until about 30 minutes before sunrise, when it got very foggy. When the sun finally came out, it was very anti-climatic.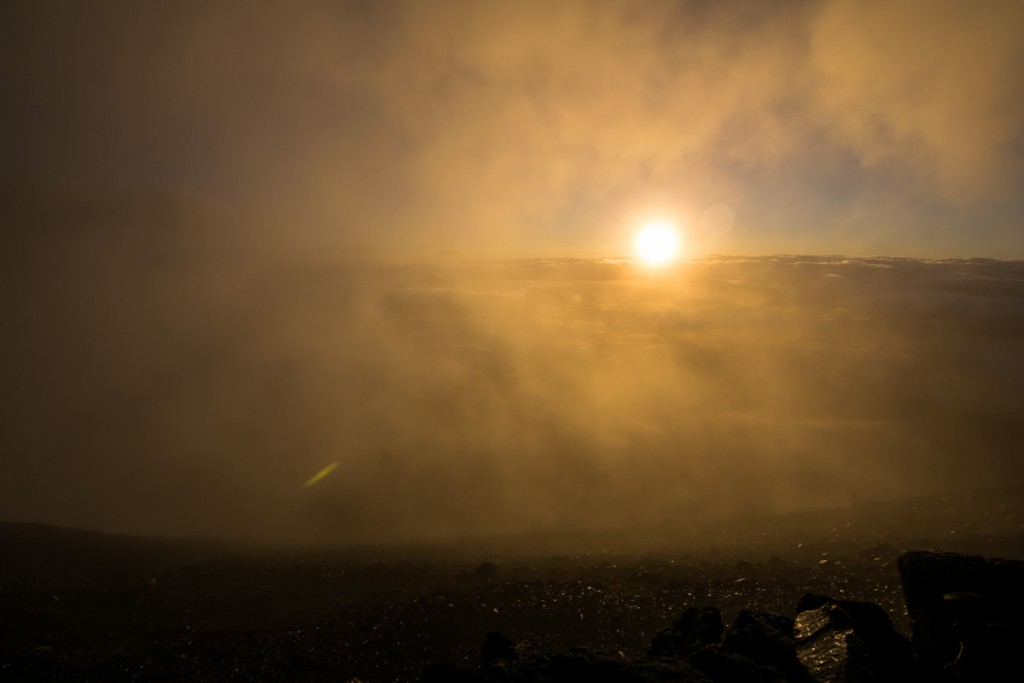 It did clear up a few minutes later, providing a better view.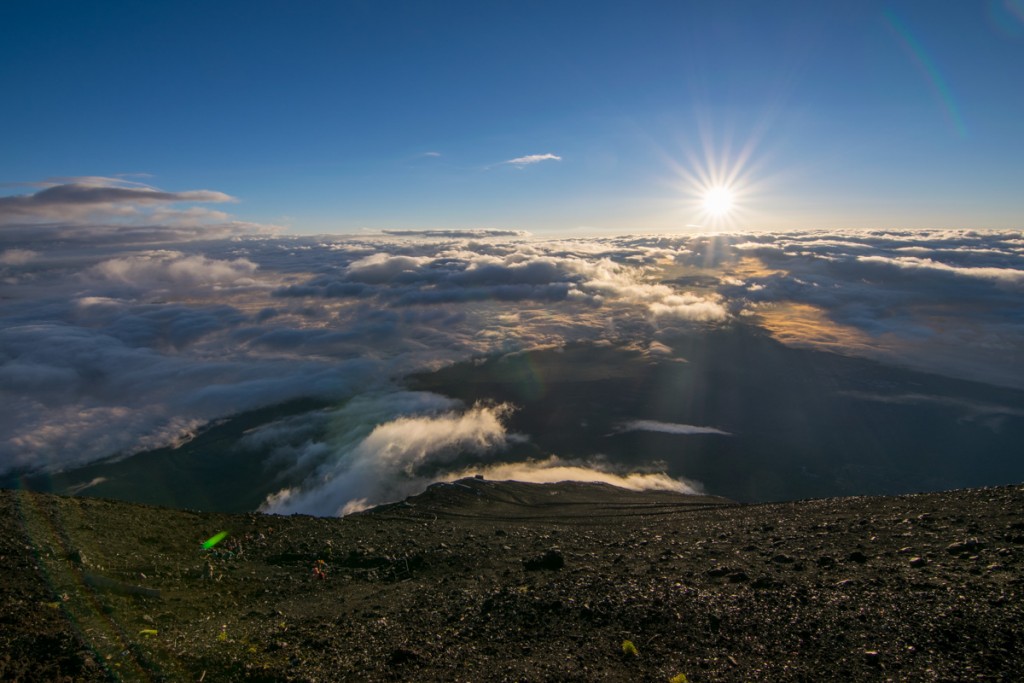 I decided to walk around the big crater at the top. I can't remember ever looking into a volcano crater before in my life. I thought they'd be a hole somewhere with visible lava or smoke coming out, but it simply looked like a crater left by an asteroid.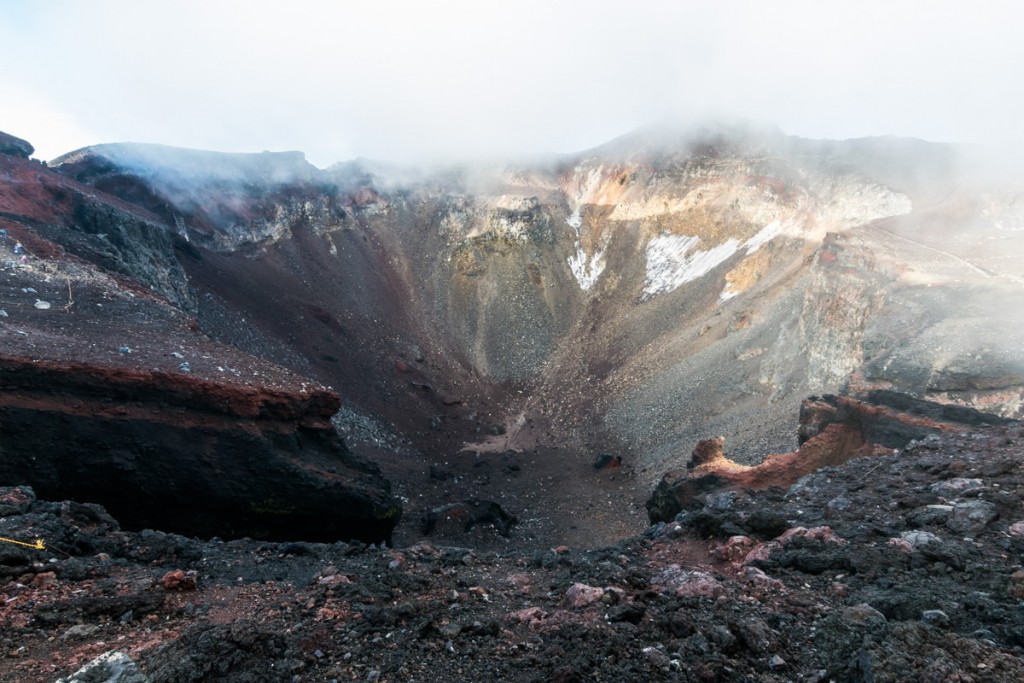 Most of the crowd leaves the top one hour after sunrise. Feeling very tired after circumventing the crater, I laid down on a bench and took a 1-hour nap. Feeling a little more refreshed, I started the decent back down to the 5th Station. This is a different route than the one coming up as they set up different trails for ascending and descending. In total, in took me around 2.5 hours to go down. Overall, I found the ascent and descent to be easy.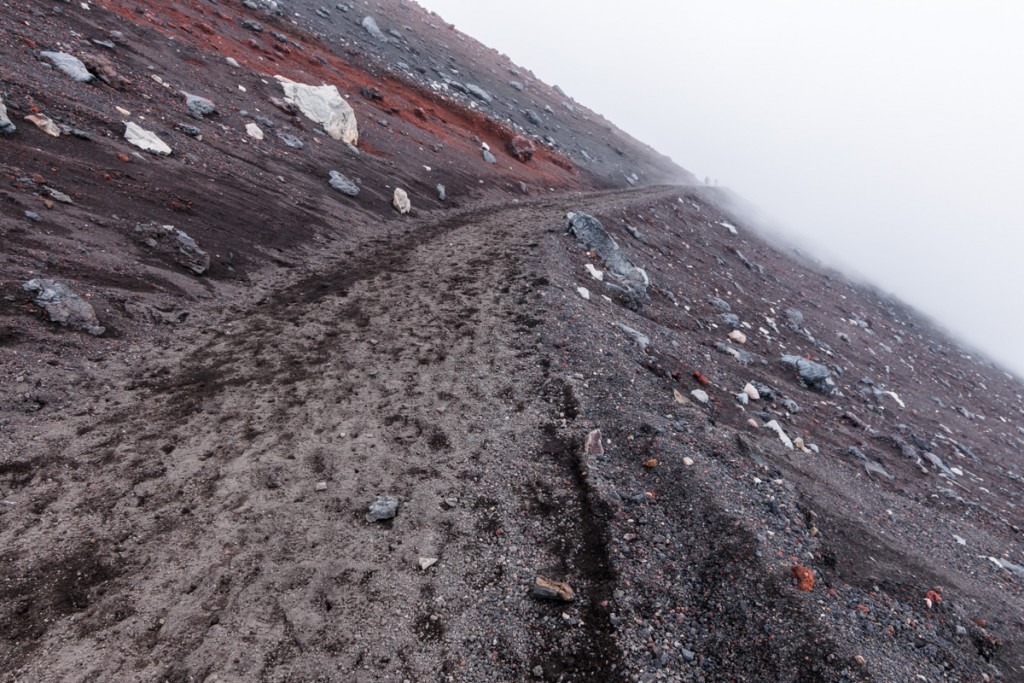 I have mixed opinions about climbing Mount Fuji. The part I enjoy the most was the human experience of going up in the dark along with hundreds of other people, all with the same goal. The scenery around the crater was interesting. But the rest was a bit disappointing. There's almost no interesting views on the way up or down, and to get a good sunrise you have to be lucky with weather. I'm glad I got to do it though.
---
My ratings for Mount Fuji's Yoshida Trail:
Scenery: 4.5 – Boring on the way up and down. Interesting volcano crater at the top. Sunrise blocked by fog.
Difficulty: 3.5 – The only possible problem would be altitude sickness.
Trail Condition: 9 – Easy terrain. Well graded and maintained trail. Signs everywhere so won't get lost.
---