I got to Abu Dhabi by bus from Dubai's Al Ghubaiba Bus Station. Maybe it was because of the weekend, but the lines at the bus stop were very long. Despite buses leaving every 15 minutes,I had to wait for an hour because of the number of passengers. With very little shade cover, it was uncomfortable to stand there for so long in 38°C weather and under the scorching sun. There were actually two lines, one for women and couples, and the other one for men only. Usually in buses in both Oman and UAE, the couples and women would sit at the front, and the men at the back. In this case though, each bus would only load passengers from one of the two lines, alternating between them.
Traveling in the Middle East had been a shock to me in terms of budget, especially since I was coming from the super cheap South East Asia. It was quite a change to go from spending 25 USD a day to 100 USD a day. Food and transportation were still relatively cheap, but the increase in spending came from staying in hotel rooms because of the absence of hostels.
I wanted to see if I could do Adu Dhabi cheaply. While the taxis in the region are not that expensive, it does add up quickly if one is to visit many sites during a day. I found out that the city doesn't have a metro system, but they do have a pretty decent bus network. At only 2 AED per ride (about 0.55 USD), it is very affordable. I wanted to visit two places in the city: Emirates Palace Hotel and Sheikh Zayed Grand Mosque, and the bus system goes to both.
Emirates Palace Hotel was a bit of a letdown. Built at a cost of 3 billion USD, it's big and lavish as expected, although not much different from any of the high-class hotels in Las Vegas. One of the touristy things to do is to have a cappuccino decorated with gold flakes. Usually I'm against such indulgent things, but for some impulsive reason I decided to try it. The cappuccino was good but the gold flakes had no particular taste. I felt regret right away for doing something so decadent. I also looked for the famous vending machine that dispenses gold bars inside the hotel, but couldn't find it.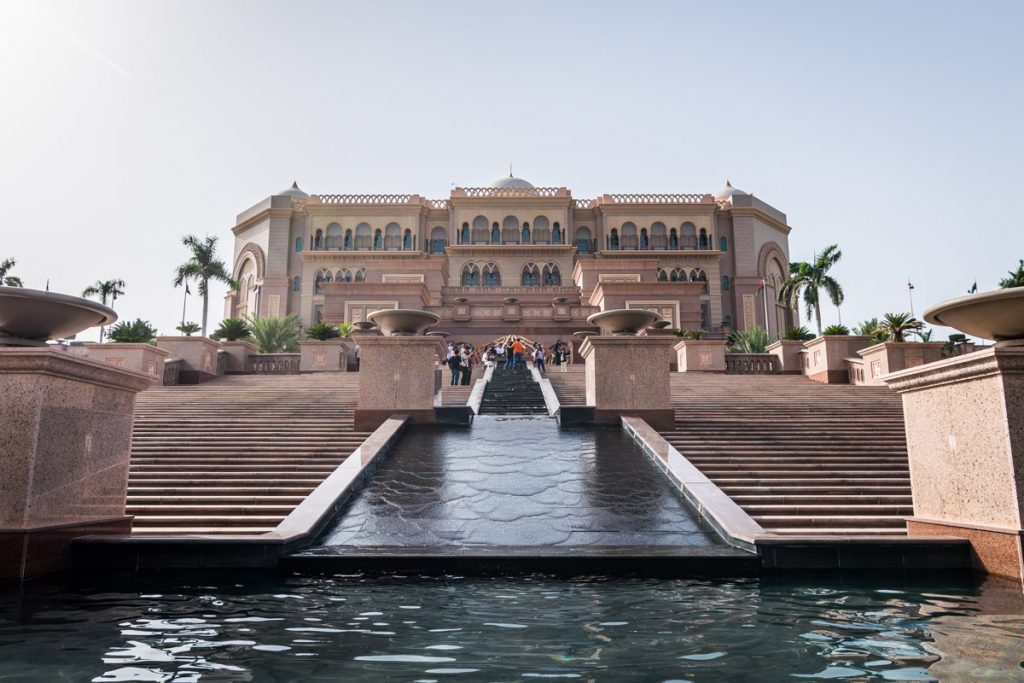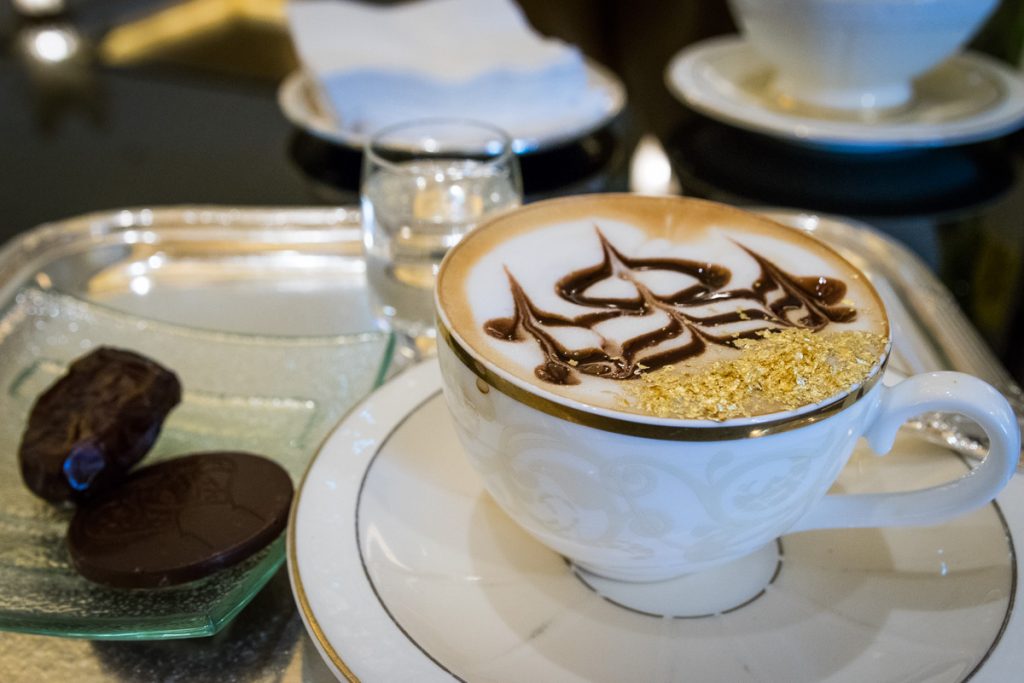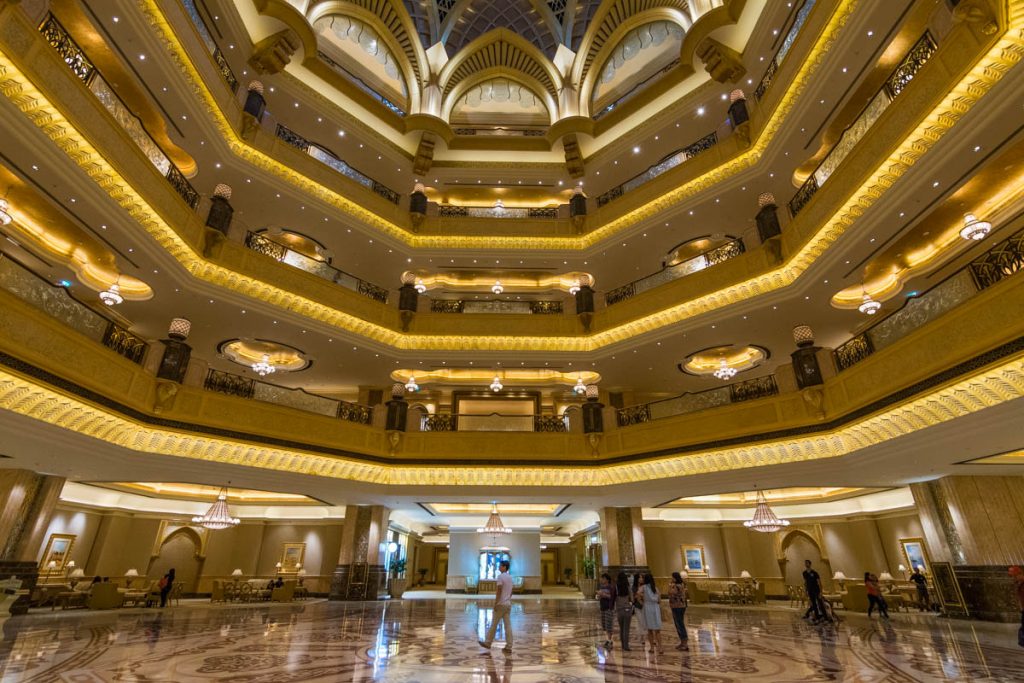 Next up was the Sheikh Zayed Grand Mosque. Many online reviews had mentioned the strict dress code including no short sleeves, so I went back to my hotel to put on a proper shirt. The bus took about 1 hour to get there. The construction of the mosque was finished a few years ago, but the areas surrounding it are still unfinished. This included a pedestrian underpass or overpass to cross the highway from the bus stop named Sheikh Zayed Grand Mosque. When I got off the bus I was standing next to a 8-lane highway on the opposite side of the mosque, with no way to cross it. I should have gotten off two stops earlier at Saif Ghubash St. I had no choice than to get a taxi to get to the other side.
The sun had just set when I finally arrived at the mosque.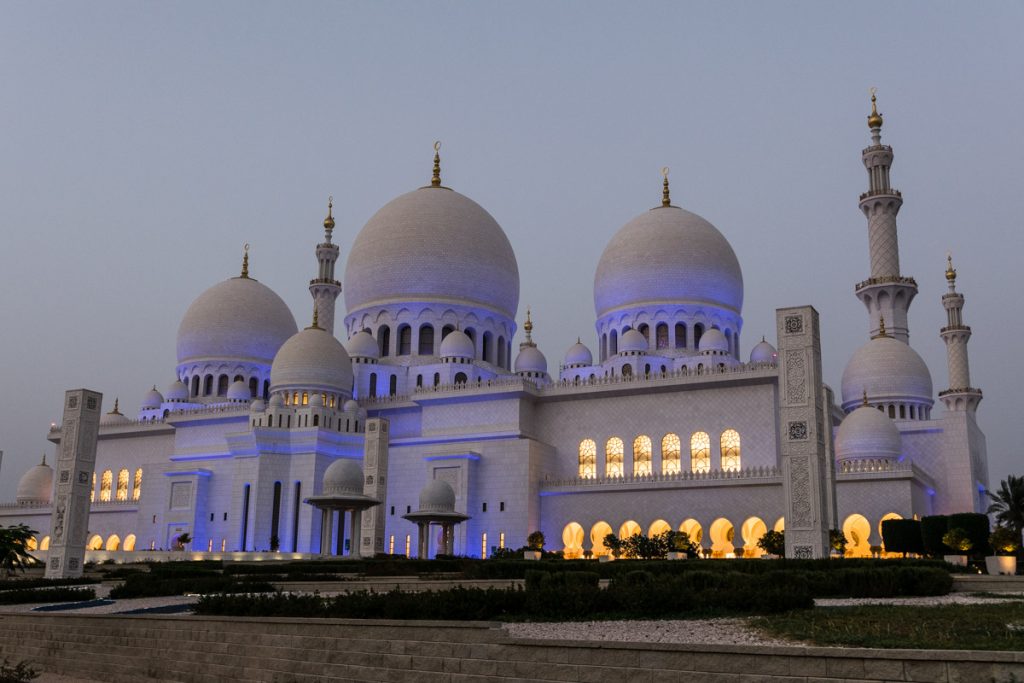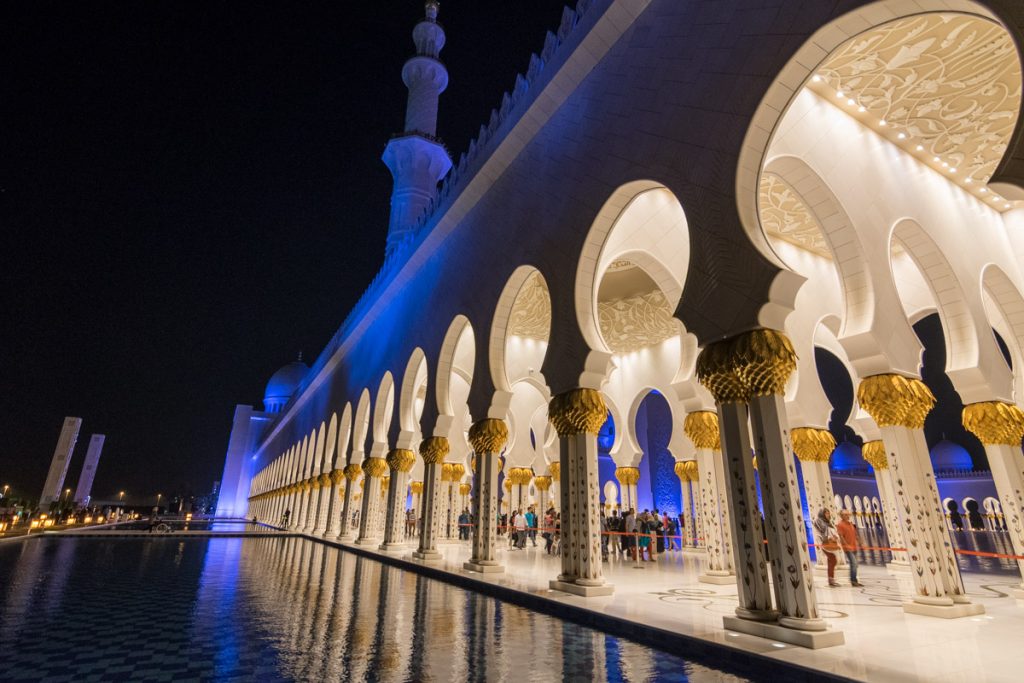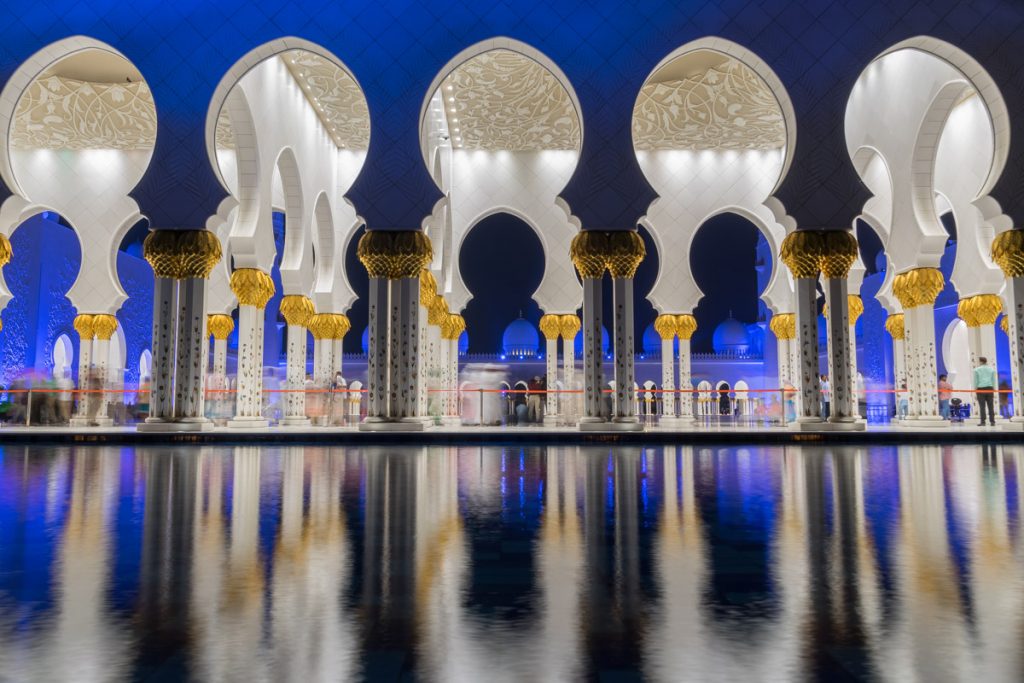 It's a stunning building, one of the most beautiful I have seen in my life. It was a Friday and very crowded inside. I saw a few people with short sleeve t-shirts so I'm not sure about that rule (at least for men). All women have to be properly covered though, and they'll let you borrow a gown if you are not.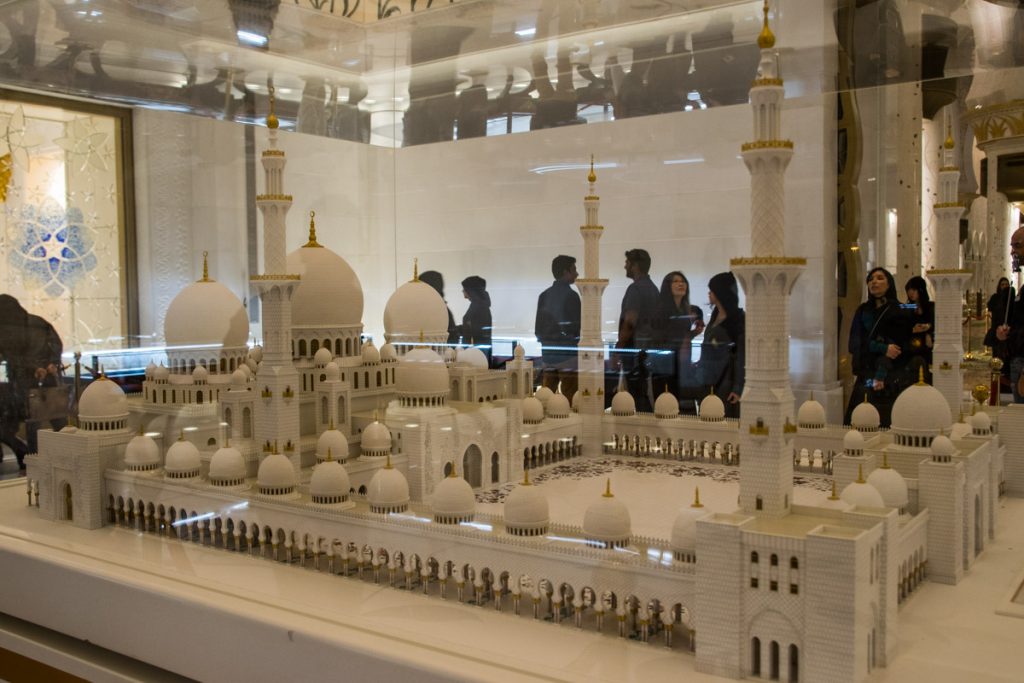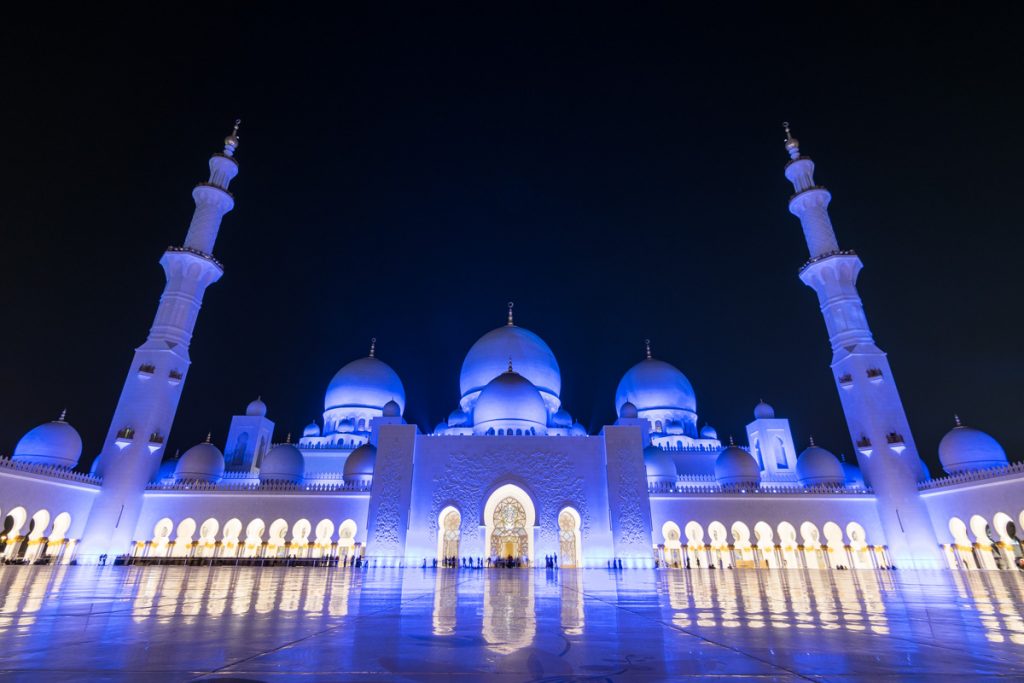 This is one of those places that should be enjoyed in peaceful silence, but the sheer number of people ruins the experience a little bit. Lots of kids running around and shouting. People stepping on the open-air Main Prayer Hall to take selfies when the many guards around kept telling them to not walk on it. Despite all that, it was still a very enjoyable experience to walk around and admire the architecture and decoration.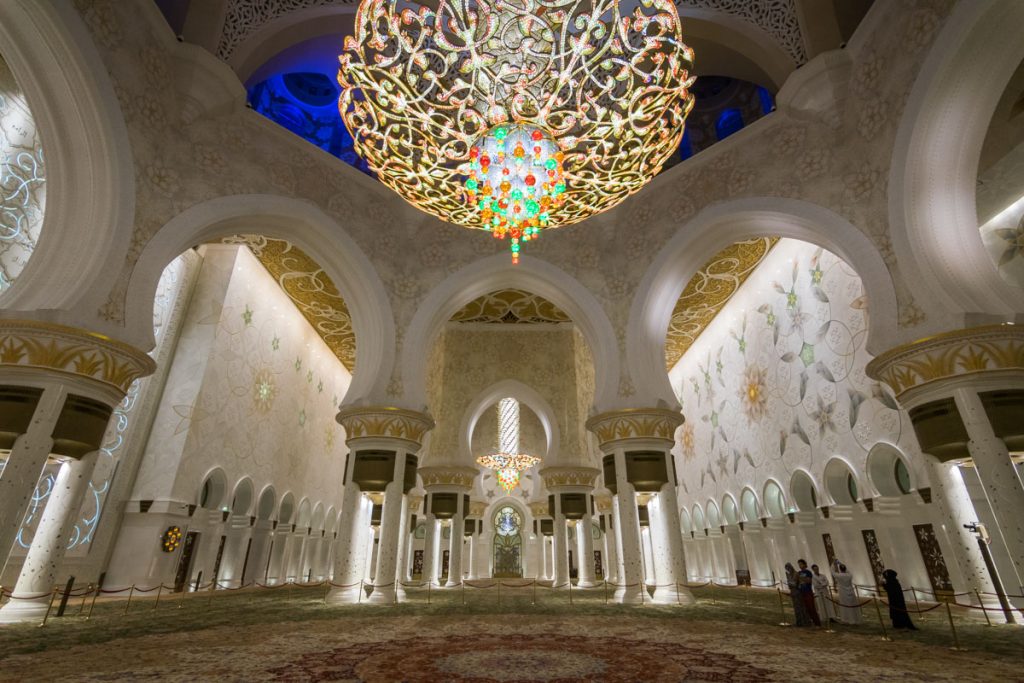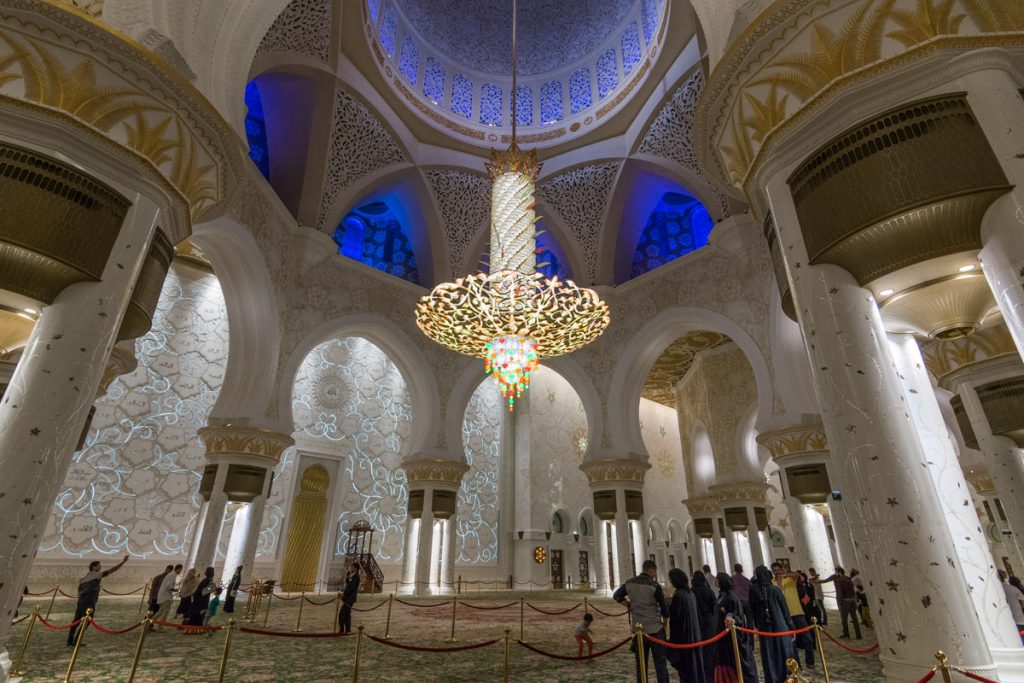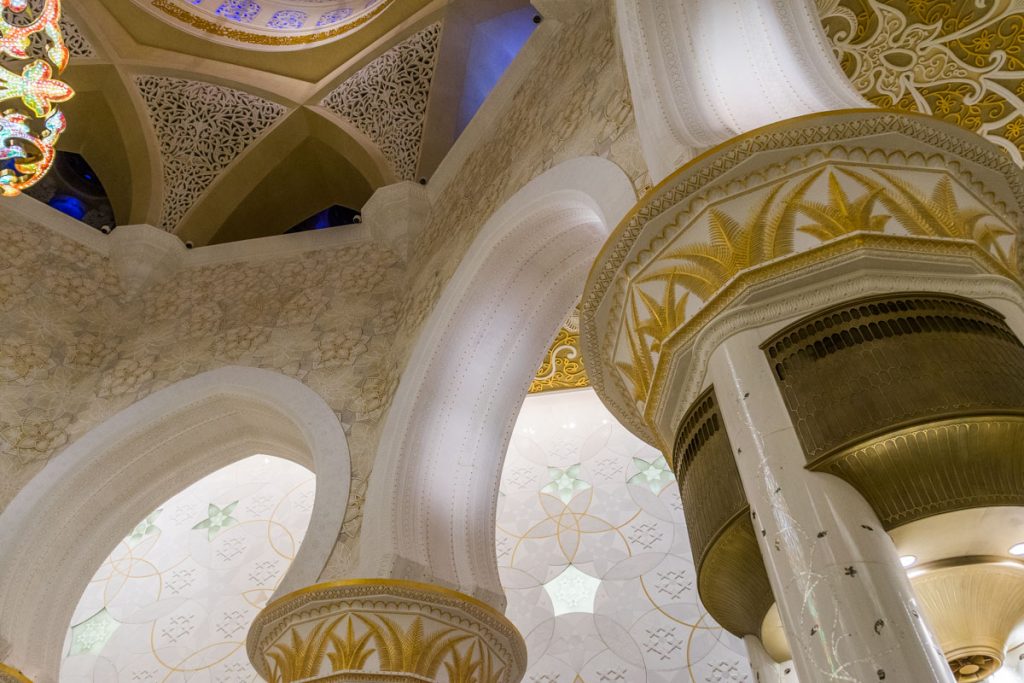 While I only saw very little of it, I ended up enjoying Abu Dhabi more than Dubai.