The hike from Kalaw to Inle Lake is a classic on the backpacking circuit in Myanmar. Without wanting to miss out on things, we signed up for the 3-day hike instead of the shorter 2-day one. The cost was 40,000 kyats per person (a bit over 30 USD). This included all the meals, accommodation (you sleep with others in the tour group in a shared room), transportation of your big luggage (stuff you don't bring to the hike) from Kalaw to your hotel at the end of the trail, and the boat ride from the south of Inle Lake to Nyaungshwe (where most of the hotels are).
Day 1
We arrived at the office of Ever Smile trekking company in Kalaw at 9am, and after loading our big backpacks to a truck, we started our 3-day adventure. Our guide was a local girl named August, and joining us were Yus and his sister Tya from Indonesia, Vega from the US, and Sebastian and Romina from Germany.
We started from the town center and walked up to the hills on dirt roads.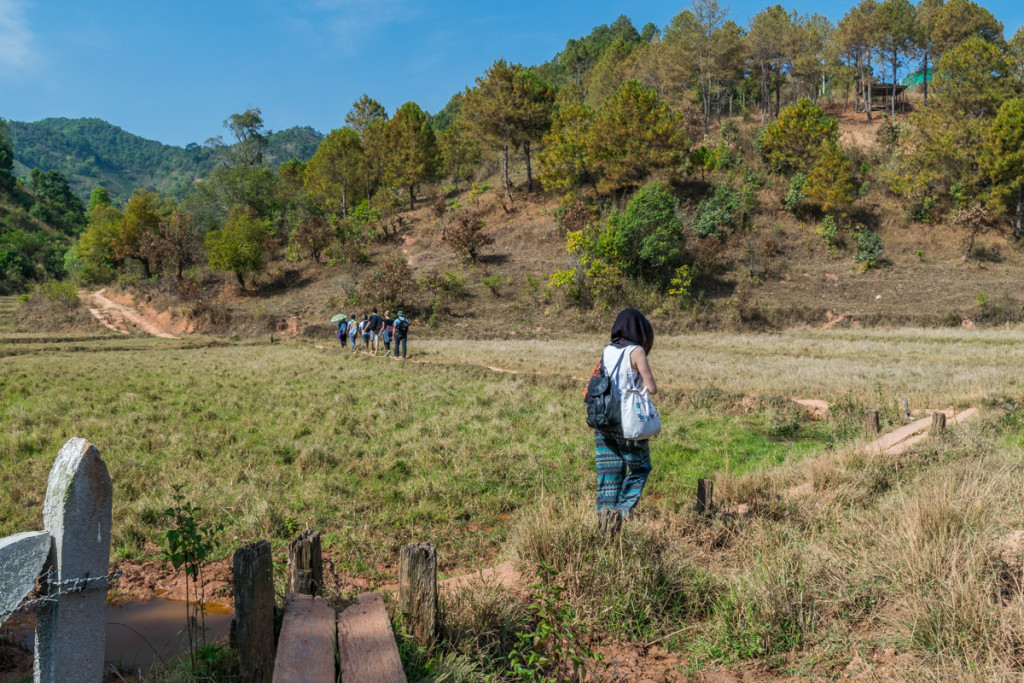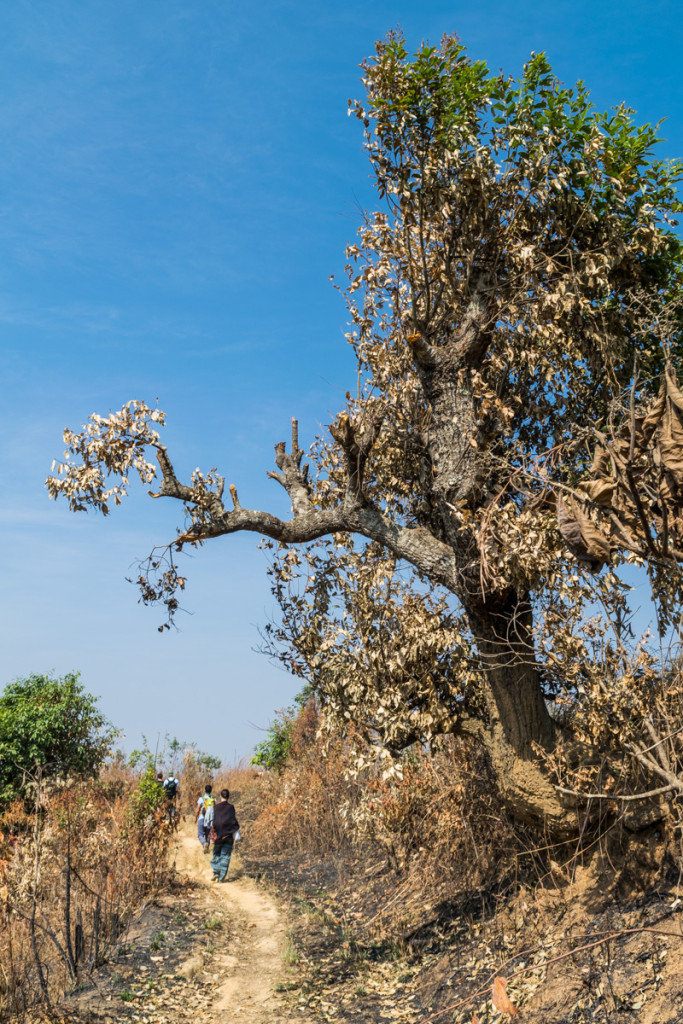 It was the middle of dry season in mid-February. The air was dry and dusty, and it looked like it hadn't rained in weeks. Every time a motorcycle would go by us, we would have to cover our faces for a few seconds as the dust settled.
After a while, we stopped under a big tree for a snack and a quick rest. The views showed us a few farms and villages in the distance. Our guide August explained to us the traditions of each tribe in the area (the Shan State), such as the one where a tribe member who married outside the tribe was only allowed to return once a year, provided that they were willing to pay a certain amount of money. August herself was of the Pa'O tribe.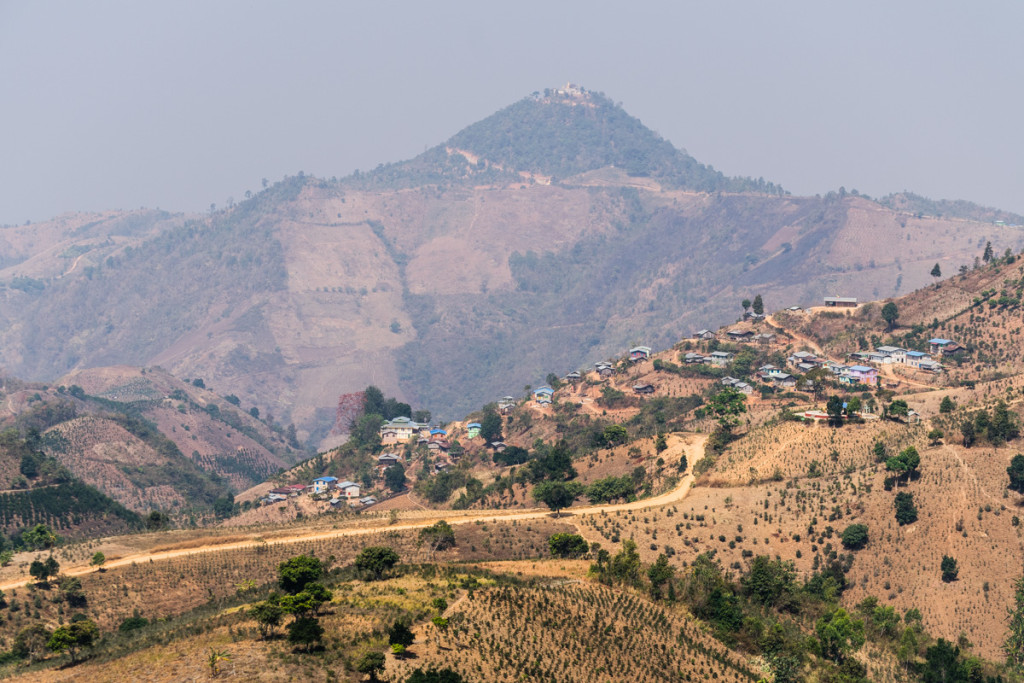 For lunch, we had chapati with curry at a hilltop restaurant with very nice views.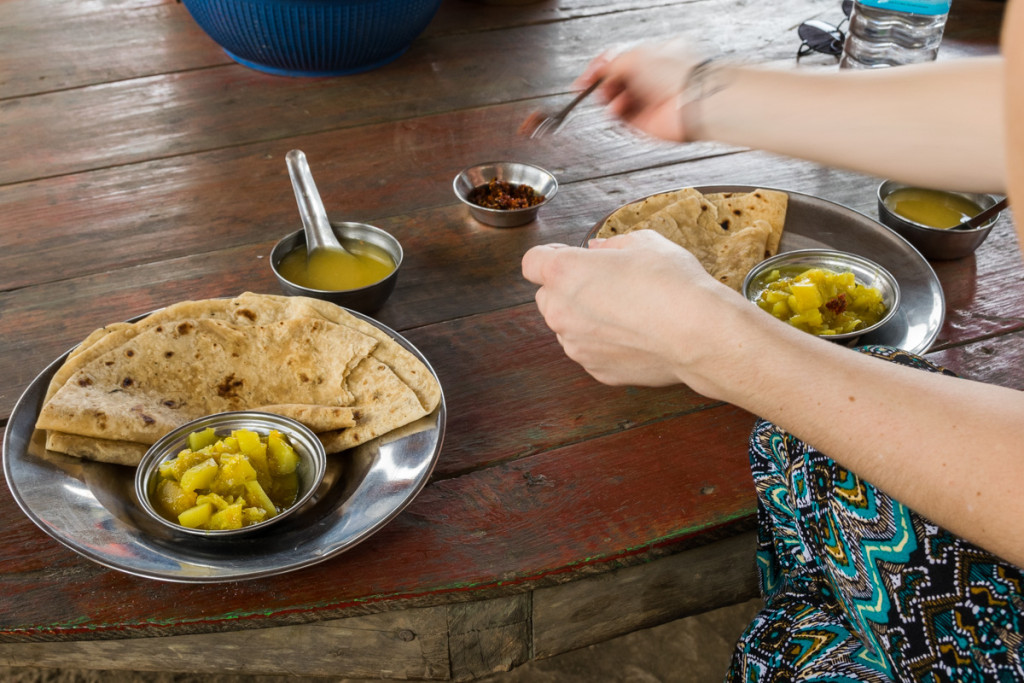 After a nice lunch break, we walked for two hours before stopping for a snack. This is would a recurring theme during the 3-day hike: we would stop often and we would be well fed. The hike never felt too strenuous. During the break, August showed us the ingredients of Kwun-ya, something we had seen in stalls everywhere around the Myanmar: parcels of areca nuts, opium seeds, lime and tobacco wrapped in a betel leaf. I didn't try it then, but I did do it the following day. It's supposed to make you more alert, but I didn't feel any noticeable effect. It had a slight sweet taste.

Tya was having a bad fever, so a motorcycle drove her to the village we would stay in that night. We continued on, walking on train tracks for a while until we reached a train station. Here we stopped for another snack. The station was busy with locals (including a group of monks) buying stuff.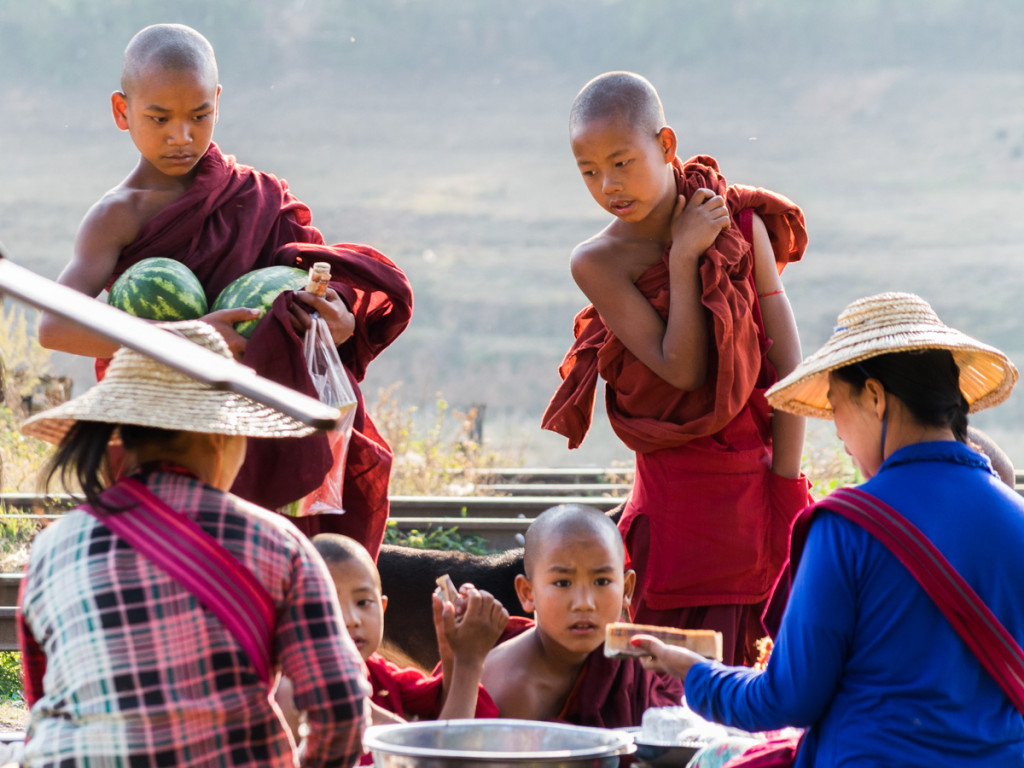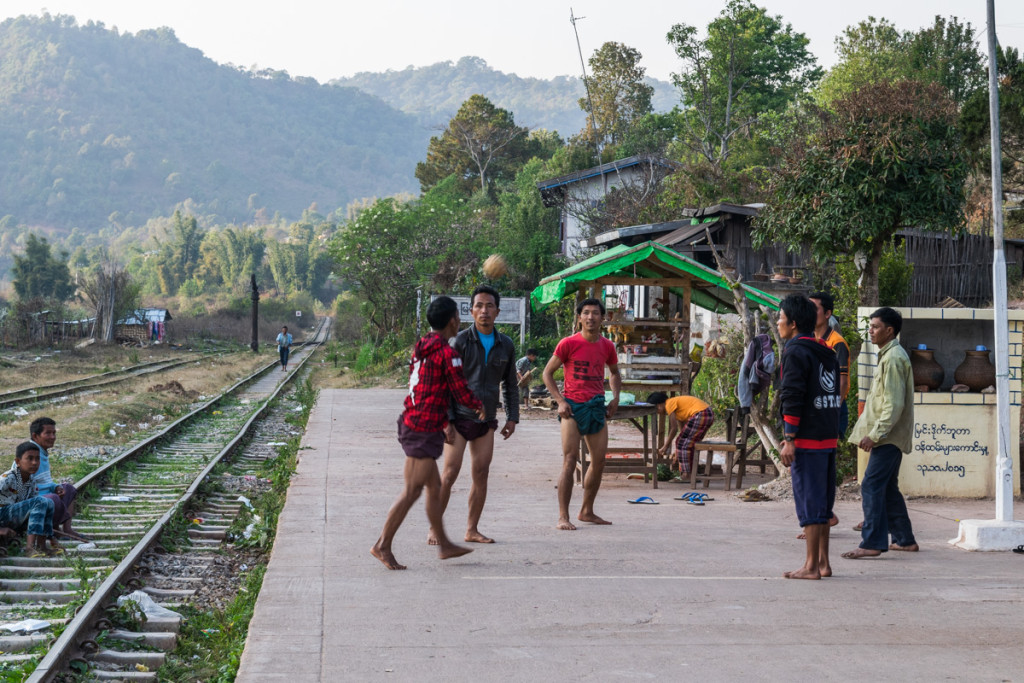 We got off the train tracks and walked on dirt roads until we reached the village where we would stay for the night. There were about ten houses total. The family who hosted us cooked a delicious dinner with a lot of dishes.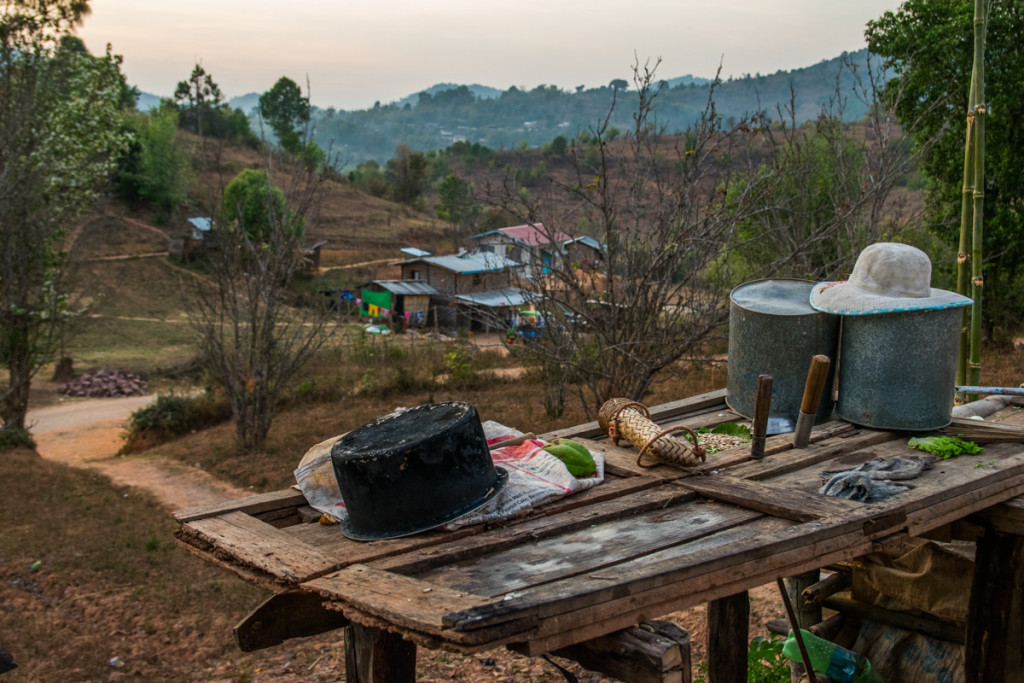 There was also a little makeshift stall with a big barrel of water where we could splash ourselves and take a quick cold shower. This was much welcomed as I was expecting to go three days without showering.
We slept on the floor of a big room on the upper level of the house.
Day 2
Tya was still having a very bad fever, so she would skip the rest of the hike and go directly to Inle Lake.
The terrain was more flat than the previous day, but the weather was just as hot and dry.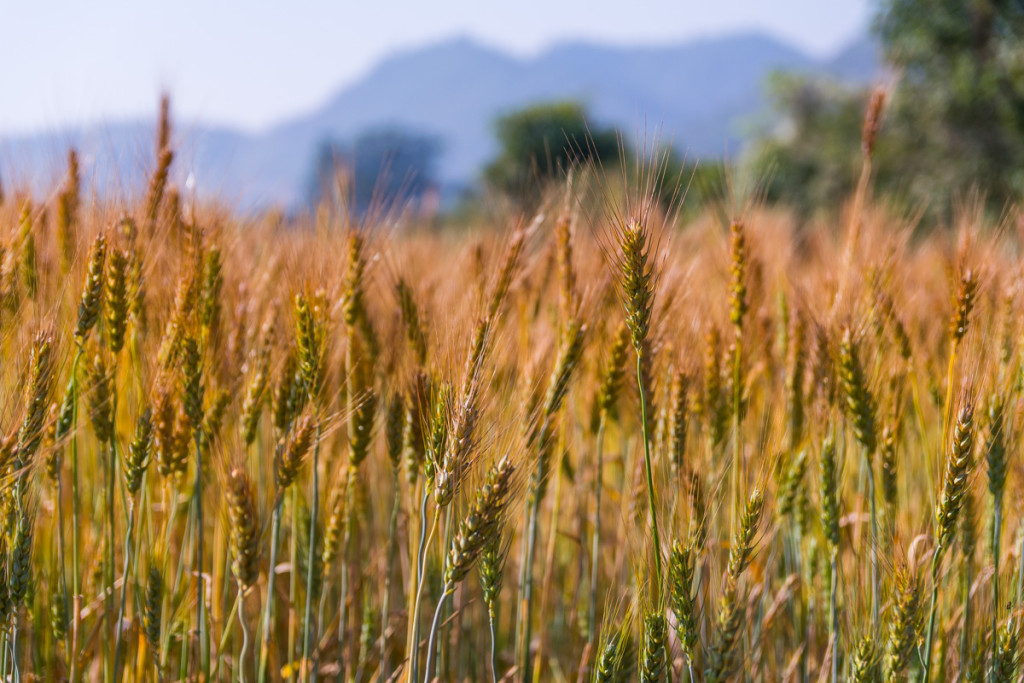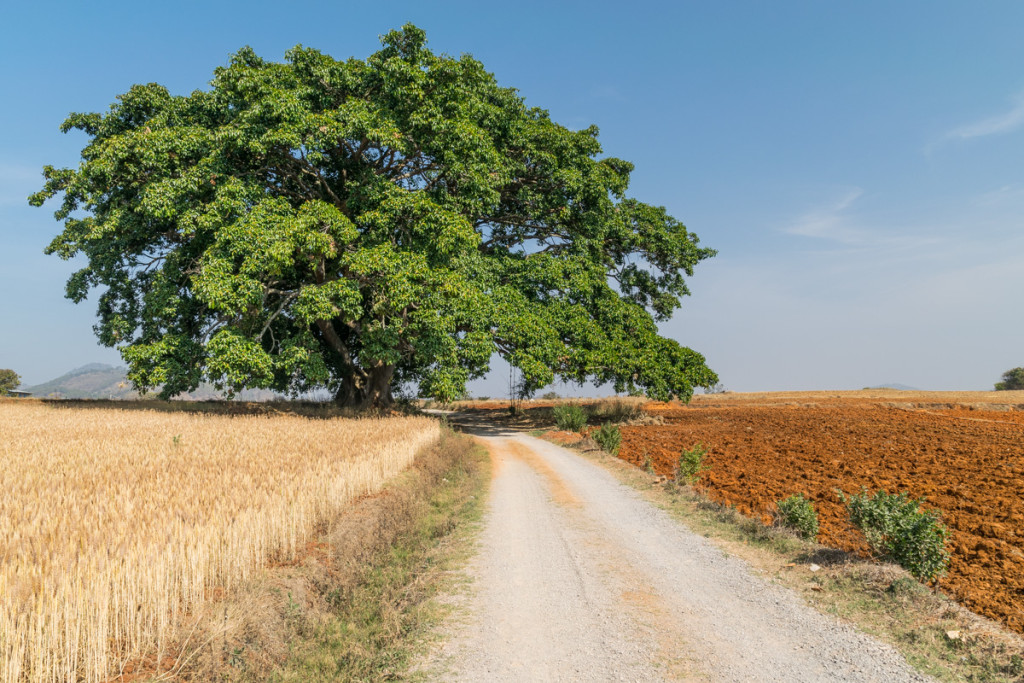 We stopped for tea and snacks at a little village. We watched an old woman weave bags, something she had done for 60+ years. Some of these bags would take her days to make, and would sell for just 3 to 5 USD each. I decided to buy a small bag.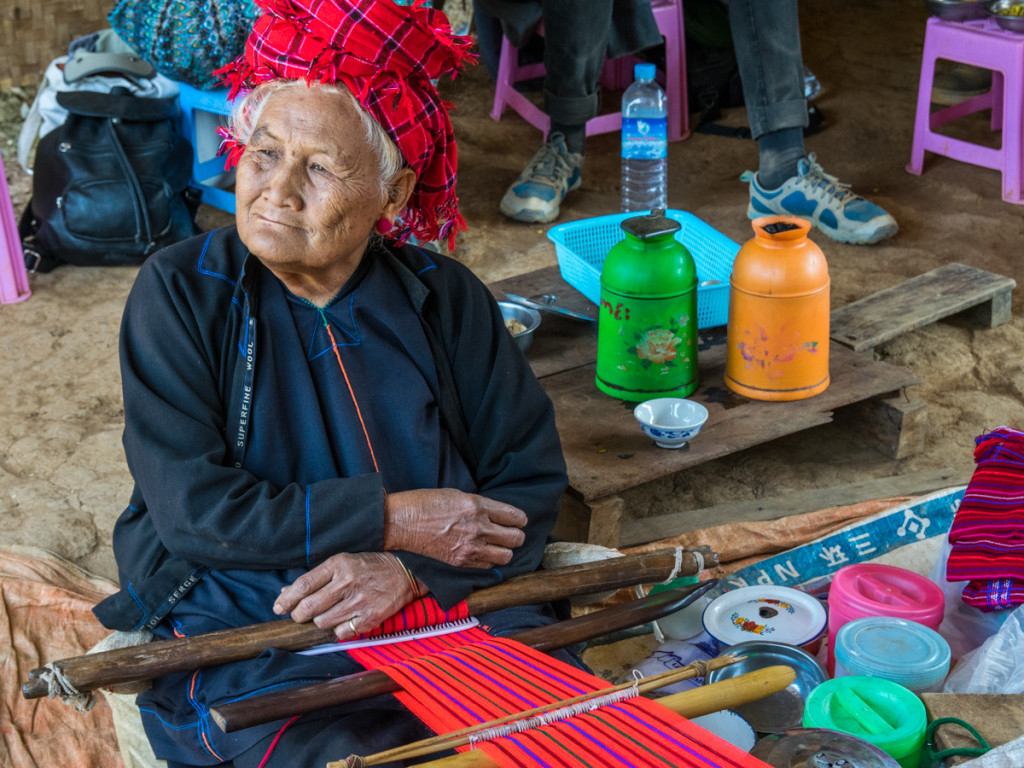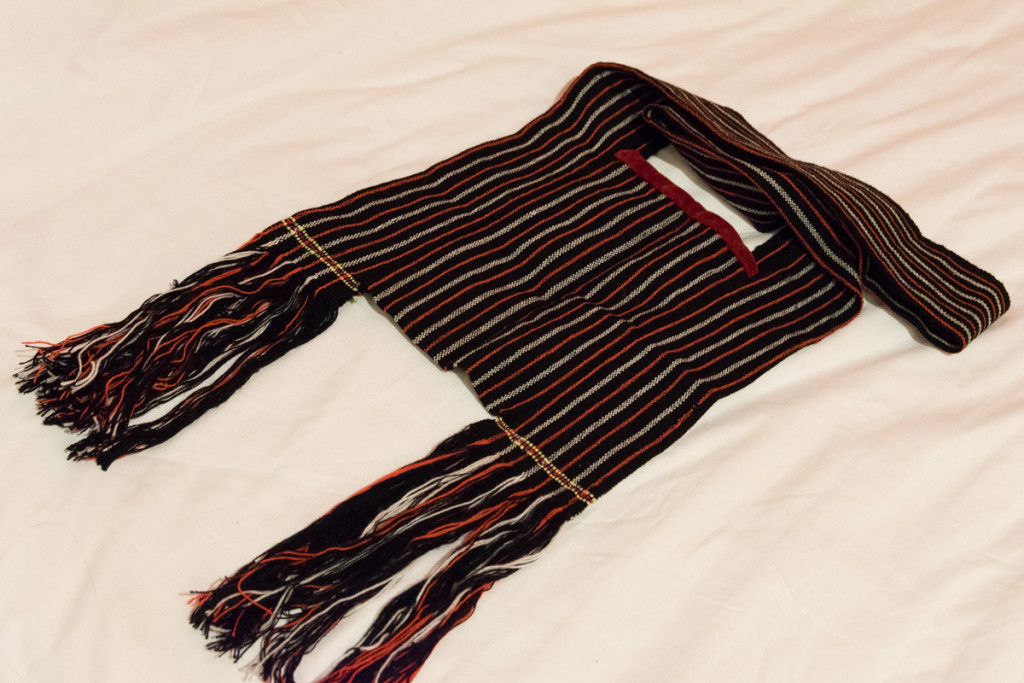 We continued our walk under the scorching sun. When we reached another village for lunch. We all needed to lay down because of how exhausted the heat was making us feel. After midday the temperature became a bit more bearable and we moved on.
The natural scenery was nothing spectacular because of the muted colors caused by the dryness, but the villages and people we saw were very interesting.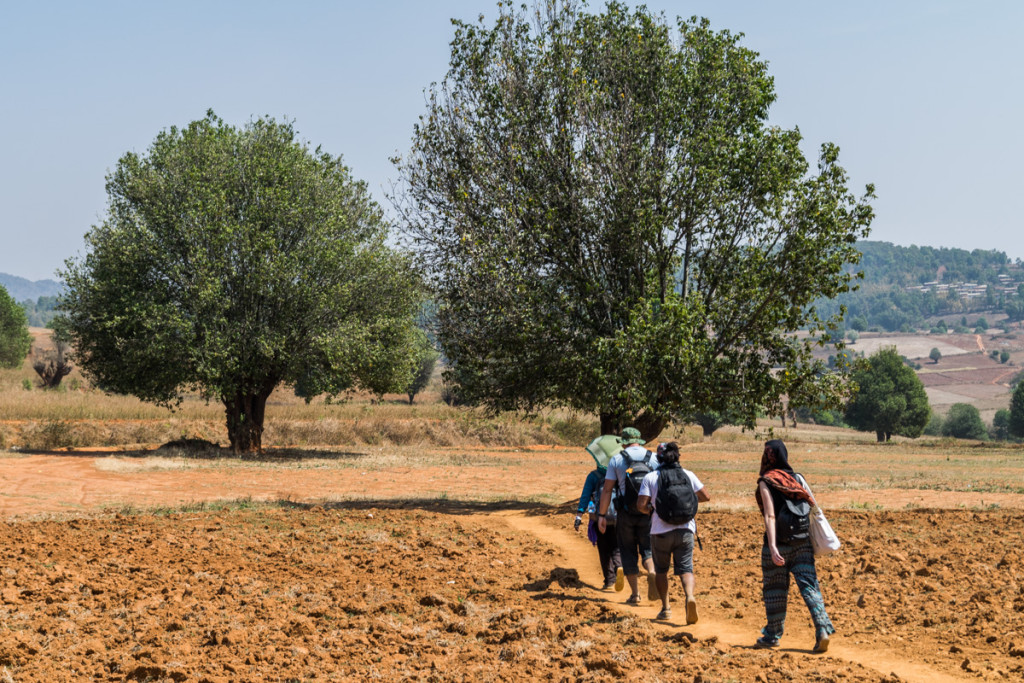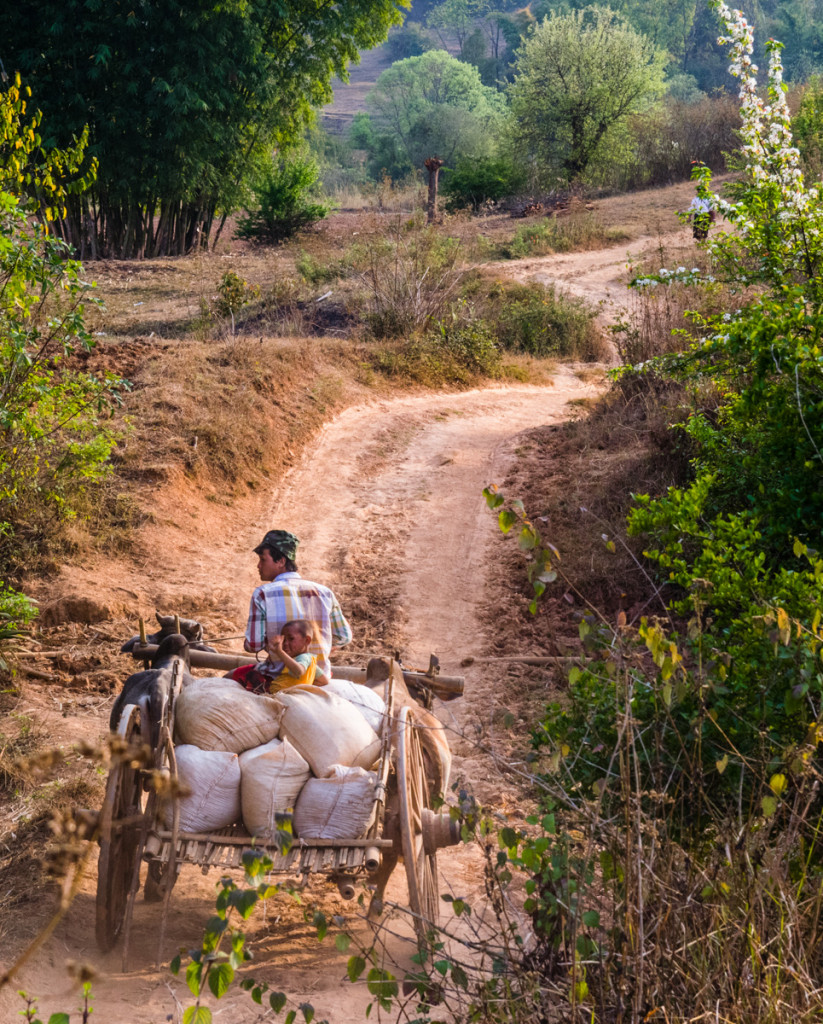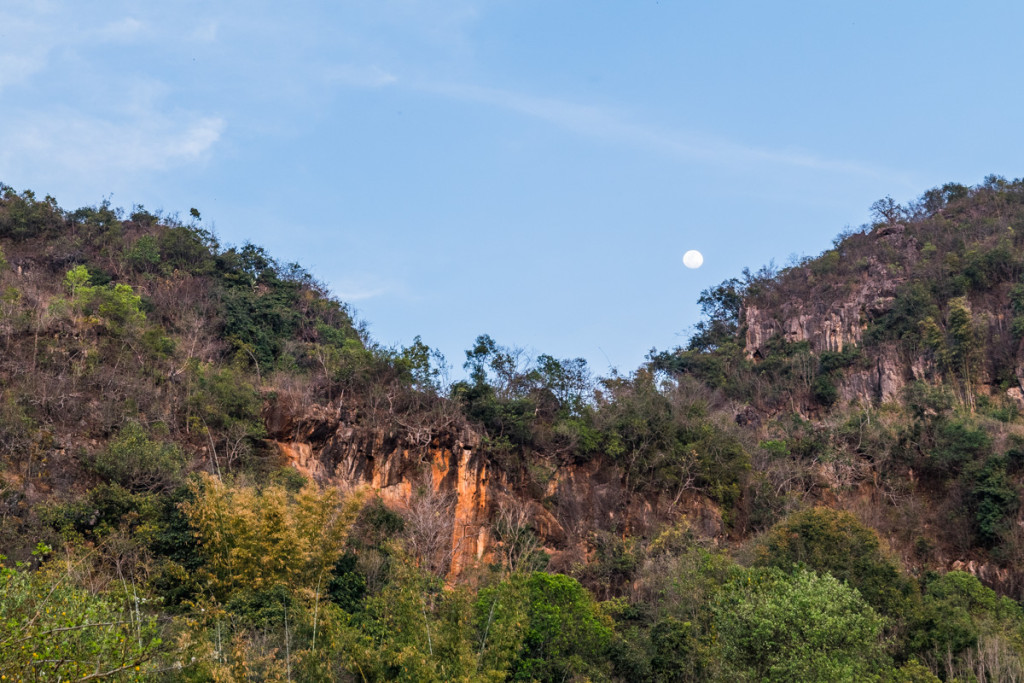 After a long day, we finally arrived at the village where we would sleep in. Once again, we were served a delicious dinner by a local family that left us more than satisfied.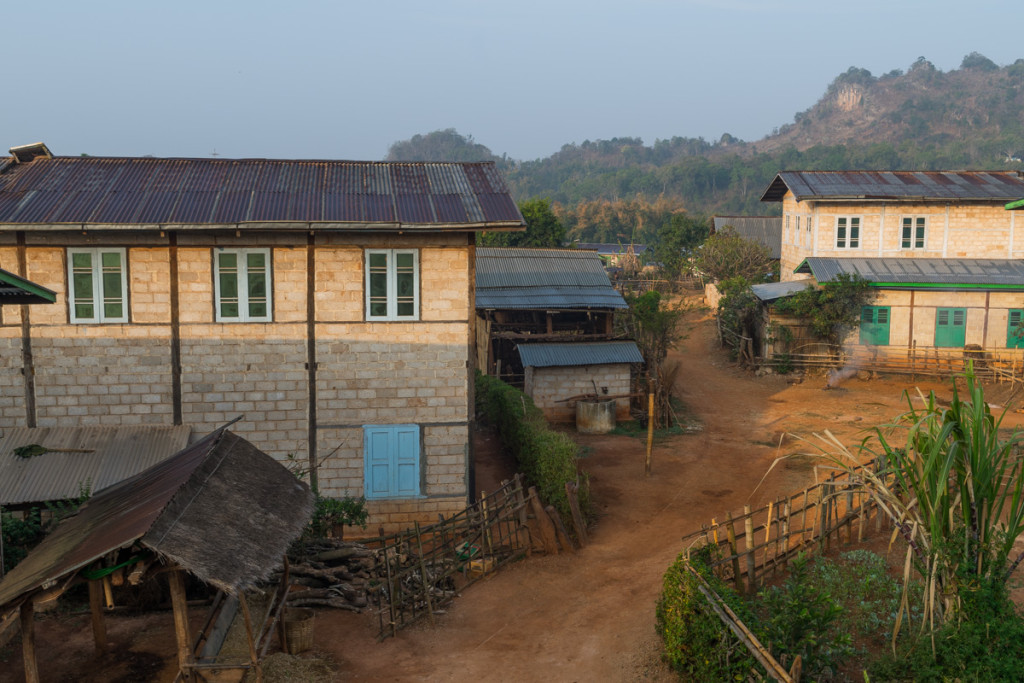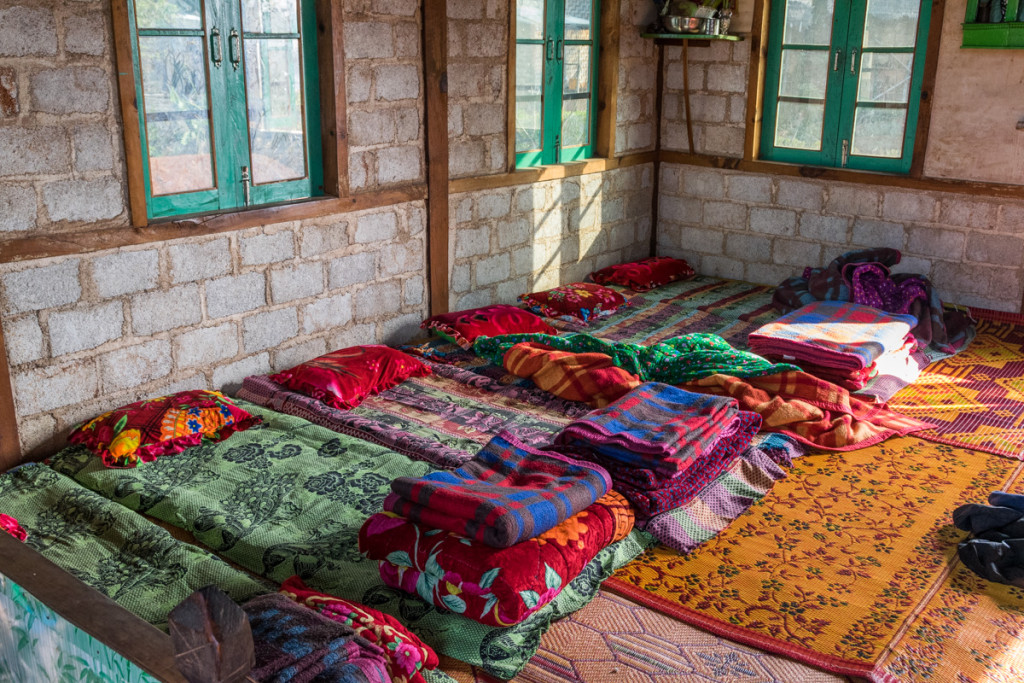 Day 3
We only walked for about 4 hours total as we started our slow descent to Inle Lake. As we left the village in which we slept in the previous night, we reached a paved road where we paid our entrance fee to the Inle area (10 USD per person). We also saw construction for what looked like a luxury resort. After getting off the paved road, the soil turned from light brown to red.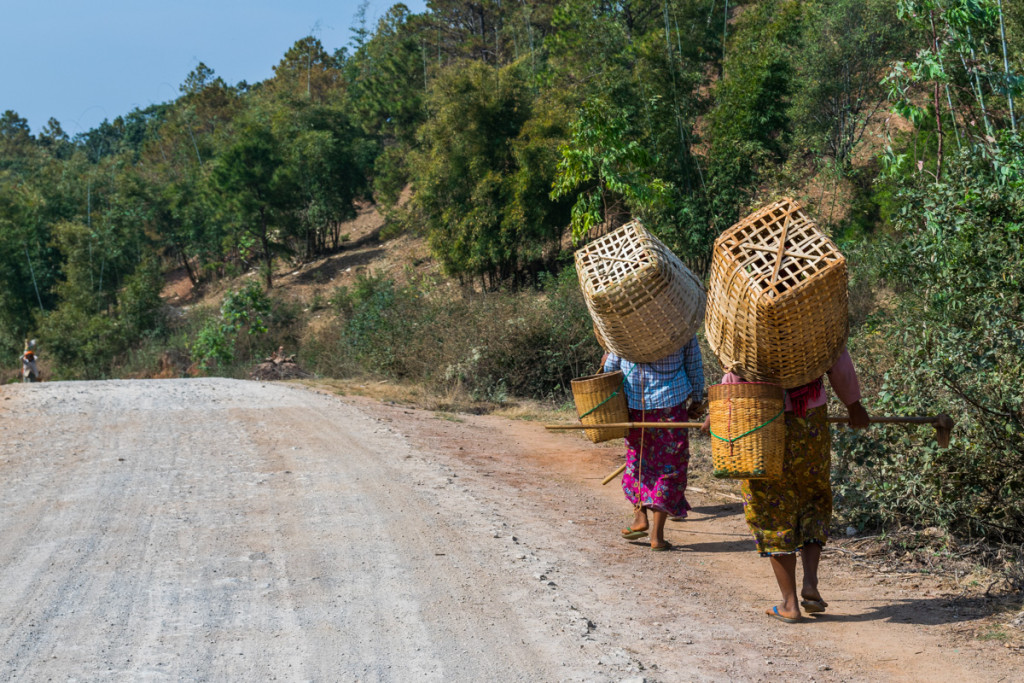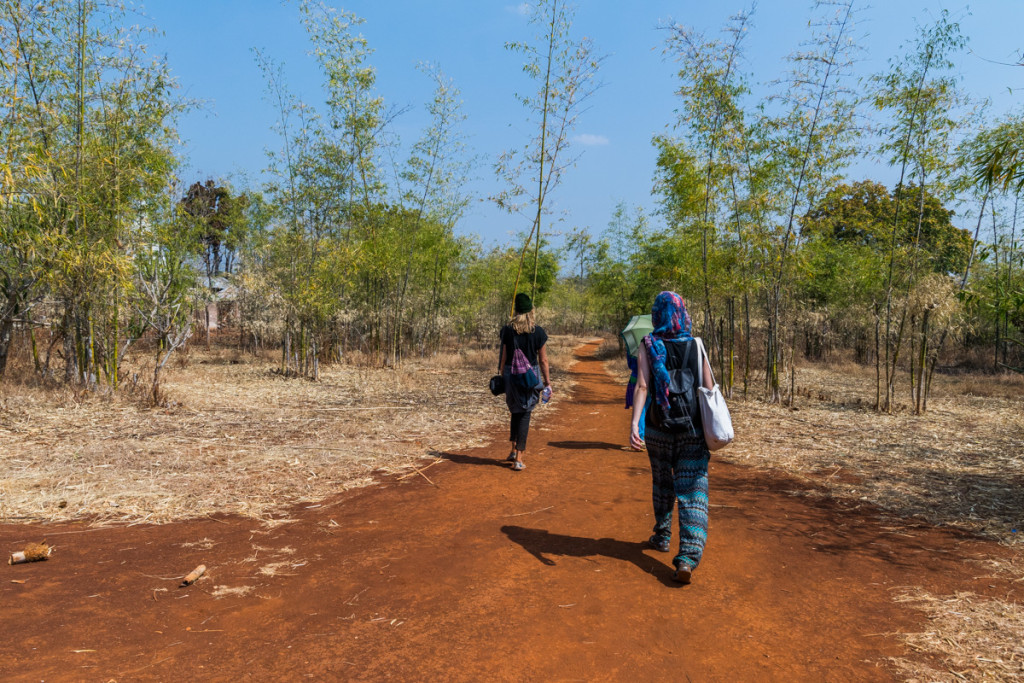 We were soon able to see Inle Lake from the distance. After another 30 minutes or so, we finally arrived at the floating village where we had lunch, and ended the walking part of this trip. We had done a fair amount of walking in three days. While the terrain wasn't difficult at any point, the 60+ km walk is long enough to give you a bit of a sense of accomplishment.
The landscape during the hike wasn't great in my opinion. Maybe i was due to how barren it was in the dry season. But the cultural experience of seeing locals live their everyday life, and having the chance to stay with them was really great.
The floating village was mostly populated by locals. To arrive at the tourist town of Nyaungshwe we still had to take a 1-hour boat ride, which I describe in my Inle Lake and Indein Village post.