Journal entry for September 6-9, 2017
The drive from Spokane to Yellowstone seemed to take forever. Google Maps estimates it's 7.5 hours, but that's without any stops. The air was still smoky as we entered Idaho, but thankfully it all cleared up as we got closer to Wyoming. The landscape was beautiful and wide open.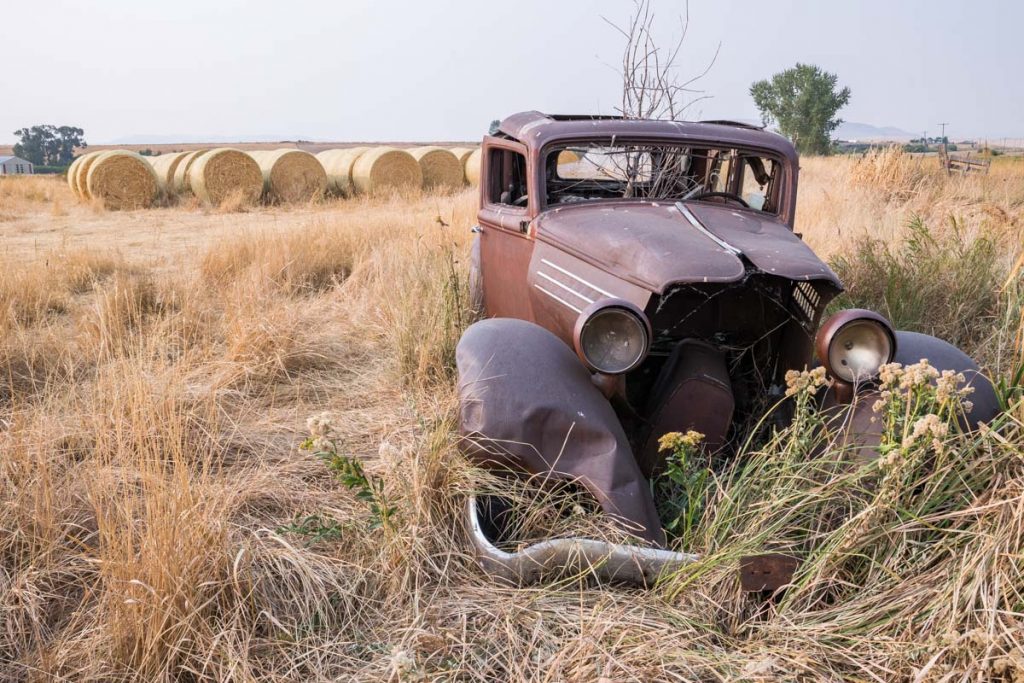 There's a sign at the west entrance of the Yellowstone National Park listing the availability of all campgrounds. They were all full except one. We were glad to have booked a spot for Madison Campground a few days in advance.
Beautiful short pine trees lined the sides of the road as we drove into the park. We arrived at Madison Campground as the sun was going down. We checked in and bought a box of firewood for $8. The sites are nice, but on the expensive side at $27 a night. Yellowstone is huge, so it doesn't make sense to stay the whole time in a the same campground if you want to explore other areas. We were going to stay at Madison for only one night, and use other campgrounds for the rest of our 4-night stay.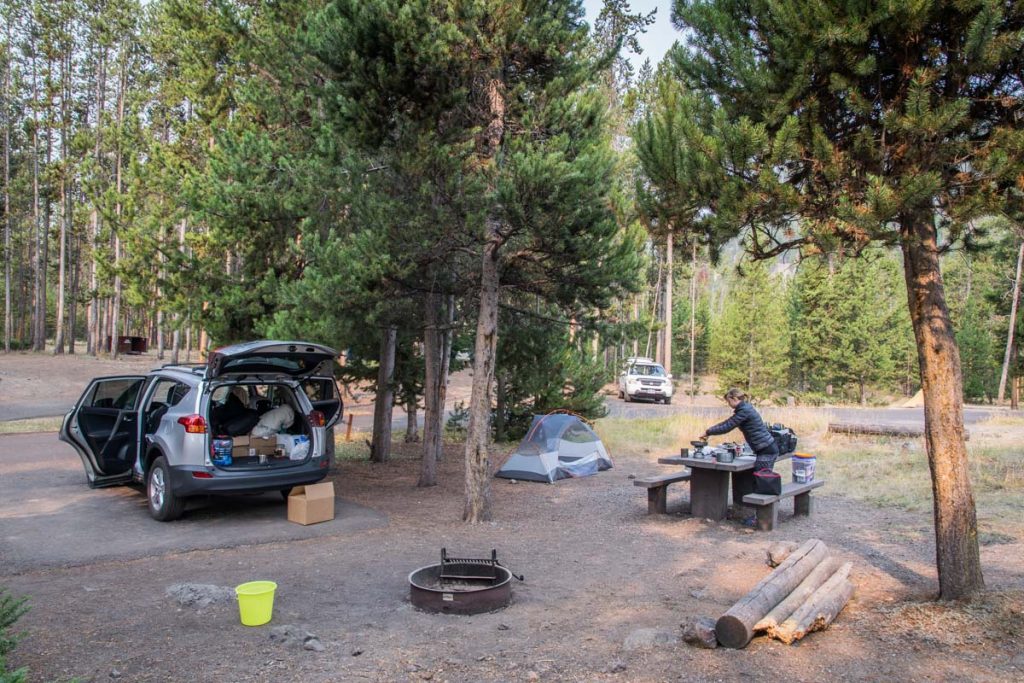 I was freezing sleeping in the tent that night. My 8-year old sleeping bag had a couple of areas without any down feathers, and they become very noticeable on very cold nights. I slept like crap all night until 6am, when I got up to pee and grabbed the backup blanket from the car. After putting the blanket on top of our sleeping bags, I was able to get 3 hours of warm cozy sleep.
On the way out of the campground, we stopped at reception and were able to book a site for Bridge Bay Campground for that night. We could now enjoy the rest of the day without stressing about not having a site for the night. While driving to the Old Faithful geyser we saw our first bison. It ended being just the first of hundreds we would see in the next few days.
Old Faithful is located in an area called Upper Geyser Basin, and it was very crowded. There's a gigantic parking lot but it took us a while to find a spot. This must be one of the busiest areas in all of the national parks in the US. We did a short hike to Observation Point to see the eruption. There are signs around telling you when their next predicted eruption time is, and they are usually very accurate. Upper Geyser Basin, the area around Old Geyser, has the largest concentration of geysers in the world.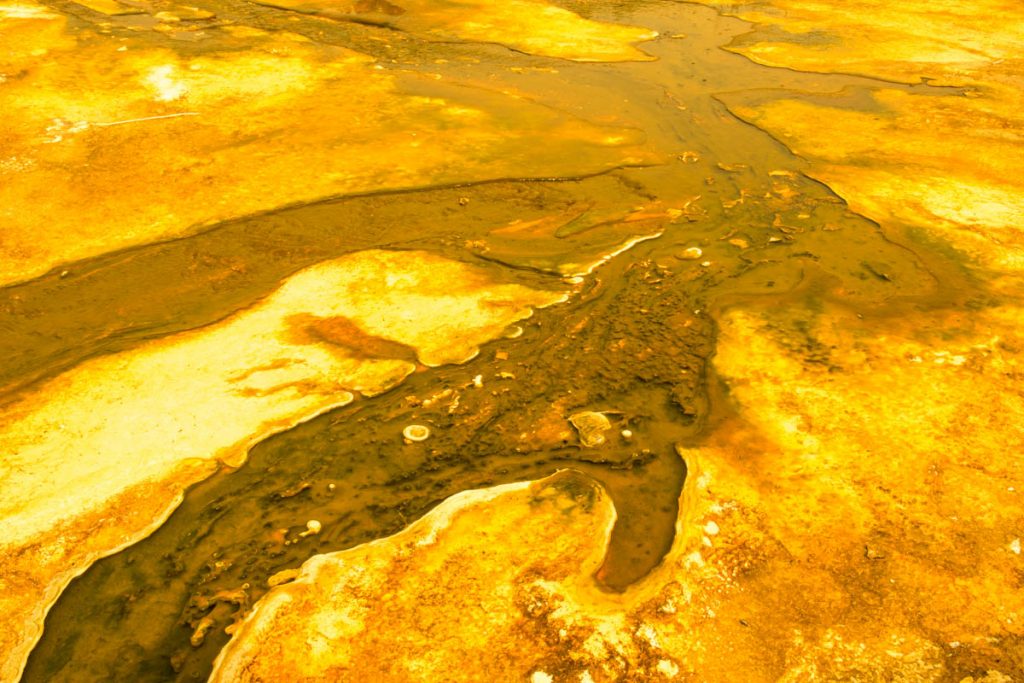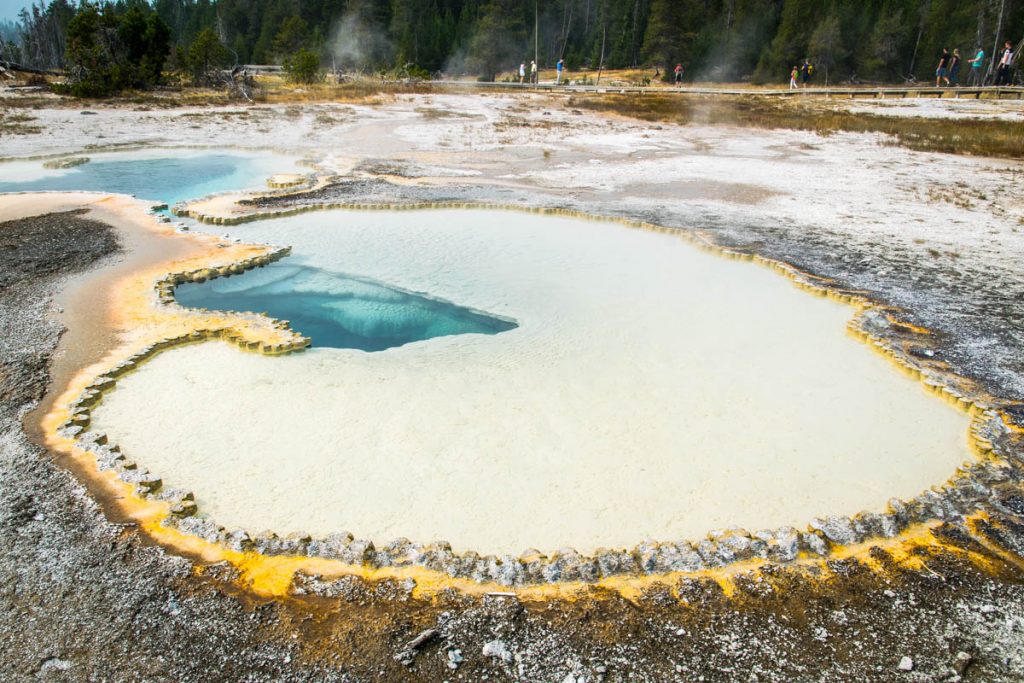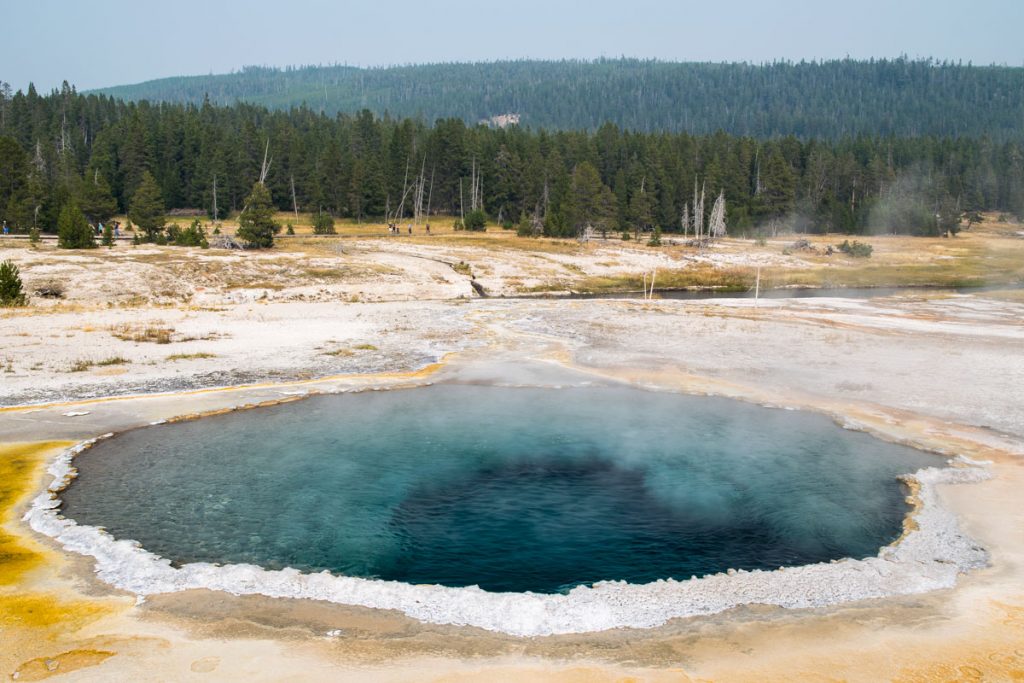 We then backtracked a bit and drove to beautiful Grand Prismatic Spring. The biggest hot spring in the country is located here, but what strikes you the most are the vivid colors.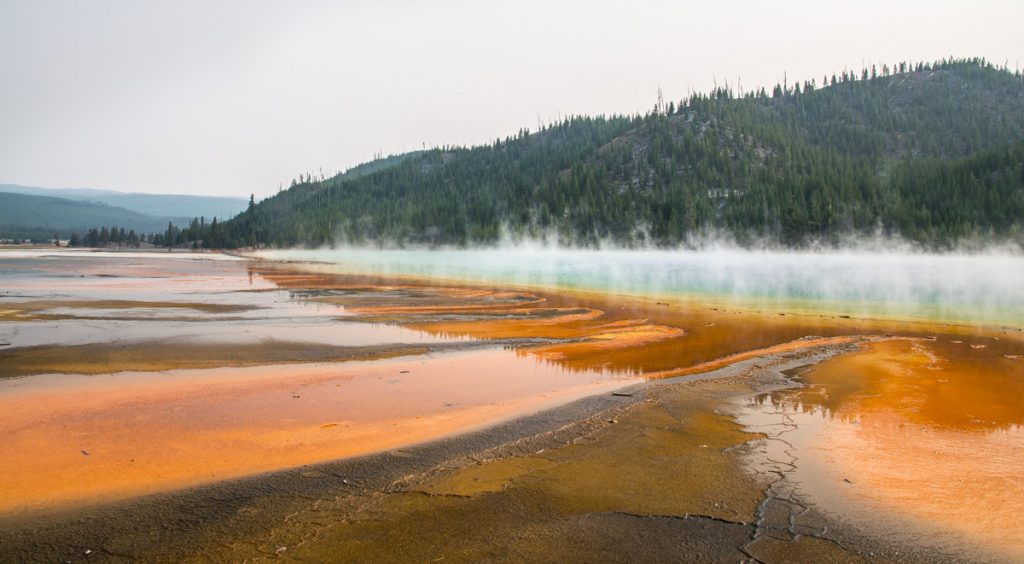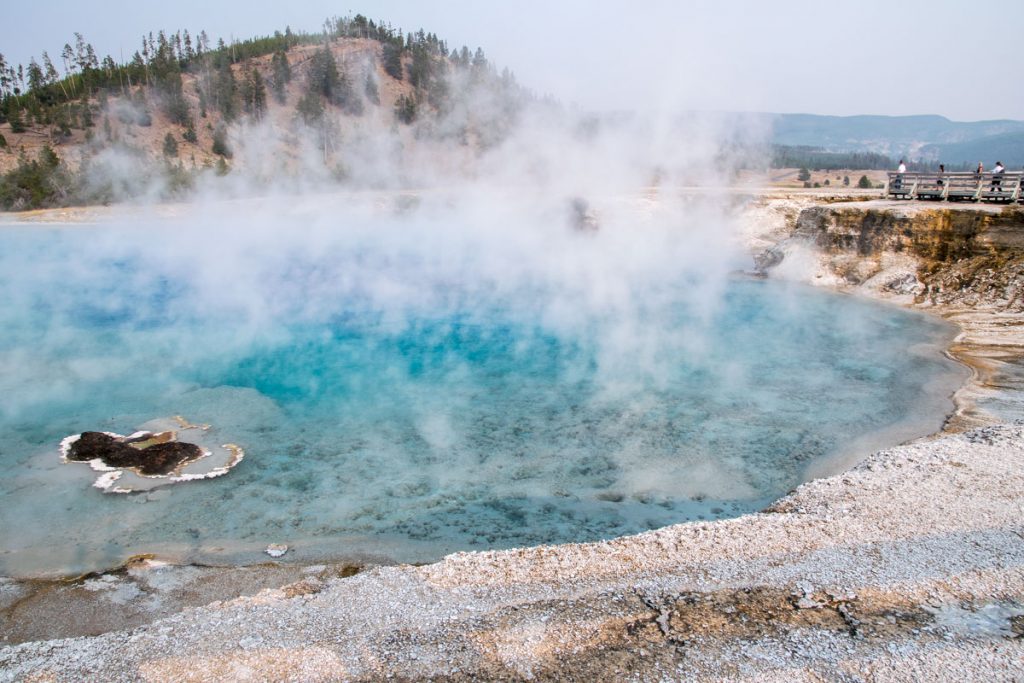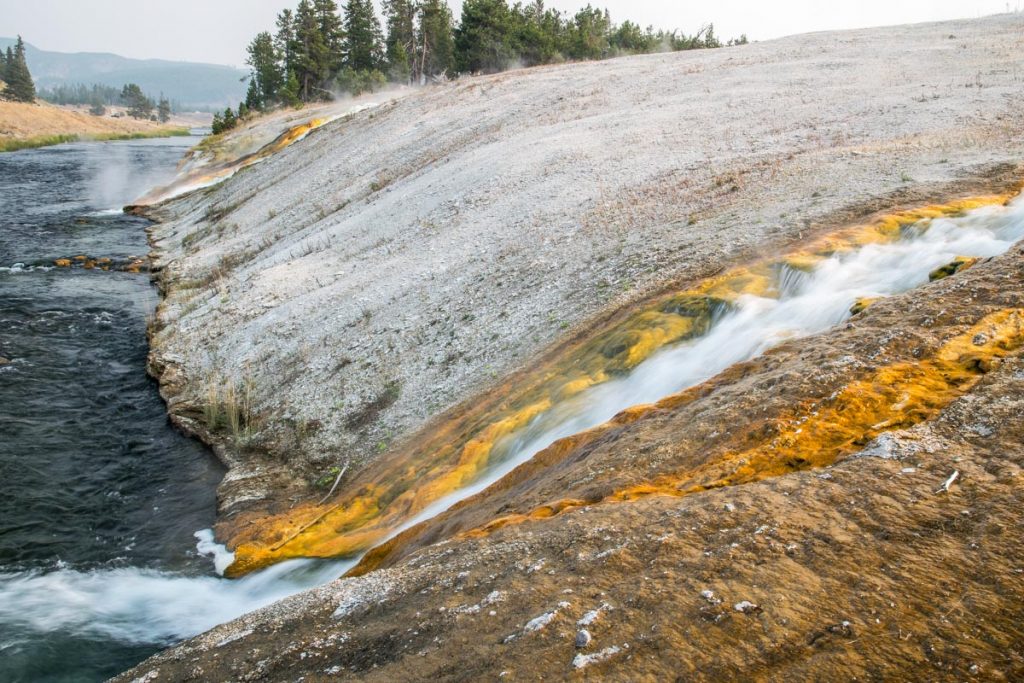 These were all the sites we could fit on our first full day in Yellowstone. The driving distances are long, so it takes a while to move from place to place. Because of its location and popularity, you see license plates from almost every single US state.
We stayed at the very nice Bridge Bay Campground that night. It's a nice campsite with nice clean bathrooms.
While leaving the campground the next morning, we tried to book a site for Canyon Village Campground. Canyon Village is the only campground with a shower in the park, but it was already fully booked. As we were driving north the next morning, we saw a herd of bison crossing the road. Despite lots of signs advising people against it, there were a few dumb tourists who got out of their cars and got really close to the bison.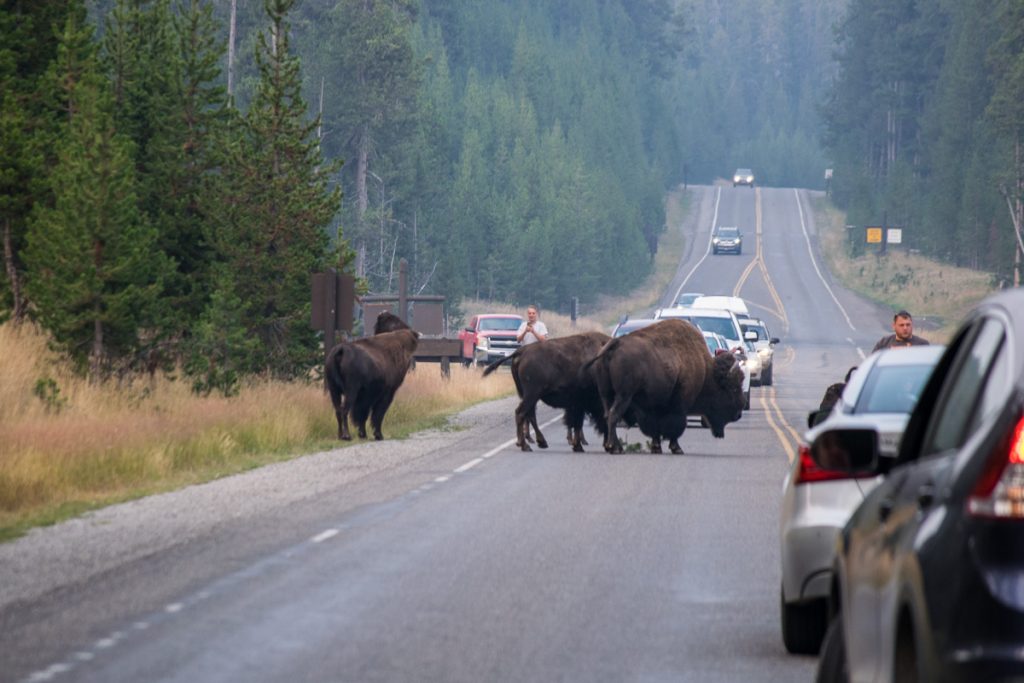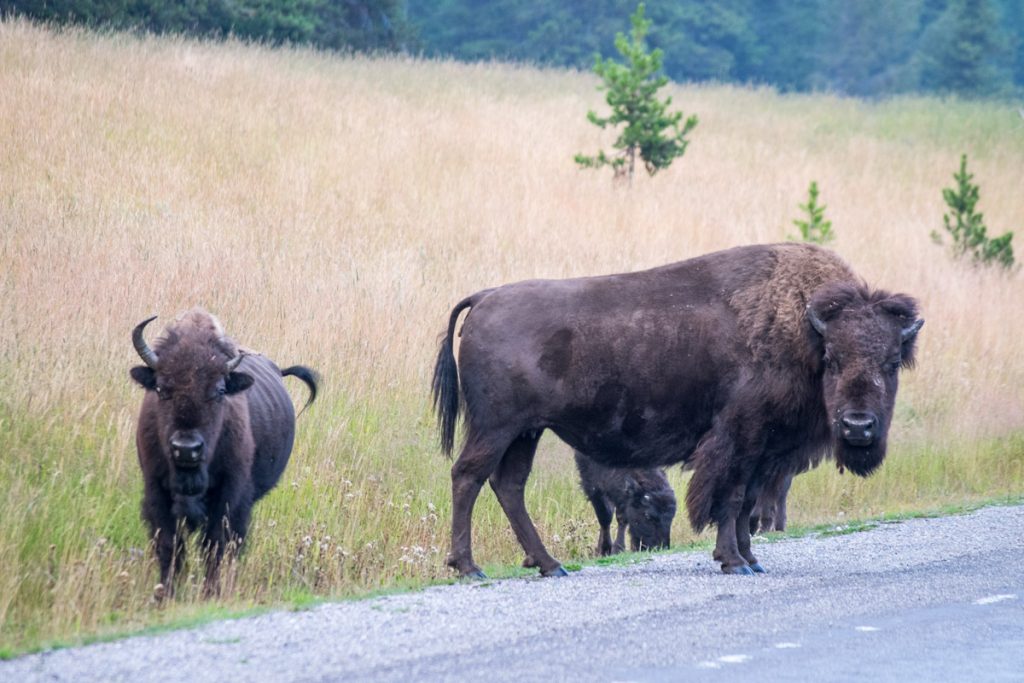 We then drove by the large and beautiful Hayden Valley and saw hundreds of bison in the distance.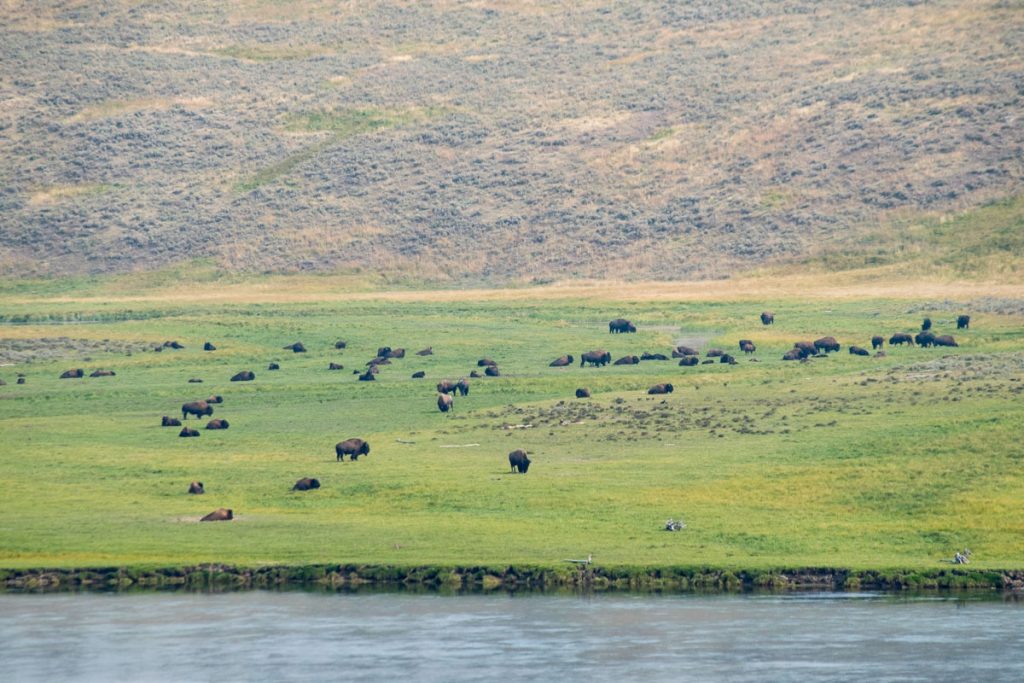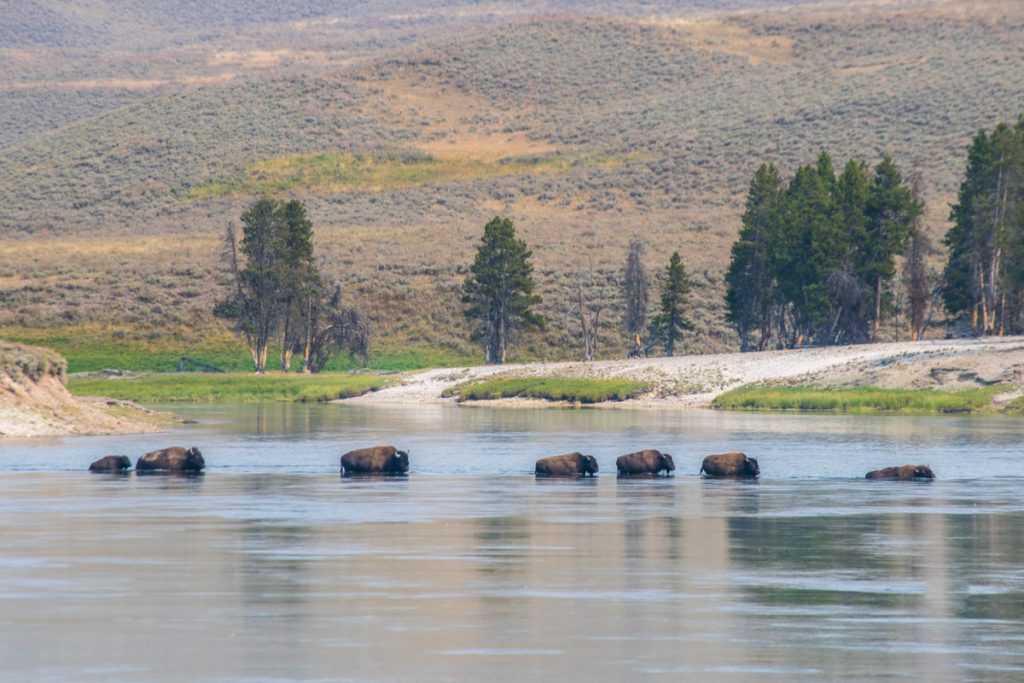 Without a place to camp for the night yet, we drove to Norris Campground before noon (when they start handing out first-come-first-serve spots) to try our luck there. After standing in line for a while, we were able to get a spot. This time, we decided to stay in the same spot for two nights. The next day was a Saturday, and we didn't want to drive around again looking for a place to sleep.
After setting up our tent, we headed back out to explore the Lamar Valley and Tower Roosevelt areas. The drive there was nice as you pass interesting cliffs and waterfalls. Lamar Valley is a beautiful and expansive area, and another prime area of bison sightings. It started raining hard while we were there. This was only the second time we experienced rain in over a month of being on the road.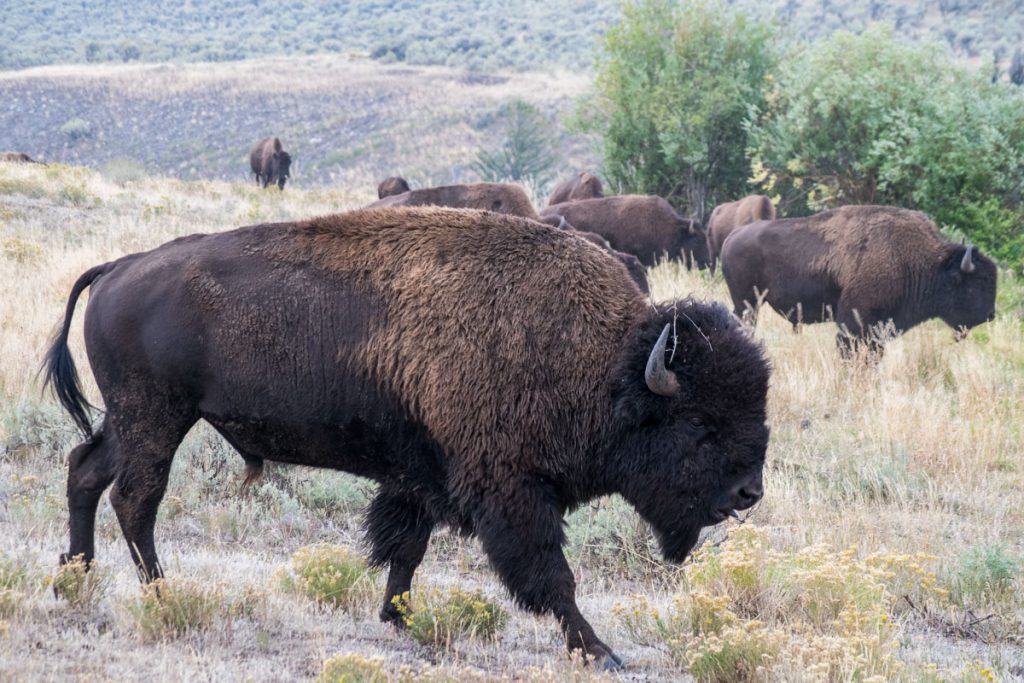 At the Tower-Roosevelt area, we stopped at Calcite Springs Overlook which has beautiful views of the Yellowstone River.
Having not showered for two days, we then headed to Canyon Village who charge you $4.20 for a shower. It's a bit of a ripoff (like everything else in Yellowstone), but personal hygiene is important.
Then, as the sun was going down, we went to nearby Grand Canyon of the Yellowstone. I wasn't expecting much, but the Upper and Lower Falls were big and surrounded by beautiful nature. There are some footpaths to lead you to a few nice vantage points.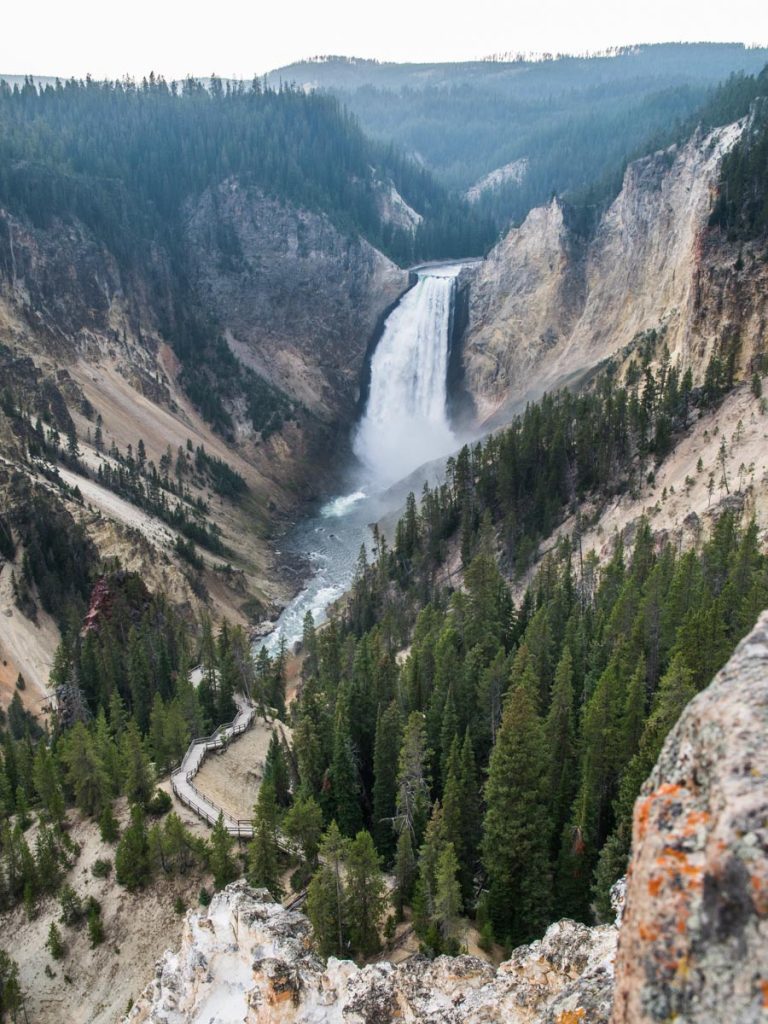 We started our last day in Yellowstone by driving north from Norris Campground to Mammoth Hot Springs. The skies were clear for the first time in many days.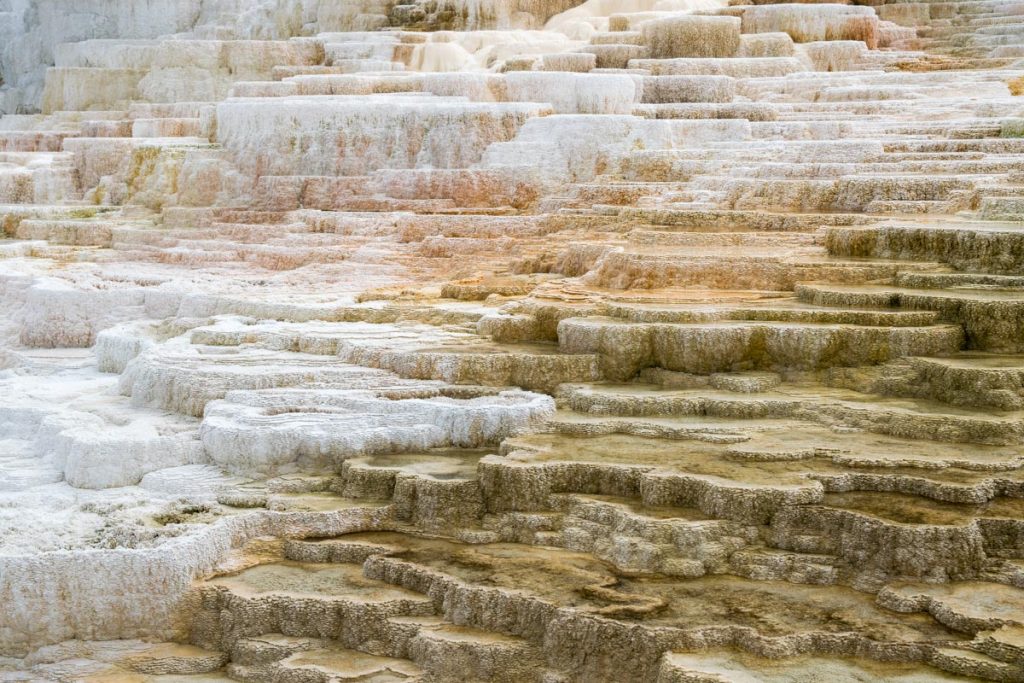 We were feeling a bit lazy and spent some time researching and grocery shopping for our next destination: Grant Teton National Park. There was just enough time to visit one more place: Norris Geyser Basin. Having seen so many geysers already, we almost skipped it, but were glad we decided to go.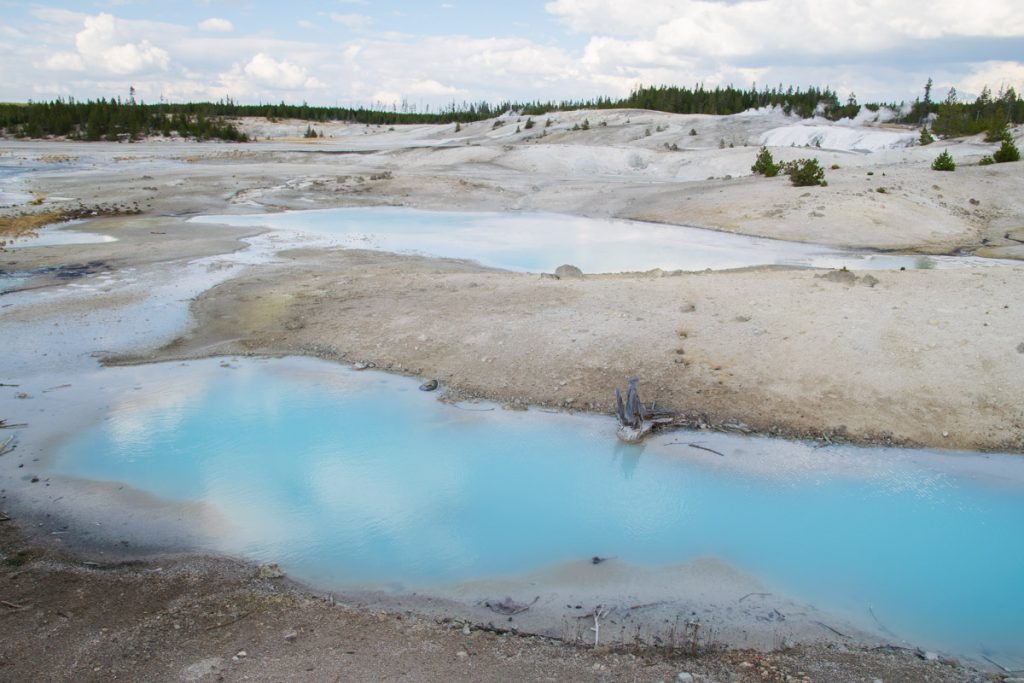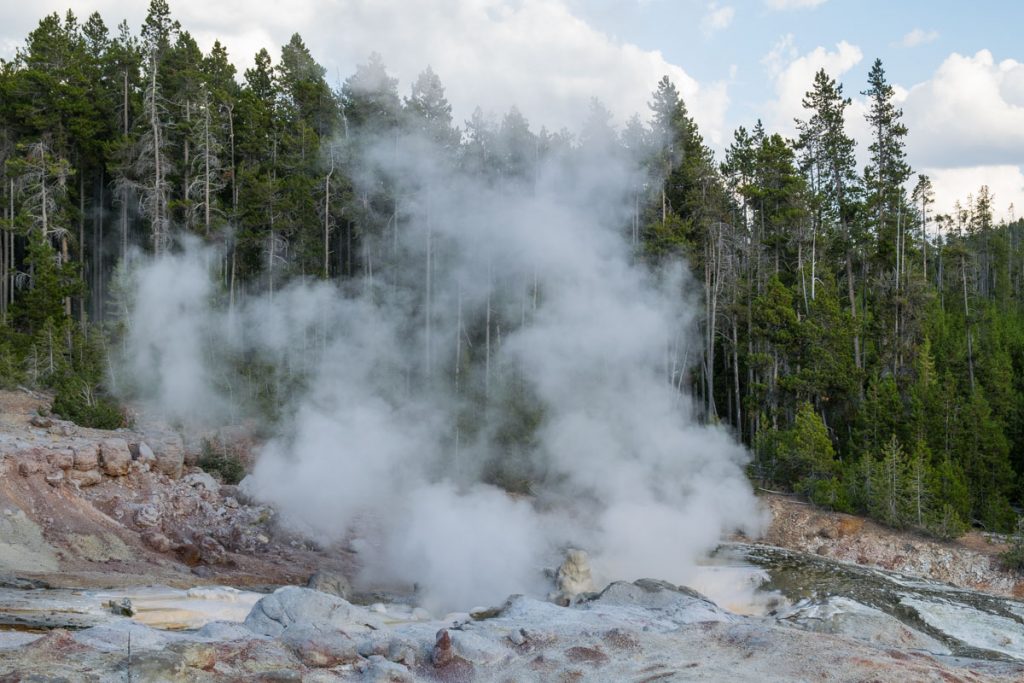 It took me twenty years after moving to the US to finally visit Yellowstone. Despite the crowds, it lives up to it's reputation. It's not just geysers of all colors and sizes, you also get beautiful waterfalls and valleys, and very unique wildlife.
The next day we headed to Grand Teton National Park, which is just south of Yellowstone.