Show More Posts
Torres del Paine W-Circuit Day 5: Campamento Chileno to Base de las Torres to Hotel Las Torres
Waking up a little bit before my alarm for 1:30am, I opened the tent fly and saw many stars in the dark sky. There were no clouds, which meant that there should be a gorgeous sunrise at the lookout for Torres del Paine. I was also super sleepy after less than three hours of sleep, and the thought of having to hike 2.5 hours in the dark made me hesitate for a good 10 minutes. When I was almost ready to throw in the towel and get back to sleep, I told myself that I will regret this moment over and over again in the future if I don't go for it now. I got out of the sleeping bag, put on my still damp pants and shoes, woke John up, and got ready to leave.
Leaving the tent behind meant that I only had to carry a small backpack with my camera gear and snacks and water in it. As soon as we got back on the trail, we realized that John's headlamp was out of batteries. It was pitch black in the deep forest so I had to make sure that I look ahead to find the way, but also look back from time to time to help John navigate. The trail for the most part was easy to follow, but there were a few instances were I had to guess where the trail continued to, and I was lucky to be correct each time. I kinda enjoyed hiking in the dark. All your senses become super alert.
After an hour or so we arrived at Campamento Torres. From here a trail goes straight up to Base de Las Torres. It is pretty steep and at the beginning you see a lot of trees and water streams. As you get closer to the top, the landscape becomes more rocky and surreal, especially under the moonlight. Thankfully there are quite a few trail markers at the top, otherwise it would be pretty hard to find your way. For the longest time you can't see any of the famed "torres" until the very end.
We were the first ones to get to Base de Las Torres, a bit before 4am. It was a surreal place, almost as if being in another planet. The "torres" are huge and the lake underneath adds extra dramatic effect.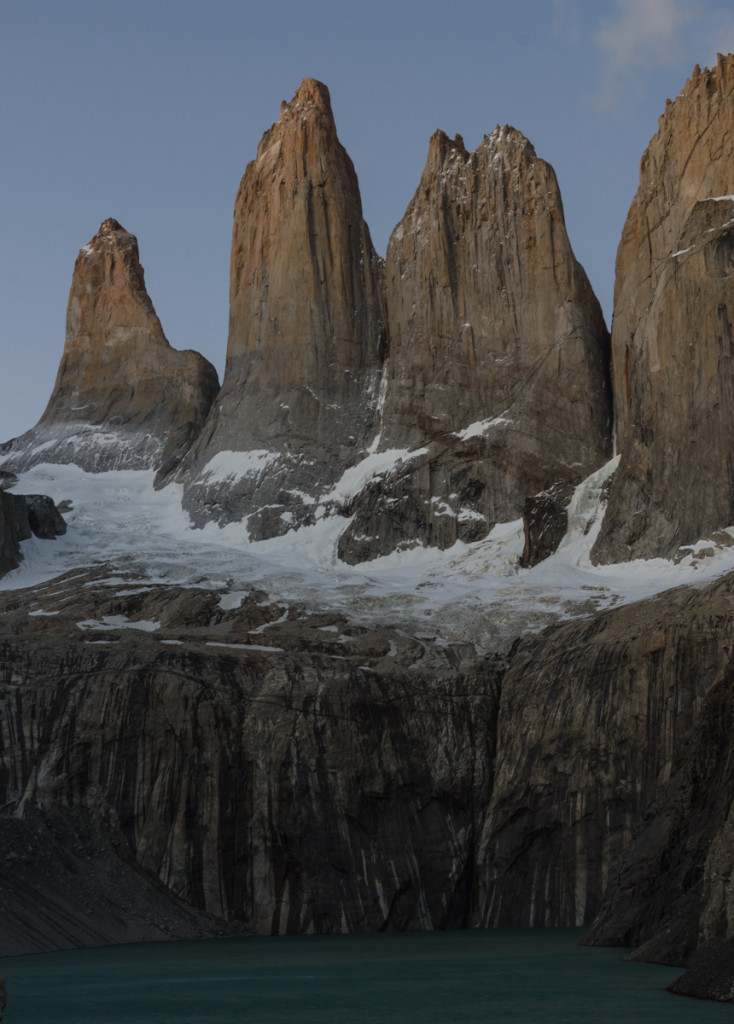 It took a long while for the sun to peak over the mountain behind us. I was pretty warm while hiking, but as soon as we stopped it started to get cold. I felt it mostly on my feet. My shoes and socks were still wet from the previous day, so I took them off and tried to wrap it with my backpack's rain cover. This is nothing to warm it up, but at least it protected them for the wind. We found a little spot behind a large rock and must have waited over an hour for the sun to hit the first of the peaks.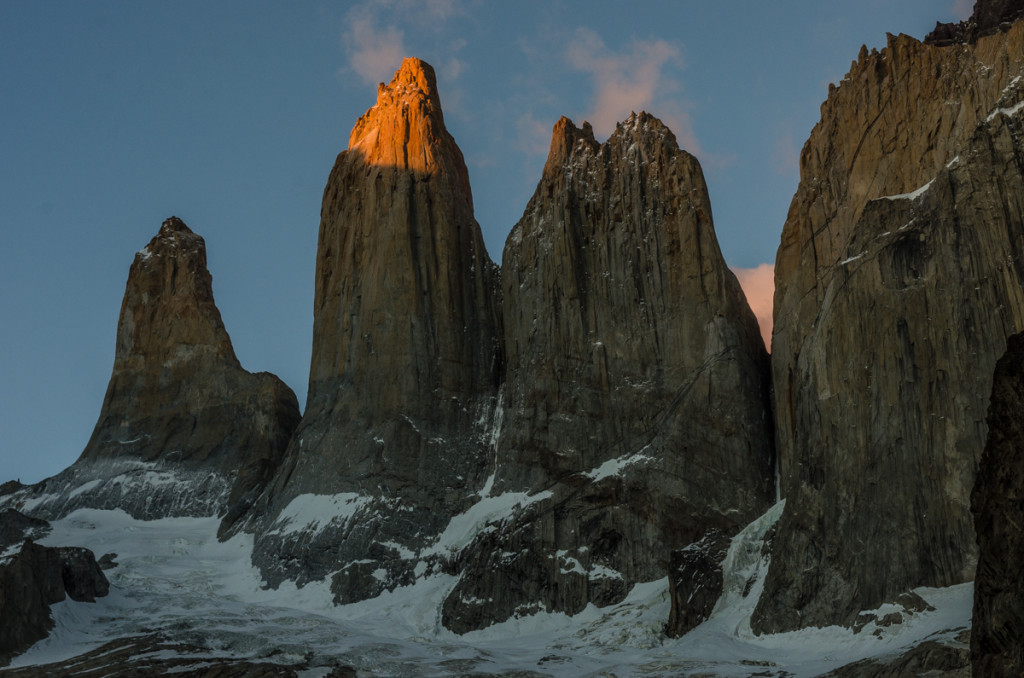 I was so cold that I didn't feel like moving around to take pictures from other vantage points. We waited for a while more until the sun finally hit all 4 "torres".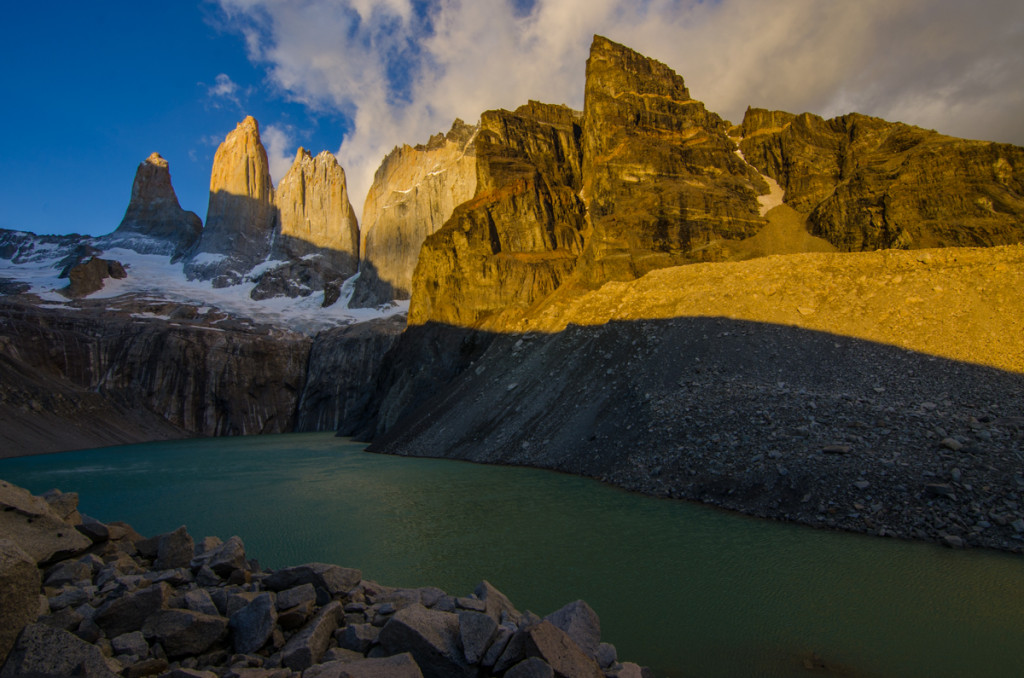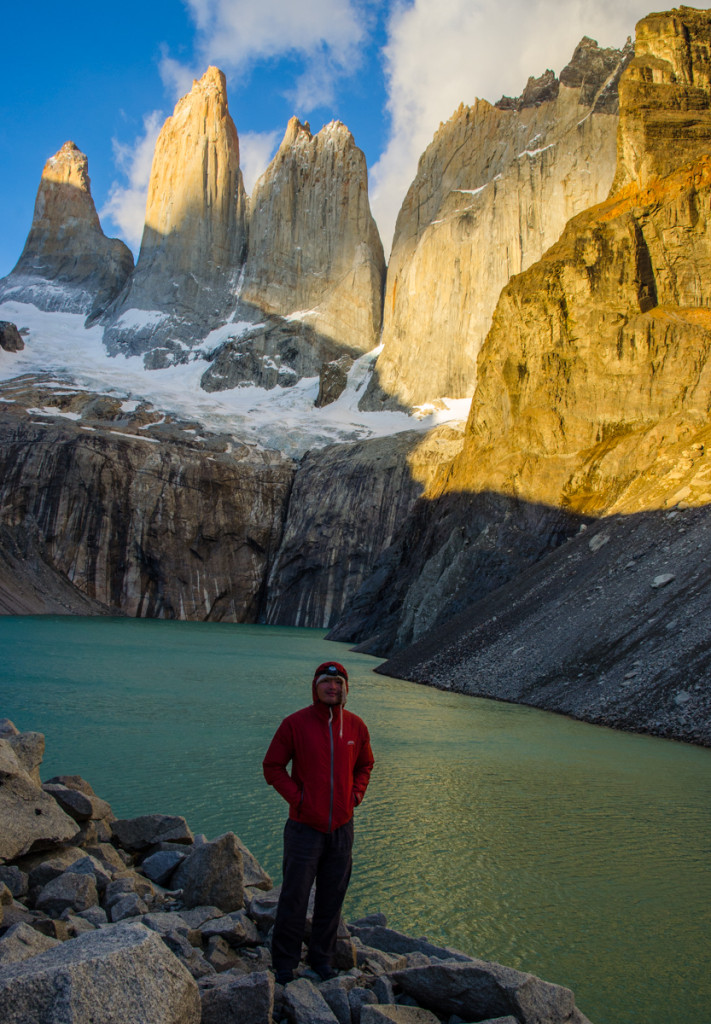 Being able to experience this place was really worth the trouble of flying almost to the end of the world and hiking for five days.
We made our way back to Campamento Chileno, packed everything up, and walked the last 9km to Hosteria Las Torres, where the a shuttle to take us back to the park's entrance. On the way down, we saw dozens of day trippers going up.
My last pictures of the Parque Nacional Torres del Paine were of these wind-swept flowers.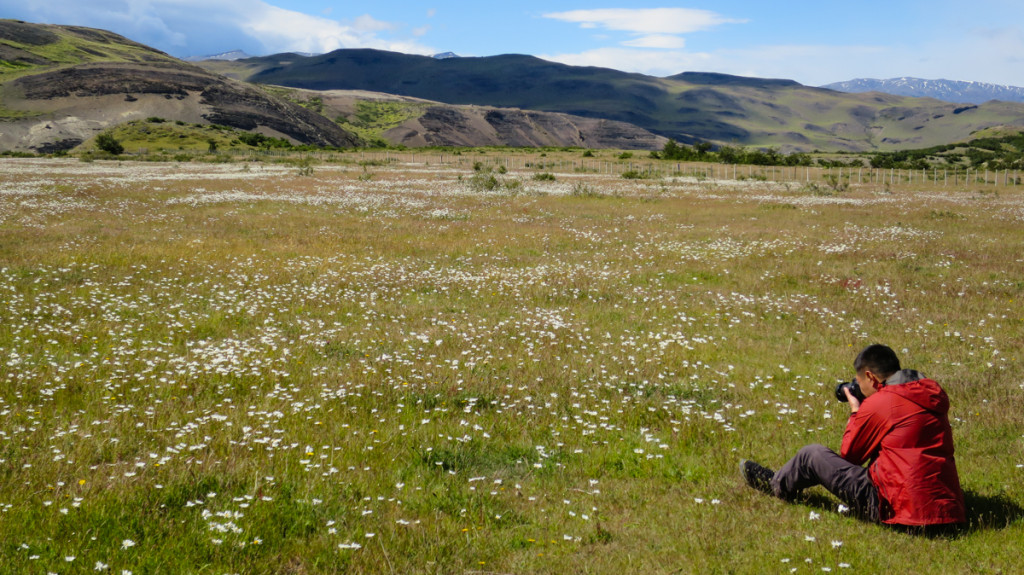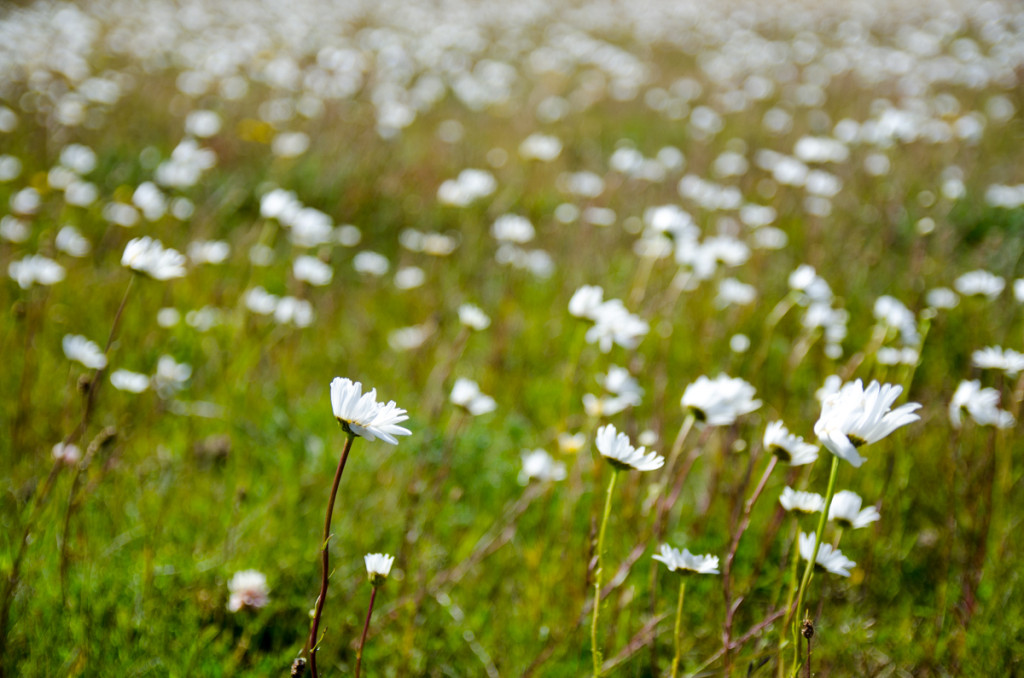 We had to wait a couple of hours for the shuttle to arrive. In the meantime we had lunch, and my first decent meal in 5 days. But on hikes of this length I usually find that it's not enough for me to really miss normal food and civilization in general. After the shuttle to the park's entrance, we had to wait a while more for the bus back to Puerto Natales.
All in all, I found the W-Circuit trek to be a very enjoyable. I would rate it a 6/10 in difficulty, and a 9/10 in terms of beauty and scenery. The trail is well maintained and easy to follow, and the many refugios along the way mean that you can buy a decent meal if you really feel the need for one. This was almost towards the end of my 8 months in South America, and by then I was a bit jaded and unimpressed with most things, but Torres del Paine lived up to all its hype. So much so, that I'm sure I'll be back there again in the future.