Part of the Torres del Paine W-Circuit Journal
Previous entry: Puerto Natales
The two places I wanted to visit the most during my trip to South America was Angel Falls in Venezuela, and Torres del Paine in Chile. By the time I arrived in Chile, I had been traveling for 7 months already, and was fairly travel weary. But I had a great time in Santiago and Valparaiso, and when I arrived in Patagonia I was really forward to starting this trek.
The closest gateway town to the national park is Puerto Natales, and the hotel we had stayed at helped us arrange bus tickets to the park. The transfer to the bus station came to pick us at 7am, and the bus left at 7:30pm. The 3-hour bus ride goes through wonderful scenery, including cows and guanacos. At one point it even snowed a little bit.
While on the bus I met this Dutch guy and we chatted quit a bit about traveling, photography and motorcycles. When we arrived at the park entrance we all got off the bus to pay the entrance fee of CLP 18,000. They showed us a short video of the park rules, such as no open campfires. The idea was to start the hike from the west side of the W, and then finish on Day 5 in Torres del Paine, the highlight of the region. In order to get to the west end we had to take a 30-minute ferry through Lago Peho, which was a total ripoff at CLP 15,000 (around US$25). But, they can charge these outrageous prices because it's the only other option to hours and hours of walking.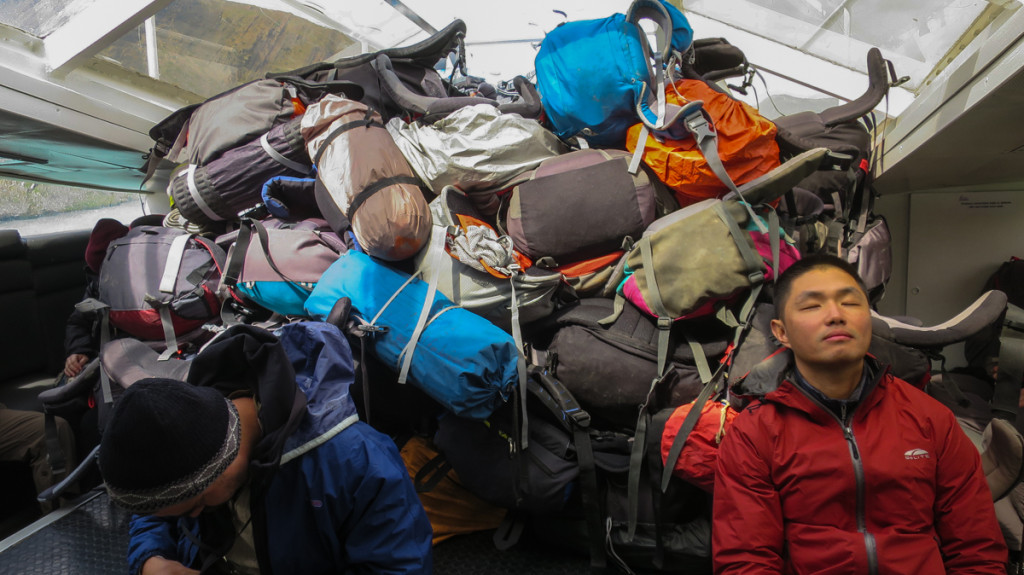 We arrived at Refugio Paine Grande and saw a long line of hikers waiting to board the ferry in the opposite direction. They had just finished the circuit going eastward. Shortly after 1pm, John and I took our first steps on the famed W-Circuit. It was going to be a short day as we were only going to hike for 3.5 hours and 11km northwest to Refugio Grey.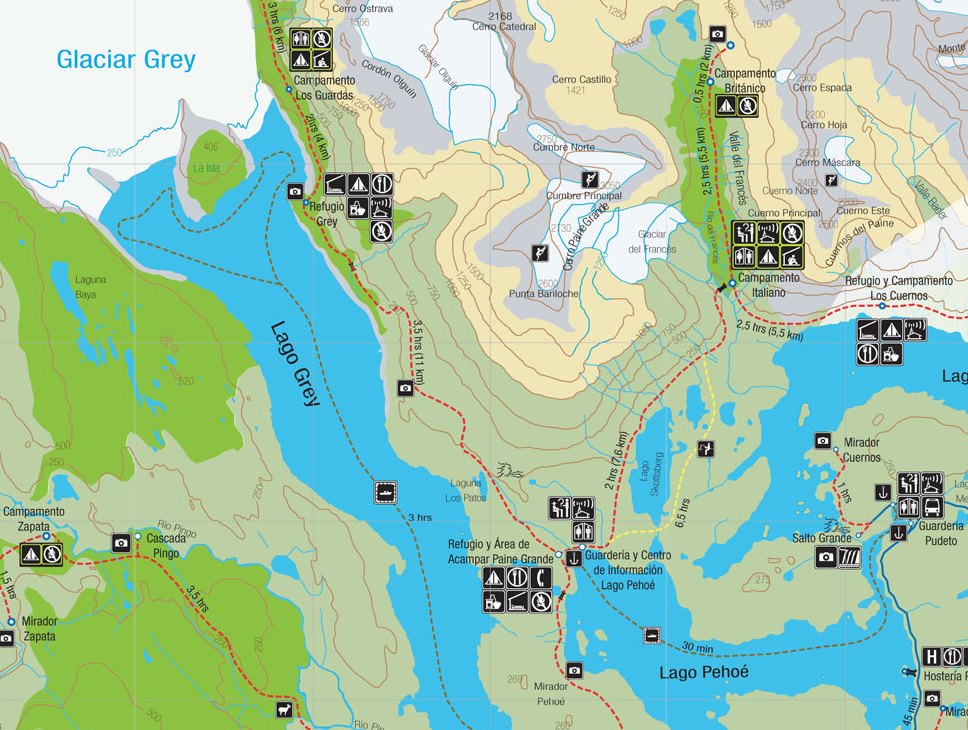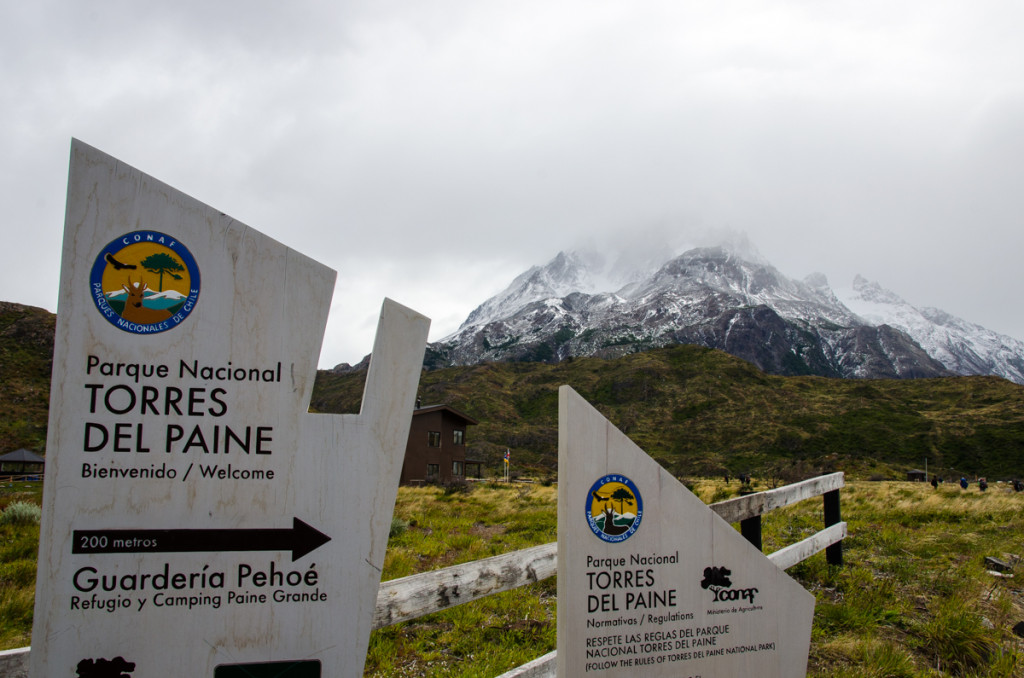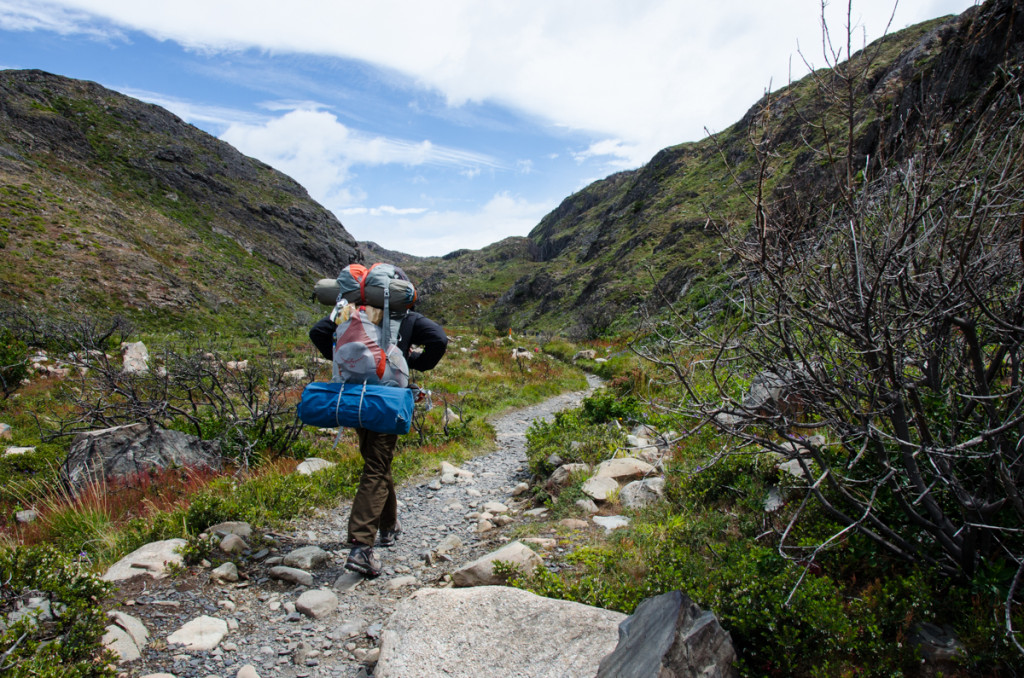 The first few kilometers were slightly uphill to Lago Grey, it then stays fairly flat all the way up to Refugio Grey. The weather was a little cold but nothing too bad that would make hiking uncomfortable. I expected much worse.
As we got closer to Refugio Grey, we got a first glimpse of spectacular Glaciar Grey. This area was very windy and at times it was a bit of a challenge to keep my balance.
As we walked by the lake, you can also see small icebergs that got detached from the glacier.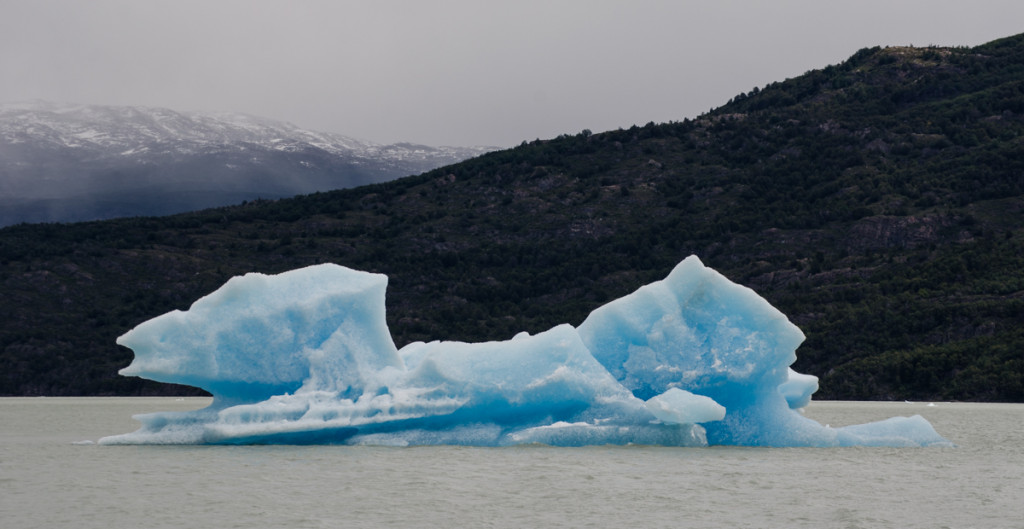 Refugio Grey is has rooms, paid campground, toilets and hot showers, and a covered kitchen area. It is pretty clean and well maintained. They sell basic foods like crackers, instant noodles, and supplies like gas stove canisters. We got there a little bit before 5pm and set up our tents in the forest, seeking the protection of trees from winds and possible rain.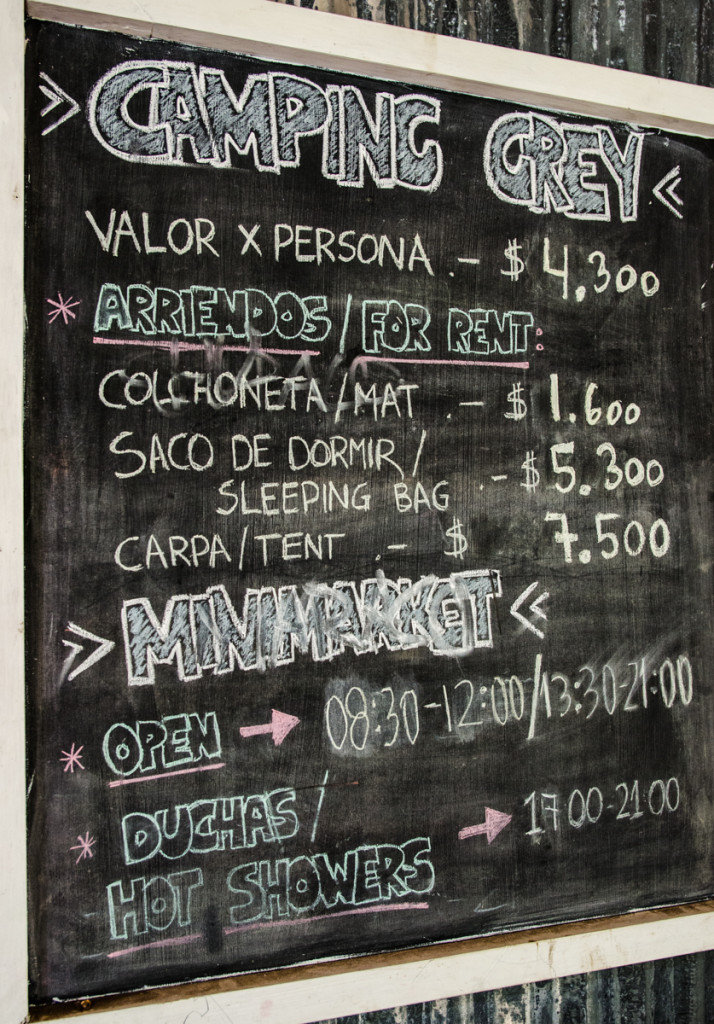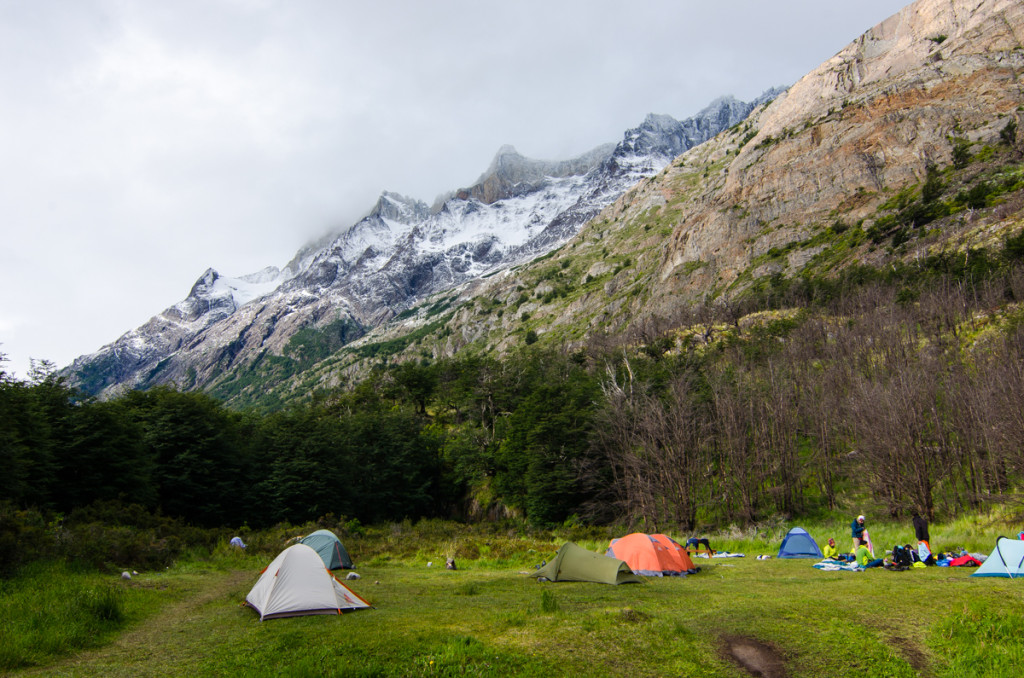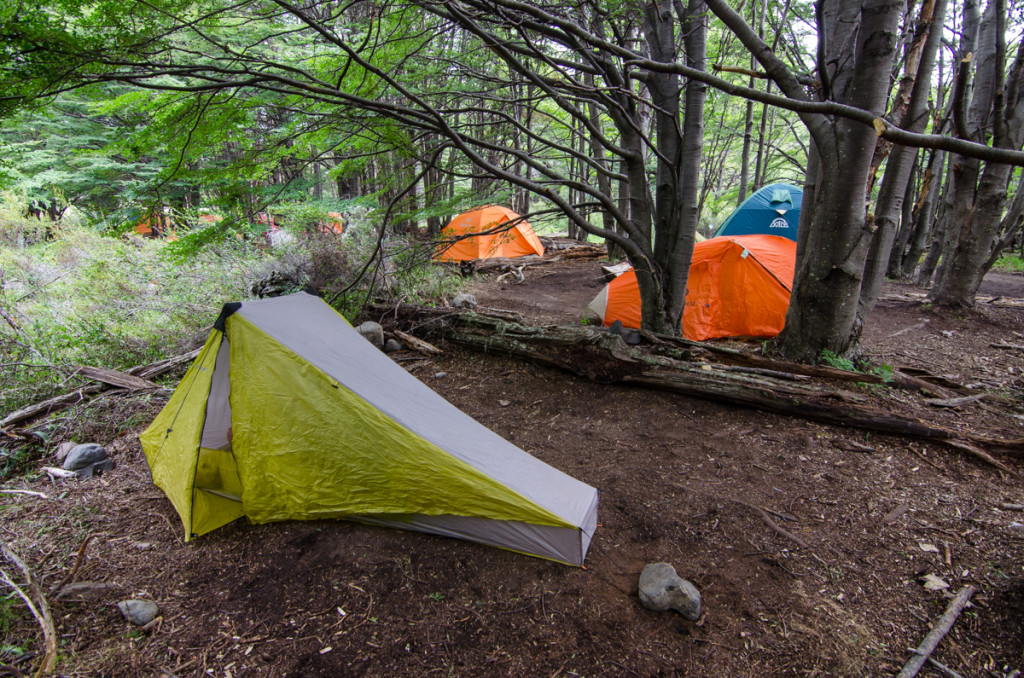 I thought about taking a shower but the long lines ended up discouraging me. There's a lookout for Glaciar Grey 10 minutes away, but I was feeling lazy and decided to leave that for the following day. After a dinner of instant ramen, I went into the tent to write on my journal. I feel asleep a little bit after 8pm, while the sun was still up. One of the strange things in Patagonia is that the sun doesn't set until around 11pm at that time of the year.
I found the first day to be relaxing and fun. The trail was easy to follow and very well maintained. Thinking back, I believe this was my first time seeing a glacier in person. It was great to be camping again for the first time since 2 1/2 months prior to that in Venezuela.
Next entry: Day 2 – Refugio Grey to Campamento Italiano
Part of the Torres del Paine W-Circuit Journal