Previous entry: Lake Waikaremoana Great Walk Day 4: Marauiti Hut to Hopuruahine Landing
After finishing the Lake Waikaremoana Great Walk, I got picked up by the water taxi from Big Bush Holiday Park. I was supposed to stay at their facilities that night, but they told me that they had no bed for me despite me having booked before going on the trek. I didn't like this at all, but the owner told me that I could find accommodation at Wairoa, which was where I would board the bus to Taupo the following day anyway. He also didn't charge me for a few beers that I had had while staying there before the start of the hike, so in the end it seemed fair and not too inconvenient for me.
Wairoa is a small town. I stayed in the 'backpackers' room at the Riverside Motor Camp. 'Backpackers' is NZ's way of calling a hostel. Basically a bunch of beds in a shared room. I was lucky I was the only one there, so for NZD 30 I had a whole room to myself. They didn't provide bed linen though, which was a first for me. I slept with my sleeping bag on top of the mattress. An otherwise pleasant place with clean bathrooms and laundry facilities.
Not many places to eat dinner after 7pm. I ended getting takeout Indian curry and eating it on a bench by the river.
I've been very busy planning the logistics of getting from one Great Walk to the next since I arrived in New Zealand. This involves booking buses, hostels, Great Walk huts, and shuttles to/from the treks. I spent most of that afternoon and evening doing that, in addition to getting my laundry done.
The following morning I took the bus to Napier and then connected to Taupo, a town with nice facilities to stock up for the Tongariro Northern Circuit, which I was going to start on one day's rest. While shopping for food for the trek, I decided to add some dried fruit to the diet to balance all the junky sweet stuff and freeze-dry meals. My knee was pretty swollen and I was walking with a slight limp. If I sat down for a bit and then got up to walk, it would feel very tight. Likewise when I sat down after standing up for a while.
I stayed in a dorm room at the Silver Fern Lodge, which had very new and clean facilities. For some reason though it was pretty empty while I was there. Aside from doing the obligatory chores, I didn't feel like sightseeing around town at all, so I don't have any pictures to post here.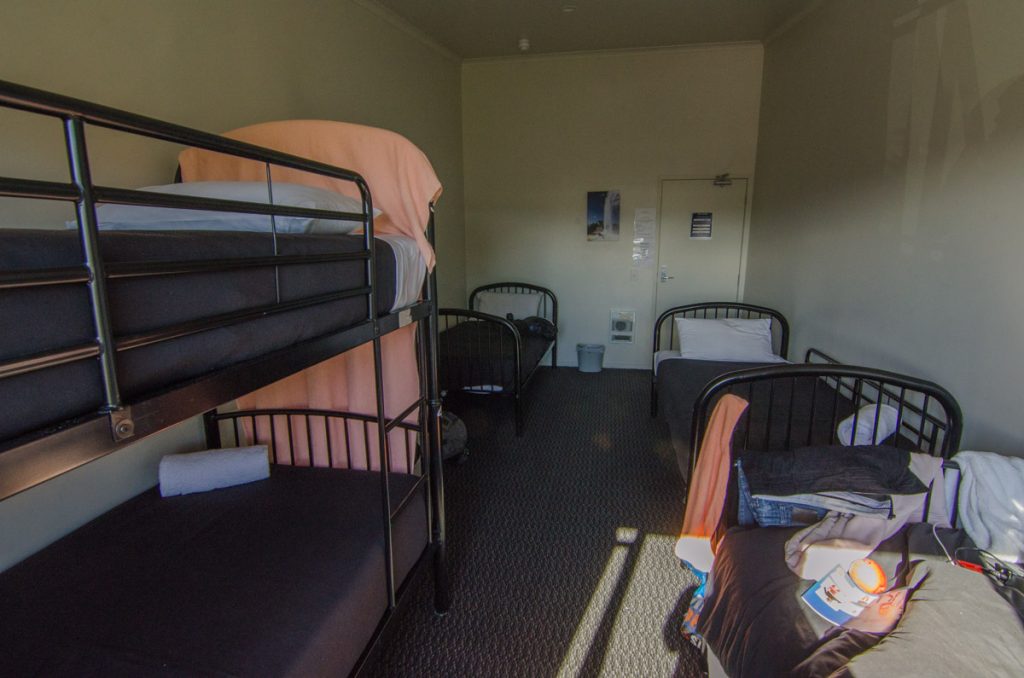 The following morning I missed the shuttle bus that would have taken me from Taupo to Whakapapa Village, the start of the 4-day Tongariro Northern Circuit. I wasn't sure if they had told me the pickup time was 5:30 or 5:50am over the phone, so I went to the company's website where it said 5:50. After waiting until 6am I called the company and they told me that it was indeed 5:30 and that the shuttle had already left town. I then decided that I'd just skip the first day of the circuit. Supposedly it is the most boring day of the circuit anyway. My knee also welcomed the extra rest. I would end up taking the same shuttle again the following day, but starting at Magatepopo instead of Whakapapa Village.
Next entry: Tongariro Northern Circuit Day 1: Mangatepopo Hut to Oturere Hut