Previous entry: Day 4 – Carmanah Creek to Camper Bay
Journal entry for August 16, 2010
Approximate distance hiked: 5 miles, 8 km
I had set the alarm for 7:30am, but woke up a half hour earlier instead to the noise of people in the campground. I packed quickly and hiked together with Monika and Marie. I switched my 15 lb (6-7 kg) with Marie's 50-60 lb (23-27 kg) backpack for the first mile, and what a difference it made. I had to focus on every step just to keep my balance.
To get to the last campsite at Thrasher Cove, one can go inland or take the beach instead. The beach route goes through Owen Point, which can't be passed during high tide. We had timed it so that we would get there during low tide. There are two spots where one can access the beach from the trail. We took Beach Access "B" at km 66. Apparently there is a very dangerous slope between Beach Access "A" and "B", so it's safer to take the later one.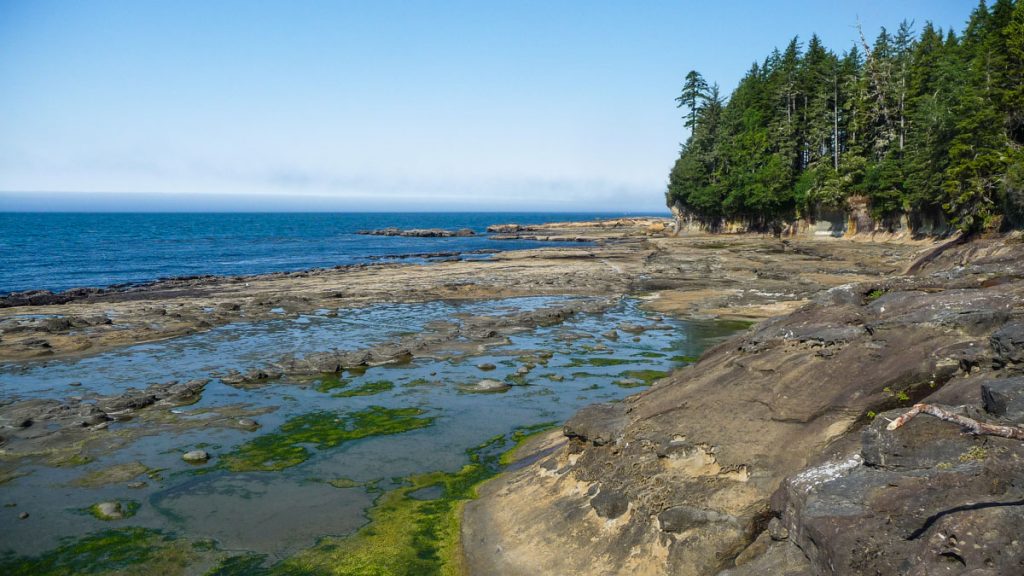 The beach section was a lot of fun. The hiking is mostly over rocks instead of sand. There was one surge channel about 1 meter wide that we had to jump over. We soon run into another hiking group in front of us.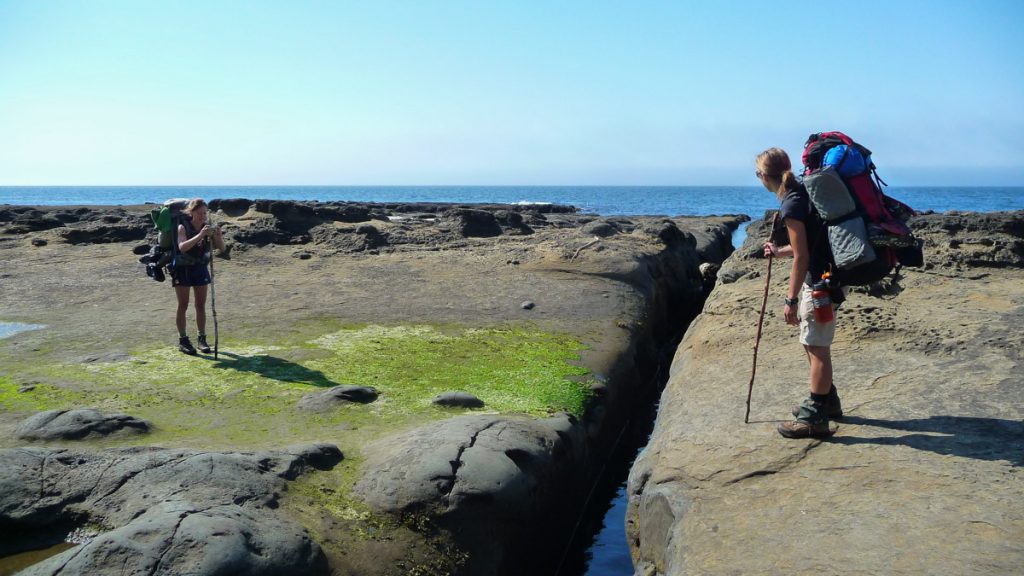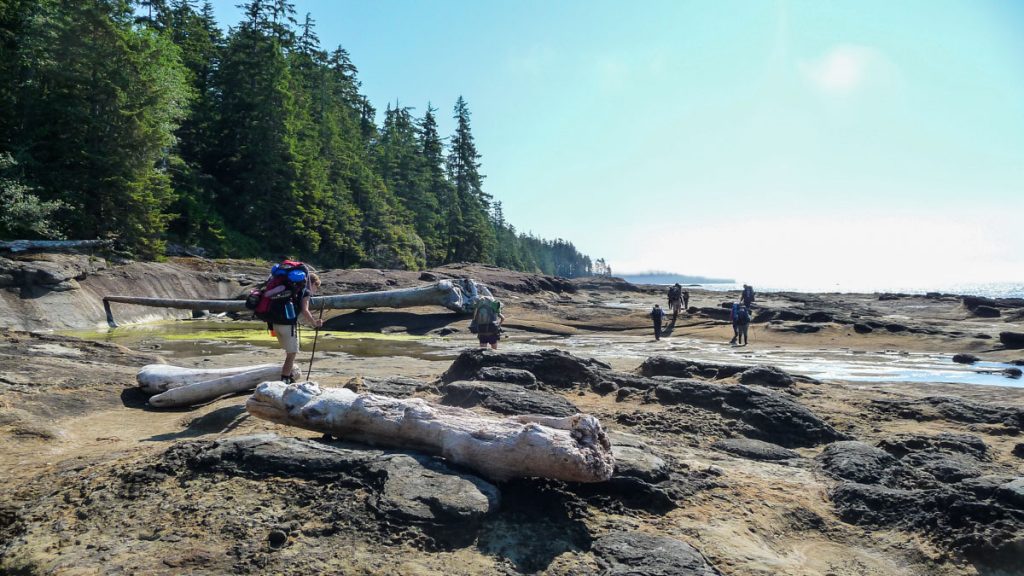 We then arrived at another much wider surge channel. This one looked like it would require an Olympic long jumper to handle it, but luckily there was a way around it.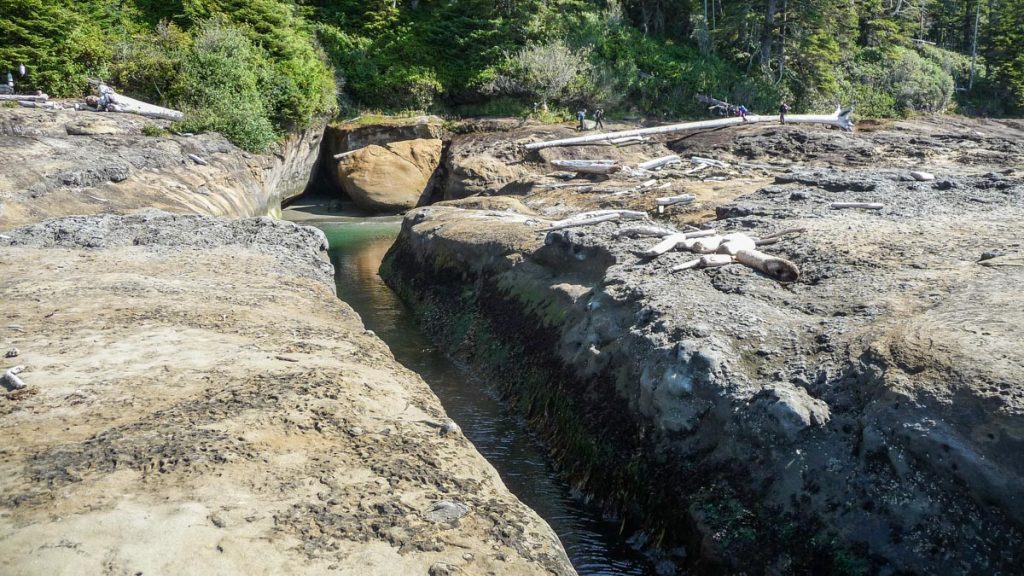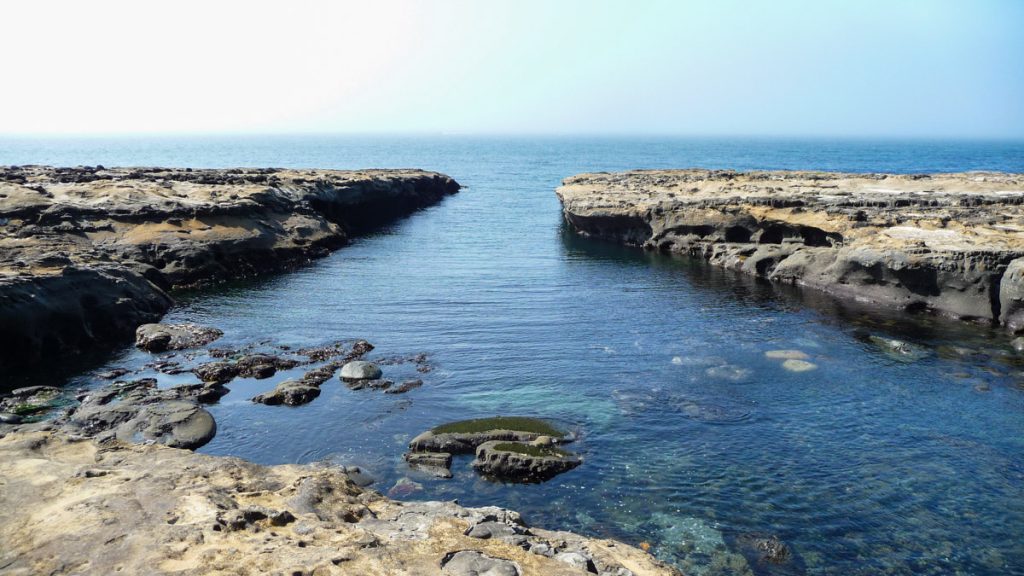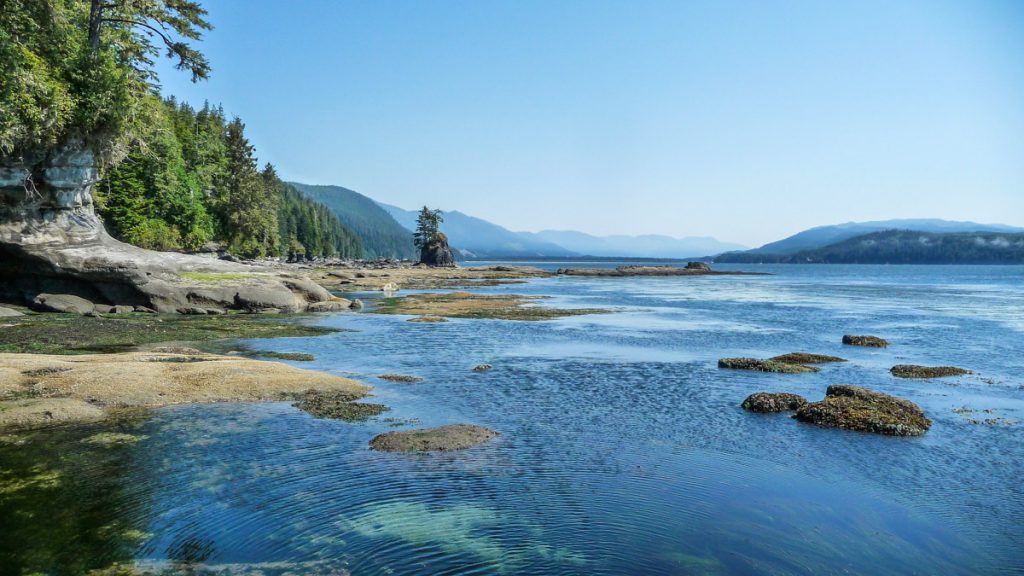 We arrived at Owen Point around 11:30am during low tide. The views were great and there was a little island about 100 meters into the ocean with lots of sea lions on it. We stayed at Owen Point for a while and ate lunch there.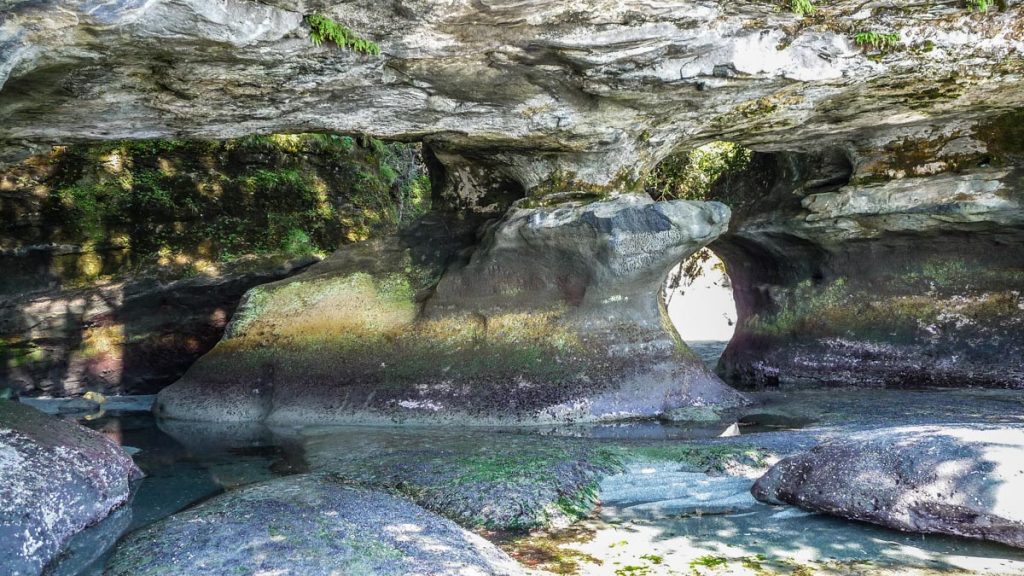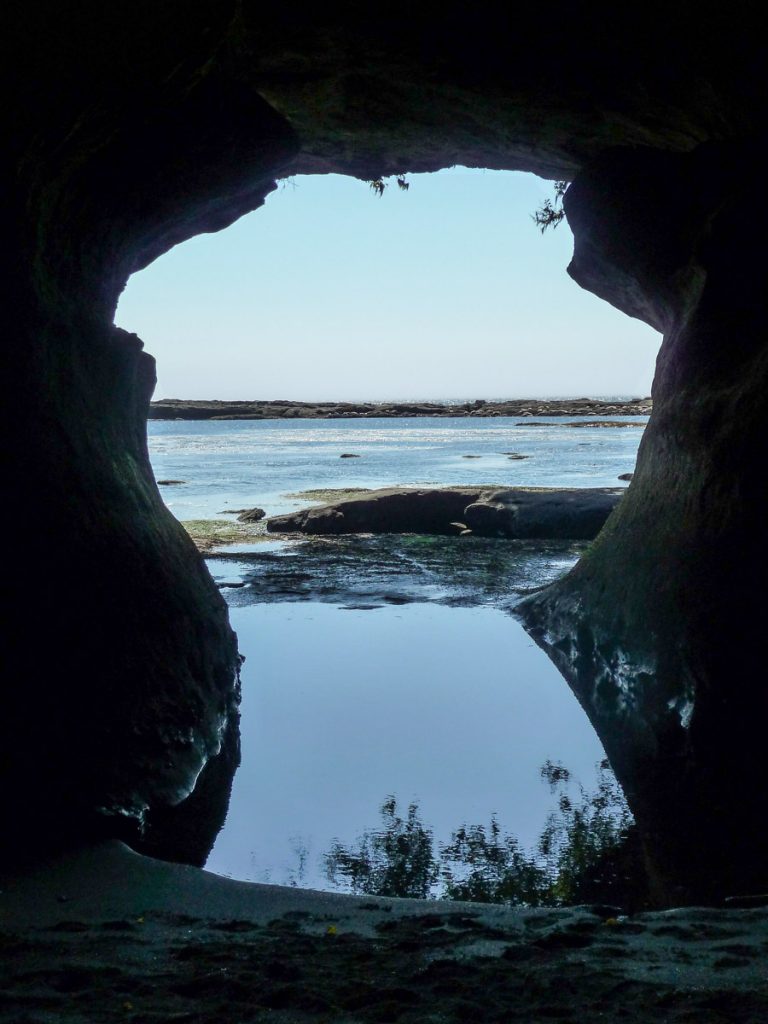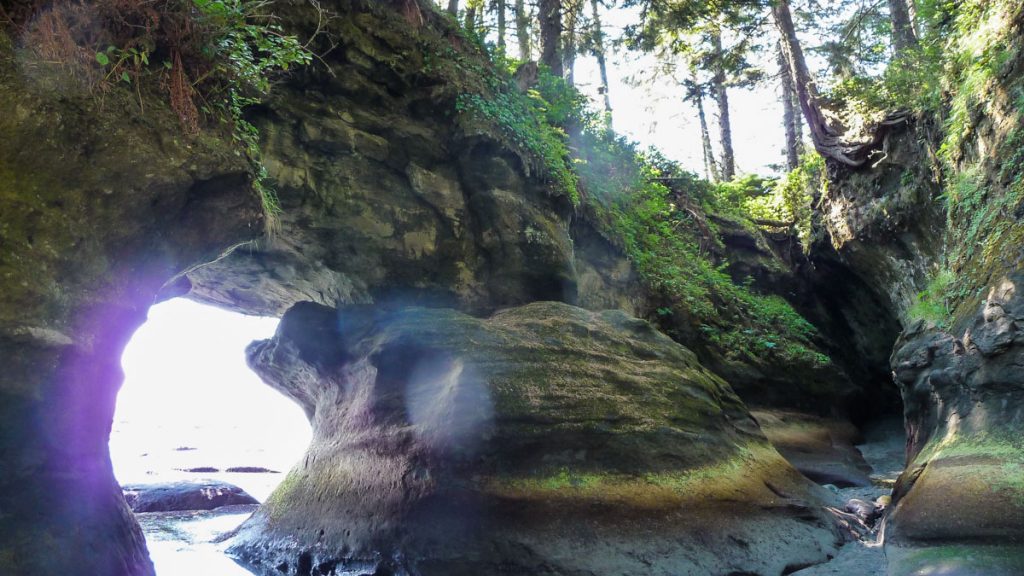 The last section before Thrasher Cove involves a lot of boulder hopping and walking over logs. I had a lot of fun despite the hot relentless sun. My gloves were very useful in helping me handle the boulders.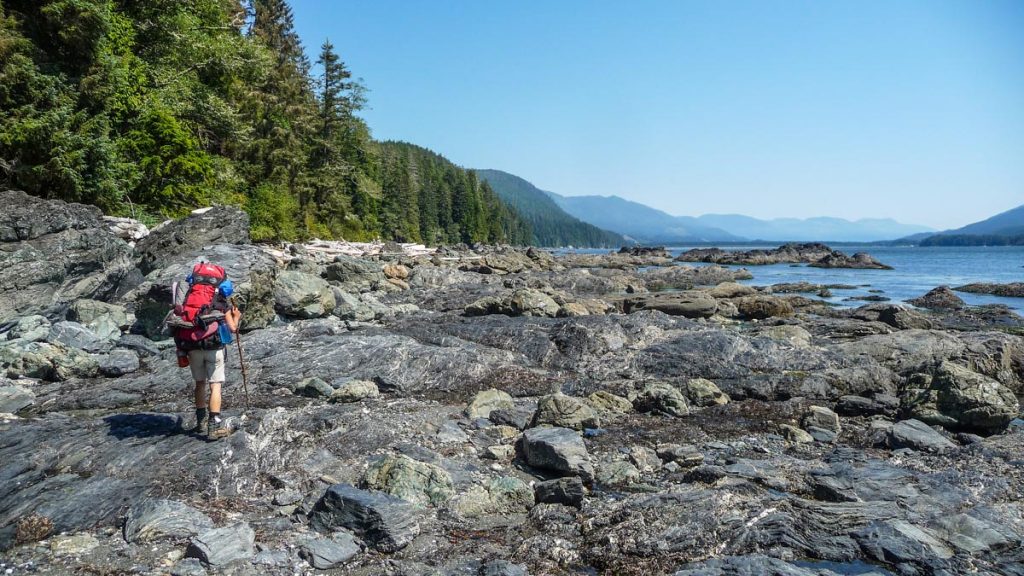 We got stuck behind a very slow group with no easy way to go around them. We almost didn't beat the rising tide in one section.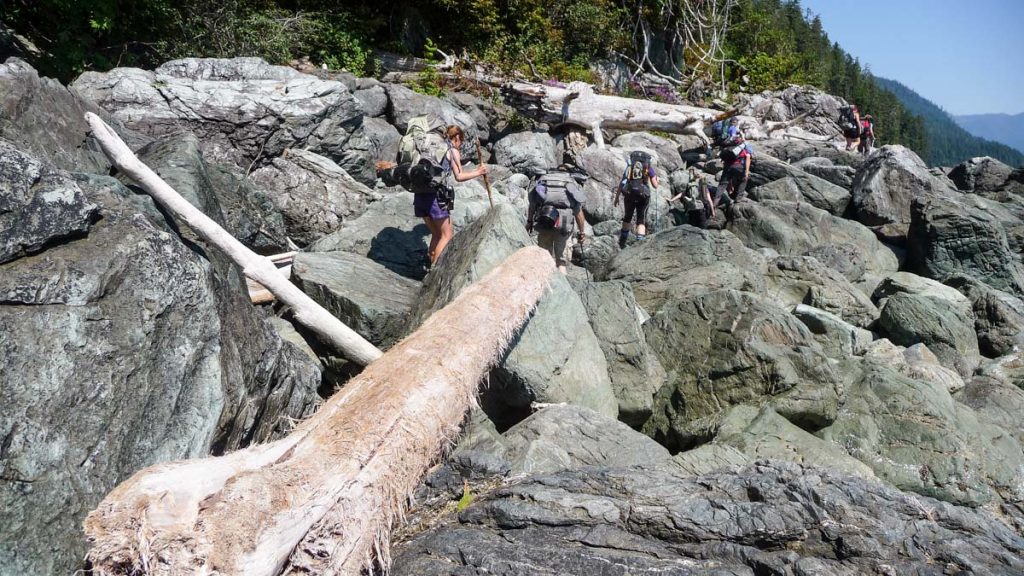 Thrasher Cove is a very nice beach, but it doesn't really have enough space for the large amount of people that camp there. We arrived early around 2pm and had the whole afternoon and evening to sit around and enjoy.
Both Monika and Marie lived in Alberta at the time, but Marie is originally from Quebec. According to her, French Canadians are generally loud and like to joke around a lot. I think I got a pretty good introduction to them through her.
Once the sun stopped hitting the beach directly around 4pm, it started to get a little bit foggy and chilly. We run into Kirk again and ended up sharing a campfire. It was very foggy during sunset, so I wasn't able to take any decent pictures.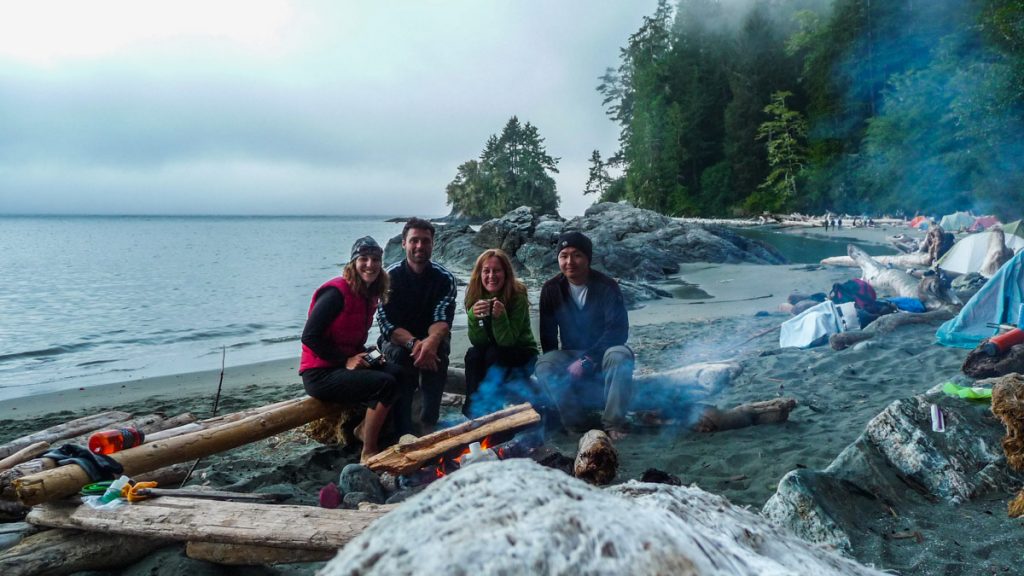 Next entry: Day 6 – Thrasher Cove to Gordon River
Part of the West Coast Trail Journal and Pacific Northwest Trip Journal