Previous entry: Day 2 – Darling River to Tsusiat Falls
Journal entry for August 14, 2010
Approximate distance hiked: 13 miles, 21 km
While looking at the map the previous night, I decided I was going to finish the trail in 6 days instead of the originally planned 7 days. The weather was good and I had so far found the trail relatively easy. The plan for the day was to hike 21 km to Carmanah Creek.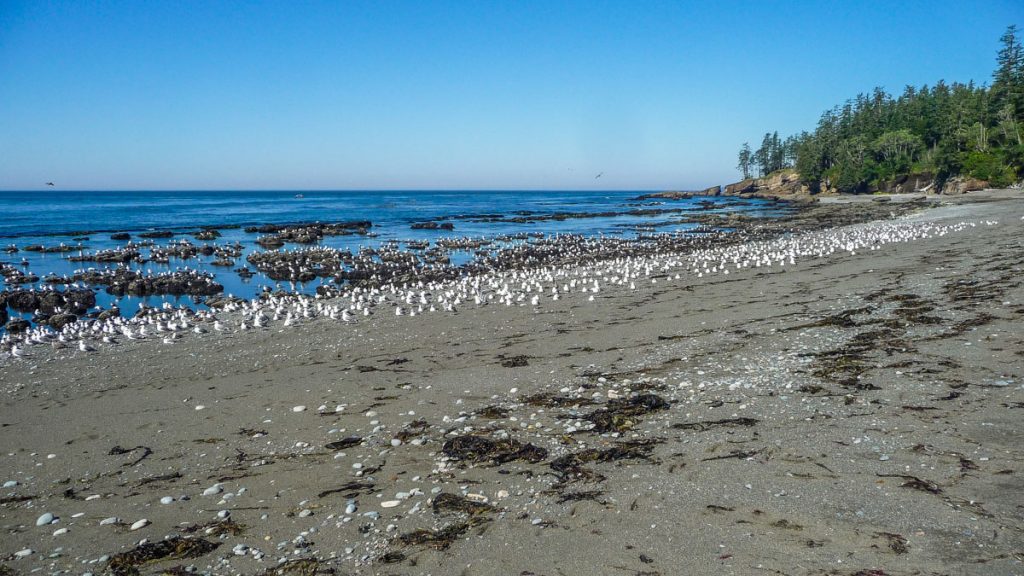 I left Tsusiat Falls and started hiking around 10:20am. I chose to hike on the beach instead of the trail. My pace was slowed by the loose dry sand and the wind blowing into me. I joined the trail around km 29. The next 2 km has a little bit of elevation change, and in some sections, the boardwalk was in pretty bad shape.
I arrived at Nitinat Narrows which is only passable by ferry. After a 5 minute wait, the ferry came and picked me up.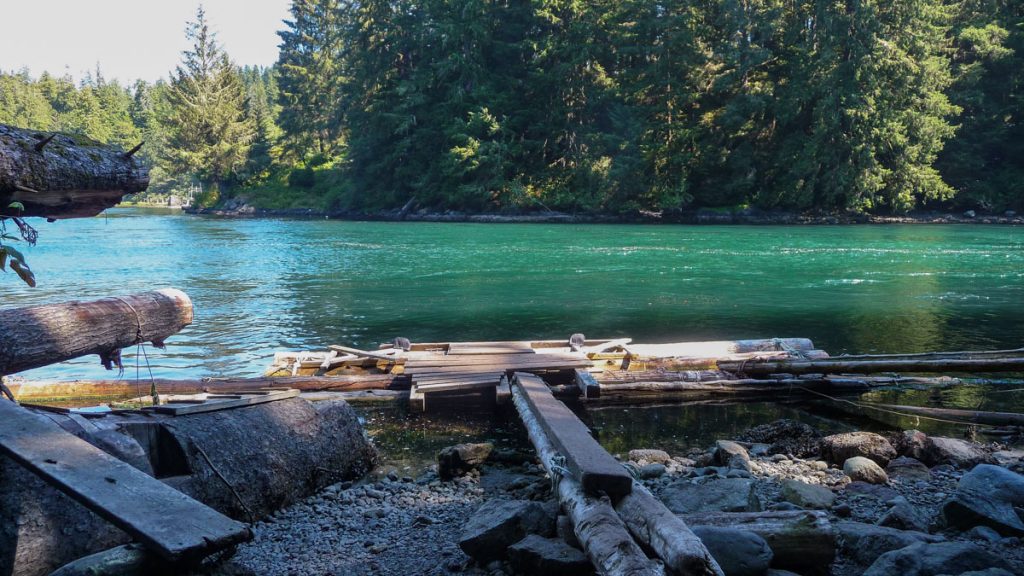 On the other side, I found Nick and Lorna, along with Steve and his group of 6 hikers. There's a little stall where they sell soft drinks and serve cooked fresh crab. I didn't feel like eating crab so I only grab a can of Coke. I wanted to save my appetite for later in the day at Chez Monique, a burger place by the beach.
I stayed at Nininat Narrows for a while before saying goodbye to Nick and Lorna, who were ending their hike there, and were waiting for a ferry that would take them back to civilization later in the day.
The next section of the trail has a lot of boardwalk, which means fast hiking. Some sections were completely destroyed and new boardwalk had been installed.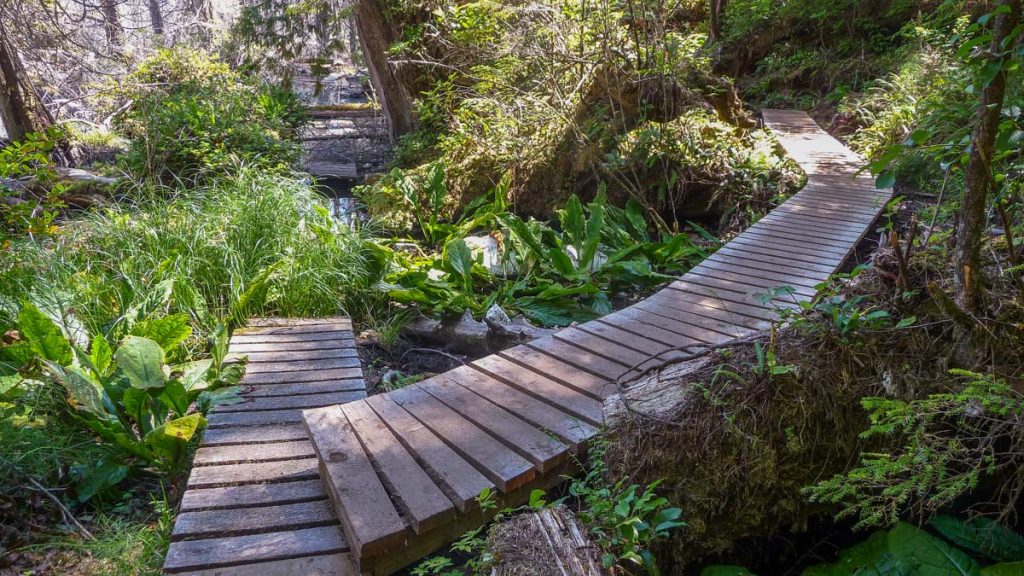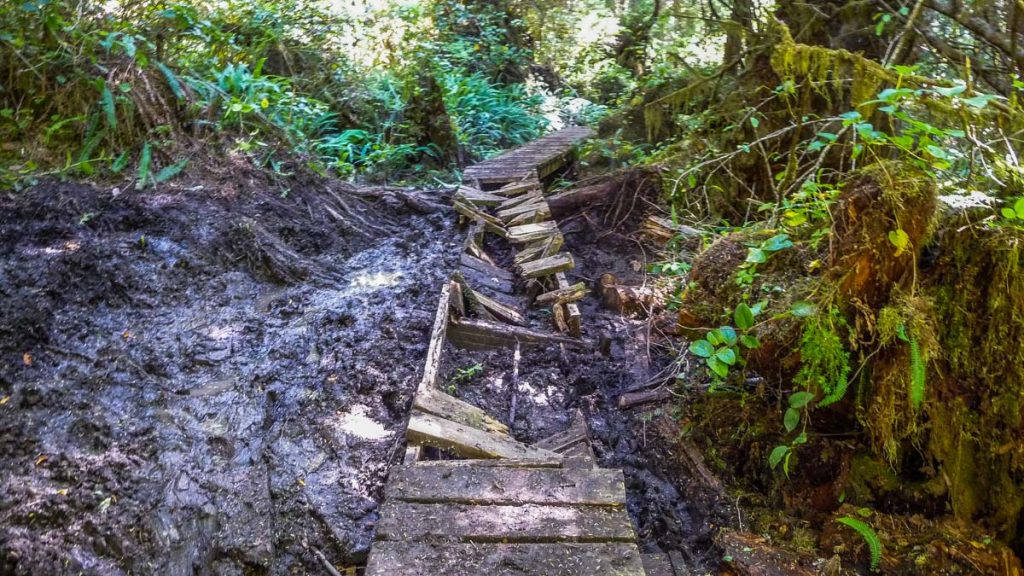 I saw some bear and cougar warning signs which got me a little paranoid, but fortunately I didn't run into any.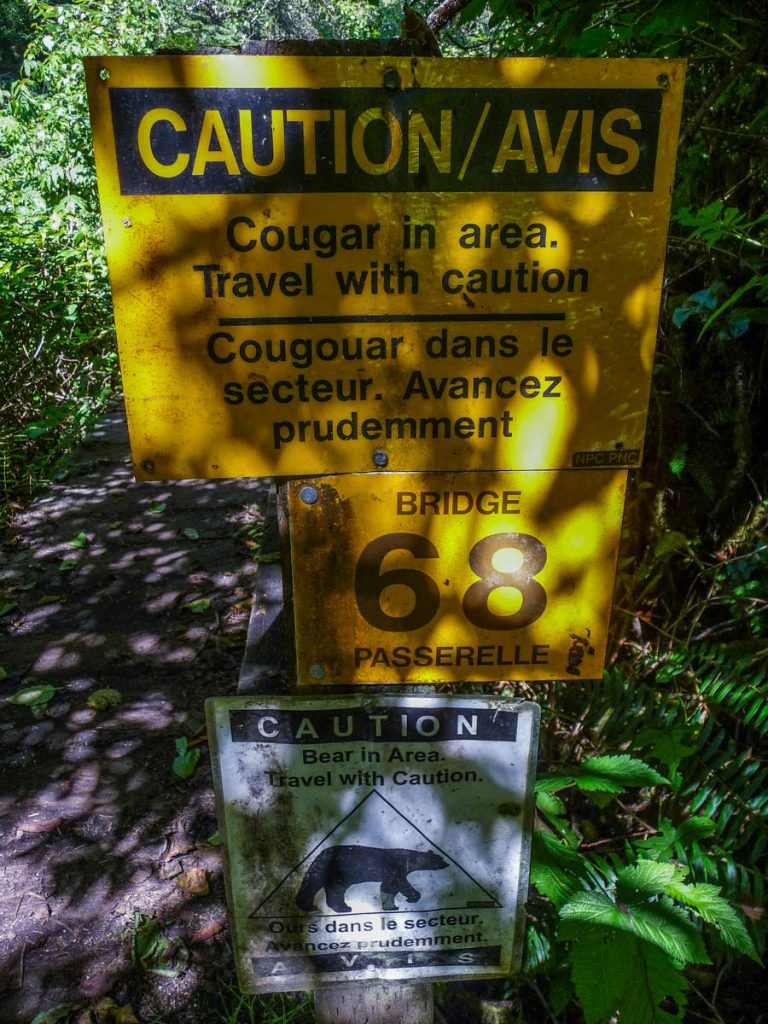 I decided to take the beach access at km 36. After 1 km, I rejoined the inland trail.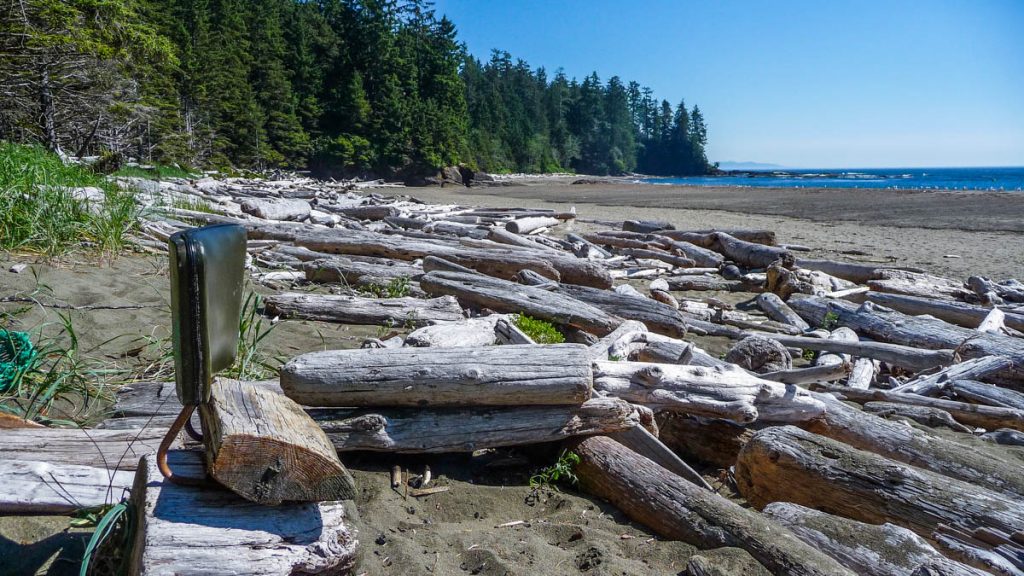 A bit after km 41, I arrived at Cribs Creek campsite. A good number people were camping here but I moved on.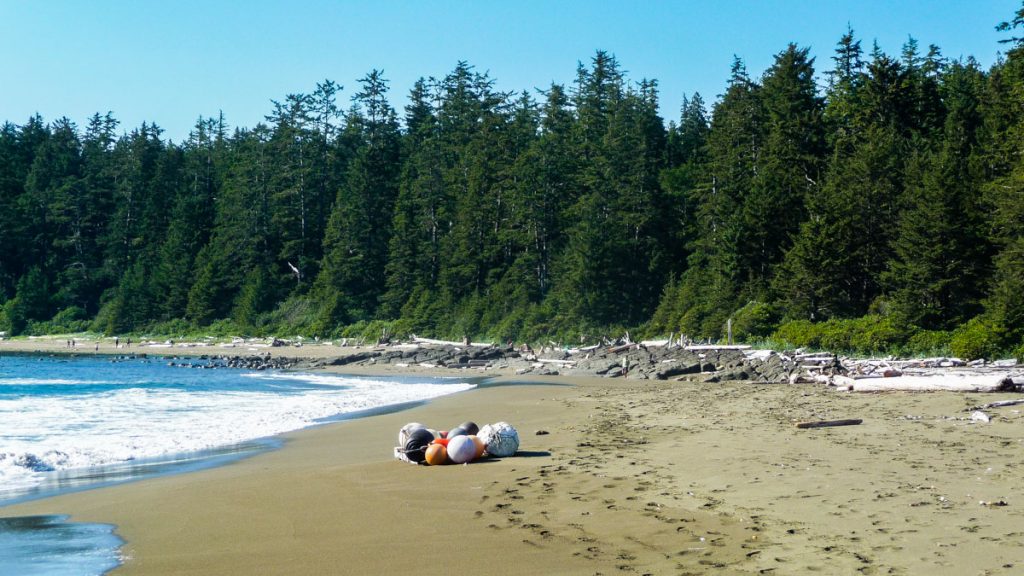 More beach walking until a little after km 43, where I rejoin the trail. Shortly after, I arrive at Carmanah Lighthouse.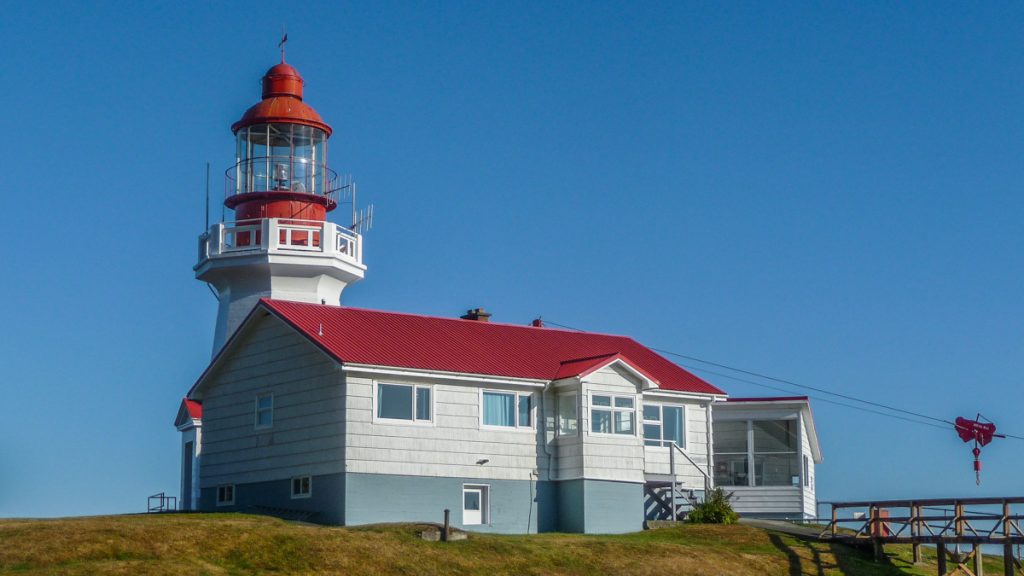 Access back to the beach is through a steep set of ladders. While climbing down these ladders, I could see the cooking smoke coming out of Chez Monique from a distance. I started to fantasize about the cheeseburger I was about to eat.
Chez Monique is the only restaurant on the trail. They are famous for their cheeseburgers. They have a little farm on the back of the restaurant where they grow their own vegetables. They also had about 5-6 WWOOFers who were helping out on the farm and restaurant. A buffet dinner was available for $30, but I ordered the $20 burger instead. I didn't want to stay long since it was already almost 6pm and I still had another 2 km to hike. The burger was very very good. It was huge but I must have finished it in less than 2 minutes.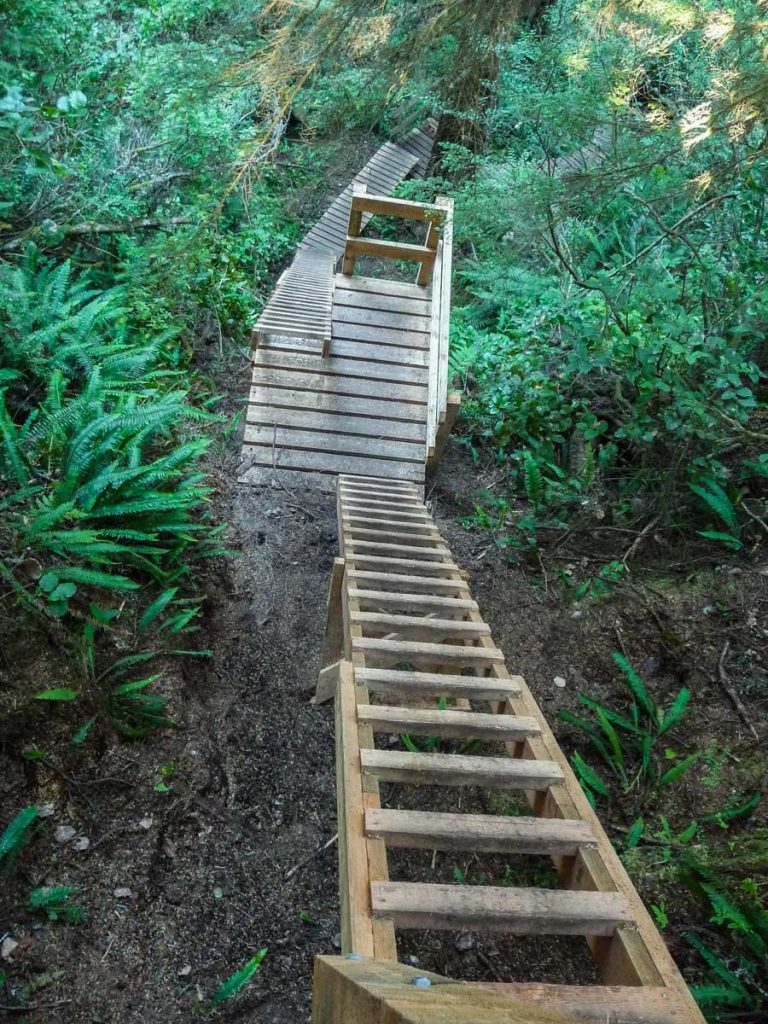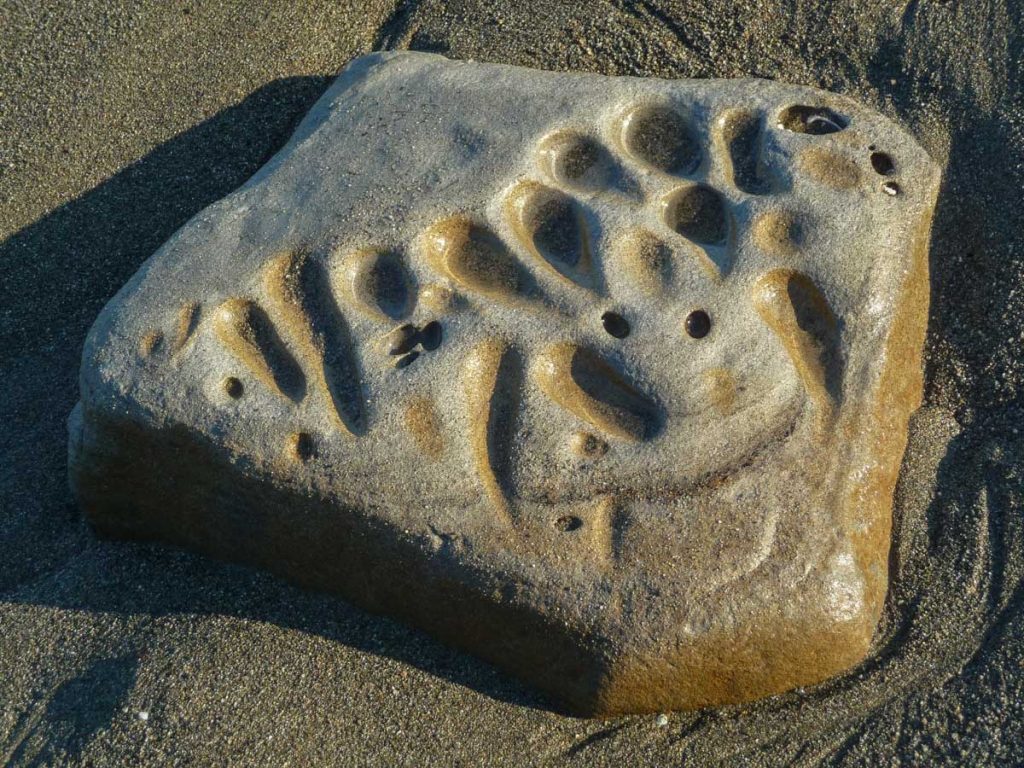 I arrived at Carmanah Creek campsite a little bit before Monika and Marie got there. I had briefly run into them at Carmanah Lighthouse early in the day. Both of them run marathons and triathlons, so they were in pretty good physical shape. But both them said that they had packed too much stuff and were struggling with their heavy backpacks. They invited me to join their campfire later in the night. I would end up hiking the last 2 days with them.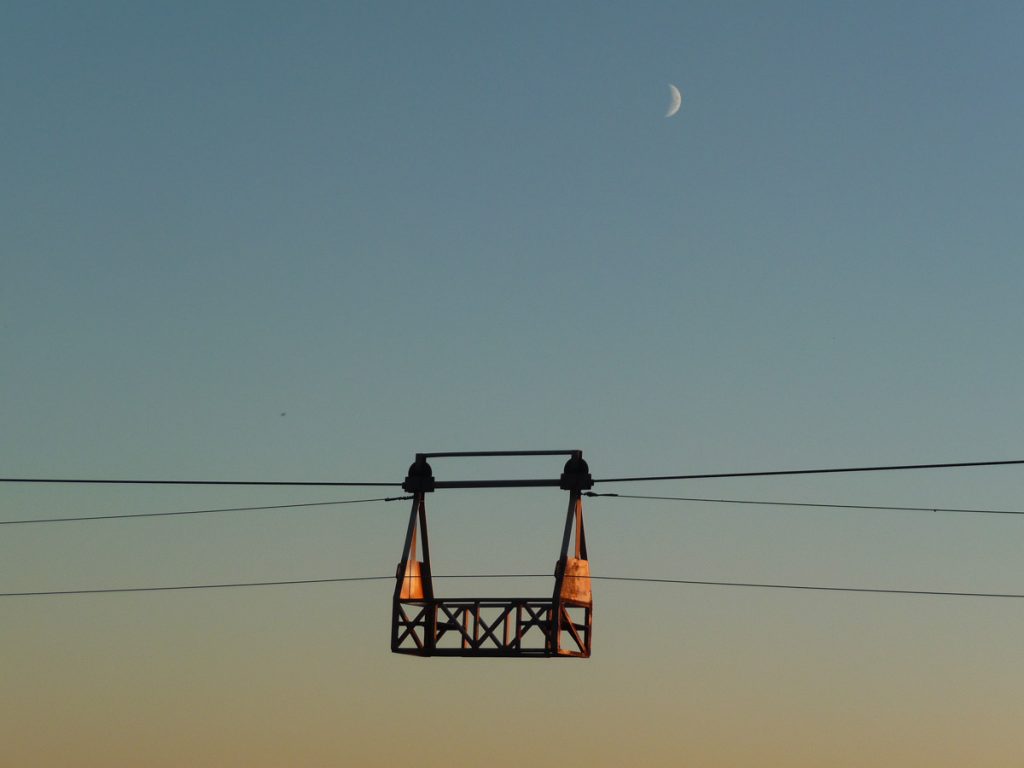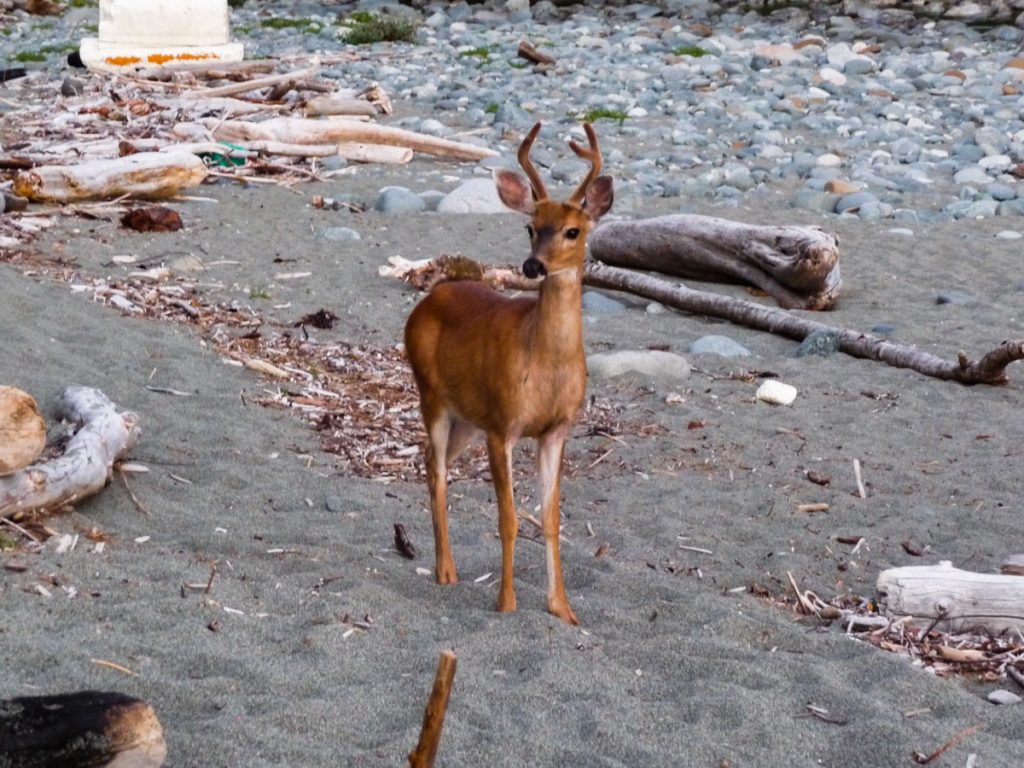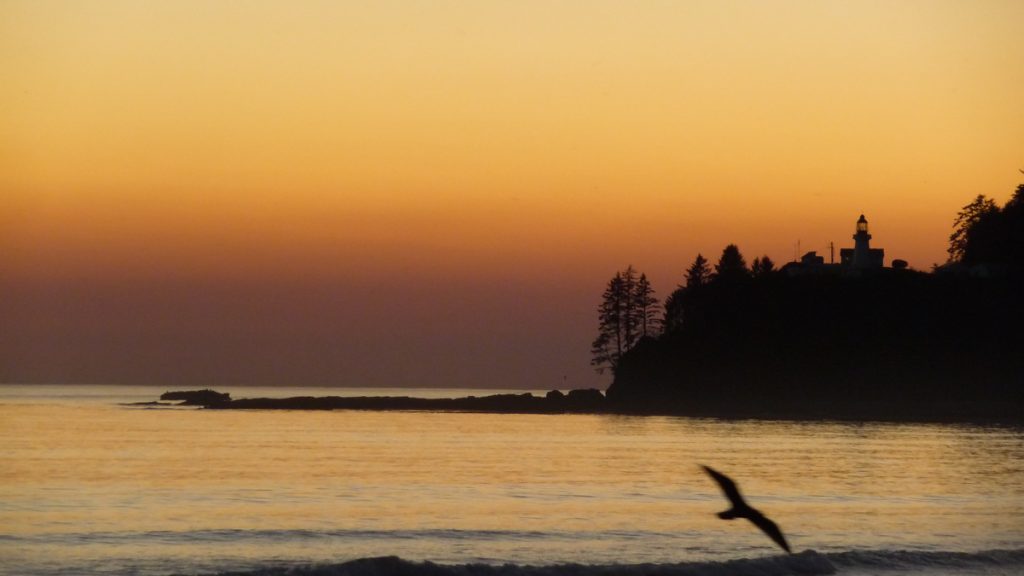 Next entry: Day 4 – Carmanah Creek to Camper Bay
Part of the West Coast Trail Journal and Pacific Northwest Trip Journal