I reached 500 days of travel about three weeks ago. It's a crazy number when I think about it.
A Look Back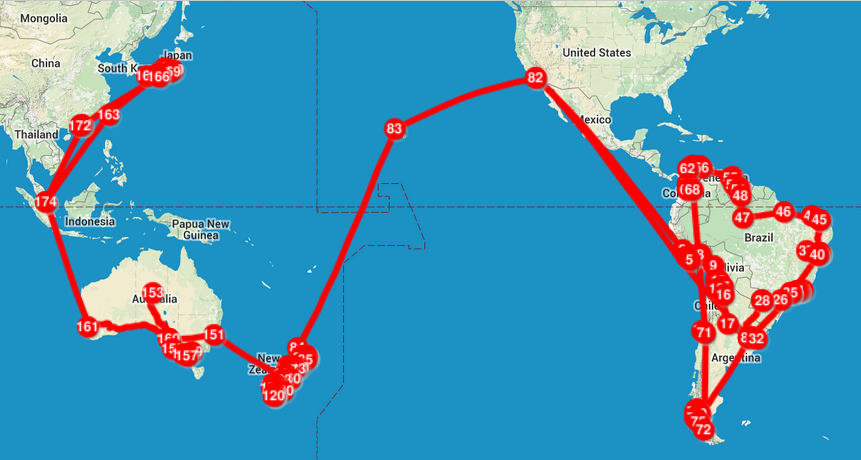 I've visited 15 countries so far. Slept in 145 different beds. Took 28 flights, 60 long distance buses, 24 long distance trains, and 30 boat rides.
Countless good memories of places, people, and experiences that will stay with me forever.
Balancing Between Fast and Slow Travel
I'm still not ready to go home, not even close, but I do find myself traveling slower than ever. The challenge now is finding the balance of traveling at a pace that would prevent burnout, and at the same time not being too lazy and complacent. Since I hit the 1-year mark about 200 days ago, I have only been to New Zealand, Australia, Taiwan, Japan, Hong Kong/Macau, and Singapore. Not many places for such a long time. When people ask me for long-term travel advice, I always tell them that if they found a place and/or a group of people they are really enjoying, they should try to extend that instead of going somewhere else to chase the same thing. I now realize that you can take this an extreme and become a bit lazy instead. I'm in Singapore as I write this, and have been here since the Formula One Grand Prix almost four weeks ago. I don't really feel like doing anything a lot of the days, but sometimes all it takes is to get my butt out the door and visit a few places, and at the end of the day I'd be glad I did.
Looking Ahead
As I start to think about an eventual ending date for my trip (maybe in 2 years), I'm realizing that I would already have to skip many regions I wanted to visit. If I keep traveling at this pace, I will be skipping even more places. So in order to travel with a purpose and not just drift around, I made a very tentative itinerary for the rest of my trip.
2015
Oct – Singapore, Malaysia
Nov – Malaysia, Japan
Dec – Japan
2016
Jan – Japan, Borneo
Feb – Borneo, Thailand
Mar – Thailand, Myanmar
Apr – Myanmar
May – Cambodia, China
Jun – China
Jul – China, Mongolia
Aug to Oct – India, Bangladesh
Nov – Nepal???
Dec – ???
2017
Jan to Feb – Iran
Mar – Israel, Jordan
April – Turkey
May to Dec – Africa (overland from Cairo to Cape Town)

Places that I would want to go but I don't think I'll have the time:
– Most of Eastern Europe
– Some Western European countries that I'd like to revisit: France, Italy, Germany
– Norway
– Iceland
– Cuba
– Russia
– Indonesia
– Central Asia
I'm glad I made this list because it really gives me a sense of urgency. It doesn't mean that I won't take breaks anymore as needed, but at least I now know that what possible places I would be sacrificing if I get lazy for too long in one place.