One of the highlights of Australia, I must confess that Uluru (Ayers Rock) wasn't high on the my list of things to see around the world. What was on that list was riding The Ghan, the famous train journey from Adelaide to Darwin. Since I only had three weeks in Australia and not enough time to go all the way to Darwin, I decided to just do half of the Ghan to Alice Springs, the gateway town to Uluru.
There's no cheap way to do Uluru, with 3-day bus tours being extremely expensive. I only had two days and one night to visit it, since I arrived at Alice Springs on a Monday afternoon and was taking the Thursday Ghan back to Adelaide. This meant that I would have to get there on my own. When I first researched car rentals, they were very expensive since they all came with a 100 km per day limit, which is no good since Uluru is 450 km away from Alice. With the fees for the extra kilometers, it was going to cost around 200 AUD per day. I later found out that if you book through the tourist information center called Discover Central Australia, you could get rentals for unlimited kilometers for a much lower rate. I ended up paying 142 AUD for a 2-day rental.
This was the first time I drove during this long trip around the world, and the change from buses to the freedom of going at my own pace gave me a lot of joy and happiness. I smiled often during the 5-hour drive.
I chose the Stuart and Lasseter Highways route after the advice from an excellent online article. I made a stop at Erldunda Roadhouse to refuel. I couldn't figure out at first, but in Australia you first fill up at the pump, and then walk inside the store to pay for it. I don't know about other parts of Australia, but here you couldn't just pay at the pump.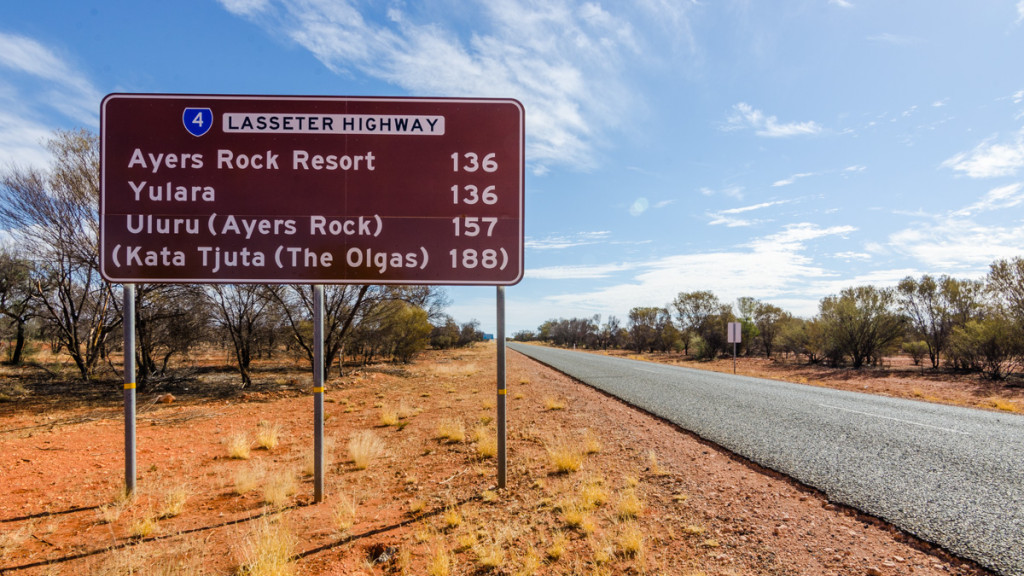 There are a few rest stops and roadhouses (places with campsites, gasoline station, store, and maybe rooms) along the way. I kept my eye open for animals, expecting to see kangaroos and camels, but I didn't see anything except for a few cows. That was a bit disappointing. Aside from that, the scenery was very pretty and unique. The sand is bright orange, and there's abundant vegetation (bushes and trees) everywhere for such an arid place.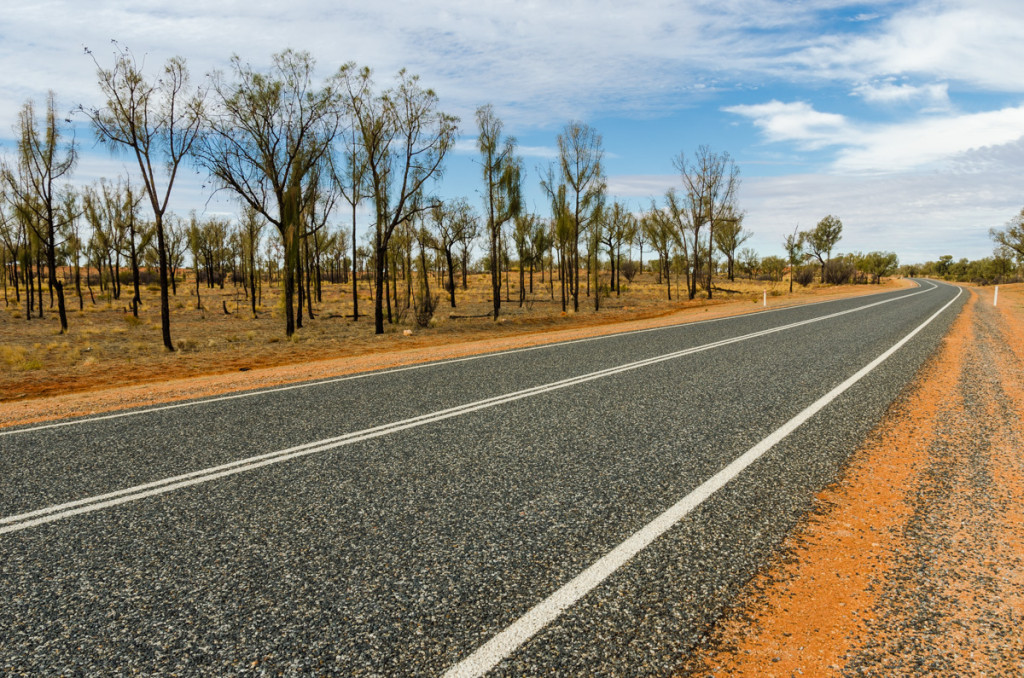 About one hour before Uluru I arrived at Mount Conner Lookout. Despite reading about it, it fooled me into thinking for a few minutes that I was looking at Uluru.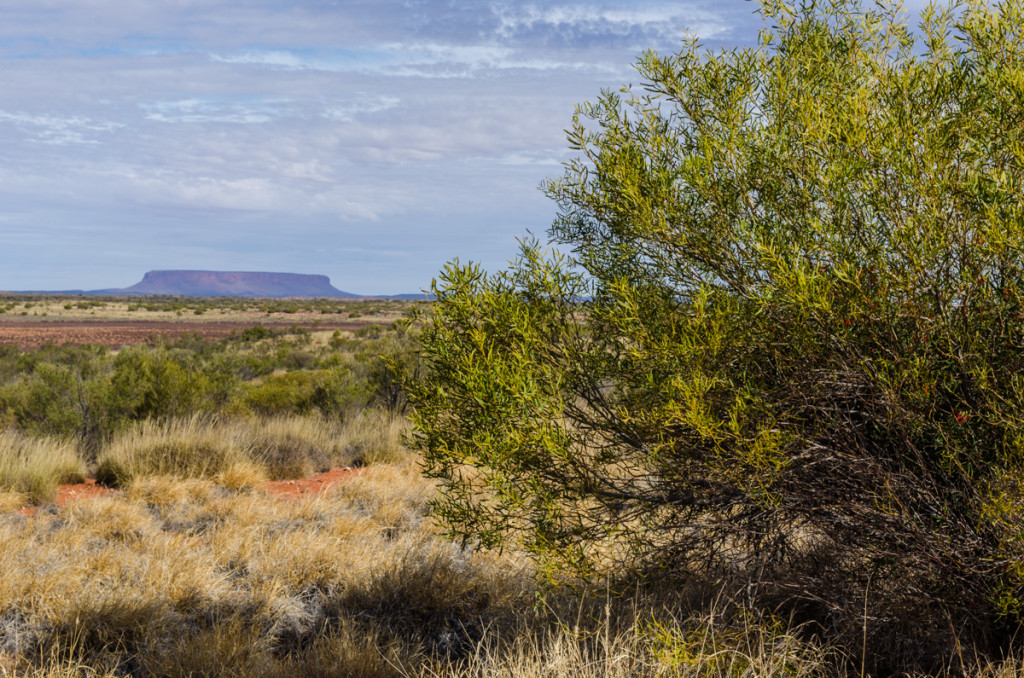 My plan was to stay at a free campsite about 40km before Uluru. I got there around 3:30pm and pitched my tent before getting back on the car to drive into the national park. On the way there I got my first glimpse of the famous rock. It was a very happy moment for me. From time to time during this trip I have seen special places that have given me a feeling of wonder and happiness (Machu Picchu, Angel Falls, Milford Track), and this was definitely another one of those places.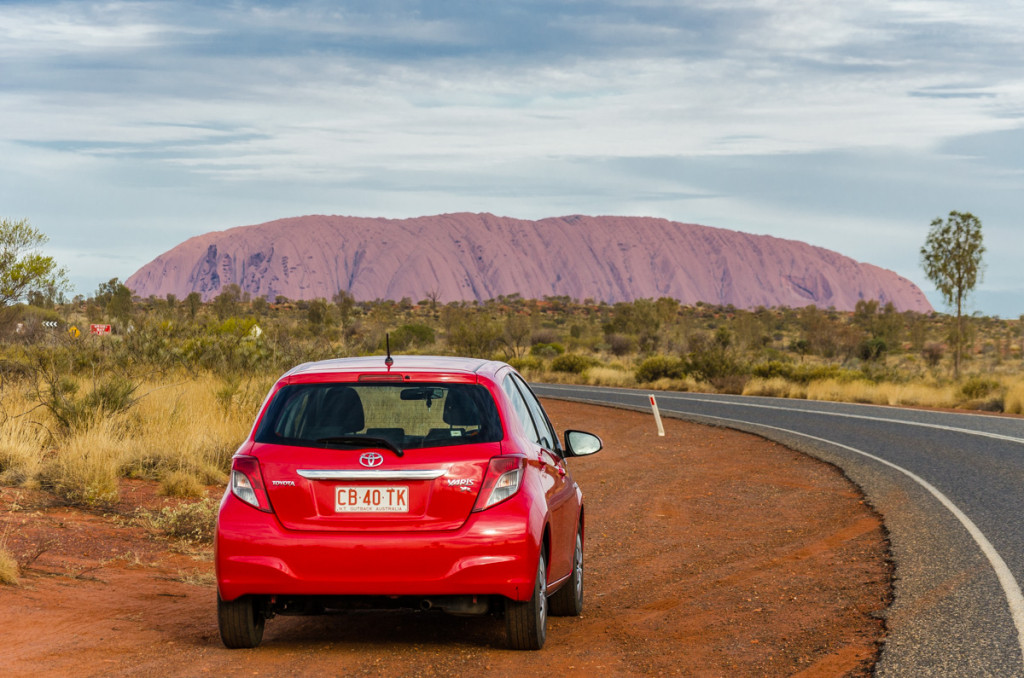 The entrance fee is 25 AUD for three days. I drove to the Sunset Viewing Area, getting there about 30 minutes before the sun went down. Unfortunately it was a very cloudy day, blocking the sun from shining with full power on Uluru. This meant that for most of the time, the rock didn't have the bright red glow that I had seen in so many photographs. The sun did take a peak for about two minutes, allowing me to take this picture.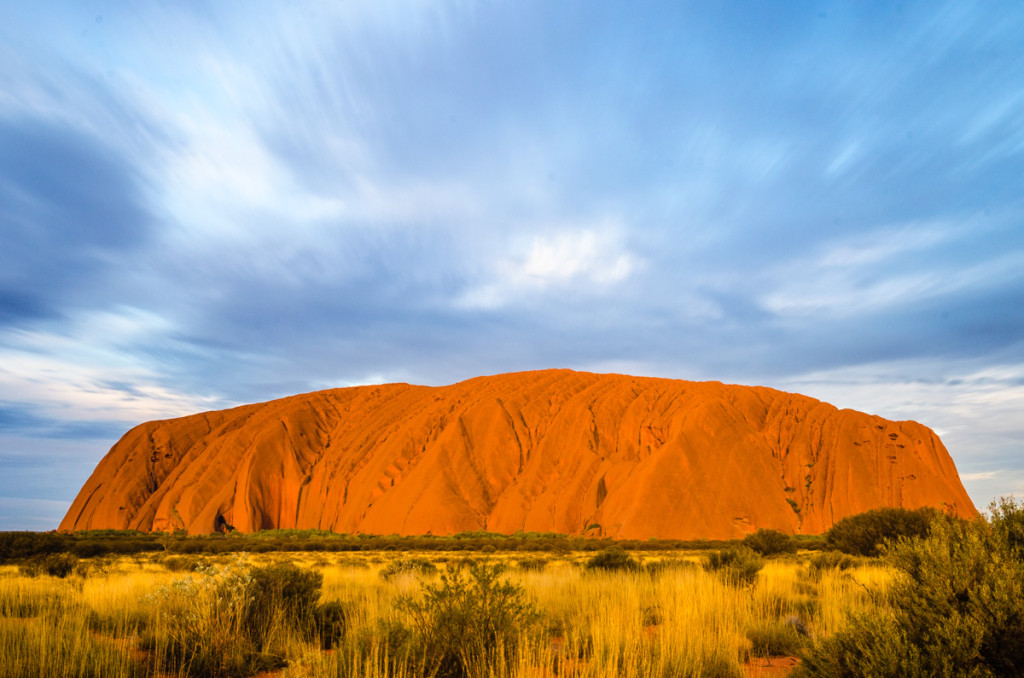 I chatted with a man from Adelaide who have taken many commercial photos of this place. He was kind enough to advice me on where to go the following morning for sunrise pictures. He said that if it remained cloudy, the popular spot for sunrise pictures wouldn't be ideal since the rock would once again have a dull color. If it was cloudy, he suggested that I instead returned to this very same spot and shoot into sun, which should produce a nice orange background.
As the sun went down, I drove back to the campsite and watched a movie on my laptop before falling asleep. There were three other campervans in the big campsite. One of them had a group of annoying and inconsiderate guys playing the guitar and singing well past 11pm.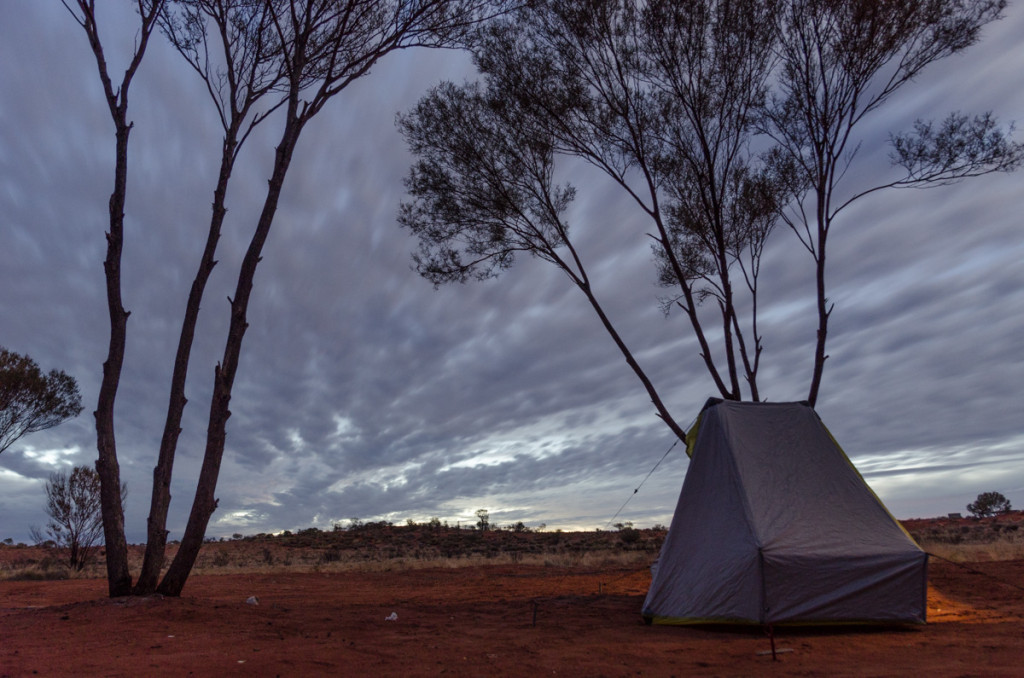 Unfortunately the clouds didn't clear the following morning, so it was back to the Sunset Viewing Area for pictures. I got there just a few seconds before the sun came up over the horizon. I'm happy with the picture I got.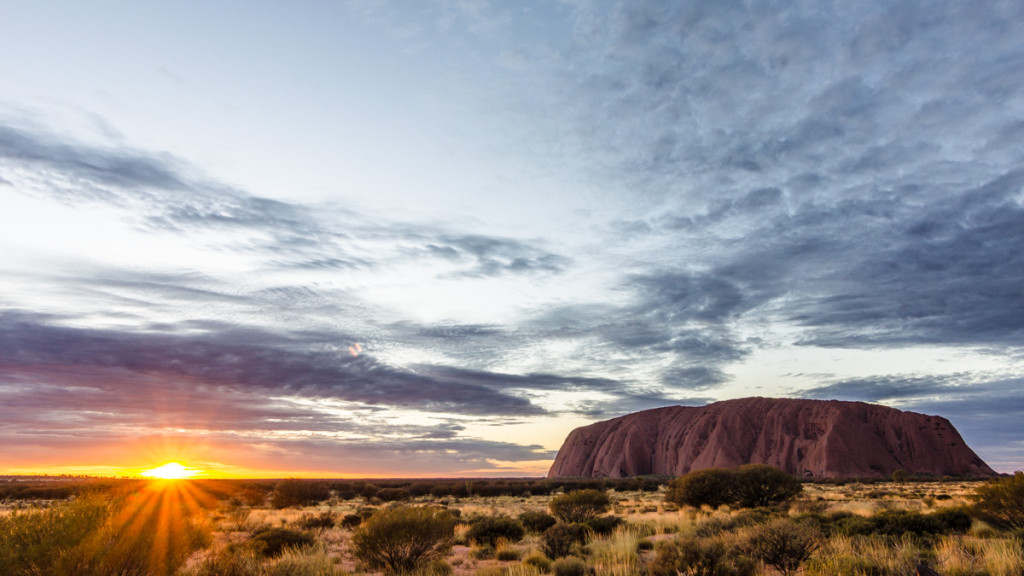 I then drove around the entire rock, looking at it from different angles. The national park does a very good job in providing paved roads, toilets, plenty of parking spots, and hiking trails to explore this wonder. I could have spent a whole day there, but my time was limited. I did do a short walk to the Mutitjulu Waterhole.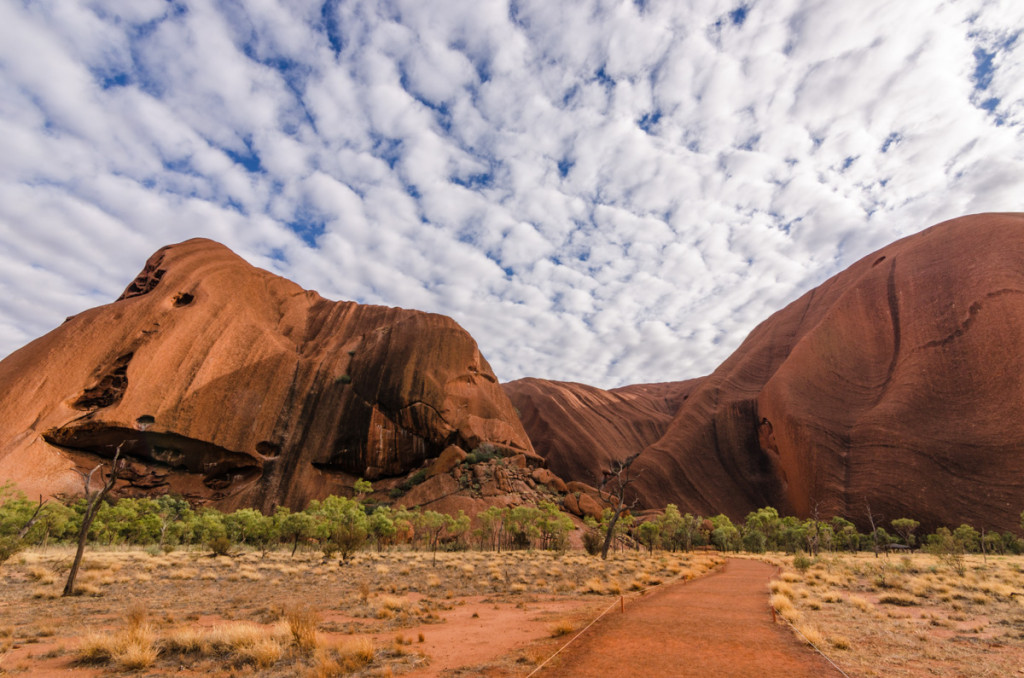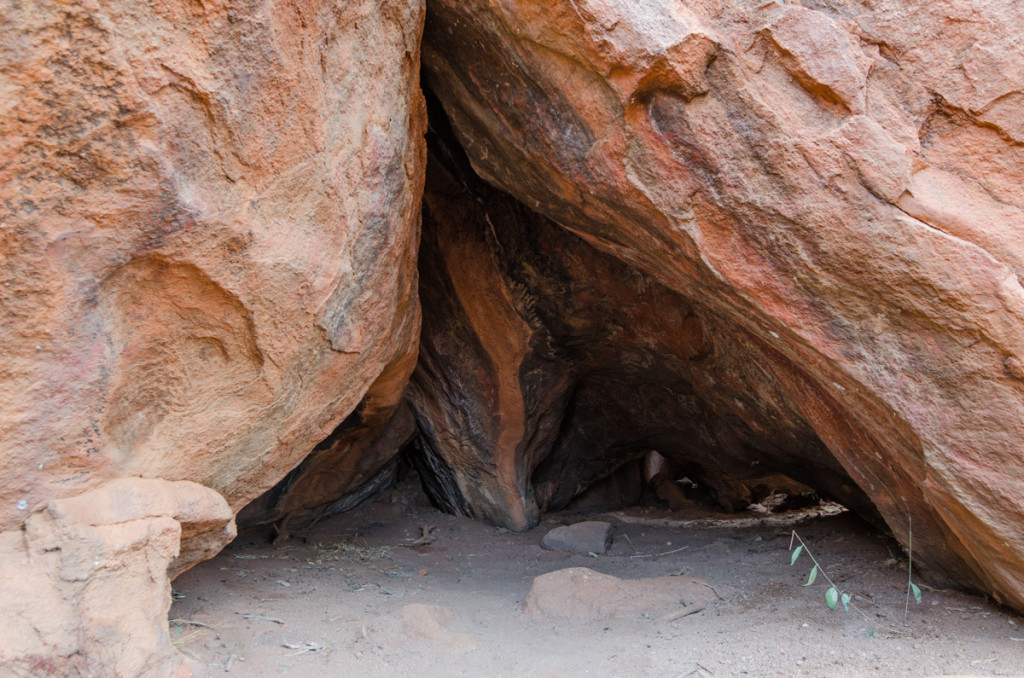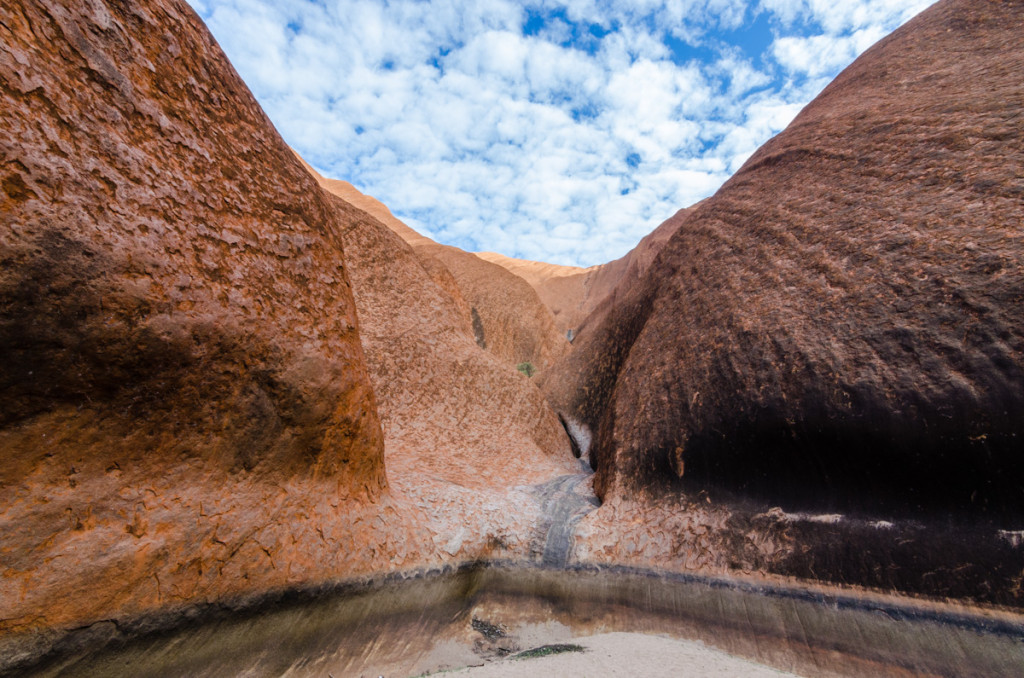 I headed over to Kata Tjuta (Mount Olga) afterwards. It's about the same size as Uluru, except that instead of one big rock, it is composed of many smaller rocks. There are also many hiking trails around, but it was already noon and with a 5-hour drive back to Alice Springs, I couldn't do any of them. The heat was also getting uncomfortable. It was only around 27 C, so I can't imagine how it must be in the summer at around 40 C.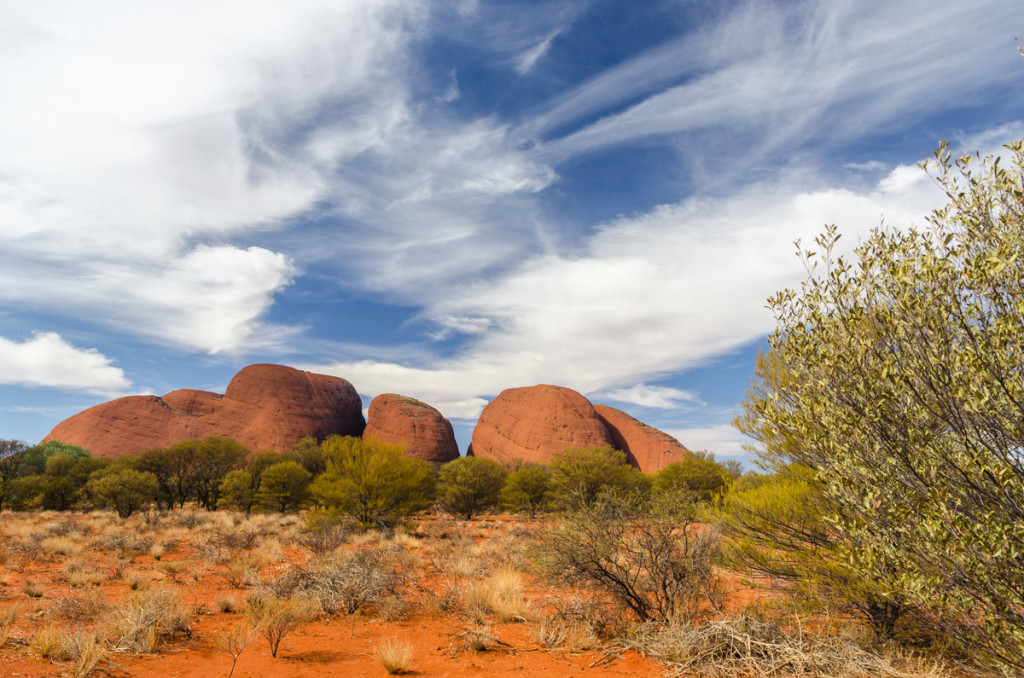 The drive back to Alice Springs felt long, and once again I didn't see any animals except for cows. I returned to the hostel totally exhausted, but very glad that to have done the journey to see such a special place. I know that Uluru will become one of the highlights on this long journey around the world. If I had more time in Australia, I would have spent at least a week in the area to also visit Kings Canyon and other interesting places around.
---
More information:
Driving from Alice Springs to Ayers Rock article on http://traveloutbackaustralia.com.
discovercentralaustralia.com, the website for the visitor center in Alice Springs.
---