Show More Posts
Rental Car Relocation, And Driving the Great Ocean Road in Australia
Since I made train travel the main focus of my three weeks in Australia, it had been hard to fit other activities in between train trips. After riding The Ghan from Alice Springs back to Adelaide, I had three days to get to Melbourne to catch The Overland train back to Adelaide, where a few days later I'd get on the Indian Pacific train for a 42-hour ride to Perth. Have I mentioned that I love trains?
So with three days to go from Adelaide to Melbourne, this was the perfect chance to drive on the famed Great Ocean Road. I just needed a car. Rental ones are not cheap, especially when you drop it off in a different city than where you picked it up. While in New Zealand someone had mentioned to me that idea of doing a "car relocation" for a rental company. This is when they give you a good deal to do them the favor of relocating one of their cars to a low demand to a high demand city. Some will charge you as low as 1 AUD per day for the rental, and if they are desperate enough, they might even cover 50-100 AUD of your gasoline expenses. They will give you a maximum number of days you need to complete the journey in, and a maximum number of kilometers (more than enough to complete the trip). Some cities like Sydney are very hard to get deals like this, but Adelaide seem to be full of them all the time. I ended up using Imoova, which aggregates relocation deals from various rental companies, and charges 25 AUD per booking. I got a 3-day rental for 5 AUD/day from the rental company Europcar.
I picked up the car (a Hyundai i20) from Adelaide Airport at 10:30am on a Sunday, and was to return it at Melbourne Airport on Wednesday before 10:30am. Everything works exactly like a regular car rental, with the option of lowering your out-of-pocket insurance liability for a fee if you want.
Once again it took me a little while to get used to driving on the right side of the car, and on the left side of the road, especially in urban areas. I parallel parked to buy a sandwich and scratched the rim cover. Oooops. It was hard to judge the dimensions of the car when you switch driving positions.
The plan was to put in a lot of kilometers (over 600) on the first day, and drive all the way to the town of Warrmambool, very close to the western end (and the start for me) of the Great Ocean Road. The second day would be much shorter in distance allowing me to stop often and enjoy the highlights of the GOR, spending the night at Lorne. I would then complete the rest of the GOR, and drive a couple more hours to Melbourne on the third and last day.
I took the M1 freeway to get out of Adelaide, and then headed south by the cost on the B1 route. I didn't see anything interesting passing through Coorong National Park. Not that I had any time to get off the car and explore a little more. But there were no views that made me want to stop and take a few pictures. The weather was bad, with on and off showers throughout the day. The sun was already starting to set as I passed through the small village of Robe. Being almost June, the days are short and it gets dark after 5pm. I had to concentrate extra hard to drive in the rain in the dark. I finally arrived at Warrnambool a bit past 8pm. Checked into a hostel and got a room all to myself.
The next morning they came to knock on my door at 9:30am. They told me it was already checkout time, which was supposed to be 10am. That's when I realized that when I crossed the border from the state of South Australia to Victoria, I didn't know I had to move my watch forward by 30 minutes. My cell phone did adjust automatically, which explains why I was sometimes confused with time the prior night. Depending on whether I was using my watch or cell phone to look up time, I would sometimes feel that time was going backwards. Since that's impossible, I just thought I had misread the time in the first place.
So I got up in a hurry and packed everything and got back on the car. Didn't even have time to shower. It was another rainy day, with scattered showers throughout the day. Shortly after leaving town, I was finally on the Great Ocean Road. From here on, the scenery was spectacular. First was Bay of Islands.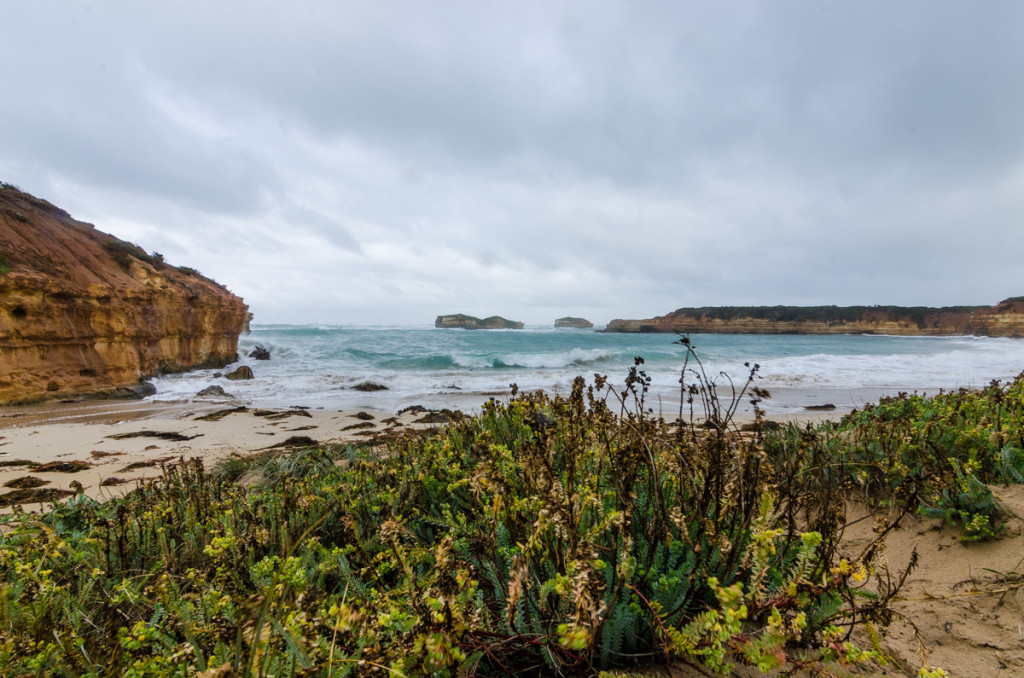 Then the London Bridge.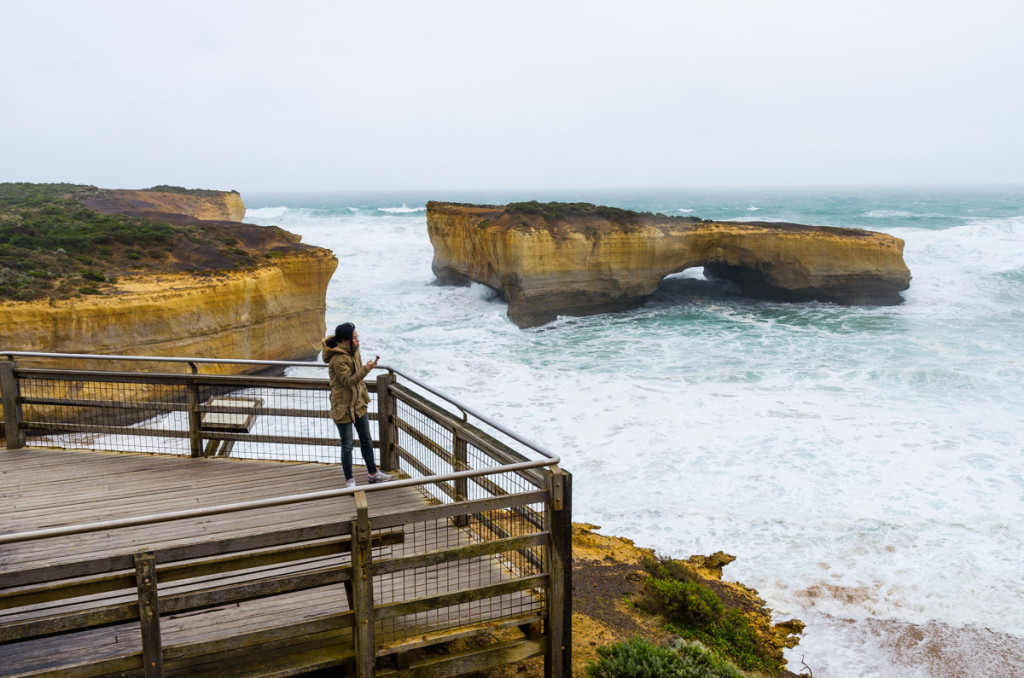 Followed by The Arch.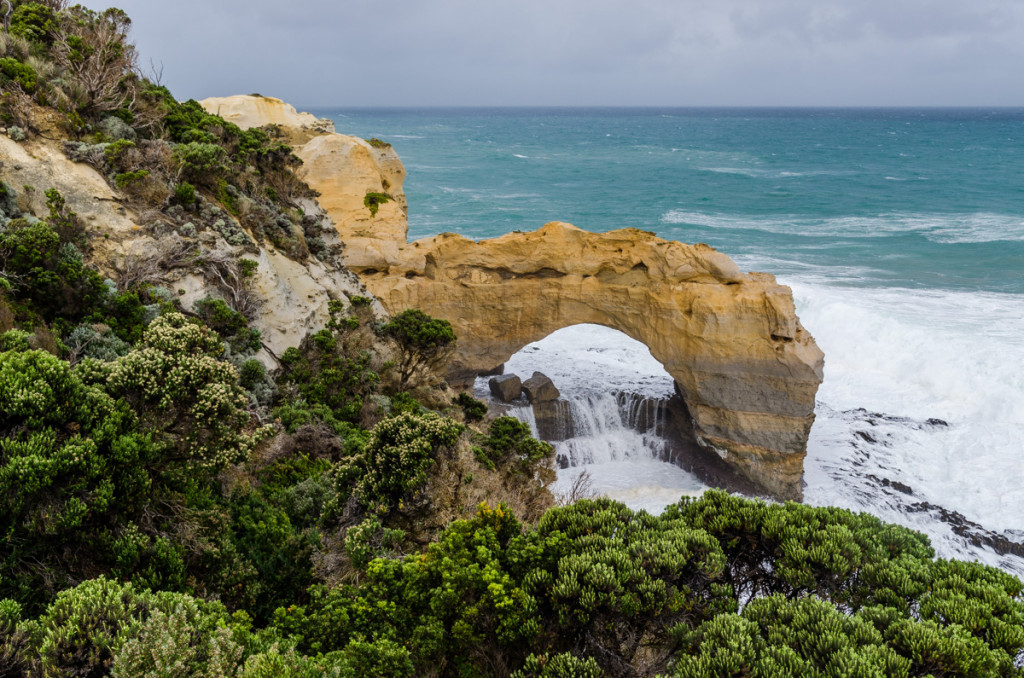 And finally the famous Twelve Apostles.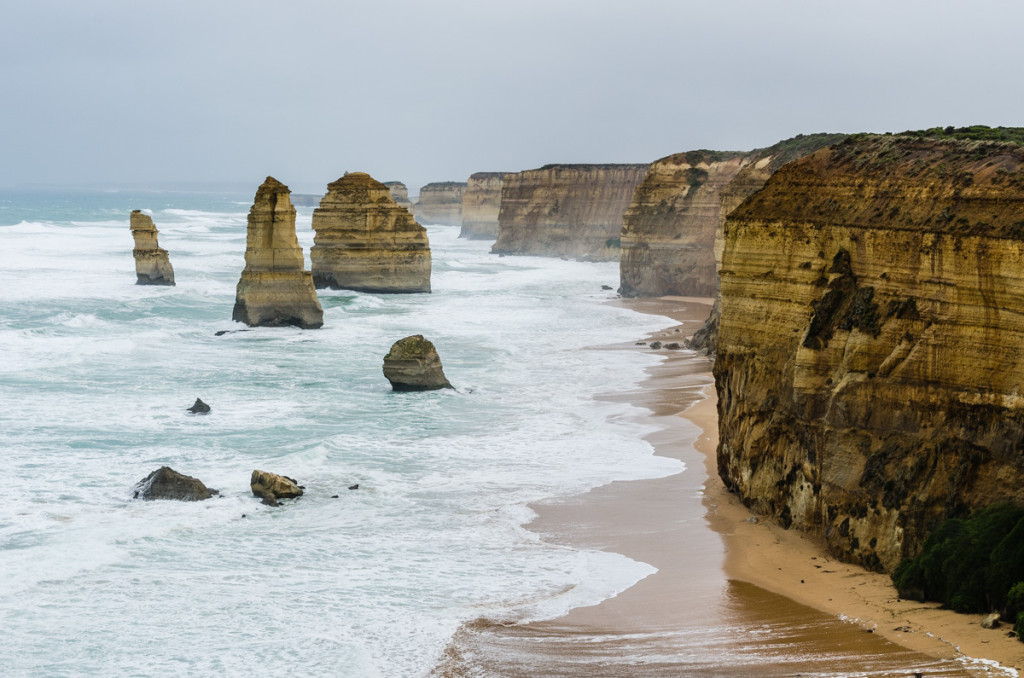 After that the road goes through very beautiful forest.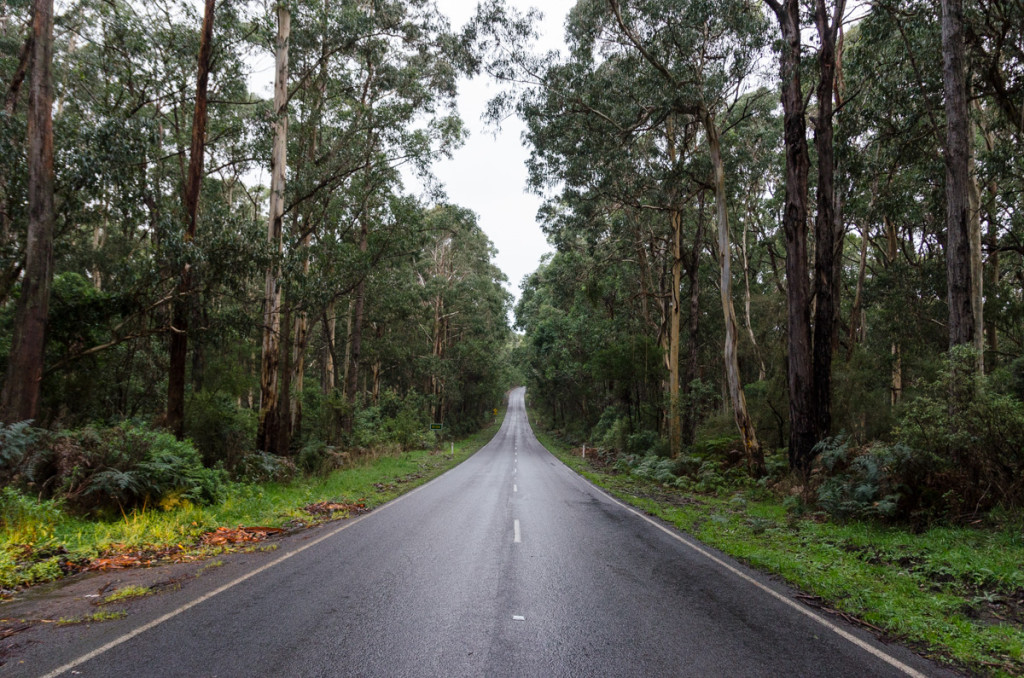 I spent the night at a hostel in Lorne and once again I got a whole room to myself. It must have been low season.
On the last day I stopped at Torquay for lunch. The last section of the Great Ocean Road hugs the coast and is very twisty. I was very tired by then since I had not been sleeping well for the previous 4-5 days. Once in a while I go through a period where I become a very light sleeper, and this was one of those. So when I arrived in Melbourne in mid afternoon, I decided to book a nice hotel room using the Hotel Tonight phone app for a decent price. I stayed in the room and relaxed for the rest of the day. It was still raining and I had no desire to explore the Melbourne that night, even though it appeared to be a very interesting city, with unique bars, cafes, and shops everywhere.
Having seen barely anything of the city, I was already leaving on the 8am The Overland train the following day. After waking at 5am, I drove to the airport where I returned the car. I told them about the scratched wheel cover but they said to not worry about it. I then caught a shuttle from the airport to the train station, and after a 10-hour train ride, I was back in Adelaide again.
I skipped so many spots during this trip because of my limited time. I didn't get to explore any of the towns, didn't walk on any beach, and had to drive after dark in some of the sections. I really wasn't liking this fast pace of travel that I had been on since I arrived in New Zealand almost three months before. But I knew this was going to be the case when I bought a rail pass and decided to ride through the whole of Australia in such limited time. I told myself that I would slow down once I started the Asian leg of my trip in a couple of weeks.
I did enjoy the Great Ocean Road very much. The Twelve Apostles was another one of those special places I had a hard time leaving. Twice I started walking towards the parking lot and went back just to take one last peak.