Journal entry for August 19, 2009
Approximate distance hiked: 8.0 miles, 12.9 km
When I woke up at 6:30am, Mickey was already up and busy. Once again I had slept comfortably and fell pretty rested. I have, however, never been a morning person and I'm pretty much in zombie state the first hour after I get up. That's probably the reason why I didn't get back on the trail until 9. I wasn't in a hurry though, since I had 2 days to get to Tuolumne Meadows, only about 9 miles away. I said goodbye to Mickey and used my mini tripod to snap a picture with him. He expected me to catch up to him in a couple of hours but I never saw him again on the trail for the rest of the trip.
For the longest time I wondered if he had finished the JMT, but I have been informed in the comments below that he indeed finished the whole trail, and you can read his journal here.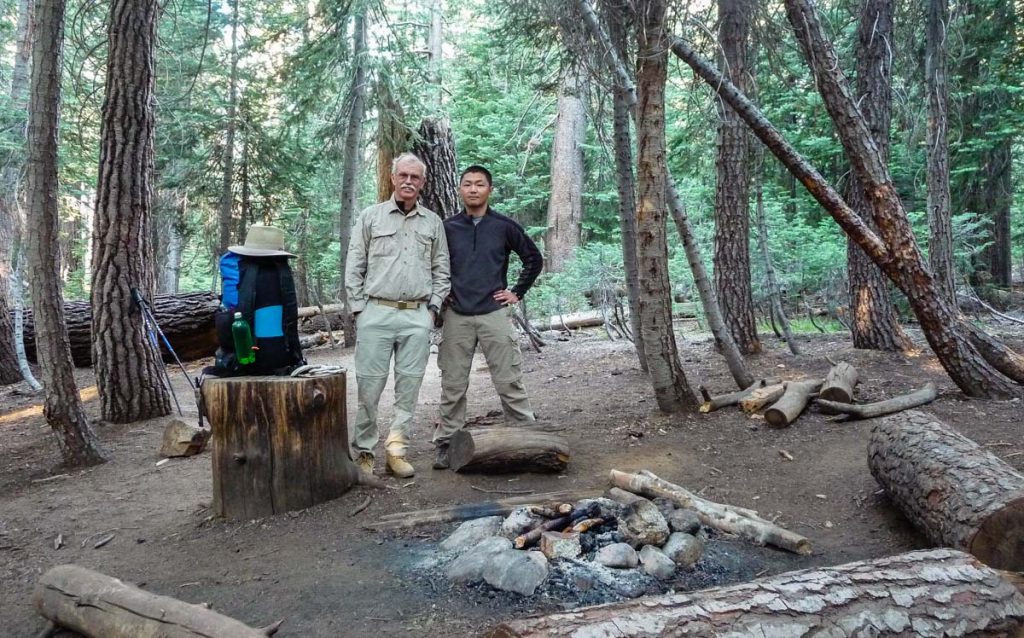 Right after leaving camp, the trial begins to climb up Sunrise Mountain. Going up what seemed to be an endless series of switchbacks, it was the first time I felt tired and out of breath. After about an hour or so it got better as it flattened out. Just before Sunrise High Sierra Camp, I run into 2 guys with GoLite Jam packs who were taking a break. A few minutes later I saw them again while arriving at Long Meadow. I'm horrible at remembering names, but one of them was ending his trip that day while the other was heading to Edison Lake.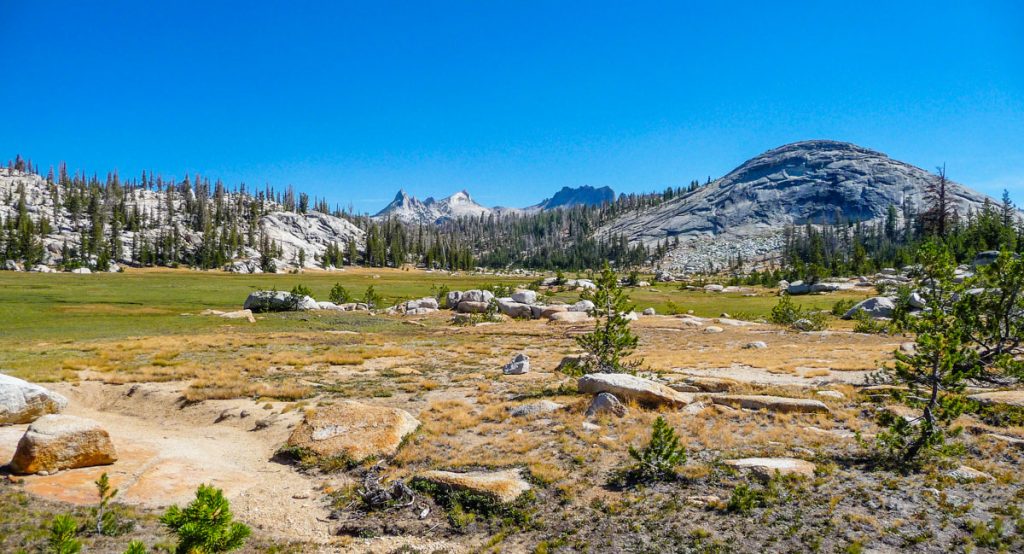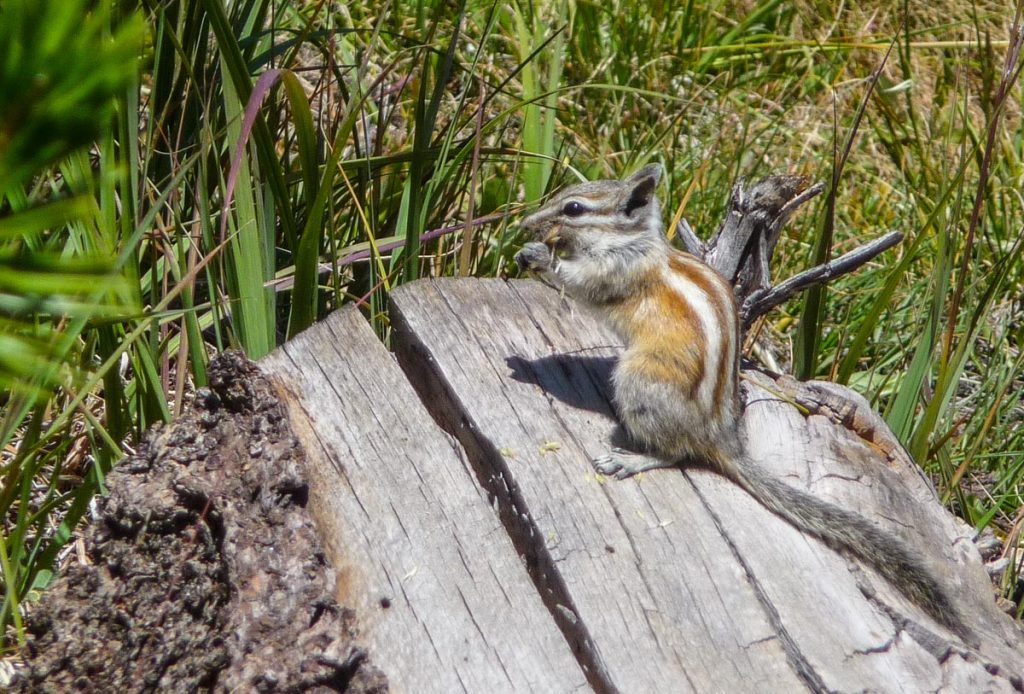 They told me that once I got to Cathedral Lakes, it'd be hard for me to not camp there because of how gorgeous it is. After a few hundred yards I passed Sunrise High Sierra Camp but didn't stop to check it out. I soon had my first encounter with horse crap on the trail. There were lots of it from pack horses taking supplies to the camp. Towards the northern end of Long Meadow I find a nice spot to sit down and have lunch. The views were beautiful but what I noticed the most was how quiet it was. Hiking was tough right after lunch, I should have waited half an hour or so to finish digesting. I run into a pack horse train on my way up Cathedral Pass (9700 ft, 2956 m), which I didn't even notice when I arrived. There were no signs and I only realized that I had passed it when the trail started to descend.
Upper Cathedral Lake was the first big lake I saw on JMT. The hike and scenery was getting better by the minute.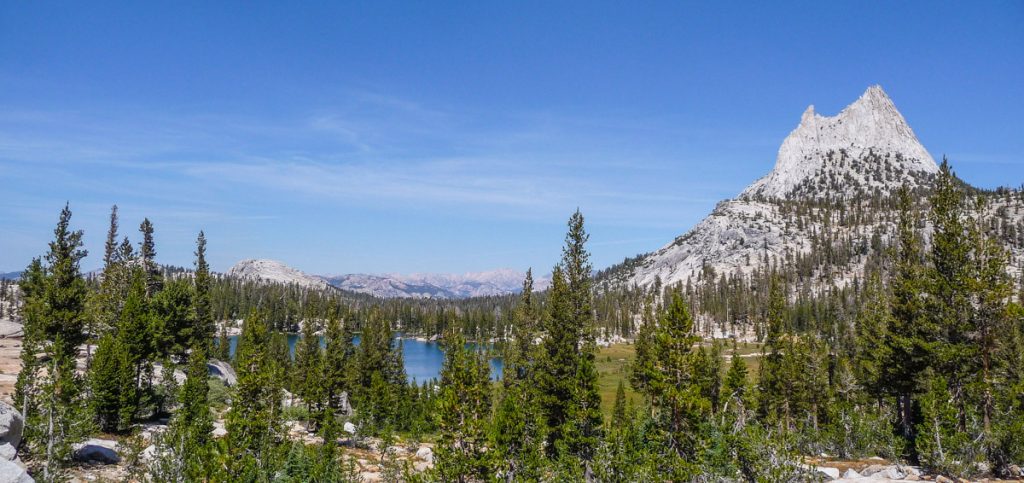 I run into two young guys from Fullerton CA, minutes away from where I live. I have seen them a couple of times in the past two days, but never had a chance to chat with them. They were out on their first backpacking trip and having a great time, going from Yosemite Valley to just a little bit before Toulumne. They were told that camping was a bit better at Lower Cathedral Lake, so I followed them on the mile-long hike there. People from Forest Service were doing trail maintenance work and I made sure to let each of them know how much I appreciate what they do.
Lower Cathedral Lake is indeed magnificent. I took a quick dip which felt great. It was only 2pm but the guy who told me that it'd be hard to pass on the opportunity to camp there was right. I started walking around the lake, looking for a suitable campsite. When I reached the western end I found a great spot with great views of the lake to the east, and beautiful expansive views on the opposite side.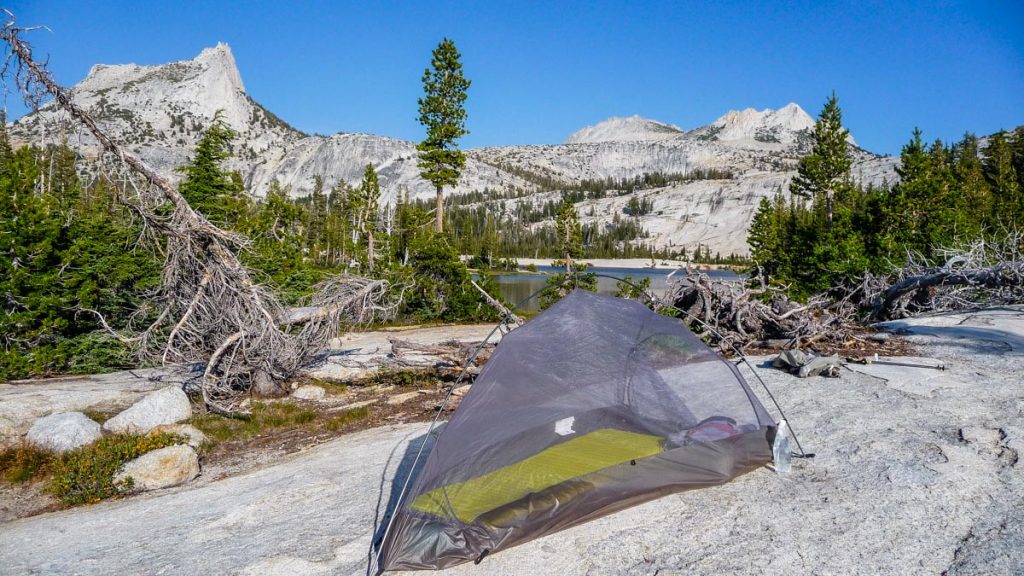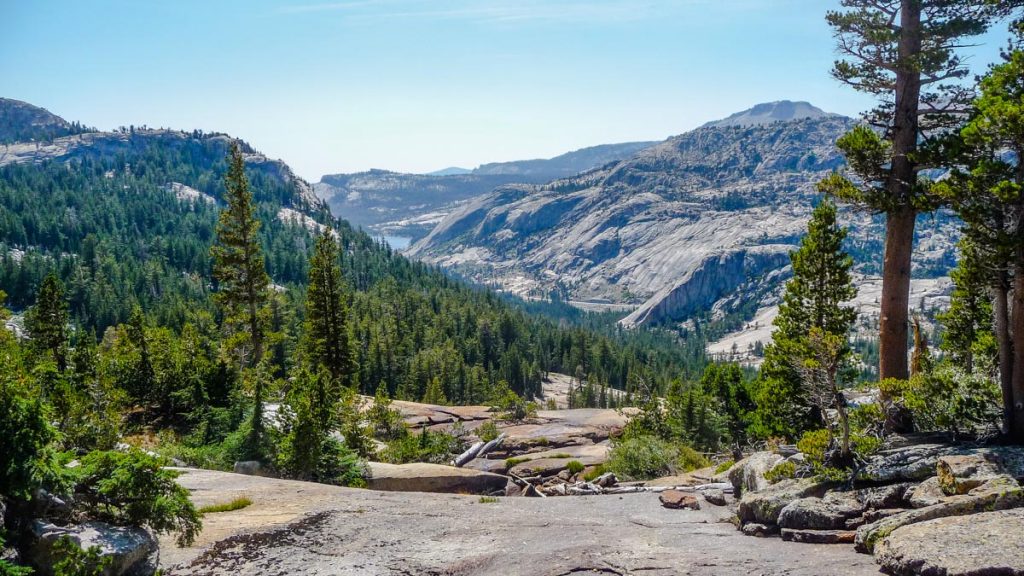 The only downside was that there were no sandy patches for the tent, so I had to settle for a semi-flat spot on a large rock, which would turn out to be very uncomfortable later at night. For the next 5 hours until sunset, I wasn't bored one minute. I relaxed by the lake, did some laundry, took pictures, etc. There was a group of 6 camping about 100 yards away and I had a nice chat with a few of them when they dropped by to take pictures of the lake with Cathedral Peak in the background.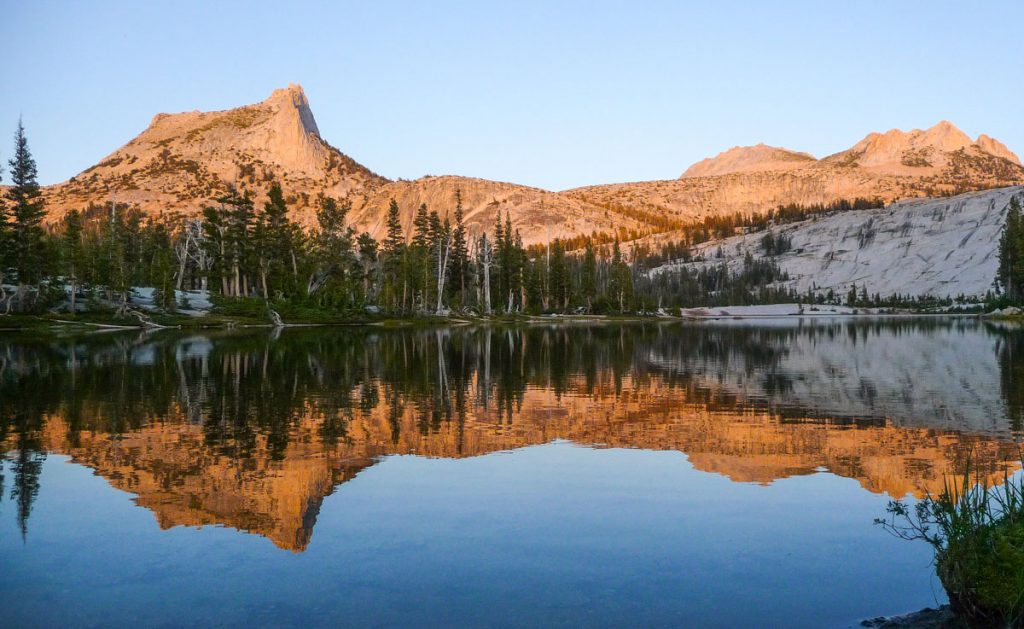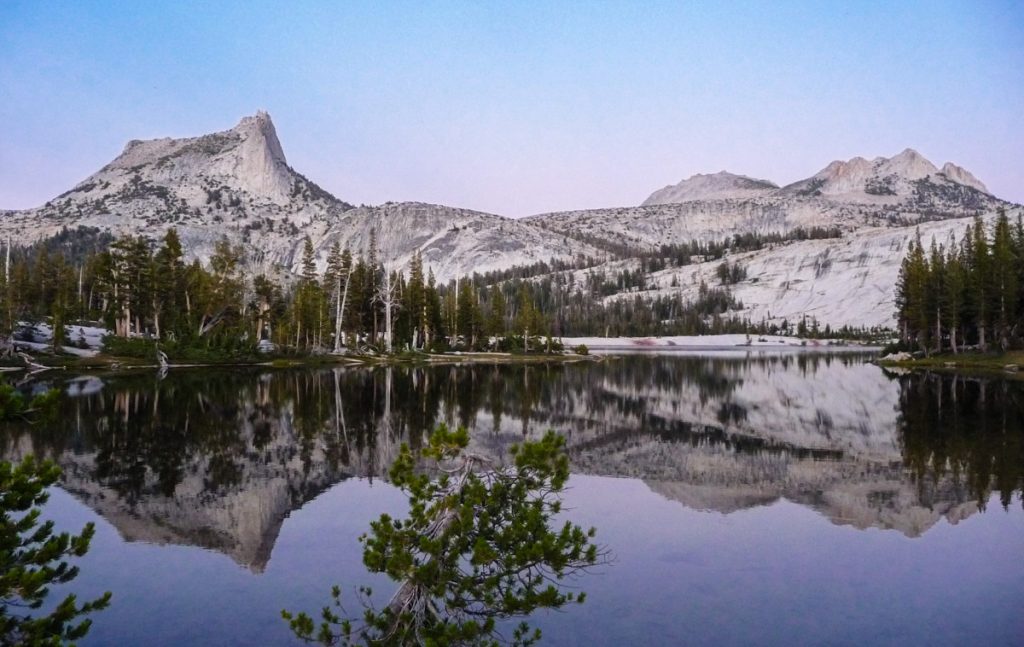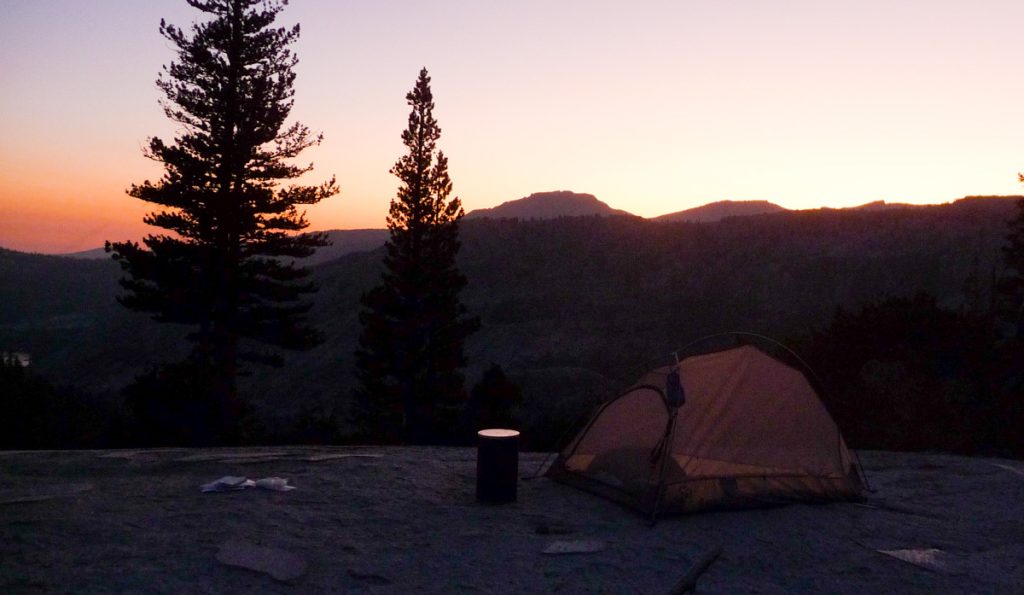 Inside the tent after it got dark, I was in disbelief by the sheer number of stars in the sky. Sleeping on the not so flat rock was very uncomfortable as I kept slipping down my tent, but all I had to do was to look at the stars to make the discomfort insignificant. I was half asleep when I opened my eyes and saw a huge meteor steak across the sky. I smiled and fell asleep happily right after.