Journal entry for September 7, 2009.
Approximate distance hiked: 9.5 miles, 15.3 km.
The sun started hitting the tent hard at around 7am. Before this, it had been a very cold night, with temperature dropping below freezing in the middle of the night. I wanted to keep sleeping but condensation was dripping all over my face. I got up but really didn't do anything for a while. I was in no hurry. I removed the tent's rain fly and laid down on the sleeping pad again, enjoying the views of the Great Western Divide to the west while the sun gently hit my back.
After lounging for a good while, I washed one of my t-shirts so that hopefully I wouldn't be stinking too much while hitching a ride from Whitney Portal to Lone Pine the following day. I also washed my hair, which took a little work because I wanted to wash with soap and well away from the pond to avoid contaminating the water. I finally left Bighorn Plateau at around 11am.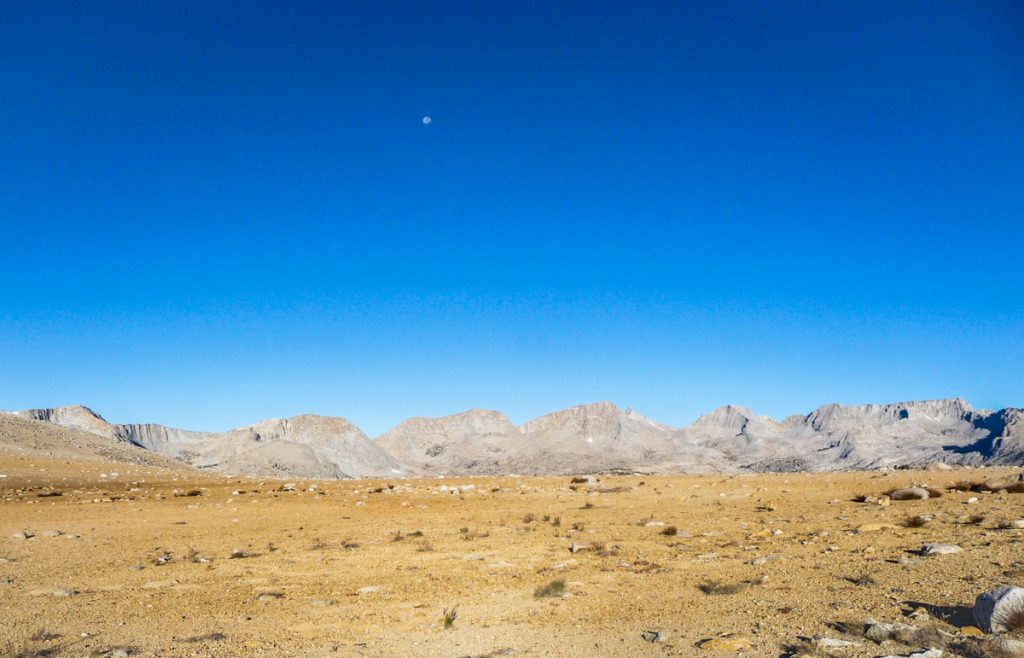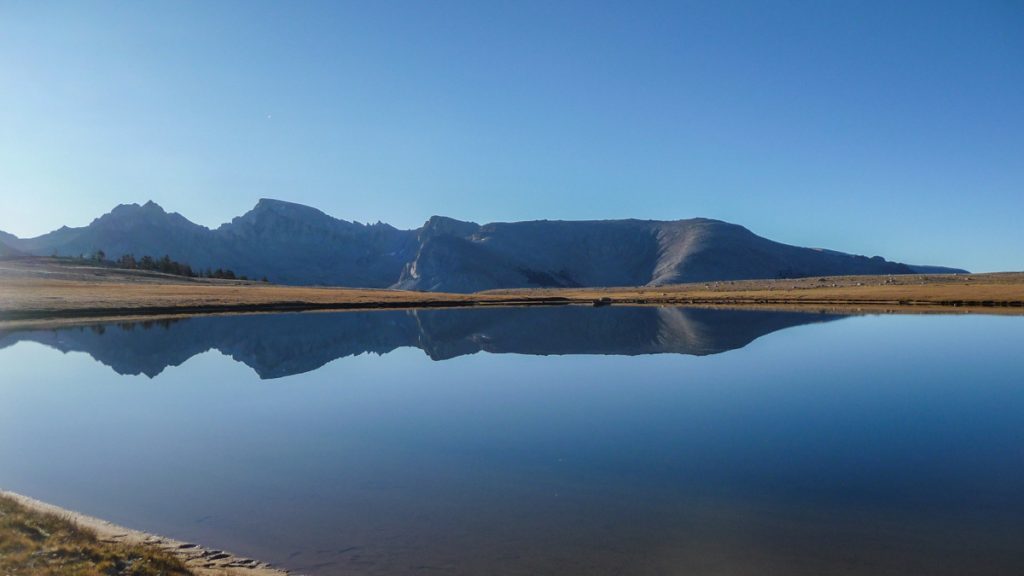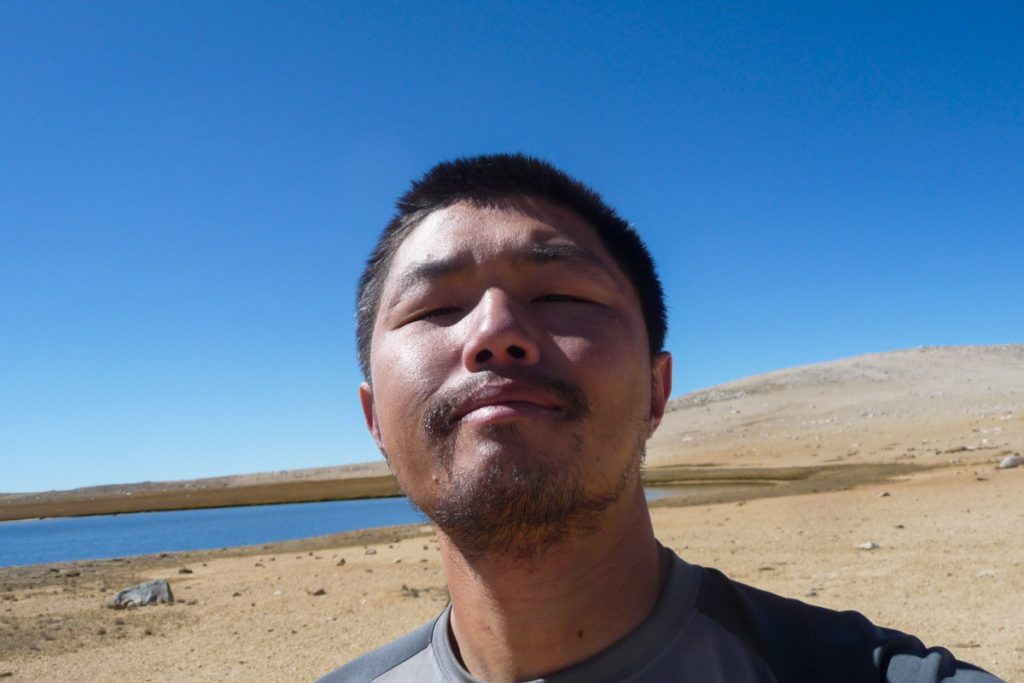 I kept looking west to see if I could see Mount Whitney. I really couldn't tell because there are many mountains similar in elevation around Whitney. The trail was very dusty and full of small rocks that kept getting into my shoes. I stopped many times to empty them. After the High Sierra Trial Junction I run into the Czechs one more time. I found it funny that despite having passed them 4 times, they always ended up ahead of me.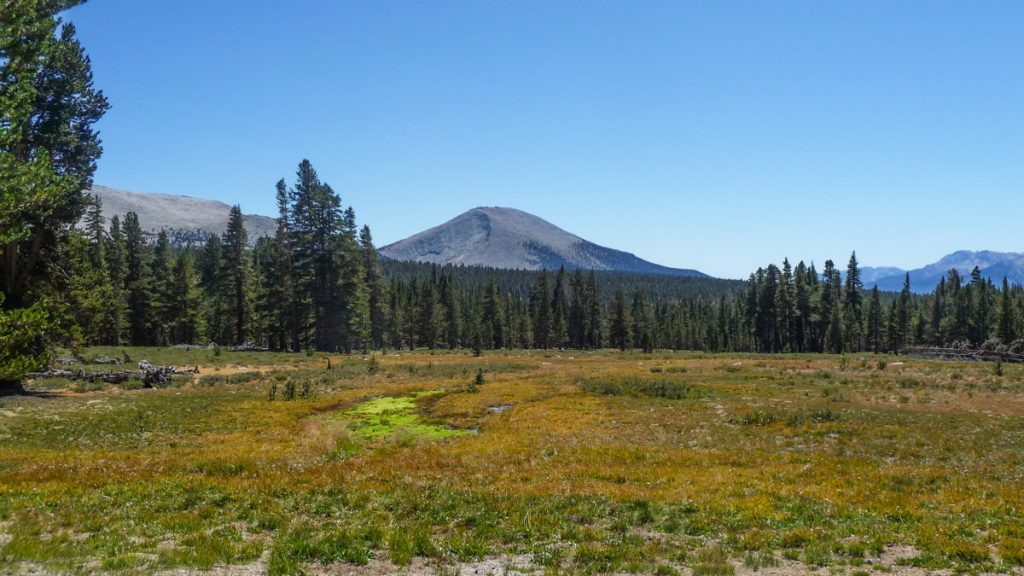 I was feeling sluggish and tired even though the trail was not demanding. I was hoping that a good night's rest would leave me OK for the 17-mile final day. At Crabtree Ranger Station I found a bucket with the famous "Wag Bags" in them. The rule states that one must pack out human waste between this point and all the down to Whitney Portal. I think it is necessary considering the sheer number of people that visit the area every day. Wag Bags are reusable and supposedly deodorizes the "stuff" put in it. I took one and hoped to not have to use it. I stopped eating fiber (dried fruit) 2 days before for this very purpose.
I left Muir Trail Ranch with 10 days of food and now that I was going to finish the last stretch in 9 days, I was able to eat a little more. Consequently, I had a big lunch. Even after 21 days, I still haven't learned the lesson of taking a little break after eating, before getting back on the trail. I was feeling terrible. Every step was excruciating and I felt like throwing up. I stopped, sat down for 15 minutes, and felt OK again.
I arrived at Timberline Lake and was finally told by a hiker which one was Mount Whitney. It was good to finally know.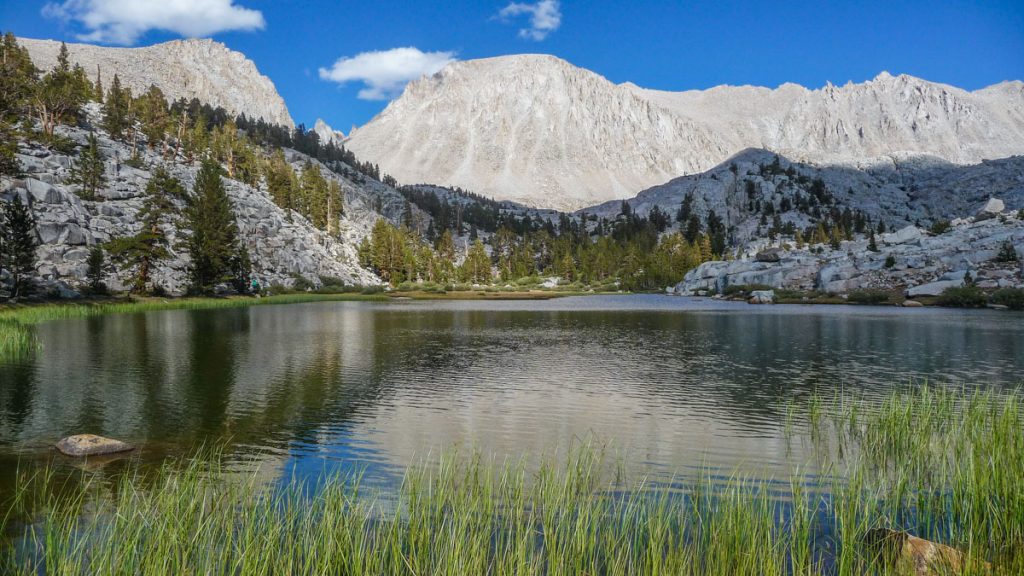 Now that I knew which one Mount Whitney was, I couldn't take my eyes off it. I was getting so close that I felt I could almost touch it with my hands. I arrived at Guitar Lake around 4:30. Right away I saw Marty and Ross, who I had met on the ferry coming out of Vermilion Valley Resort. Also there was Peter from New Zealand, who is 70 years old but looks like he is 50. He hikes the JMT every year. Very inspirational. Check out his website. I sat down, had a relaxing conversation with them, and we were later joined by Carla and Gavin, whom they had met earlier. Ever since I left Muir Trail Ranch with Misty, Mark, Mike and Andy and fell behind them, I had been looking for them. Marty told me that they were one day ahead of us. I was good to know they all finished without problems.
I settled down in a nice spot by the lake and snapped a few pictures before it got dark. There were almost no clouds in the sky and it looked like weather was going to be great the next day.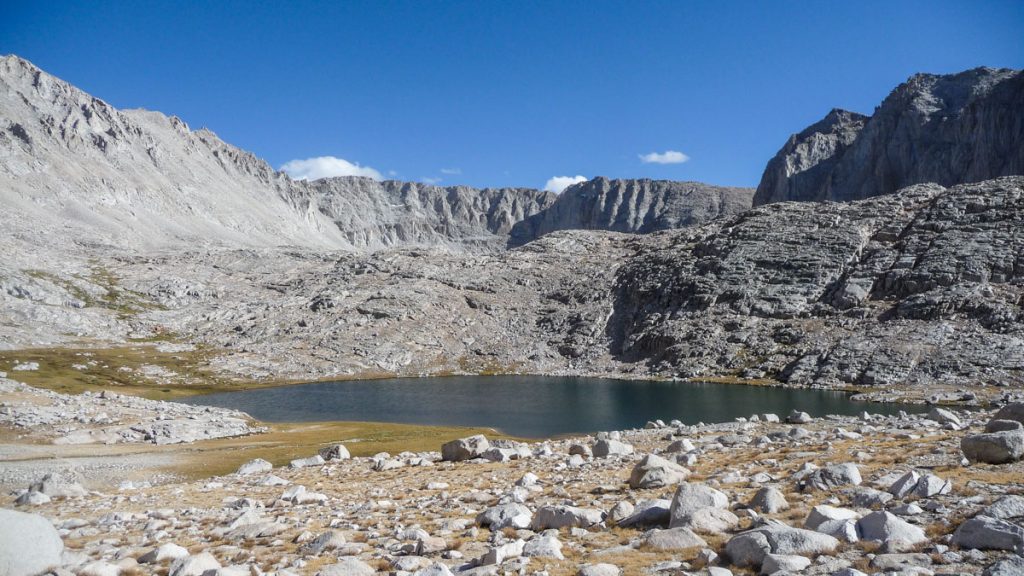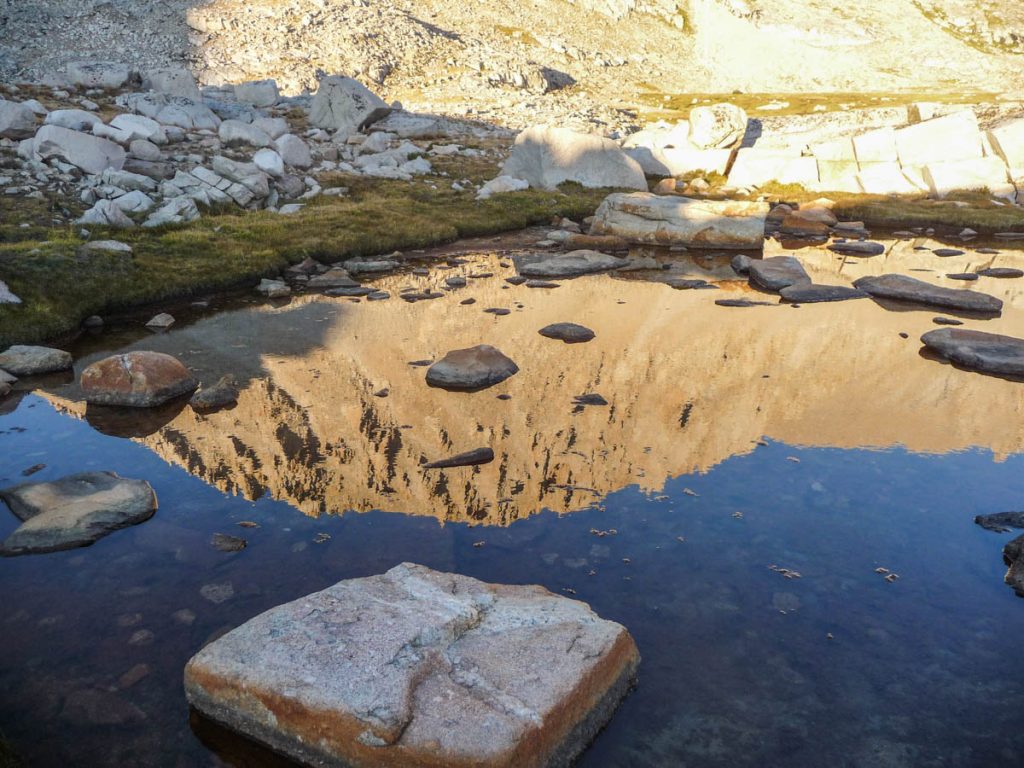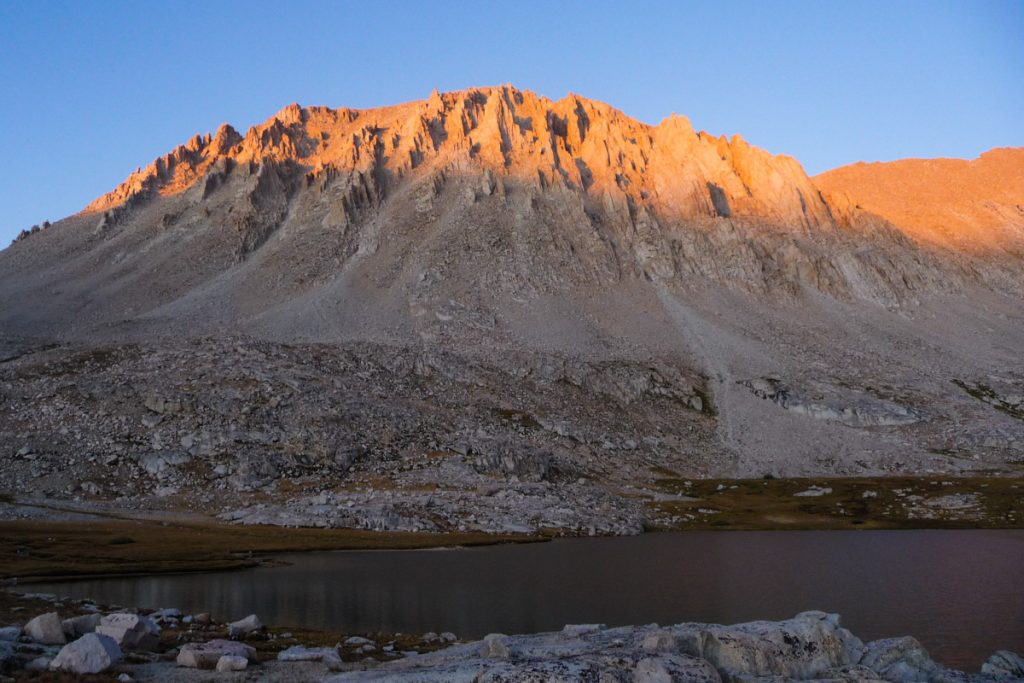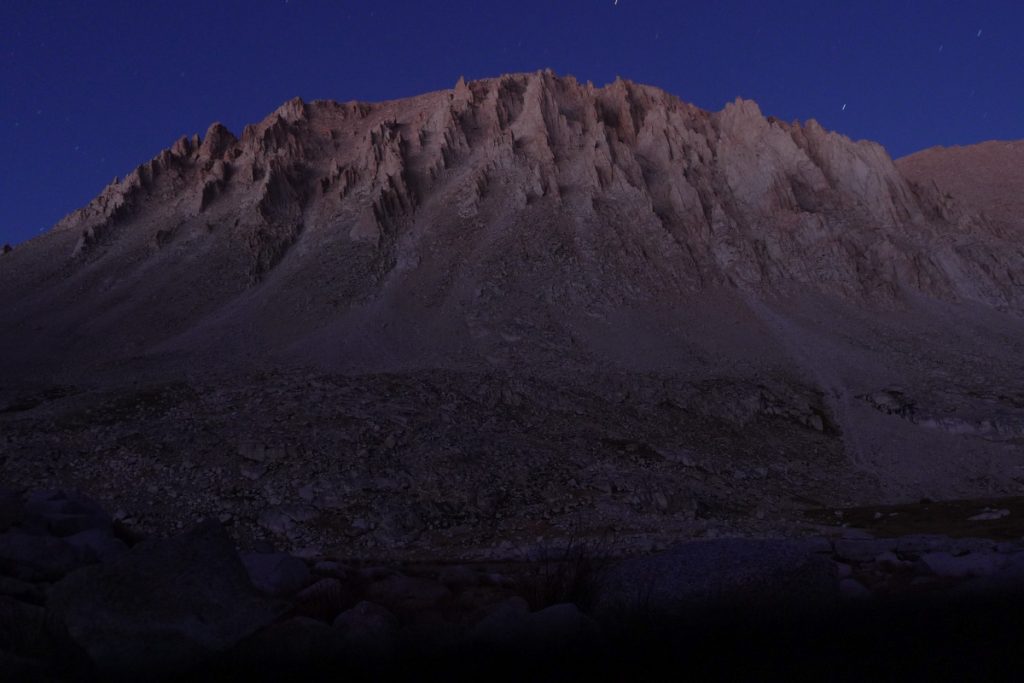 I had conflicting feelings upon realizing that this was going to be my last night of camping on the JMT. On one hand I was looking forward to a shower and and a real bed after the following day. On the other hand, I didn't want this experience to end and wanted to enjoy these last few hours as much as possible.
The plan for the next day was to start hiking at 6am, hit the summit before 9am, spend one hour on top, and arrive at Whitney Portal before 5pm.