Journal entry for August 18, 2009
Approximate distance hiked: 10.5 miles, 16.9 km
I set the alarm for 5am but didn't get up until 6:30. I slept pretty well for being the first night of the hike. The Thermarest NeoAir mattress was very comfortable and I woke up rested and with no aches. I ate a quick breakfast, found out that it is not easy to dig a 6-inch cathole with a hiking pole, and then left Clouds Rest Trail Junction for Half Dome around 8. I took a chance and left all my stuff inside the tent at the campsite. People had told me that it should OK. I took with me the jacket, the pair of gloves I bought specially for the occasion, 1 liter of water, 1 candy bar, and the SPOT Satellite Messenger.
For the last month or so I wondered from time to time whether I should summit Half Dome or not. I had read the stories of people slipping on the polished granite and falling to their death. At the same time, on most days, hundreds of people do it without problems. These thoughts were on my mind again as I started the 2.5 mile hike. Soon after I got my first clear view of the day of Half Dome.
Halfway there, I realized I forgot to wear my hat and also forgot to apply sunscreen, but didn't feel like going back to get them.
The switchbacks up to the base of the Half Dome cables are beautifully constructed, although the last stretch to reach the cables is a bit slippery and had no switchbacks or stairs. My first view of the cables bought some of my fears back. It looked steeper that in the pictures I've seen. There was a huge pile of used gloves. I stayed there staring at it for about 5 minutes.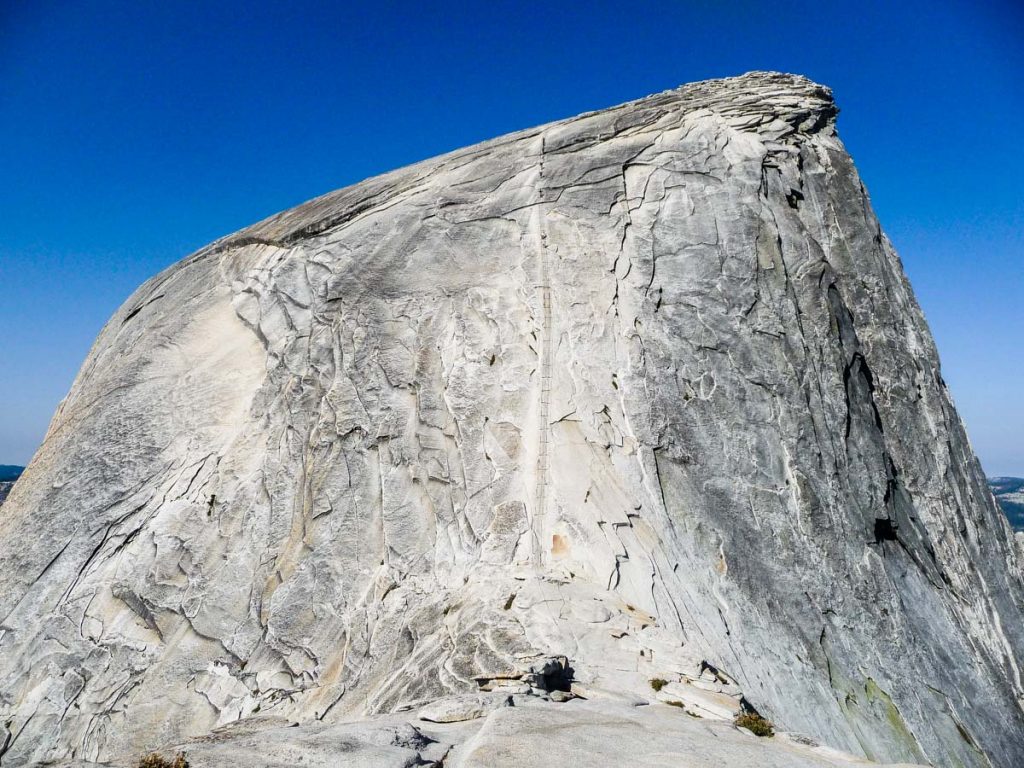 I started chatting with a couple of guys who had just come down. They reassured me that it wasn't so bad. One of them even went up and down wearing flip-flops. After hearing that, I decided to sucked up, put on my gloves and go for it. I waited for a couple of minutes to give myself some distance between me and a rowdy group of teenagers who were in front of me. Once I grabbed the cables and looked up, it didn't feel that scary anymore.
You do need a good grip and some upper body strength though. The good thing is that there were not that many people going up and barely anybody coming down, so I was able to use both cables 99% of the time. Once on top, the views were definitely worth the climb. A guy was standing on a pile of granite rocks that sticks out called the Diving Board. It looks insanely dangerous from the distance. I asked a nice couple to take a picture of me around it. I wasn't planning on standing too close to the edge but once I walked up to it, I realized that it looked more dangerous than it really was.
I stayed on the top of Half Dome for about 1 hour. Nice views of Yosemite Valley.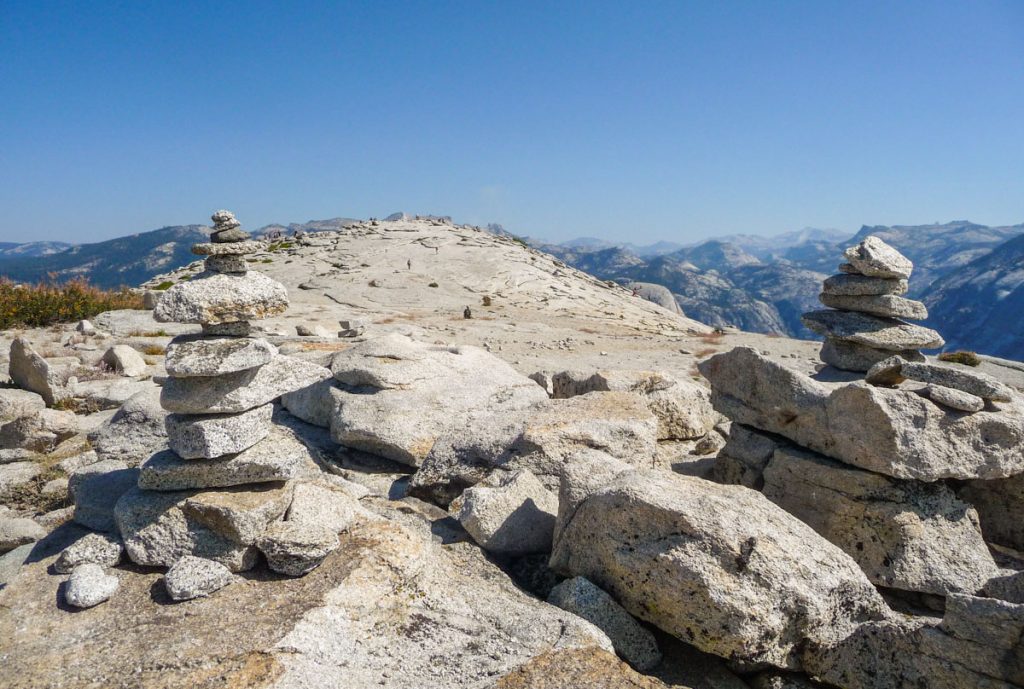 I still had to descend on the cables which could be more scary than going up. It was now close to 11am and way more crowded that earlier. I was lucky that there was nobody coming down behind me, so I didn't feel the pressure of someone breathing down my neck. I tried to use both cables as much as possible. If someone was coming up, I'd let them pass me so both cables would be freed up. I came down facing down. I think it's easier this way although many people prefer to do it facing up and walking backwards.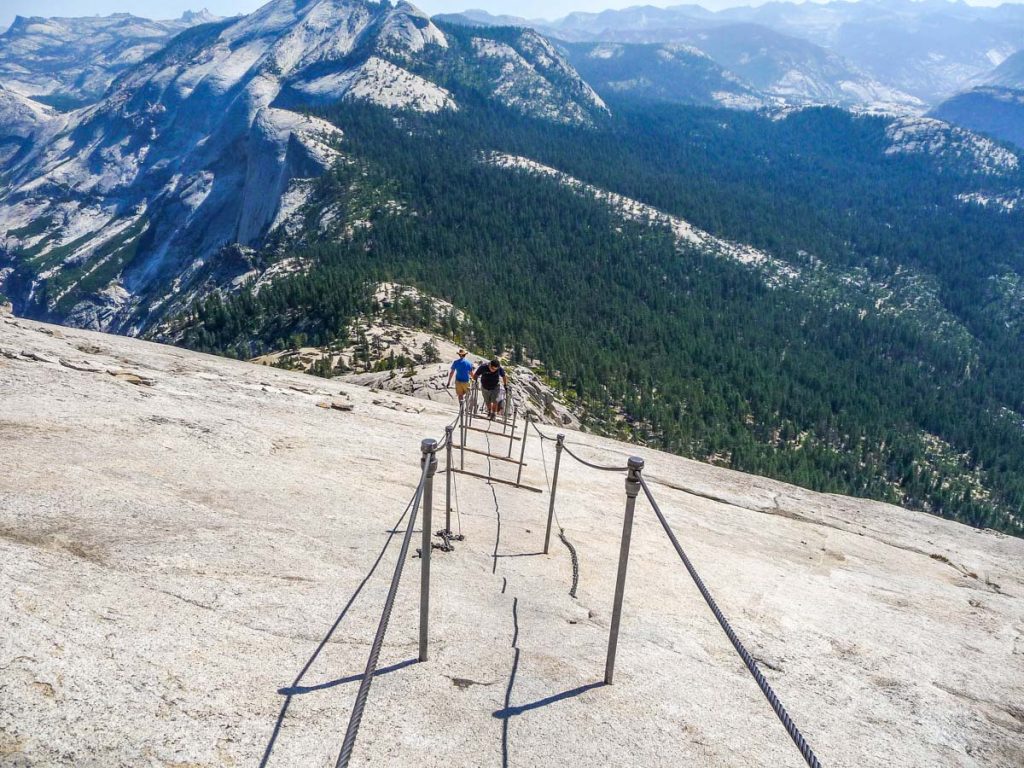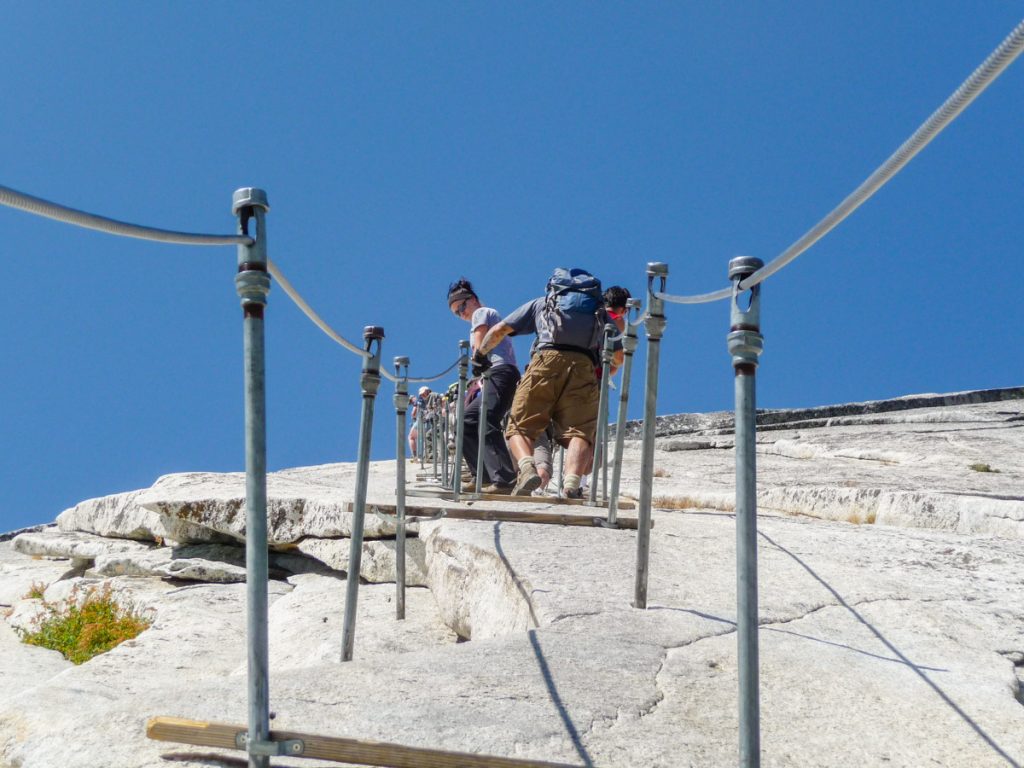 I go down safely and when I was walking away from the cables I heard someone say "Kevin!". It was Buzz who I met at the Yosemite Valley Wilderness Center the day before. He was sitting on a rock waiting for G-Man to go up. Buzz decided to not go up since he doesn't like heights. I stayed there and chatted with him for a while. I had to leave before long though since it was pretty hot and I was hungry and out of water. I said good bye to Buzz, took one last look at the cables and hit the trail.
On my way down to the JMT junction, I saw a ton of people making their way up. A lot of people looked like they started from Happy Isles and didn't appear very prepared. Some had no water left, others were wearing flip-flops. By then I was very thirsty, and without a hat, the sun was killing me. I couldn't wait to get back to camp at Clouds Rest Junction to get some water since there was no water at all before there. I got there in about 1 hour and drank 1 liter of water right away. I had another liter with lunch right after. I felt so stuffed that I could barely move.
My original plan for today was to just do Half Dome. I didn't know before the trip how my body was going to react in the beginning, so I planned very few miles for the first few days. I was feeling great however, and ultimately I decided to hike a few more miles instead of staying another night in the same spot. I took my sweet time packing up. This was when I started to realize that I'm really slow doing camp chores. Right before leaving, a group of boy scouts passed by and with them was a park ranger. He stopped to say hi, asked me how my trip was going and checked my permit. Eventually, this would be the only time during the entire hike that a ranger asked for my permit.
I started hiking again around 4pm. Pretty late. I reached Merced Lake Junction and Forsyth Trail Junction after a while. The views to the south were expansive and beautiful.
I stopped here to eat some beef jerky. Wasn't sure at the time if this was going to end up being dinner, which it did. After a short hike I reached the Sunrise Creek crossing. This is the second crossing of the same creek that run by the Clouds Rest Junction campsites. It was around 7pm and time to stop hiking. Right after the creek and to the left, I see that an older gentleman had already set up camp. I walk a bit past him to look for other sites but couldn't find any, so I walk back to where the gentleman was and greeted him. He tells me "plenty of spots here". Very friendly guy named Mickey. 68-years old and hiking the entire JMT. This made me realized that hopefully, I'd still have many years of hiking left. He had a whole bunch of homemade lightweight gear and tons of interesting stories. I set up my tent close by and chatted with him by a campfire until 9pm. I learned that he is from Ventura County, CA, and has 4 kids and 3 grandchildren.
I decided to sleep without the rainfly since I was starting to feel more comfortable in the wilderness. The campsite was in a forest area but I could still see much of the sky full of stars. Quite a sight to stare at while I fell asleep.