Journal entry for September 1, 2009
Approximate distance hiked: 12.2 miles, 19.6 km
I hit the trail around 8:15am. Jack and Kathy left about 45 minutes earlier than me. It was a cold morning and I started the hike wearing my fleece and the bottom halves of my convertible pants. At the beginning my backpack felt much more tolerable than the previous day, but soon after I went up some switchbacks that made me struggle a bit.
I arrived at Evolution Lake. From this point, the views of the Evolution Range Mountains were up close and very dramatic.
For a while, I tried to catch up to Jack and Kathy. After a few miles I realized this was pointless. I should just hike my own hike as long as I'm not behind my schedule. It was quite windy and somewhat cold. I run into a guy named Dexter who asked me "Is that you Kevin? From Los Angeles?". I didn't recognize him, he told me he knew me from some past web development (my actual job) project but that he couldn't remember the specifics such as exactly when or where. It struck me as odd since I have pretty good memory and couldn't remember knowing him from anywhere. He got me for a while and I was very confused. It turns out that he had just met Jack and Kathy and they had told him some info about me, and to look for me. What a character!
Right before Wanda Lake, I felt a hot spot on my left heel. I stopped to check it out and confirmed my first blister of the trip. I applied moleskin around it. The knife I bought at Muir Trail Ranch wasn't sharp at all, making the task of cutting the moleskin very time consuming. I also had lunch here, enjoying the impressive views of Mount Solomons.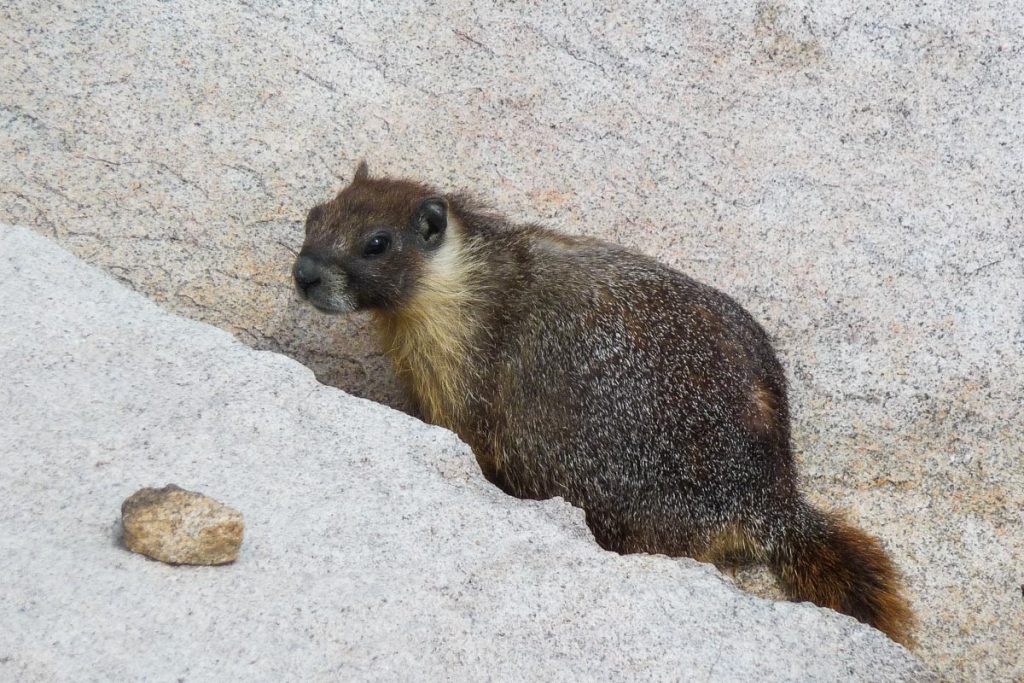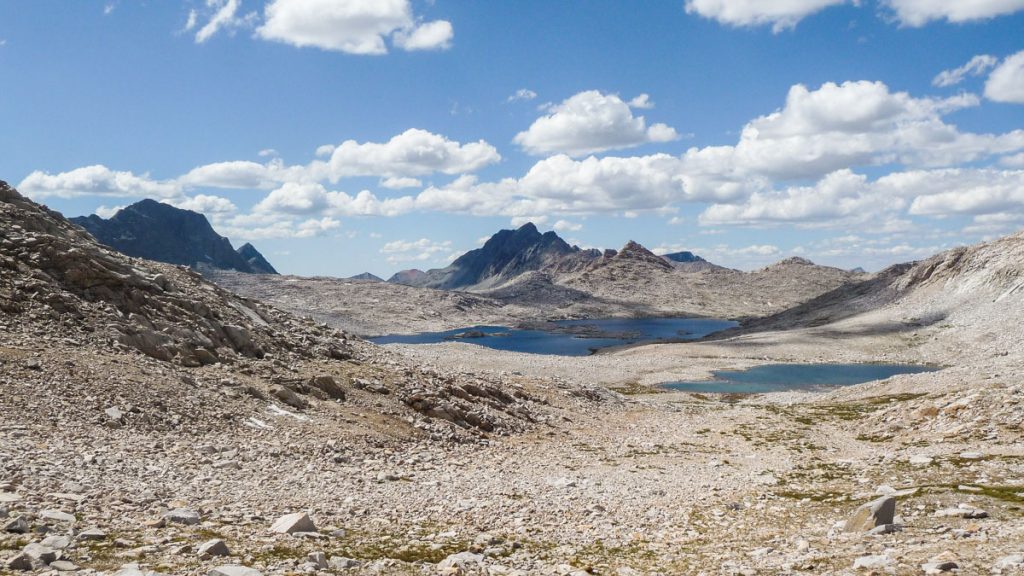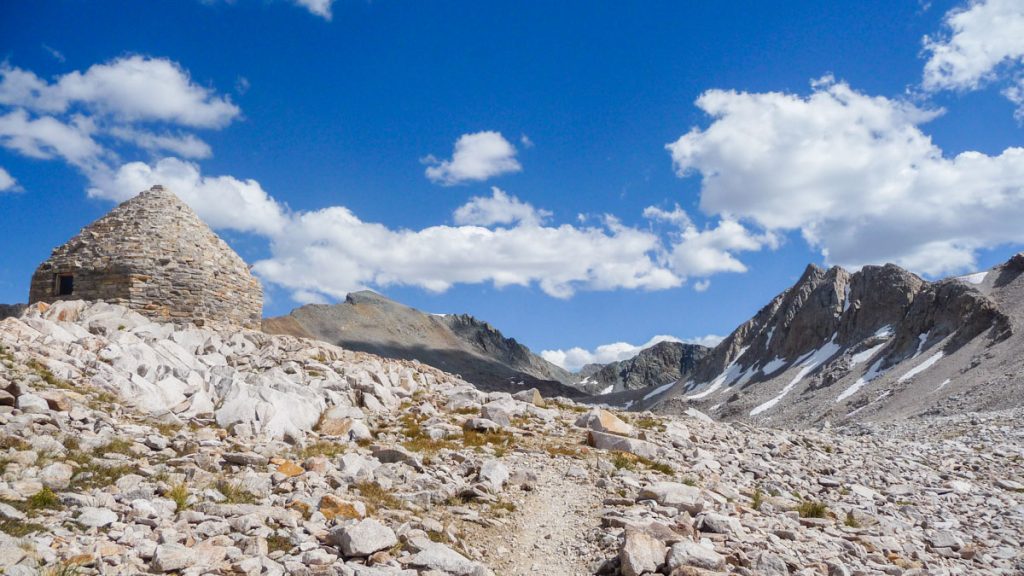 The climb to Muir Pass was neither steep nor hard. A few yards before reaching the top I met a group of 2 guys and 2 girls. One of the girls asked me "Are you Kevin? You just missed Jack and Kathy by 15 minutes". It seemed that everybody on the trail knew my name. I finally reached Muir Pass (11,955 ft, 3,644 m) with pretty Muir Hut on top. The hut was built to offer shelter to hikers caught in bad storms.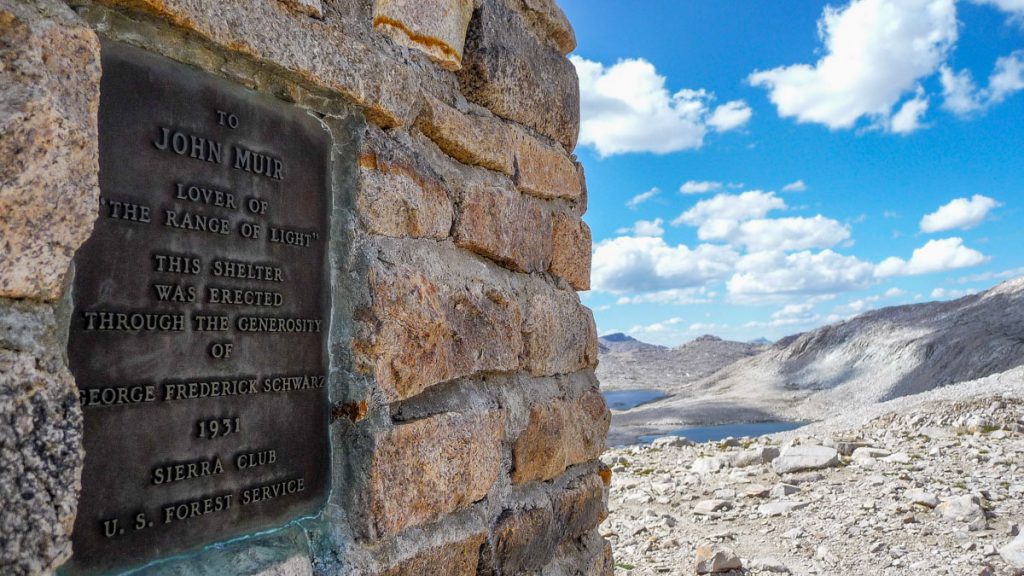 There were lots of people around the hut. Some checking it out, others waiting for the rest of their group to catch up to them. I stayed there for half an hour before starting my descent. The views to the west of Muir Pass were unreal.
I planned to hike until a small unnamed lake west of Helen Lake. The 2-mile or so hike to the campsite has extremely rough terrain, which wasn't helping my blister. I had to pay so much attention to where I landed my feet and hiking poles that I barely looked at the amazing scenery. Arriving at the unnamed lake, I was felling pretty beat. I saw Jack and Kathy waving at me from the distance. We shared the campsite with two very nice guys, Bryan and John. I had seen them the previous day on the trail. They were ending their trip the following day and had a huge bag of extra trail mix. Kathy and I devoured it in no time. A man looking for his daughter dropped by and asked me if we had seen her. We hadn't. Luckily he was able to find her shortly after and camped nearby.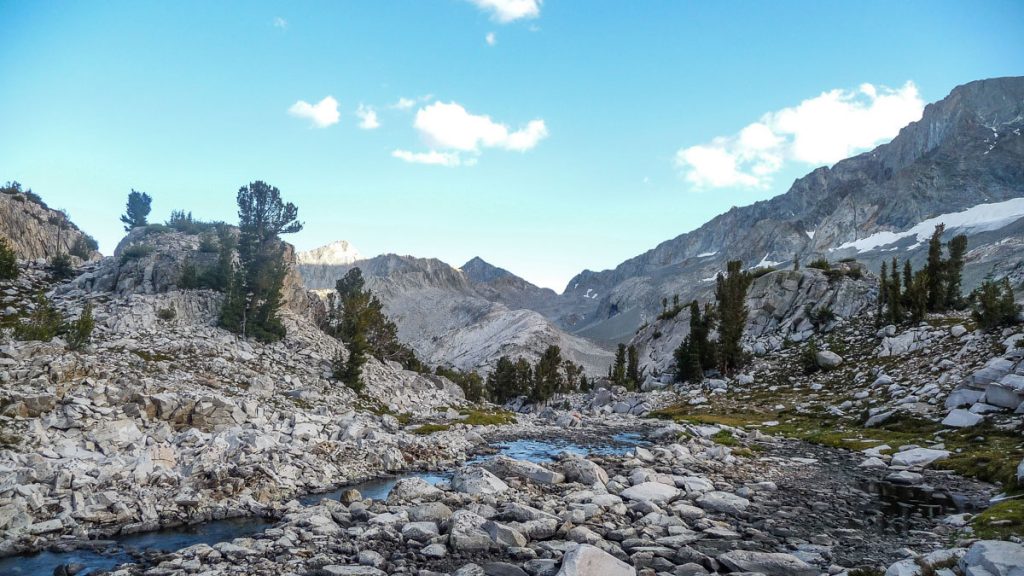 I was hoping the blister wasn't going to slow me down for the rest of the trip. I also had terrible chafing in my inner thighs and on the back of my knees. I didn't have any moisturizer but Kathy let me borrow some of hers, which alleviated the problem a little bit.