Journal entry for August 31, 2009
Approximate distance hiked: 10.6 miles, 17.1 km
Mark, Misty, Mike and Andy were already on the trail when I woke up a little bit before 8am. Jack and Kathy were almost finished packing. I met Tom from Alaska, who camped nearby and whom I had met briefly a few days ago at the ferry landing spot at Edison Lake. He was nursing a shin injury and was hoping to get back on the trail soon. I wished him the best before hitting the trail.
My pack was weighting almost 35 lbs (16 kgs) with the fresh 10-day resupply, and I struggled greatly on the trail. I know most people's base packs weight more than that and do just fine, but to go from 15lbs to 35 lbs was a huge change for me. I also don't think the Osprey Exos 46 was designed to carry that much weight. My shoulders were really strained.
The hike was beautiful, especially after crossing Piute Creek and going into Kings Canyon National Park.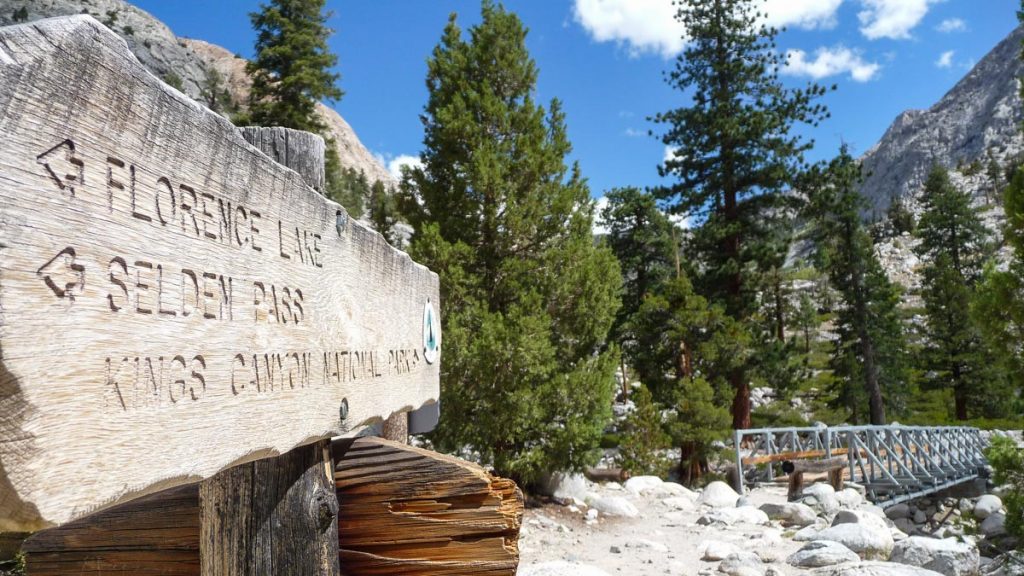 I felt that a blister was starting to develop on my left foot. After close inspection, it was just one of the scratches I got crossing the river to Blayney Hot Springs the previous day. No big deal. I stopped at a very nice spot covered by very long and thin tress for lunch. It was a little windy and the trees were swinging left and right, making some cracking noises. Very cool.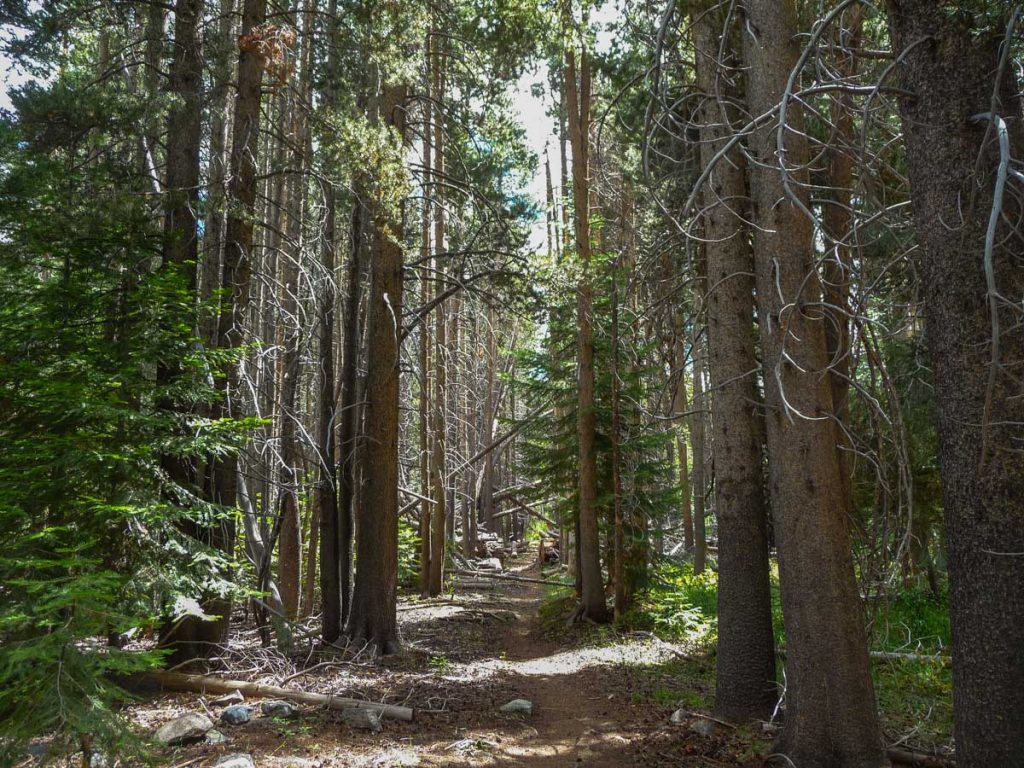 For most of this section, the trail runs right by the San Joaquin River, so water was everywhere. After crossing the bridge over the river, a series of switchbacks make me struggle even more. All of my camp mates from last night had resupplies too and were way ahead of me. That made me wonder if I was the only having trouble. But just one look at the scenery around me made it all worth it. The trail now paralleled Evolution Creek and offered a series of small impressive waterfalls.
Soon after, I had to get barefoot and cross Evolution Creek. With the help of hiking poles this time, it was a bit better than previous day's crossing. I was surprised there was not a bridge here and I could imagine this crossing to be difficult earlier in the summer. Not that I expect there to be a bridge every time there is a crossing. It was just strange because the JMT is so hiker friendly with its great number of well maintained bridges.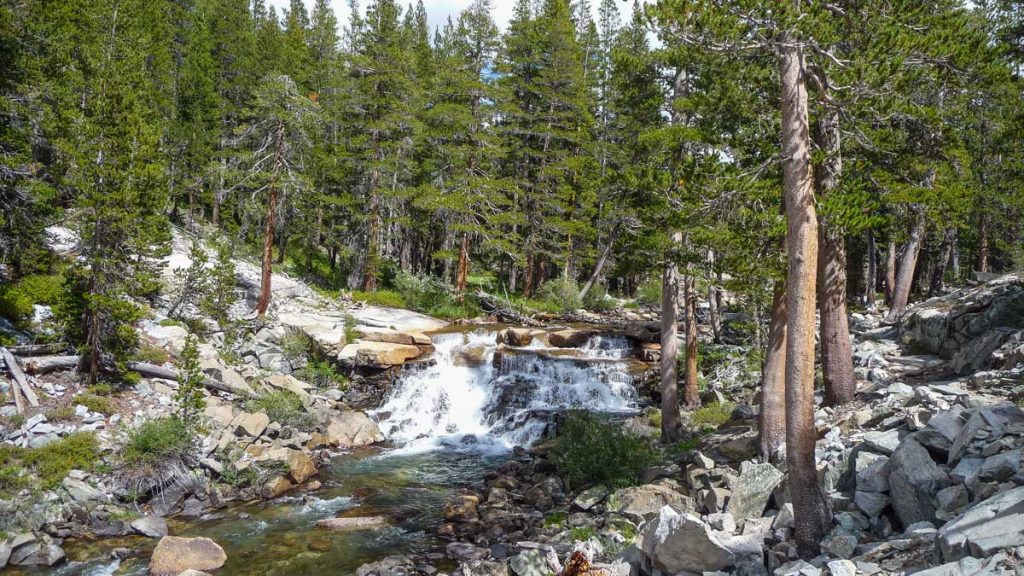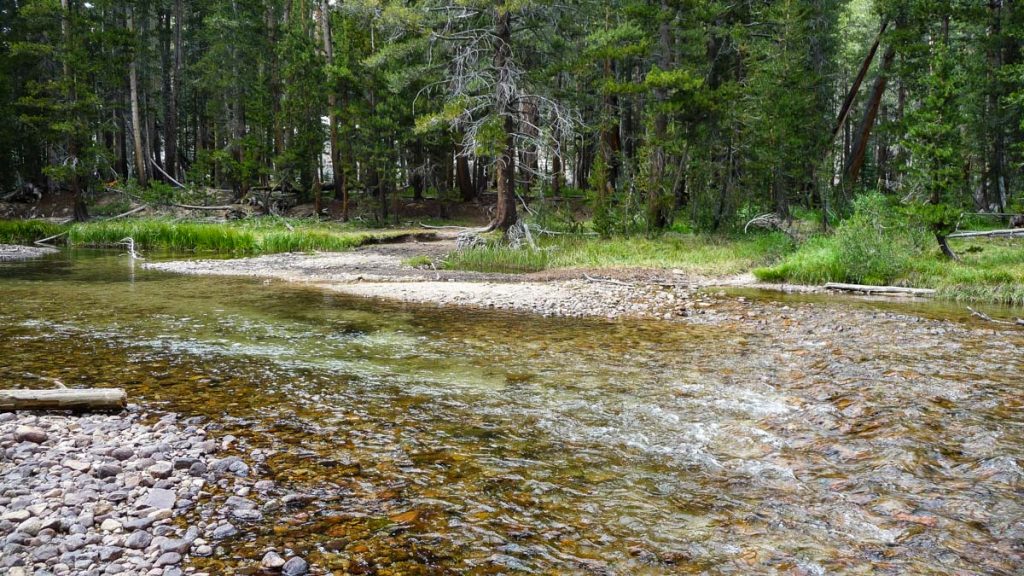 After a while, I emerged from the forest I'd been in for the last few miles and got my first glimpse of Evolution Valley. Many people had told me how beautiful it was and they were absolutely right. It was very impressive. I was really looking forward to my intended campsite at McClure Meadow to end this long day. When I got to the McClure Ranger Station I knew the end was near. I chatted with the ranger for a bit, inquiring about the weather for the upcoming days. He told me that it should be dry for the rest of the day and the following day, but some moisture was expected after that, caused by the remains of a hurricane from Mexico. Yikes! Bad news. The ranger also told me that there was a very large fire in the Angeles National Forest, about 20 miles from home. More bad news.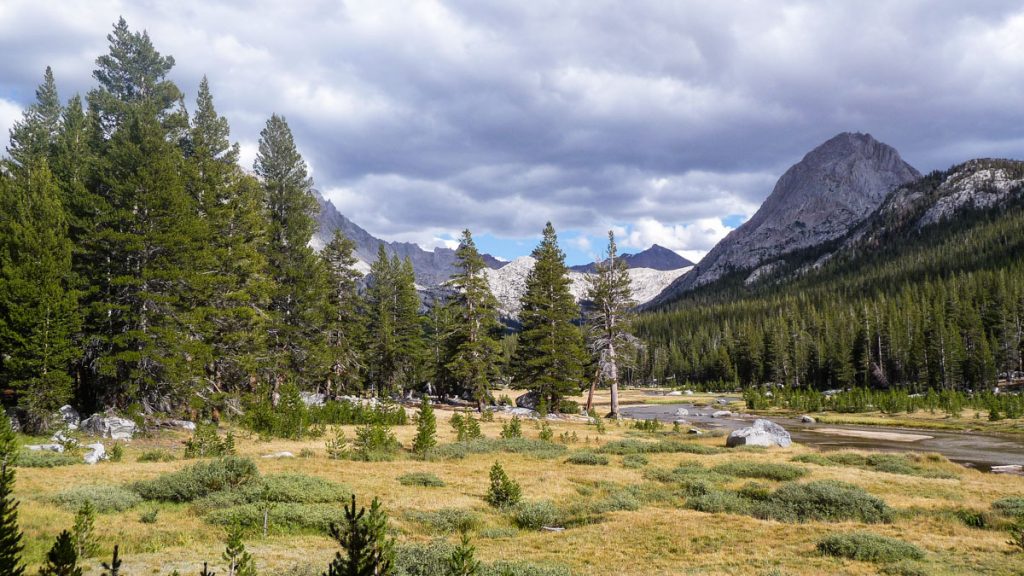 A few steps from the ranger station, I found the campsites I was looking for. Right away I recognized Jack and Kathy's tent. I was great to see them again. It was also great to put my backpack down. No sight of Mark, Misty, Mike or Andy. They must have pushed on and camped at Evolution Lake, about 3 miles down the trail. I had dinner but ate just enough to not feel hungry. I wanted to eat more but decided to conserve food with the storm coming in. With no rain gear, I might be stranded for a few days if it gets nasty.
What followed dinner was the best sunset I've ever seen in my life. Incredible views of Mounts Darwin, Spencer, Huxley and The Hermit. The scenery was unreal and the silence all around made the whole experience even more surreal. I'm an atheist but for that hour or so I felt spiritual. If I had died at that moment in that spot, I would have died happy.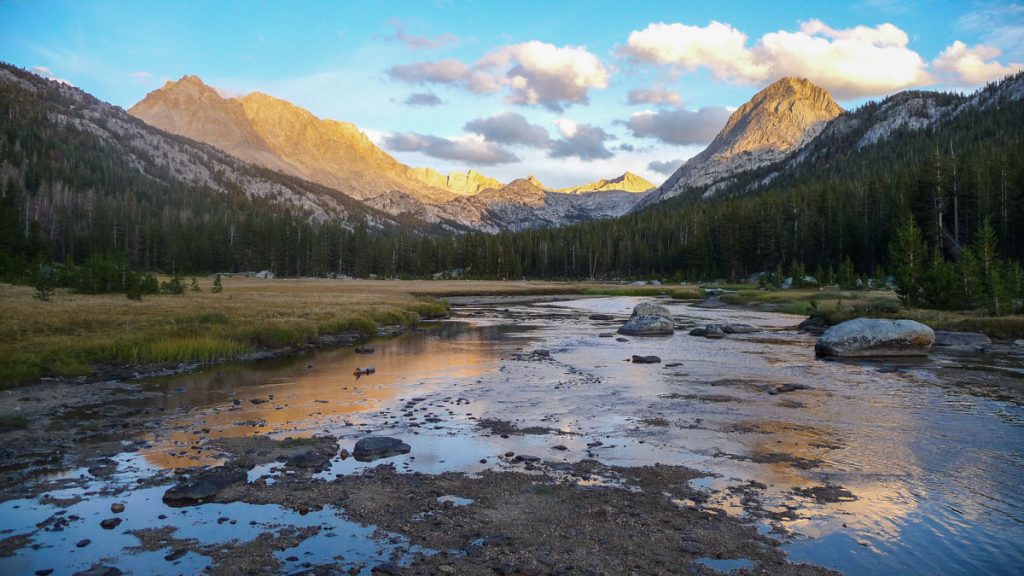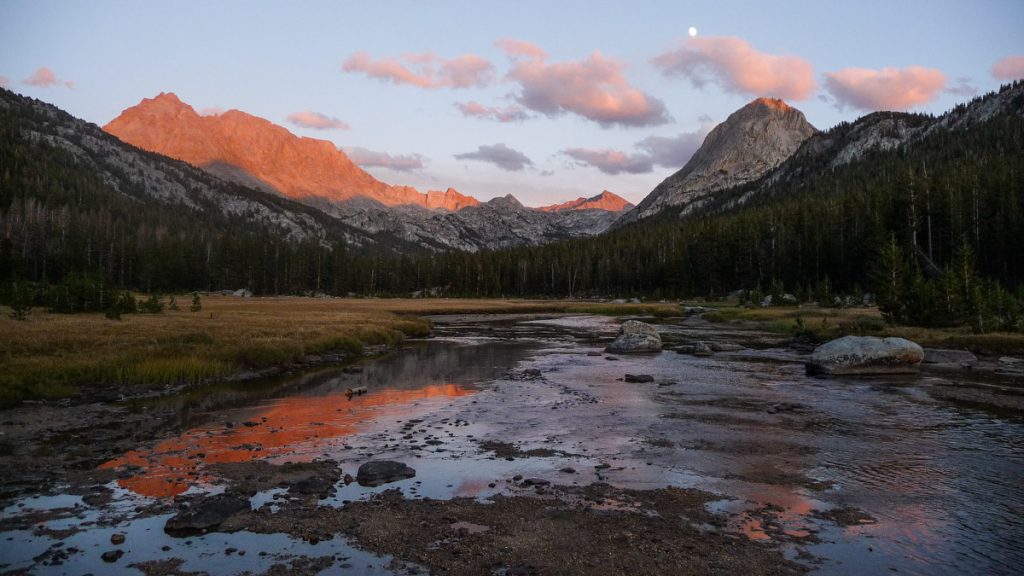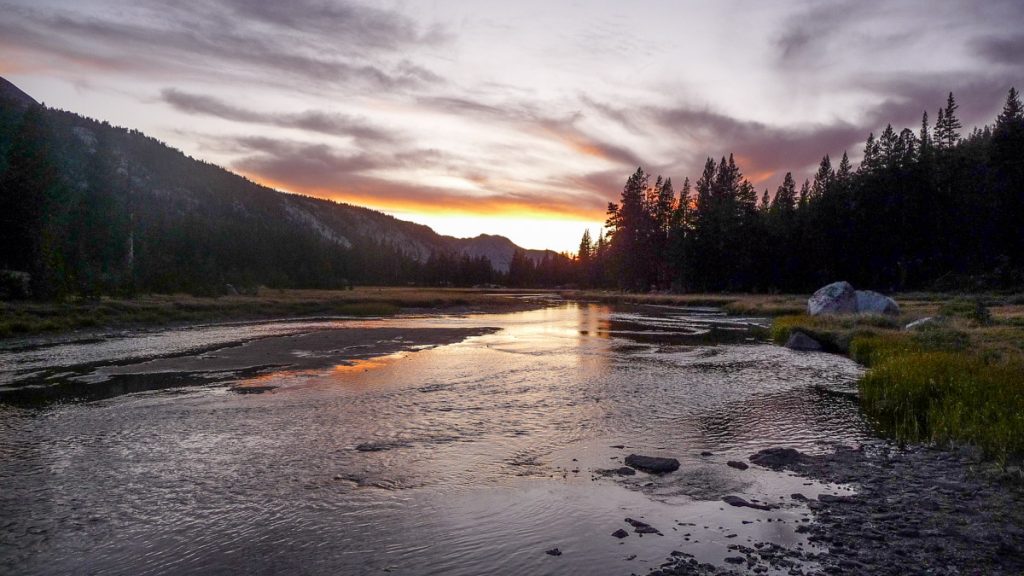 Back at camp, Jack and Kathy had started a nice fire. We had a nice chat before retiring to our tents. Judging by how much I struggled, I was expecting a long 12-mile hike the following day. I planned to get up "early" (by my standards) at around 6:30am.