Part of the Waitukubuli National Trail Journal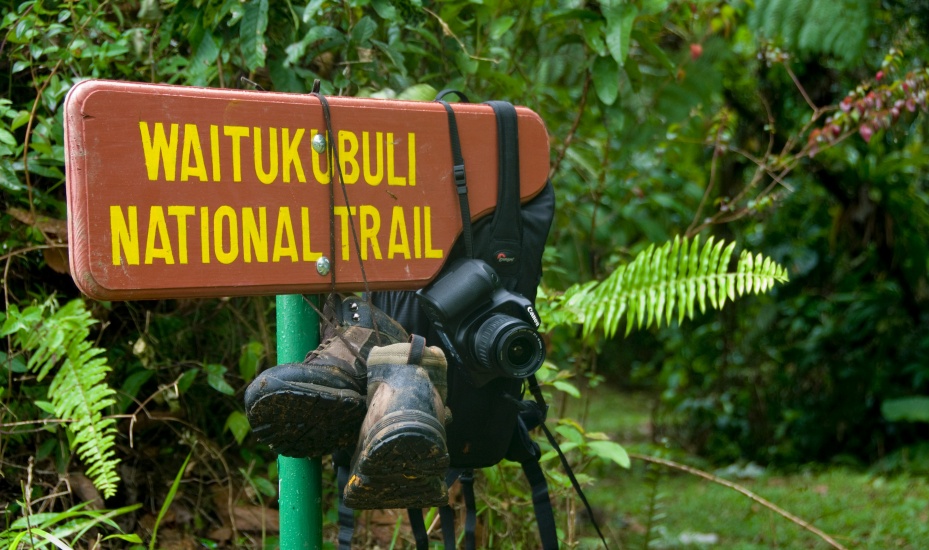 Inspiration
Since I decided to delay my Round The World Trip for 1 year, I was looking for a trip that I could fit in the range of 16 to 18 days. A lot of ideas floated around. I though of taking the Trans-Mongolian Railway, stopping maybe only once in Mongolia, but in the end I felt that I would have just rushed through the 3 countries. I though of doing the John Muir Trail again, but I'm a completionist and it would take me 21 days to complete it without rush. I thought of maybe hiking in the Peruvian Andes again, or maybe visit Cambodia and Angkor Wat.
To help narrow my choices, I decided to set a few criteria:
It had to be a hike, since I haven't gone on a long hike in 2 years. I had ACL/Meniscus surgery 10 years ago and the doctor told me that I'd most likely get arthritis around the age 40. I want to hike as much as possible before then.
It had to be place that I wasn't likely to visit during the RTW trip. This ruled out the Andes and Cambodia.
I didn't want to rush through the place. This ruled out the Trans-Mongolian, which I also plan to do during the RTW, but stopping often along the way.
I then came across an article by Lonely Planet, listing the World's Best Long Walks. One of them was the Waitukubuli National Trail in Dominica (not to be confused with the Dominican Republic, totally different country). It fit all 3 criteria. When I found out that I could use my frequent flier miles to get the plane tickets, I was sold.
Transportation
Plane tickets are booked for the end of November from Los Angeles to Dominica. Once there, there are buses and taxis to/from the major towns. There are not bus schedules online. Hitchhiking seem to be widespread and generally safe. I would only need transportation from the airport to the trail head (Scotts Head), and from the end of the trail (Cabrits) back to the airport.
The return flight is a killer with 3 stopovers: Puerto Rico, Miami, and Denver with an overnight layover.
Trail Details
The total length is about 185 km (115 miles), split into 14 segments. It was supposedly "completed" last year, but I can't find any confirmation of this. "Completed" would mean that bridges would be built for the more dangerous water crossing, campsites would be laid out, etc.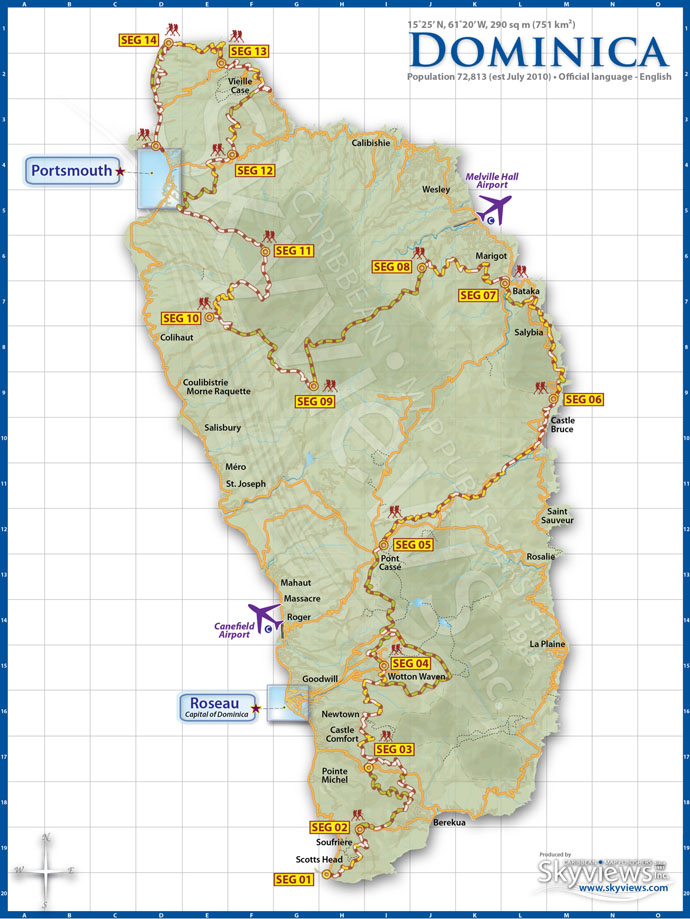 I haven't been able to find any online journals from anybody who has completed the whole trail. There is however a Dominica guidebook by Paul Crask. It has a whole chapter on the Waitukubuli National Trail, describing each section. I'm still digesting the information in there. It's not super detailed, but it still has some info I haven't found anywhere else. There's also some other information scattered around the internet (maps, segment details, accommodations and camping spots, etc).
I compiled the table below using the official brochure of the hike and the distances just don't add up. It is supposed to be a 185 km hike, but when you add up the individual segments, the total ends up being 149 km.
| Segment | Description | Distance | Est. Time | Difficulty |
| --- | --- | --- | --- | --- |
| 1 | Scotts Head to Soufriere Estate | 7 km | 5.5 hours | Easy |
| 2 | Soufriere Estate to Bellevue Chopin | 10.8 km | 6.5 hours | Moderate |
| 3 | Bellevue Chopin to Wotten Waven | 14.9 km | 7 hours | Moderate |
| 4 | Wotten Waven to Pont Casse | 11.7 km | 6 hours | Moderate |
| 5 | Pont Casse to Castle Bruce | 12.8 km | 6 hours | Easy |
| 6 | Castle Bruce to Hatten Garden | 15 km | 7 hours | Moderate |
| 7 | Hatten Garden to First Camp | 12.6 km | 6 hours | Moderate |
| 8 | First Camp to Petite Macoucherie | 10 km | 6 hours | Difficult |
| 9 | Petite Macoucherie to Colihaut Heights | 9.8 km | 7 hours | Hard |
| 10 | Colihaut Heights to Syndicate | 6.4 km | 4 hours | Easy |
| 11 | Syndicate to Borne | 10 km | 7 hours | Hard |
| 12 | Borne to Penville | 9.5 km | 7 hours | Hard |
| 13 | Penville to Capuchin | 8 km | 3.5 hours | Moderate |
| 14 | Capuchin to Cabrits | 10.8 km | 5 hours | Moderate |
| | Total Distance | 149.3 km | | |
It seems on most of the sections, you'll be able to to purchase food, either cooked on the spot or packaged. Accommodation is also available in certain spots. Although I do plan to camp as much as possible, not having to go a whole week without a shower is nice.
A couple of sources recommend taking 2 weeks to finish the hike. Two weeks for 115 miles does seem like a lot of time especially since there's not that much elevation change, I'll have 18 total days in Dominica, so I won't be any hurry to finish the hike quickly.
I actually like the fact that it's a trail hasn't been documented with great detail. I won't be super planned out like for some of my past hikes. With all the unknowns, it feels like more of an adventure.
Check out how the trip ultimately went for me on my Waitukubuli National Trail Journal.
Online Resources
Waitukubuli National Trail Official Site – Segments information, pictures, and maps.
Wildwestsherties.net – A journal for the first 6 segments of the trail.
Skyviews.com's Map of The Trail – Trail map, segments overview, as well as other useful maps of Dominica.
avirtualdominica.com – Length and description of each segment, along with other useful info on Dominica in general.
Lonely Planet Best Long Walks – The article that first introduced me to this trail.
And below, a nice video describing the trail.