To me, the most beautiful section of my 2009 John Muir Trail hike was the area around Thousand Island Lake and Garnet Lake. On that occasion, I had arrived at Thousand Island Lake on a rainy day and stayed most of the time inside my tent (all night and well into the afternoon the following day). After the rain had stopped, I quickly packed up and hiked 7 miles to Rosalie Lake. On the way there, I saw amazing Garnet Lake but only stopped briefly for about 10 minutes to snap a few pictures and eat a quick snack. Because of time constraints, I fell that I really rushed through this beautiful area. I knew I would have to return someday.
Late last year I joined Couchsurfing, and have had since then enjoyed amazing events organized by members in my local area (My experiences with Couchsurfing deserve a separate blog entry). I wanted to give back a little bit to the community by organizing a 3-day, 19-mile hike to the two lakes. I didn't know if people would sign up or not. I was OK if I had to end up going by myself like I usually do. People immediately took interest, and after a last minute cancellation, me and Dan, David, Norbert, and Raul (I hadn't met them before except for David) left Los Angeles around 7:30am on Friday September 7.
The drive was long. A bit over 300 miles and over 6 hours. We stopped at Lone Pine to pick up our permits, and at Mammoth Lakes to rent the bear canisters. We started hiking around 3pm from the trail head at Agnew Meadows. The plan was to hike Shadow Lake Trail for about 5 miles to Shadow Lake.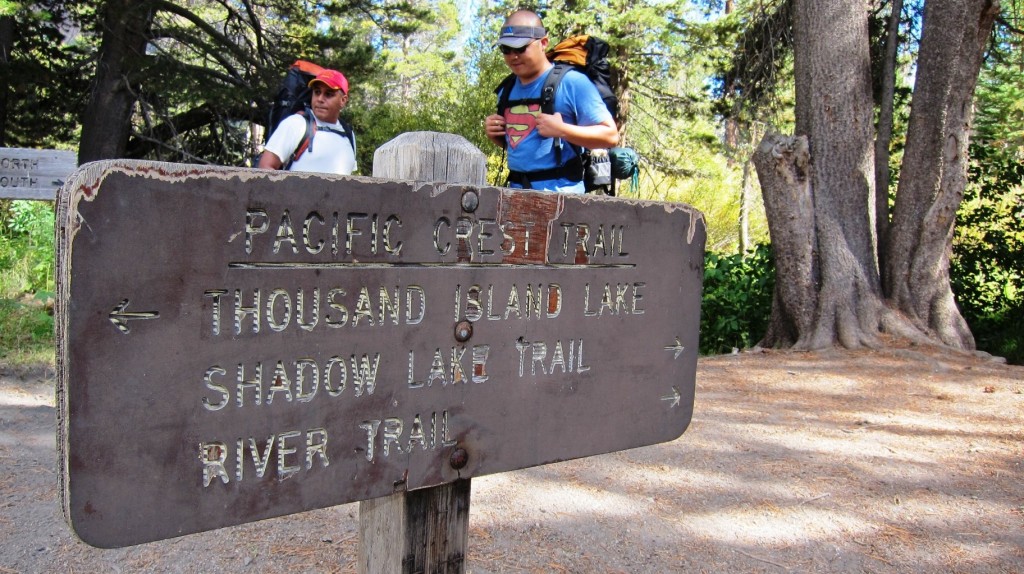 It was great to be in these surroundings again. It brought back memories of the John Muir Trail right away. The trail starts out pretty flat. After about 3 miles, it starts ascending towards Shadow Lake.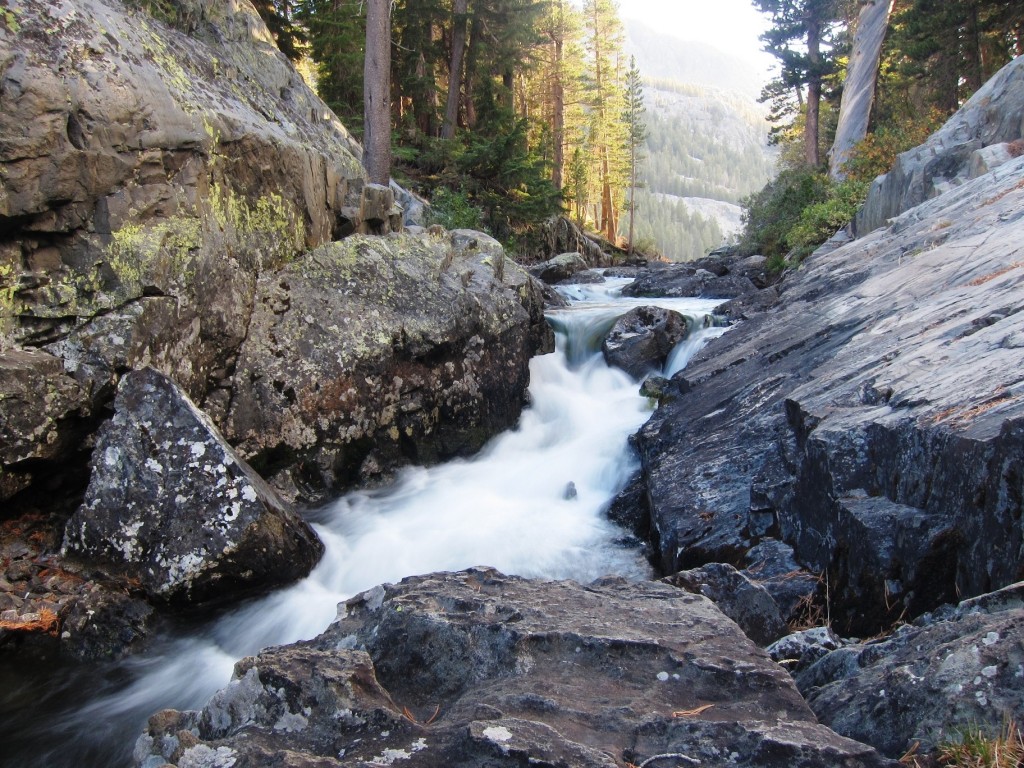 We had hiked at a very leisurely pace and by the time we got to Shadow Lake, the sun was already starting to set. We hiked around the lake since camping there was not allowed. We soon joined the John Muir Trail and I was honored to lay my feet on this great trail again. By then, it was getting pretty dark and we camped at an area we were not supposed to camp, next to the lake's inlet. I really feel we didn't have a choice. If I was on my own, I would have continued hiking to look for a better spot to camp, but since we had a couple of first time campers, I didn't want to set up camp in the dark. We quickly pitched our tents, cooked dinner, enjoyed the stars on the sky that we don't get to see in bright and smoggy LA, and went to sleep.
On the next day, we were back on the trail around 9:30am. The destination was Thousand Island Lake, around 6.5 miles away. I had planned the hike in a way so that we wouldn't have to rush through this beautiful area. I wanted to have enough time to take a lot of pictures using the manual settings on my Canon S95, as a way to learn more about photography. I also wanted the others in the group to enjoy the journey and not feel like it was a marathon race.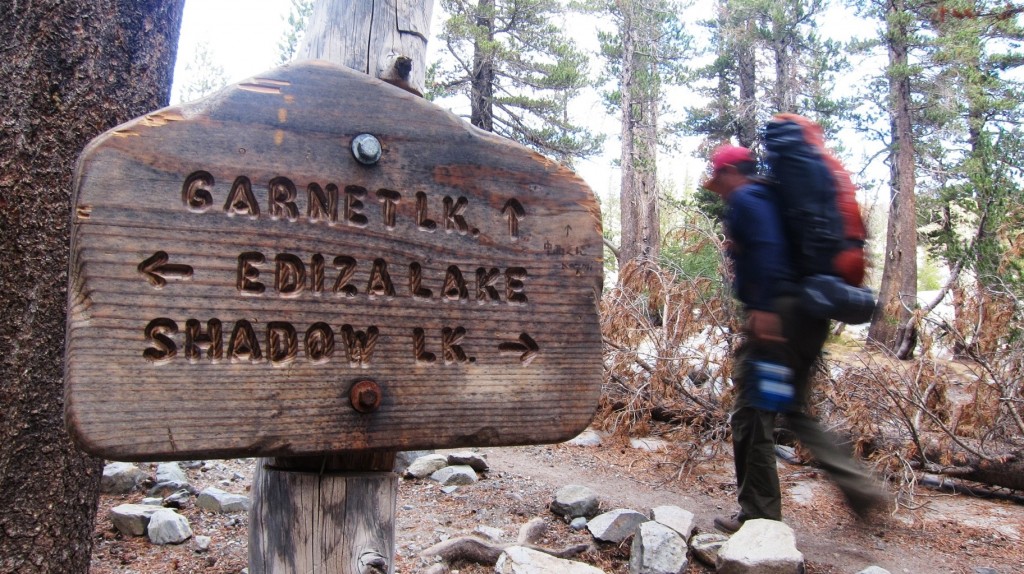 It was a nice way, somewhat cloudy so the sun wasn't too punishing. There is a bit of elevation change, mostly up, but nothing strenuous. We stopped for over an hour at Garnet Lake for lunch and then moved on.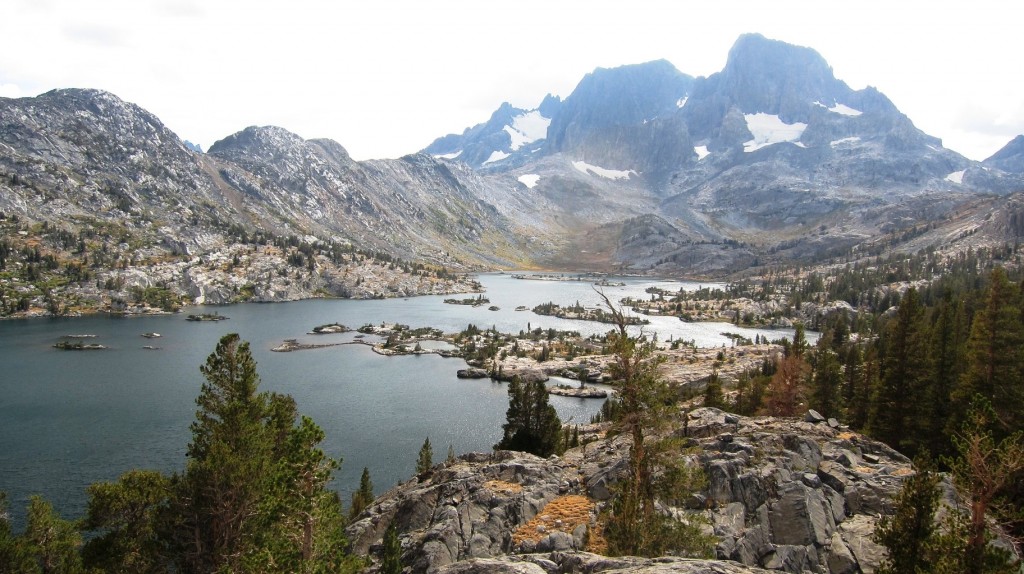 For me, it was nice to see everything in the reverse direction (South To North) to what I did in back in 2009. After another 1 1/2 mile or so, we reached Thousand Island Lake. It was just as beautiful as I remembered.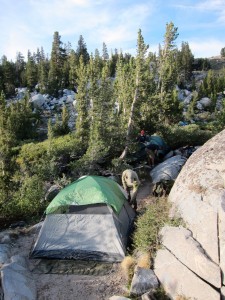 We followed the northern edge of the lake for a bit, looking for a nice spot for our 5 tents (yes, each of us brought our own). It was getting very windy and we needed to a find a spot that would give us some protection. After looking for a bit, we found a very tight but adequate spot. For a while, it looked like the weather might turn bad, but the wind stopped soon after. We filtered some water and also boiled some for our dehydrated dinners.
The nice thing about camping in September in the Sierras is that there is rarely any mosquitoes. We didn't encounter any. We had ample down time to enjoy the sunset and stargaze afterwards when it got dark.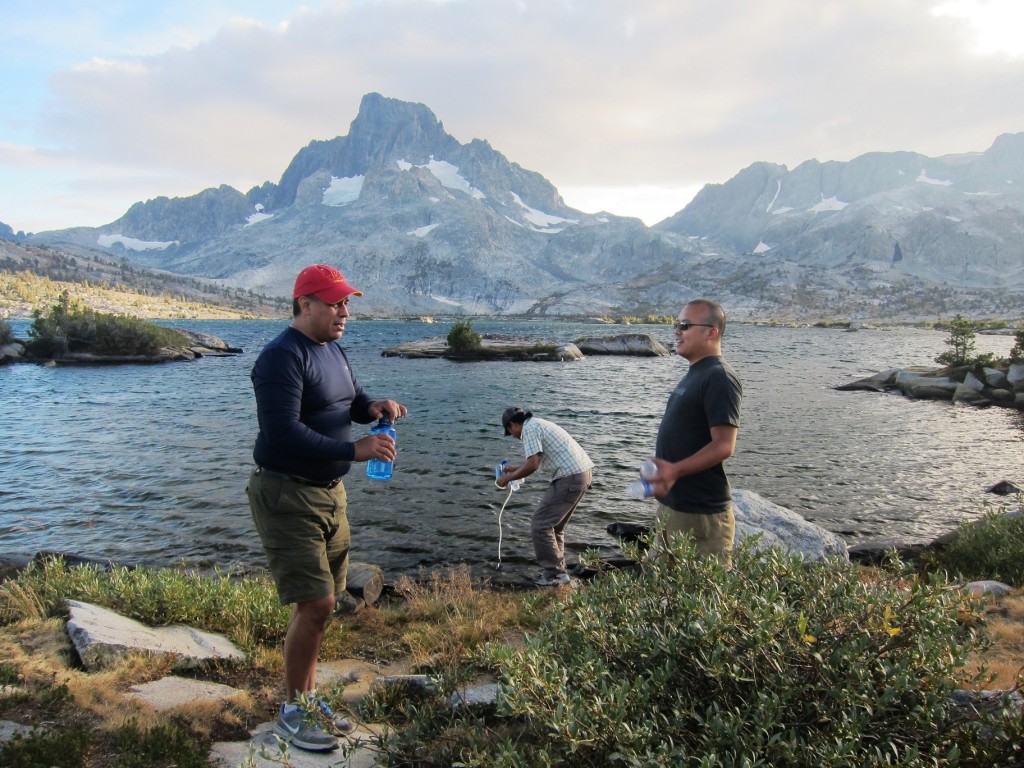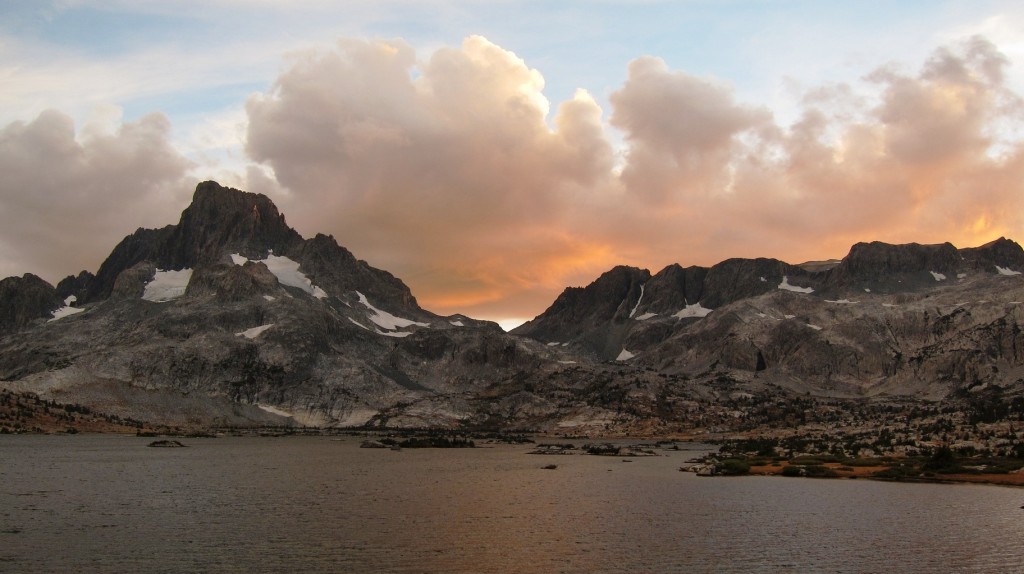 I don't know why, but I had a very uncomfortable night sleeping in the tent, I tossed and turned all night trying to find a comfortable sleeping position. This is usually not the case as I can sleep very soundly while camping.
I got up early the next morning to see the sunrise, something I couldn't do the last time I was here due to the storm. It was totally worth it. I was glad that by the time the sun appeared, everybody was already up and able to witness it.
The hike back to the Agnew Meadow is almost 8 miles through the Pacific Crest Trail. The first part followed the Middle Fork San Joaquin River.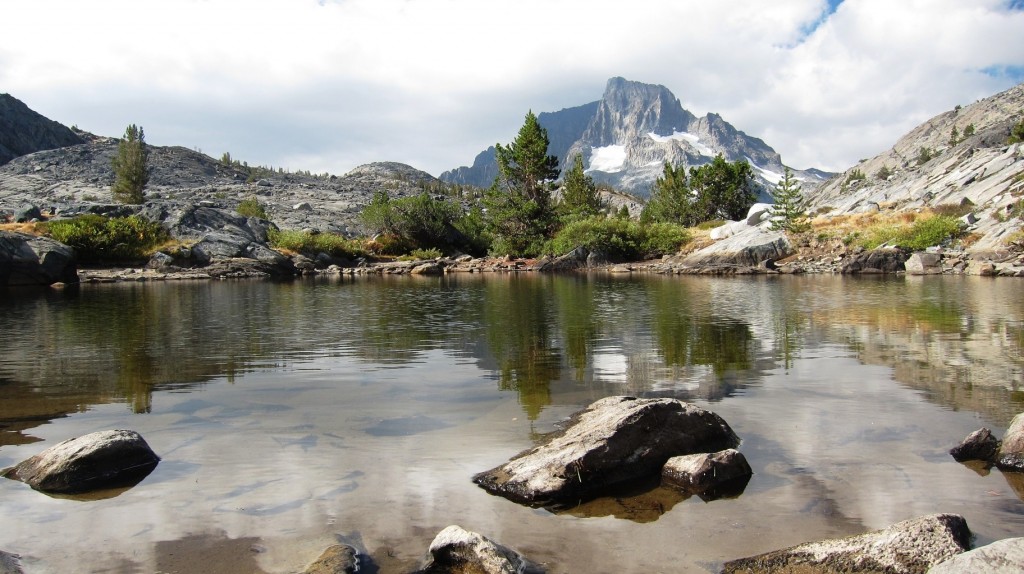 We then had wide open views of the mountain range to the south, including the the Shadow Lake Trail climb up to Shadow Lake, which we did 2 day ago. We even saw some big sequoia trees towards the end.
We reached the parking around 3pm. Stopped at some hot spring on the way for dinner at Lone Pine, and we were back in LA around 10:30pm.
All in all, it was a great experience for me and everybody who came. The first timers enjoyed it so much that they can't wait to go hiking and camping again. I usually hike alone but I enjoyed organizing the trip and having the chance to introduce new people to this amazing area, and hiking in general. I enjoyed it so much that I'm considering organizing more group hikes like this next summer.