If you haven't yet, first check out Hike to Mount Roraima – Days 1 to 3
Day 4: At the top of Mount Roraima

This was going to be the day we visited the various sights at the top of Roraima. We were given the option of visiting places closer to our camp, or make a long 4-hour (each way) trek to the Triple Border Point, where Venezuela, Brazil, and Guyana meet. We decided to just stay close to our camp.
Our first destination was La Ventana (The Window), named after a rock formation that looks like a window. This is where you can get amazing views of Mount Kukenan. We left around 6am before even having breakfast because early in the day is the only time where the area is clear of clouds. But, we took too long to leave so when we got there they clouds had already started to move in. I don't have any pictures of this because I dropped my camera bag and the DSLR's internal mirror got stuck, which made it pretty much useless. I worried for a bit about how this would change the rest of my trip in South America. I wouldn't have my camera with me for Angel Falls, Patagonia, etc. Right away I made an effort to stop thinking about these things and not let this ruin my day. After we got back to camp for breakfast, I borrowed a knife and was able to unstuck the mirror. Everything was good and back to normal again.
We headed out again right after breakfast. Fist destination was Valle de Quarzo, where you can find tons of quartz crystals. On the way out of the National Park, you get a US$500 fine if you get caught taking one of these with you. The scenery on the way there was surreal, especially due to the clouds all around us.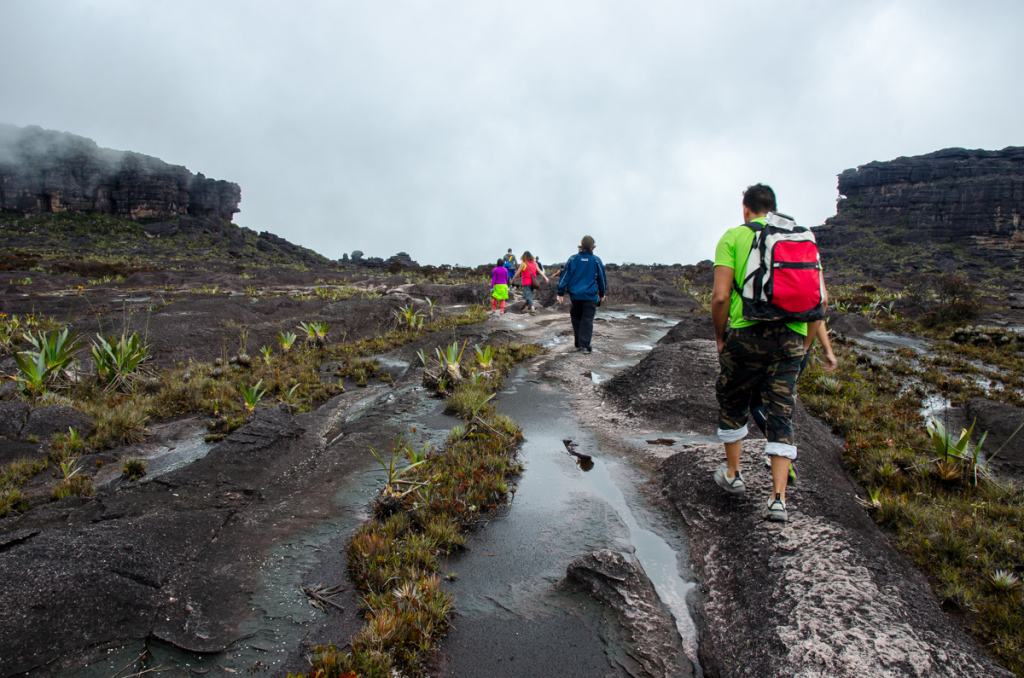 Next was Valle del Pene (Valley of the Penis). I couldn't help but take the following picture.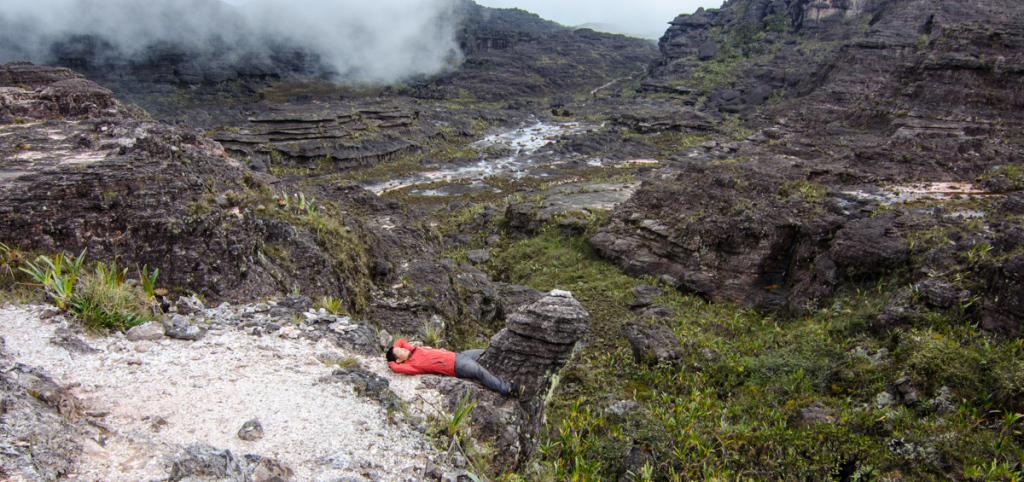 Then it was to the Jacuzzi, which is a swimming hole/pool. Despite the rain which was starting to drop, most of us decided to get into the ice cold water. It ended up being a terrible idea since we couldn't get ourselves dry after we got out.
We made our way back to camp for lunch. Speaking of lunch, our guide Vigel and the porters were amazing the entire trip. They cooked yummy meals, carried gear, set up our tents with super efficiency every single day.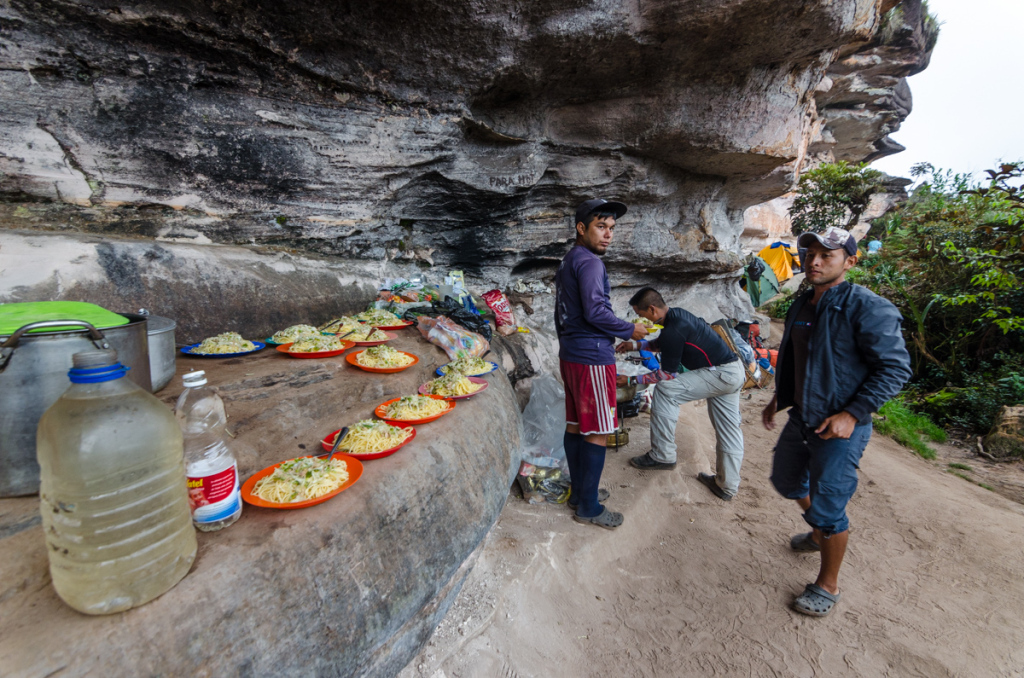 After a short break, we were out again, this time to the top point of Mount Roriama. It was there where one of the guys in the group proposed to his girlfriend. Everybody except her knew from the first day that this was going to happen. It was a very happy and emotional moment for them, and for all of us witnessing it.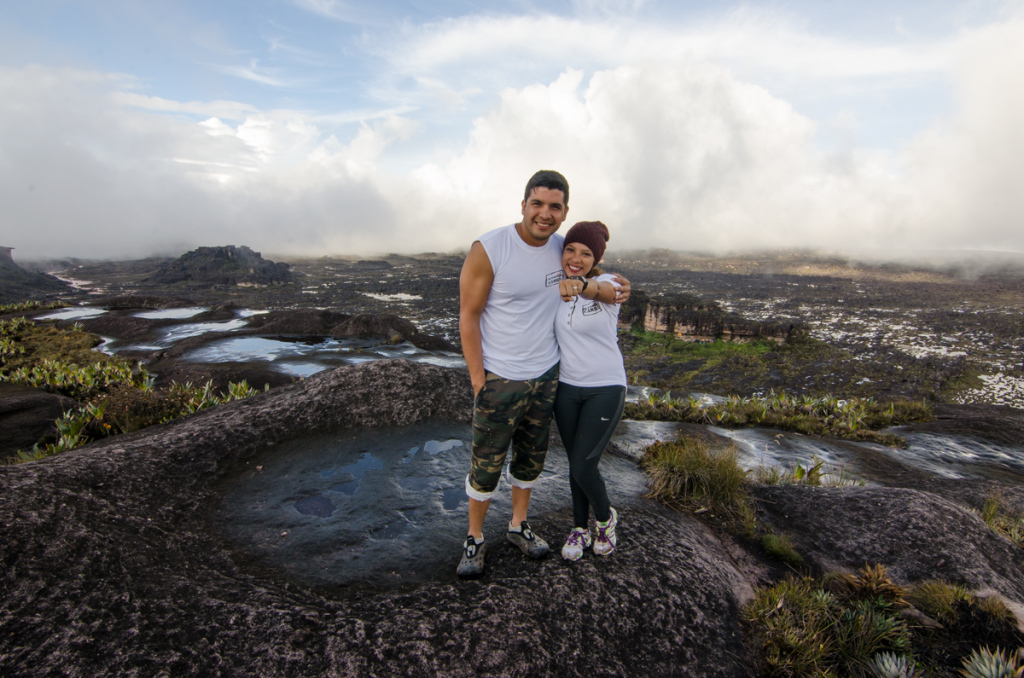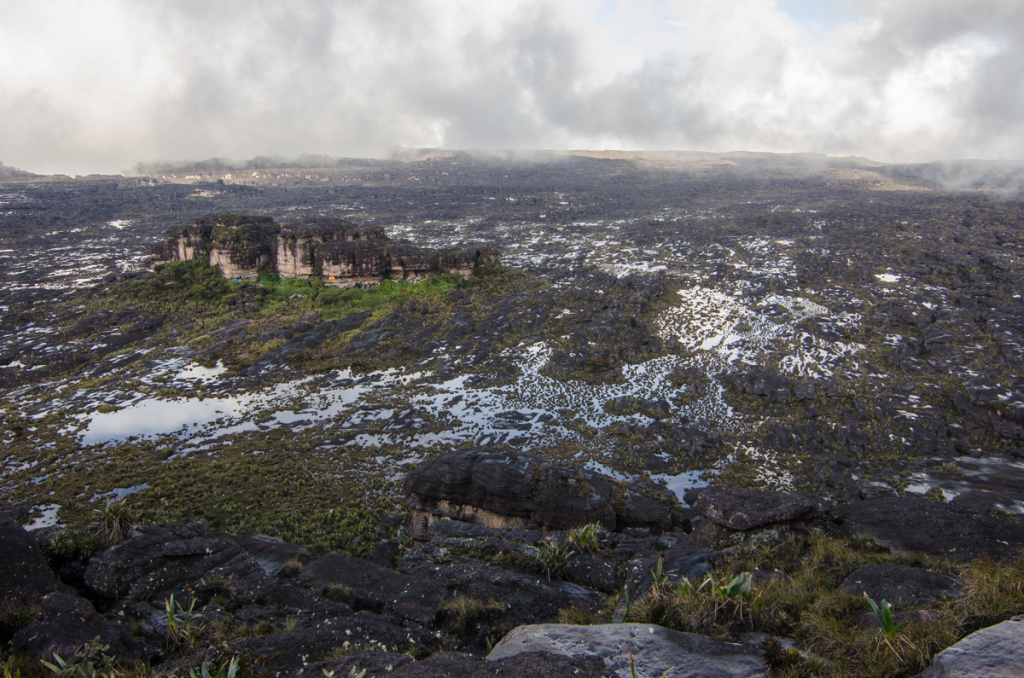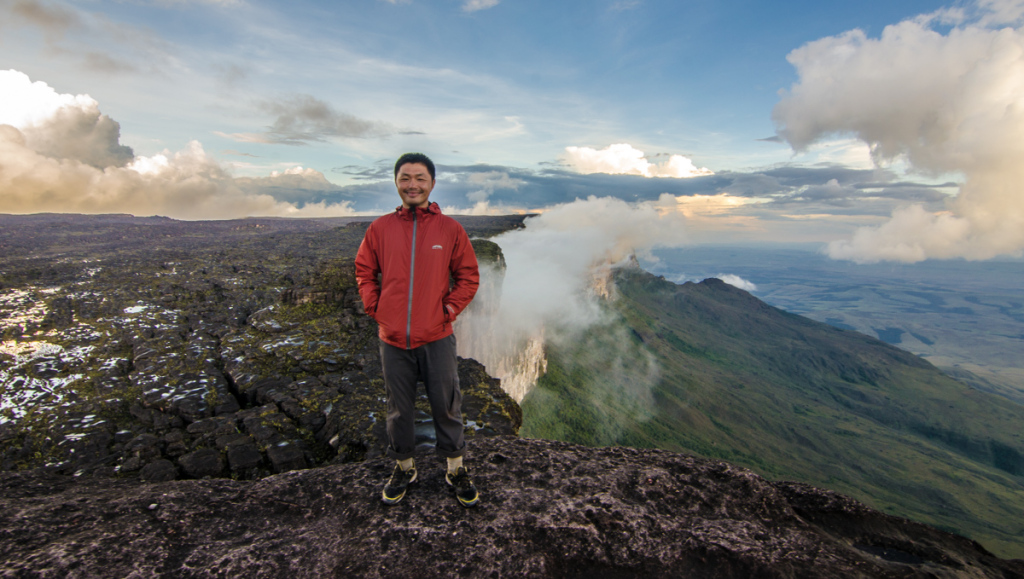 We returned to camp for dinner, and that was the end of a very long day.
Day 5: Mount Roraima to Rio Tek Camp

This was another long day. We were going to cover the same distance of days 2 and 3 in one day, while descending. We left by 7am. The terrain was a bit slippery because of all the rain that had fallen the previous 2 days.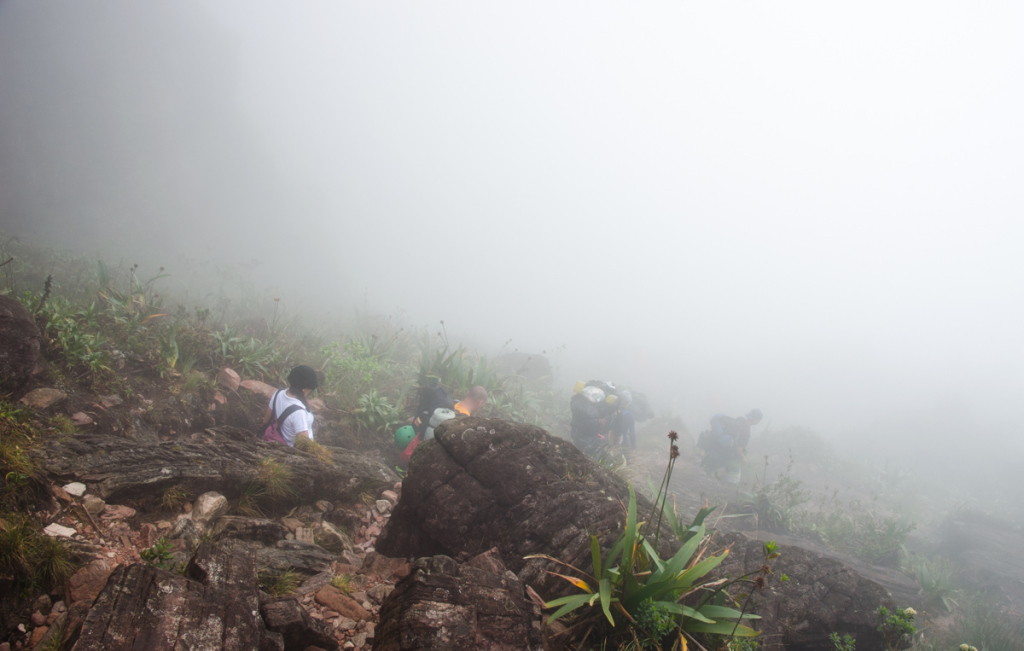 When we arrived at a spot called La Lagrima (The Tear), which on the way up was just a tiny little stream, the water coming down was so strong that it felt like walking underneath a waterfall. We then had to walk downhill on rocks covered with streaming water. I was resigned to getting my shoes wet. Later on, on another steep slippery part, I felt on my ass.
Lunch was served at Base Camp. There was no time for rest as we left right after.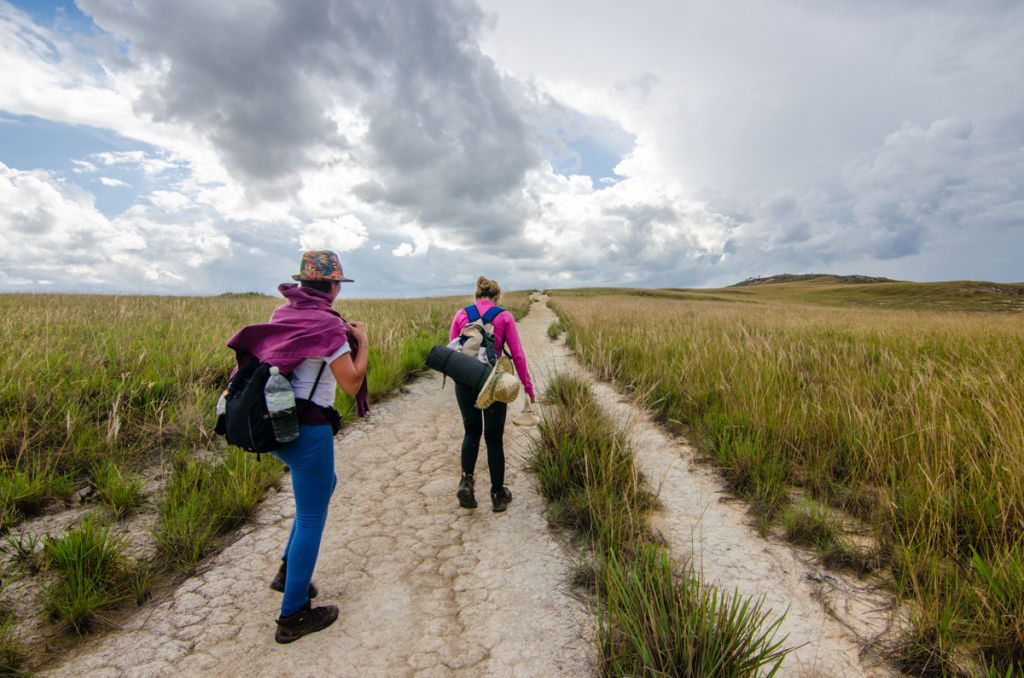 We stopped at one of the rivers before Rio Tek Camp for a bath. Dinner, more great conversation, and with that concluded a long day of walking.
During this trip I realized that there's definitely some permanent damage in my left knee, which I injured a couple of years ago, It buckled a few times although none were too severe. I does make me wonder if I can continue hiking like this later on in Patagonia, New Zealand, Nepal, and other places without fixing it first.
Day 6: Rio Tek Camp to Santa Elena de Uairen

The final day was sort of uneventful, as it was a mostly flat walk back to the village of Paraitepuy. Once again I broke away from the group towards the end. I like savoring moments like this on my own. I got to Paraitepuy a little bit before noon. They searched our bags for quartz and other things we might have taken our of the National Park.
Lunch was at a roadside restaurant on the drive back to Santa Elena. Back at Backpacker Tours office, they were nice enough to let us use a couple of the posada rooms so we could shower. Most of us were leaving on buses that same night towards the city of Puerto Ordaz.
Mount Roraima surpassed all of my expectations. The hike was a bit challenging at certain parts, but I didn't find it too hard, which is fine by me. To me, hiking is about seeing amazing scenery, and what I found is one of the most amazing and unique places I've ever seen. The trip was made much better because of the amazingly friendly Venezuelan people I met in our group. This was definitely one of the top highlights of my five months of travel so far.