Mount Roraima is one of those unbelievable places you see on pictures online and feel that you need to visit in your lifetime. The top of the mountain is shared by three countries: Venezuela, Brazil, and Gayana, with most of it belonging to the first one. This mountain and the scenery surrounding it served as inspiration for the Pixar movie "Up".
It can only be hiked from the Venezuelan side. The standard tour is six days. After taking three to reach the top, you spend one full day exploring it before taking two more days to come down the same trail. The gateway town is Santa Elena de Uairen, where you have decent posadas with affiliated tour companies all offering similar itineraries. I ended up choosing Backpacker Tours because of it's positive online reviews. The cost was 17,500 VEF, or R$500, or US$390. The Brazilian Reals equivalent was very close to black market rates, but the dollar figure was totally off, 17,500 VEF is about US$180-200.
Day 1: Santa Elena de Uairen to Rio Tek Camp
I was told to show up at the Backpacker Tours office at 8:30am. Only the porters were there when I arrived. Soon a group of nine Venezuelan friends arrived. Usually in cases like this, the groups usually keep it to themselves and tend to be more closed to the other people. They ended up being the friendliest group I'd met so far during this trip. A Japanese girl also showed up, she had been traveling on her own for months in Latin America. There was also a Venezuelan couple, Ricky and Gaby, the latter being a TV personality. And finally Ana and Anabel showed up, two Venezuelan girls I had met the night before. If you've noticed the large amount of Venezuelans, that is because there are very few international tourists in Venezuela nowadays, most scared by stories of how unsafe it is. Because of high inflation and difficulty in acquiring dollars/euros, it had also become very hard for Venezuelans to travel overseas, so their only option is to do local tourism.
We left around 10am with 4x4s on a 2-hour ride to the town of Paraitepuy, passing through a couple of military checkpoints. You can see the massive tepuy (tabletop mountains) of Roraima and Kukenan as you approach the village. They are huge and impressive. We started our hike after a lunch of veggie sandwiches. Luckily, the food would get much better for the remainder of the trip. The first day involved a 4-hour walk to the camp right before Rio Tek. Except for a few short uphill sections, the terrain is pretty easy and flat. The temperature was hot but bearable, and the sun wasn't too punishing.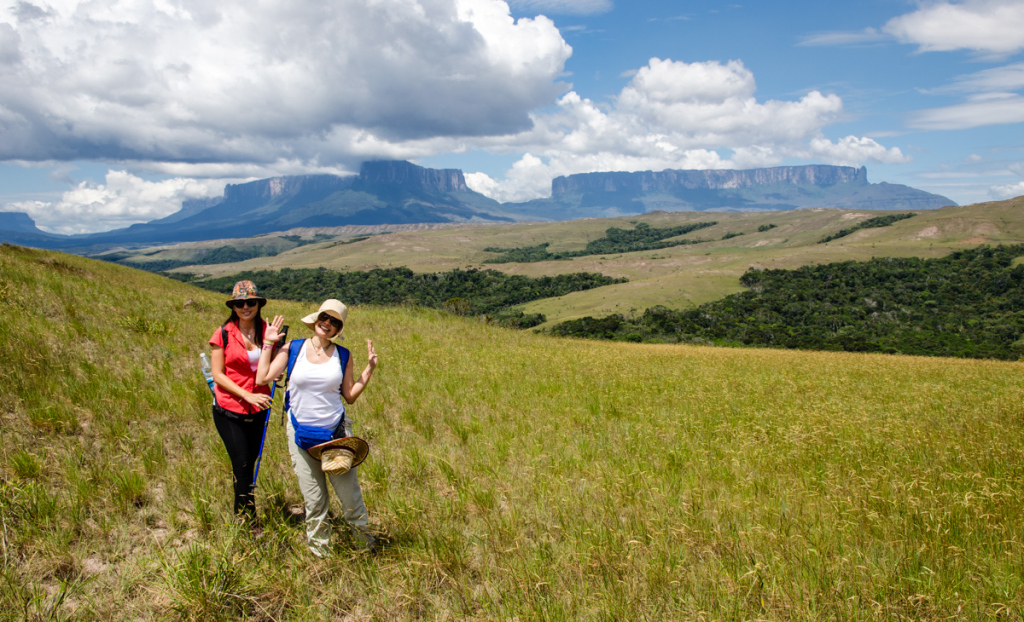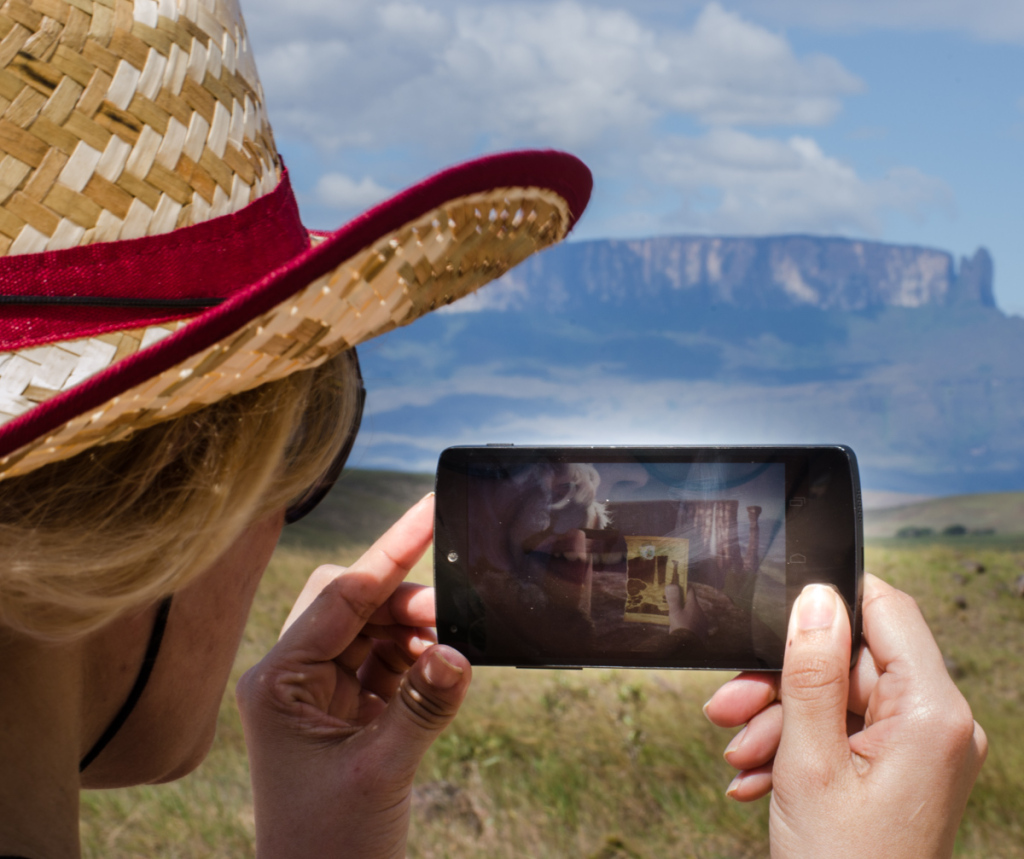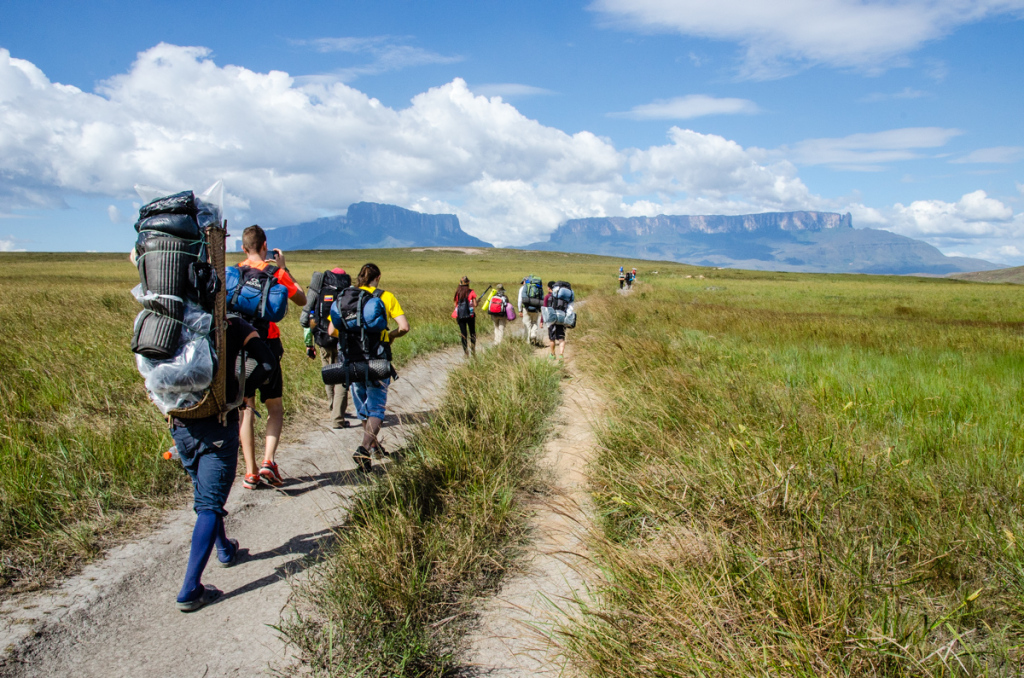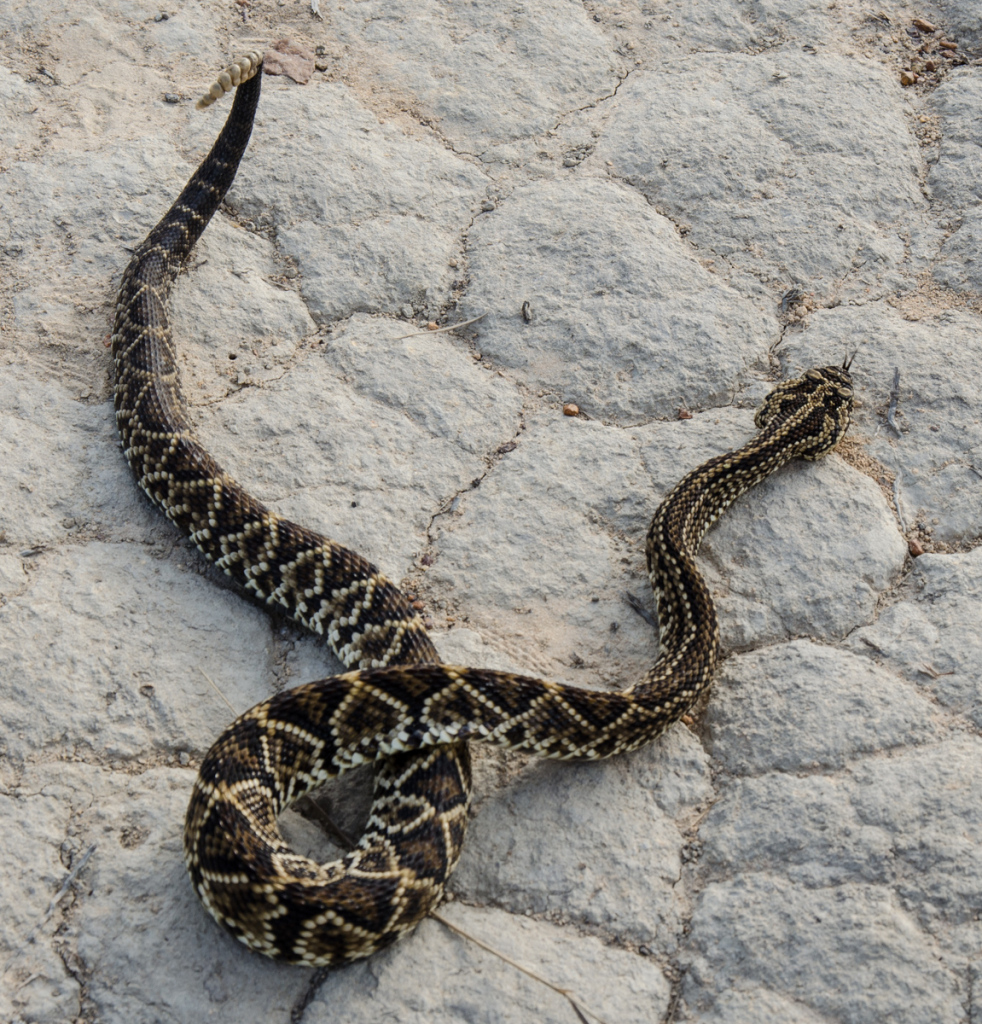 We've arrived to Rio Tek Camp a little bit before 5pm. Even though tents were provided, I had brought my own tiny Sea To Summit Specialist Solo tent so that I wouldn't have to share a tent with someone else. Dinner was spaghetti with meat sauce. Like I mentioned before, the Venezuelans were beyond friendly and they integrated me into the group from the very beginning. We chatted well after dark until the other people trying to sleep came to tell us that we were being too noisy.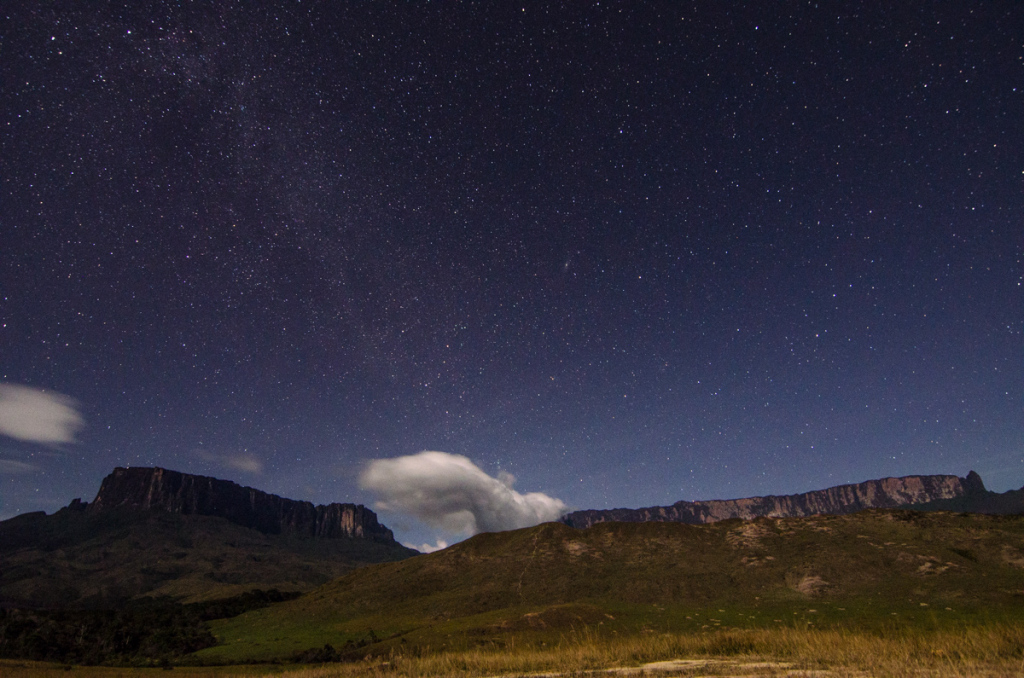 Day 2: Rio Tek Camp to Base Camp

I had my first taste of the famous arepas during breakfast. These are delicious fried flatbread, and were served with cheese and jam. It was going to be another 4-hour hike, this time through more roughed terrain and with a bit more elevation gain. We had to cross two rivers were the water was about knee high. They suggested that we take off our shoes and cross while wearing socks. At the second river we stopped a little bit to take a dip. The water's temperature was great. We were told that they would be other opportunities to take dips but that the other would get progressively colder as we got closer to the top of Roraima. The temperate and the sun were more punishing than the previous day.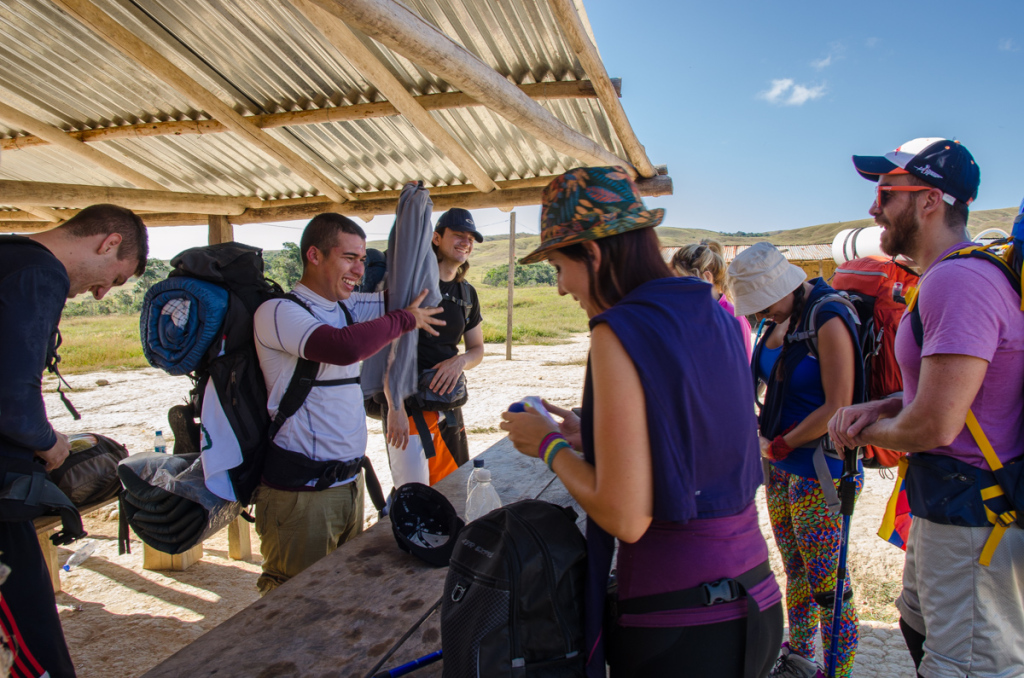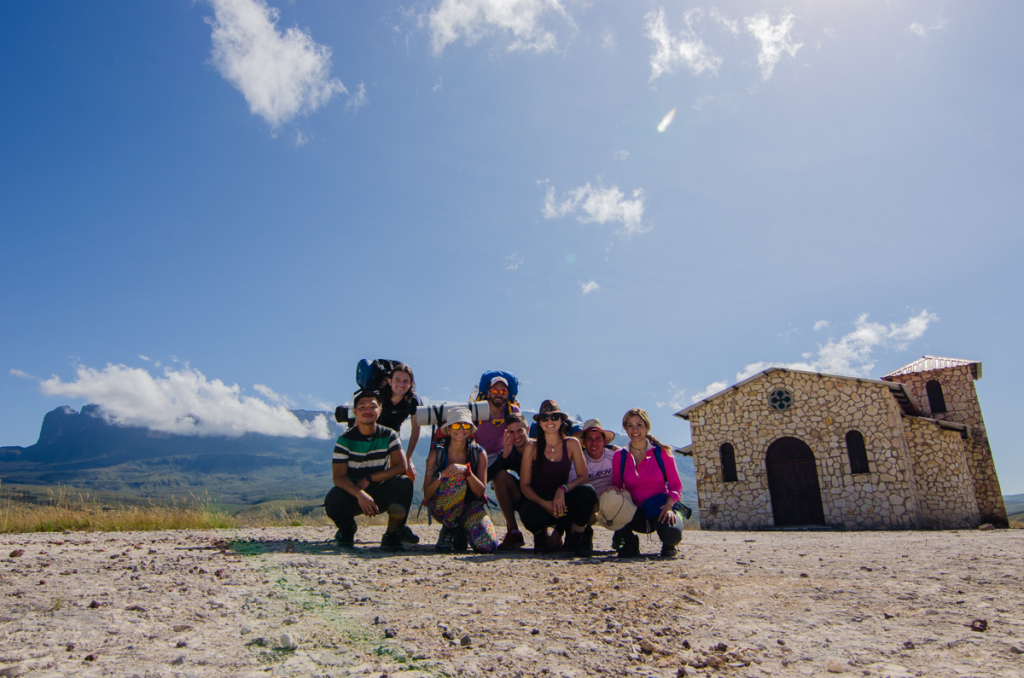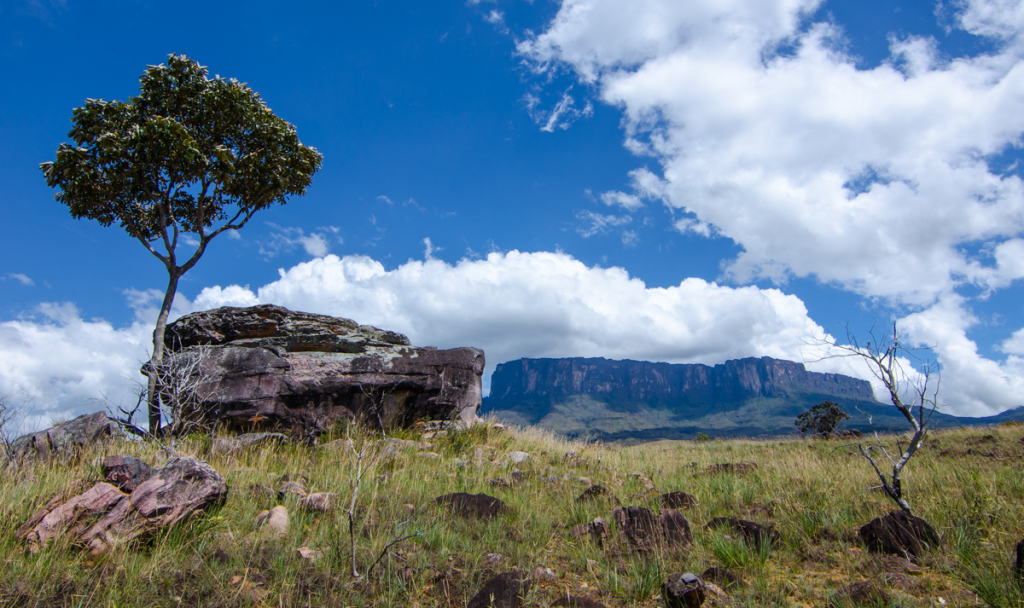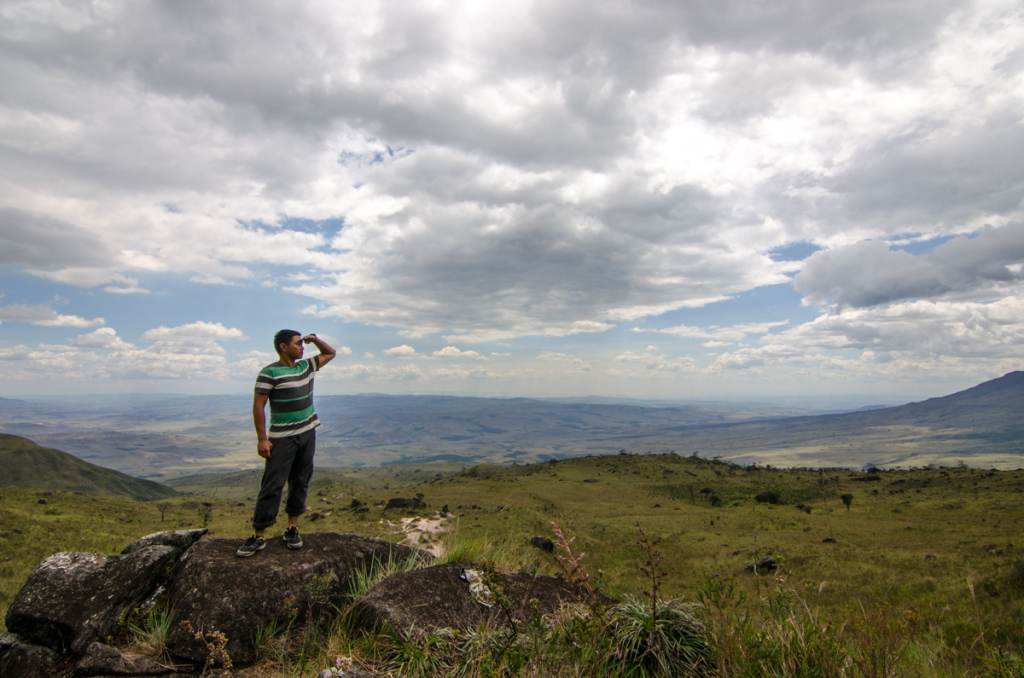 We arrived at Base Camp in the early afternoon. We had some time to unwind after lunch. Many of us chose to go to a nearby river for a bath (we were given biodegradable soap). The water was very cold.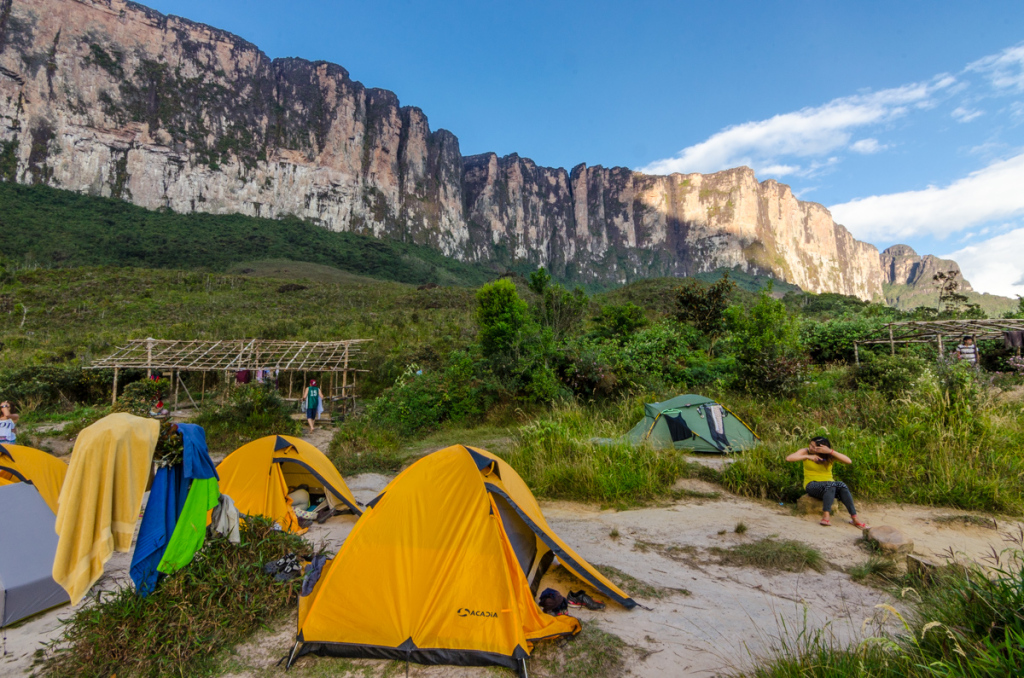 Sunset was spectacular. There was a guide from another group telling stories of strange supernatural things happening in the area. I believe myself to be a skeptical and rational person, so I didn't believe any of it.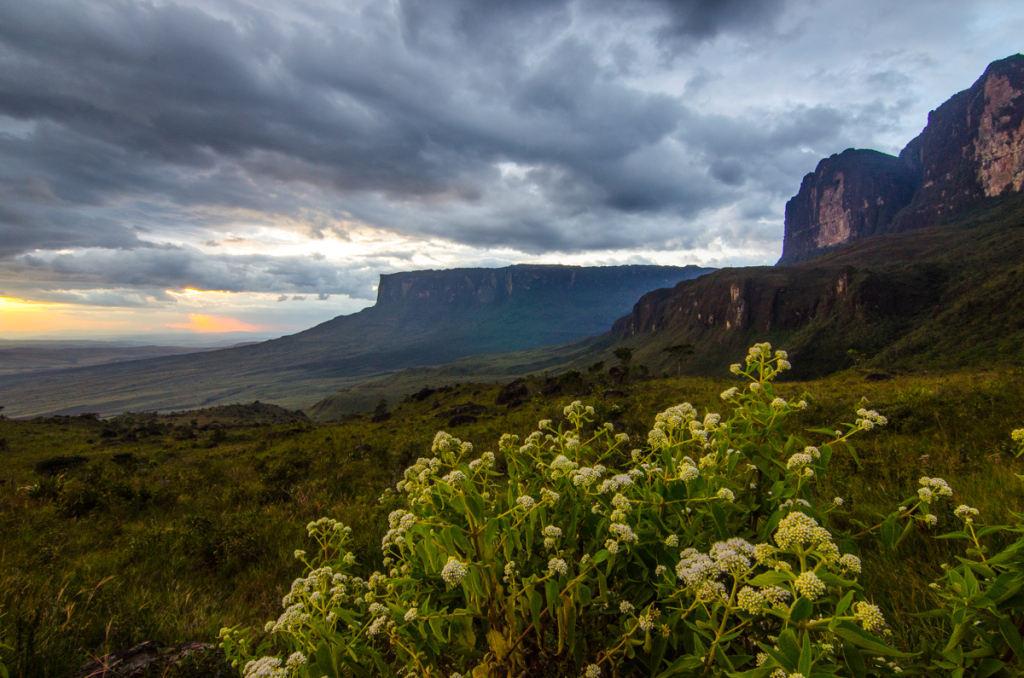 Day 3: Base Camp to Mount Roraima

I slept pretty bad the whole night, waking up about every hour or so.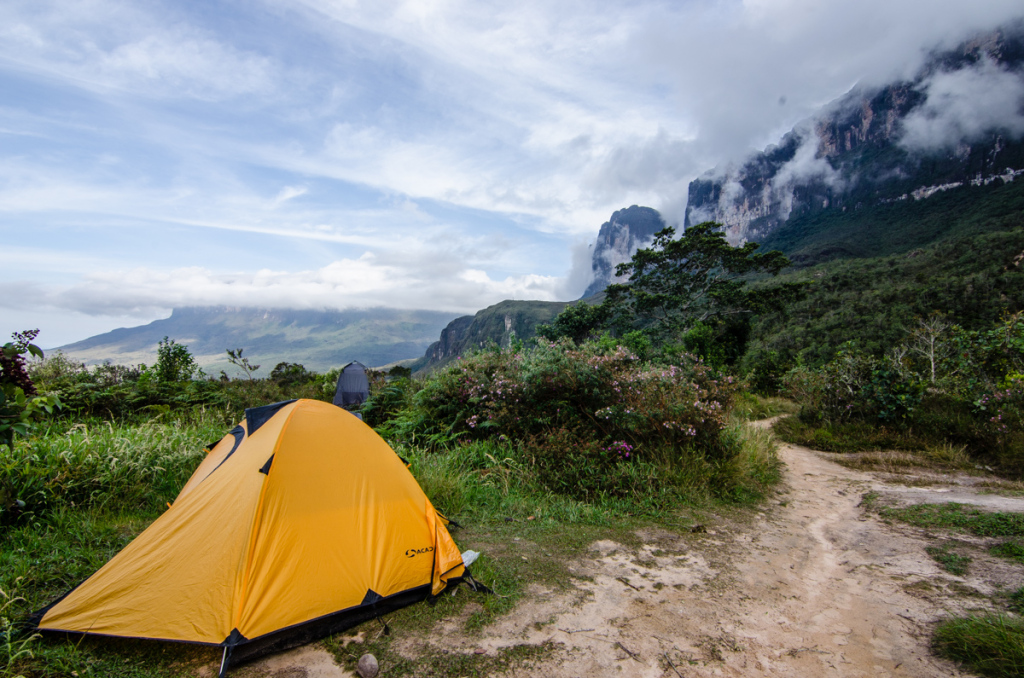 Today was going to be the toughest part of the hike, the final ascent to Mount Roraima. The trail starts going uphill right away. At some parts it is steep enough to require the use of hands. This part was mostly through deep jungle, so at least we were not affected by the sun.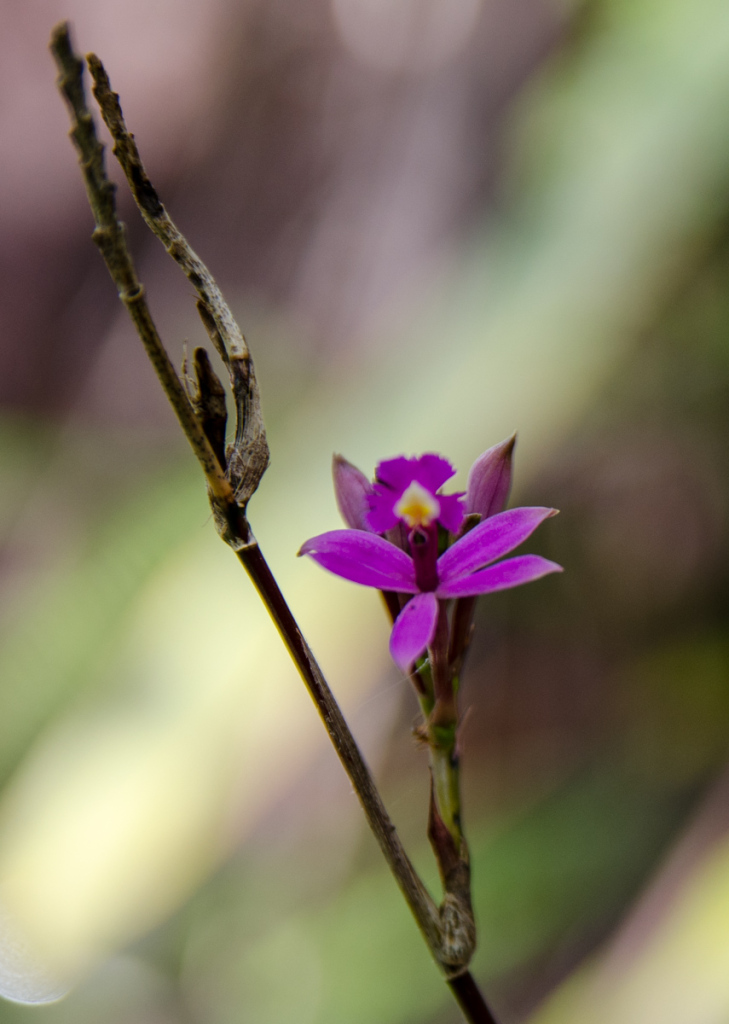 The vegetation starts to clear up the closer you get to the top. We passed through a couple of nice vantage points.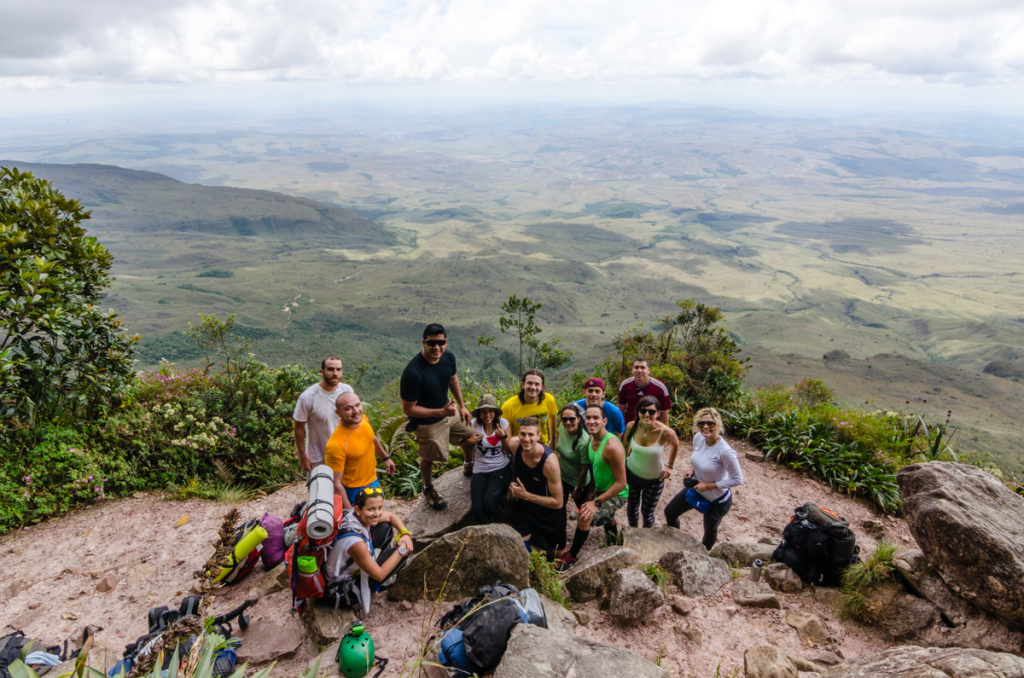 I decided to go faster and break away from the group during the last half hour on the way to the top, not because I didn't enjoy their company, but because I prefer being by myself during these landmark moments. Arriving at the top of Mount Roraima is defintely one of those magical moments on my journal through the world.
The top is not flat as I expected. It's rocky and feels almost alien, as if I was on another planet.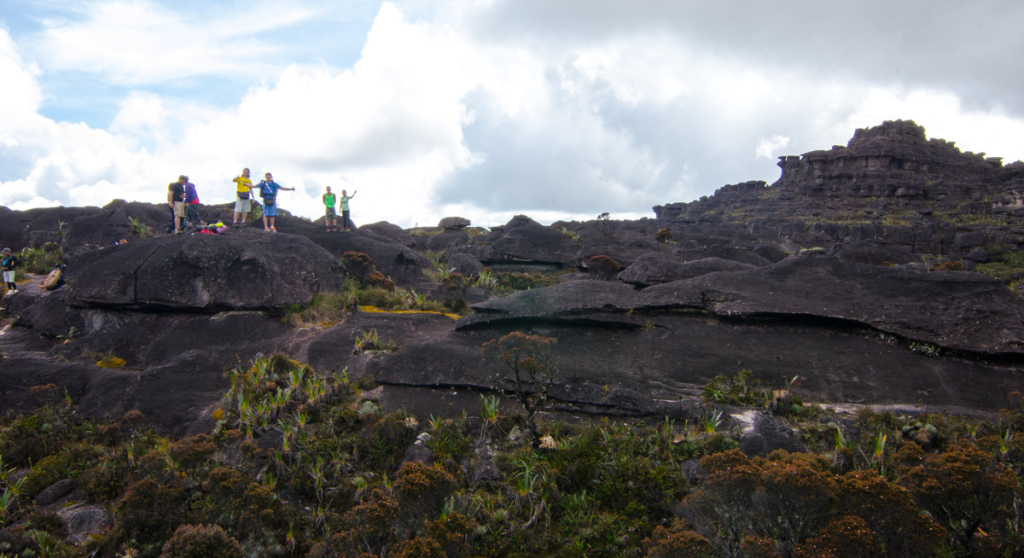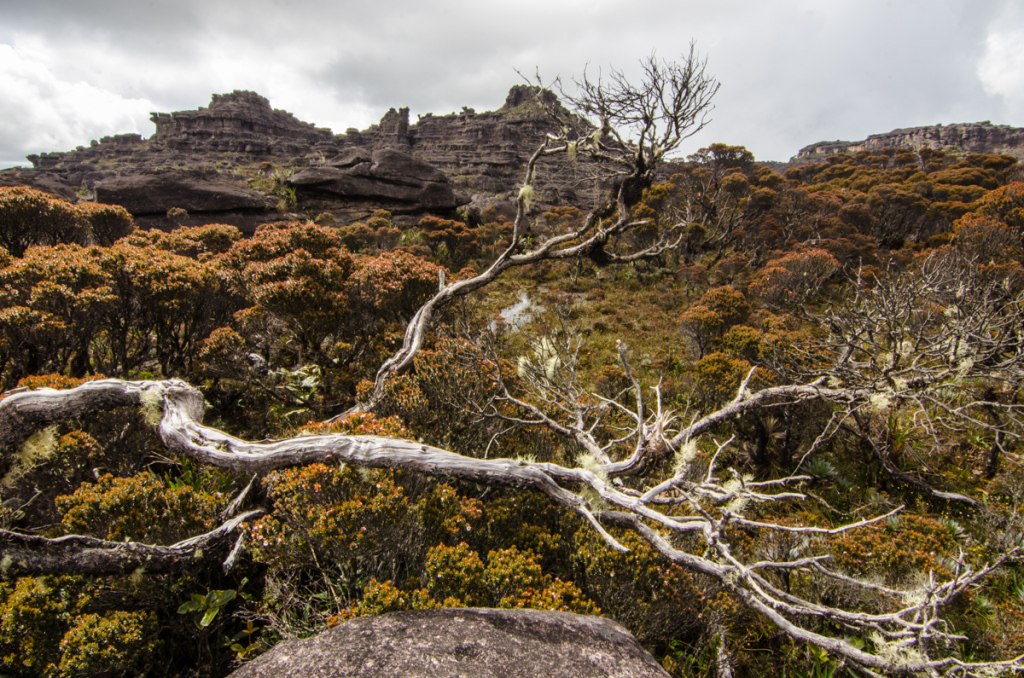 Once at the top, there was another 1-hour walk to our camp, which was under a large rock.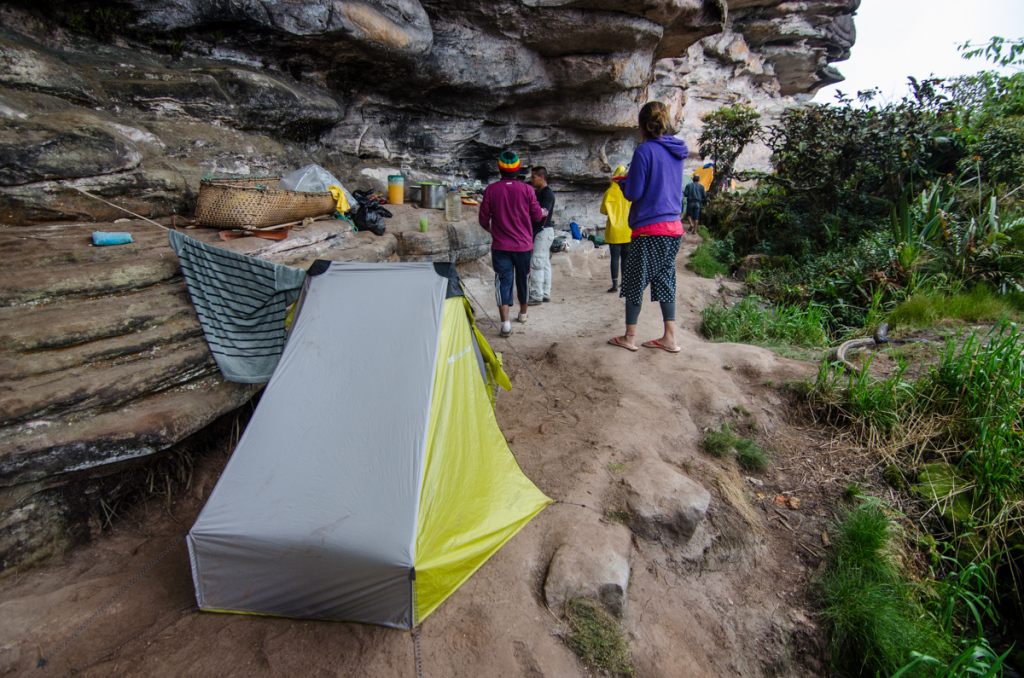 We had a late lunch, followed by a light dinner a few hours later. The weather turned bad that evening, and we all slept to the sounds of rain and thunder all night.
Continue onto Hike to Mount Roraima – Days 4 to 6