Part of the Waitukubuli National Trail Journal
Previous entry: Flying From Los Angeles To Dominica
Journal entry for November 23-24, 2012.
I got approached by cab drivers as soon as I stepped outside Melville Hall Airport. They told me that it cost US$32 for a shared minibus ride to Roseau, which is about 45 km away. I was actually expecting bigger buses, but minibuses are all they got on the island. I had read that the fares from to Roseau were fixed and government regulated. I did later find out that US$32 for a ride anywhere on the island is extremely expensive compared to any other trip you might make on minibuses, especially considering that I also shared the ride with an American couple. The most I had to pay for any other ride was US$4.
Due to a mix of both laziness and the desire to not get spoilers in advance, I usually don't do too much advanced research when visiting a new place. The few things I did know beforehand was that the local currency was the Eastern Caribbean Dollar, and that it has had a US$1 = EC$2.70 exchange rate for over 25 years. Most local business will accept both currencies. I knew that it was a very small country land-wise and population-wise, with only a little over 70,000 people.
One thing I didn't know was how humid the weather is. It makes even 25°C (77°F) unbearable. The road out of the airport goes through the village of Marigot, with beautiful views of the Atlantic Ocean. Another thing that caught me by surprise was the level of poverty of the country. I incorrectly assumed that since hotels and meals were on average on the expensive side, the people's standard of living would be higher. As we drove from village to village, I noticed how modestly most locals lived.
Paul the bus driver told us that the main road used to cross the heart of the island was closed for repairs. We were to instead take the slight longer coastal road. As we drove through the Kalinago Territories, I saw signs for the Waitukubuli National Trail, which crisscrossed the paved road. I saw a lot of young men just sitting around and hanging out. As we drove by, they all stared at us. I have to admit that I felt a little intimidated thinking that I would have to hike on my own through spots like this.
The road was very mountainous and twisty. After 90 minutes, we finally arrived at Roseau. The bursting capital city is busy and hectic, with the sounds of car horns and loud music everywhere. I got dropped off at Symes Zee's Guesthouse, for which I had made a room reservation a week earlier. Apparently I didn't need the reservation since the nice lady at reception told me that it was still the low season, and with the first big waves of tourists not expected to arrive for another week or two, the guesthouse was still pretty much empty.
The room I got was very basic. A double bed, a small bathroom, a fan. No table or chair, no air conditioning. At around $45/night, it was expensive. I really don't understand why accommodation is so expensive in Dominica, but there really weren't other options with better value.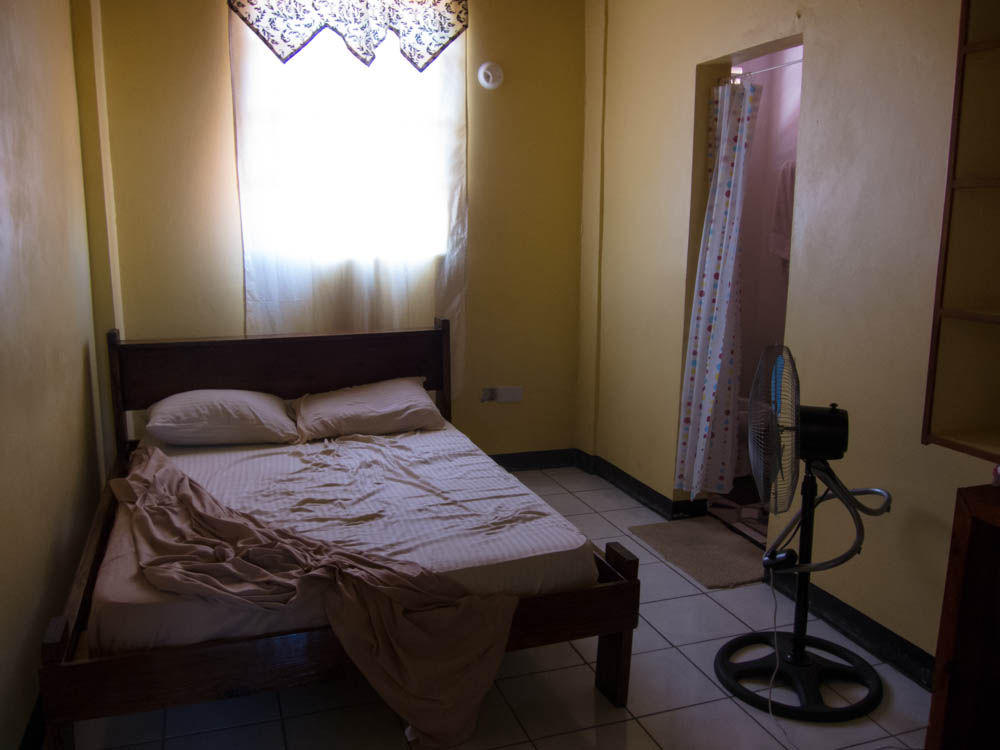 The room was clean though, which to me is the most important criteria. What I really liked was that they had a balcony on the first floor were you could sit down and relax and enjoy the sights and sounds of the city.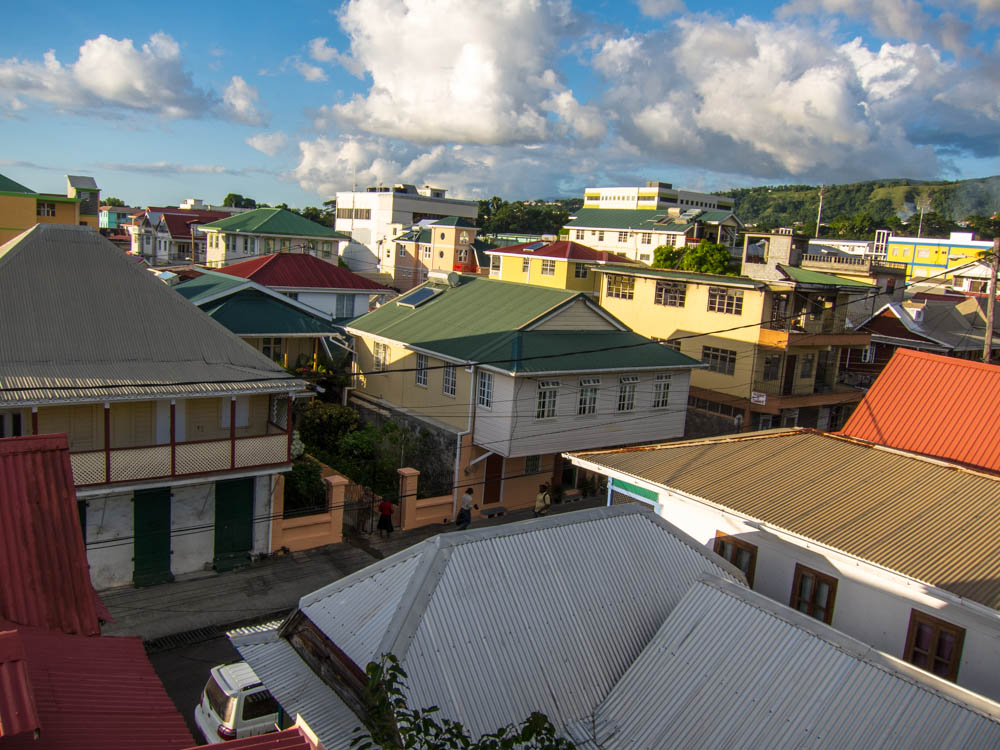 I felt exhausted from lack of sleep and took a 90 minute nap, waking up around 5:30pm. I hurried back outside to look for an power adapter for my phone and camera chargers, since Dominica uses the British style electrical outlets. After walking around a bit, I couldn't find any place to buy one.
I watched the sunset from the boulevard by the sea while walking towards the New Market. Most vendors were packing up and getting ready to leave. I read from the guidebook that people at the market don't like it when tourists take photographs of them, so I didn't try. I came across a huge modern KFC restaurant which looked very out of place among the other old building in the city.
After shopping for some snacks at a supermarket, I returned to my room around 7pm. Again I felt a great keep to lay down in bed. Before I knew it, I had slept for 5 hours. Woke up, felt hot and sweaty, took a cold shower, washed my stinky shirt, and went back to sleep…
When I woke up around 7am, I decided that I'll head over to Scotts Head (the start of Segment 1 of the Waitukubuli National Trail) that day. Roseau is an OK town, but it's small and there's really not much to see. Before I left, I wanted to do 2 things: go to a place listed in my guidebook where they sell topographic maps of the island, and do a short hike up a hill that overlooks Roseau.
Early in the morning, the streets were calm and quiet. I didn't find the place to buy the maps.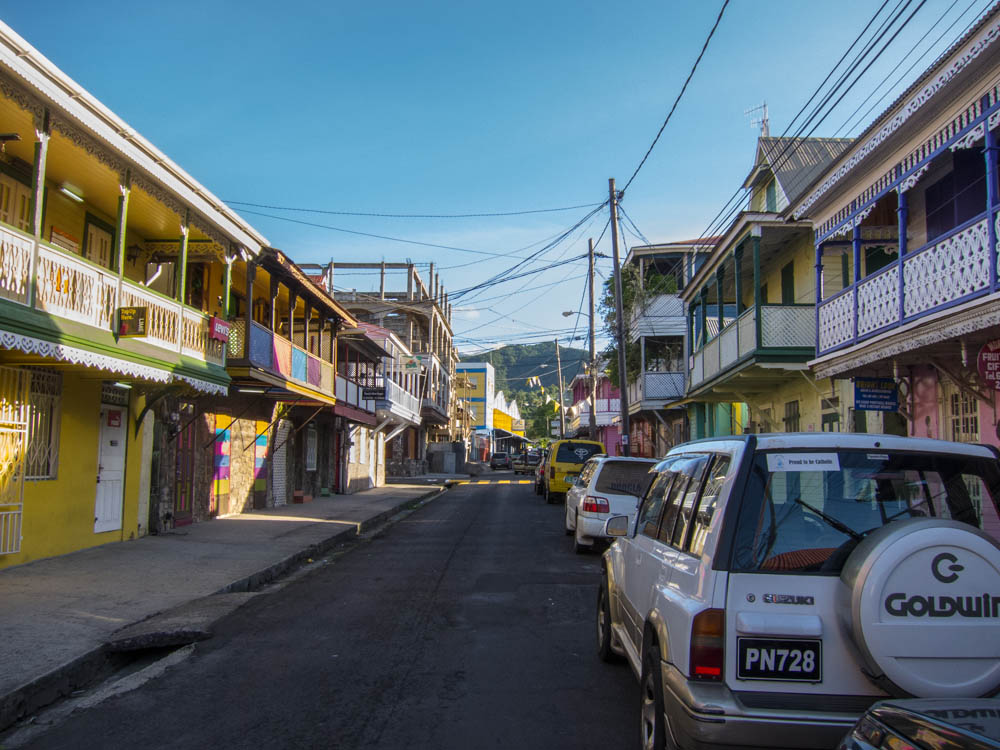 The hike was called Jack's Walk. It was short and steep, but the views from Morne Bruce were nice.
On the way back to town, I finally found a place to buy the power adapter. I then visited the Old Market, where they used to auction off slaves back in the old days. Nowadays they have many stands that sell souvenirs. I paid another visit to the New Market, which now was much more crowded that the previous night. It was Saturday after all.
Back at the hotel. Another shower, packed up, and left for the bus station. Buses to different destinations leave from different places around Roseau. The one to Scotts Head leaves at a corner by the Old Market. The bus was already jam packed with passengers and cargo, the driver waved at me and asked me if I was headed to Scotts Head. I said yes. They made a little spot for me on the back row, and we were off.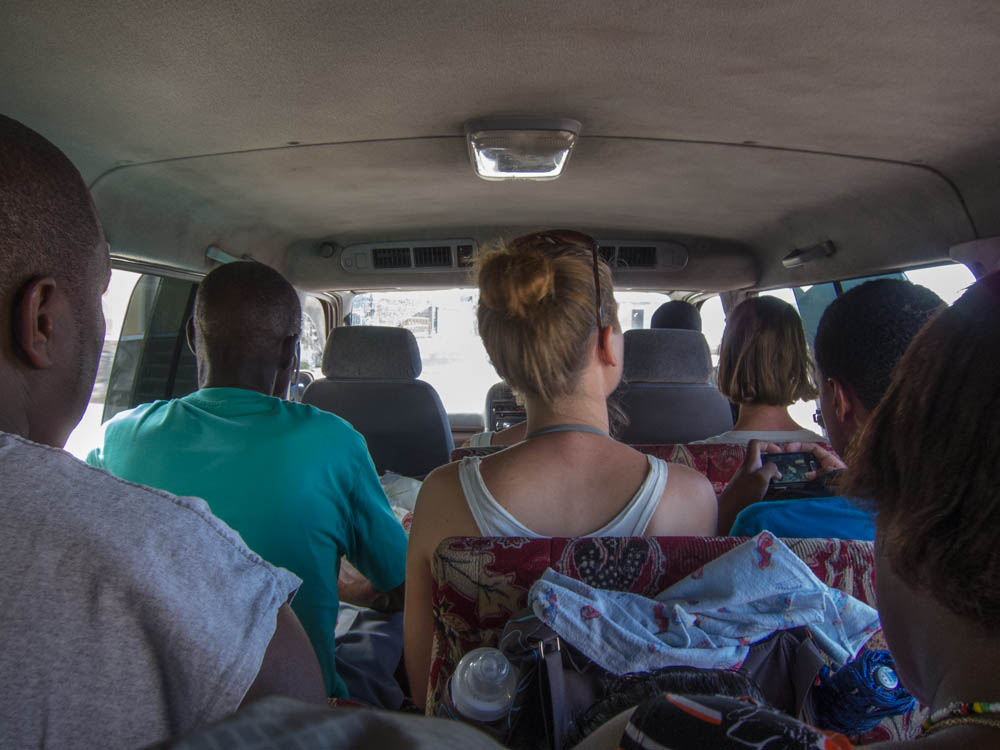 Next entry: Scotts Head, Dominica
Part of the Waitukubuli National Trail Journal