One of my favorite activities during this long trip has been attending sporting events around the world. About a month after attending the Singapore Formula One Grand Prix, I had the chance to go to my first live MotoGP race in Sepang, Malaysia.
Ever since buying a motorcycle 3 years ago, I have gotten more and more interested in MotoGP racing. I feel that it is more exciting than F1, and it is also a more relatable sport for those that had ridden motorcycles. While I can't even imagine driving an F1 car because of how different they are to regular road cars, MotoGP motorcycles, while very powerful, still have many things in common to machines one can buy and ride on the streets.
I arrived in Sepang from Singapore on a short 1-hour flight, and checked into a hostel close to the racetrack. I decided to stay close to the track since bad traffic can make the trip from the capital city of Kuala Lumpur up to 3 to 4 hours long each way on race day. The area around is not very interesting, but I didn't have much time to explore anyway. Just like for the F1 race, I like to attend all 3 days and watch all the practice sessions.
I arrived at Sepang International Circuit on a hot and hazy day. Hot is to be expected on pretty much every single day of the year in this region, but it had also been very hazy for the previous month and a half due to fires in Sumatra. I had gotten Main Grandstand tickets at 200 RM (about 45 USD) for the whole weekend, by far the cheapest MotoGP race in the world. You don't get a numbered seat, so you can roam around the huge grandstand that faces each of the two super long back and main straights.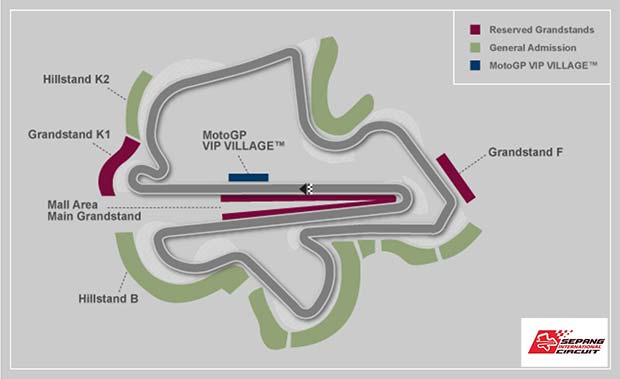 The visibility is very good from the grandstands. There's one section facing the back straight from where you can see half of the entire track. I spent the whole Friday checking out the different viewing areas, trying to find out where would be the best spot to watch the Sunday race from.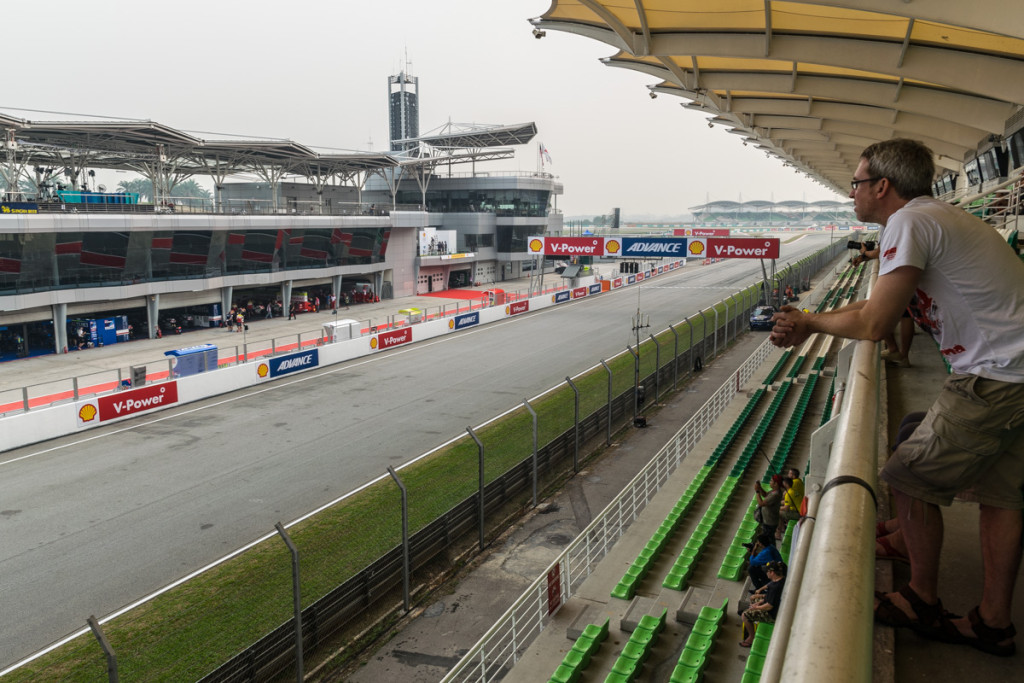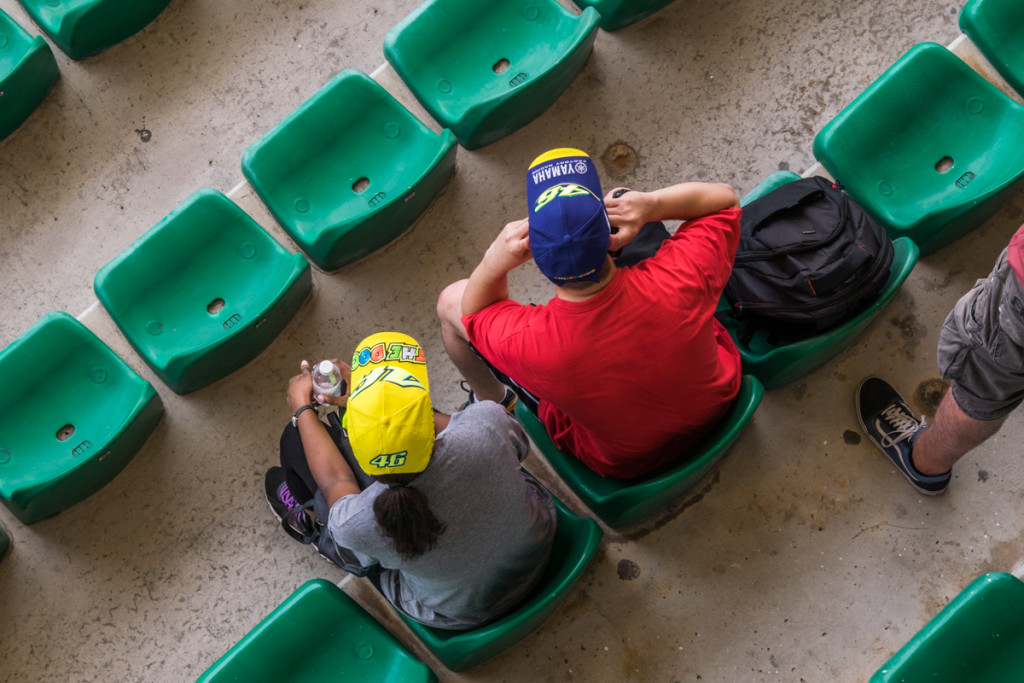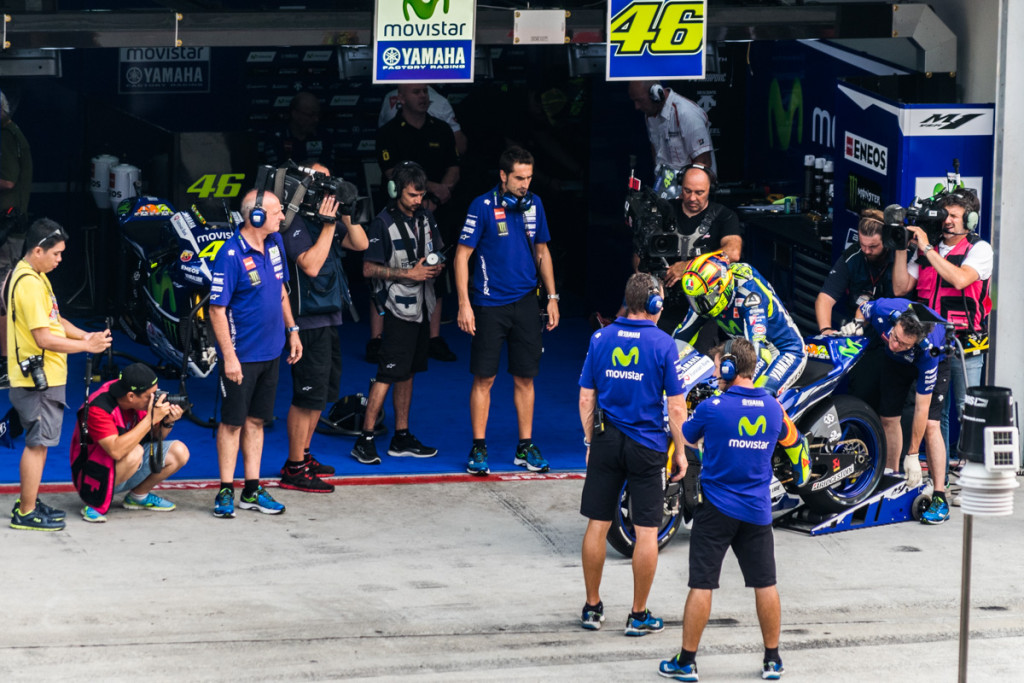 I had a huge smile on my face when I first saw and heard the MotoGP bikes screaming their way down the long straight. Just like at the Singapore F1 race, I realized how fortunate I was for the chance of doing a trip like this, and having a freedom to attend these great events. I was overfilled with joy. The bikes were loud and fast, and their acceleration was incredible. They are the pinnacle of motorcycle technology, and I couldn't help feeling proud of human progress and engineering.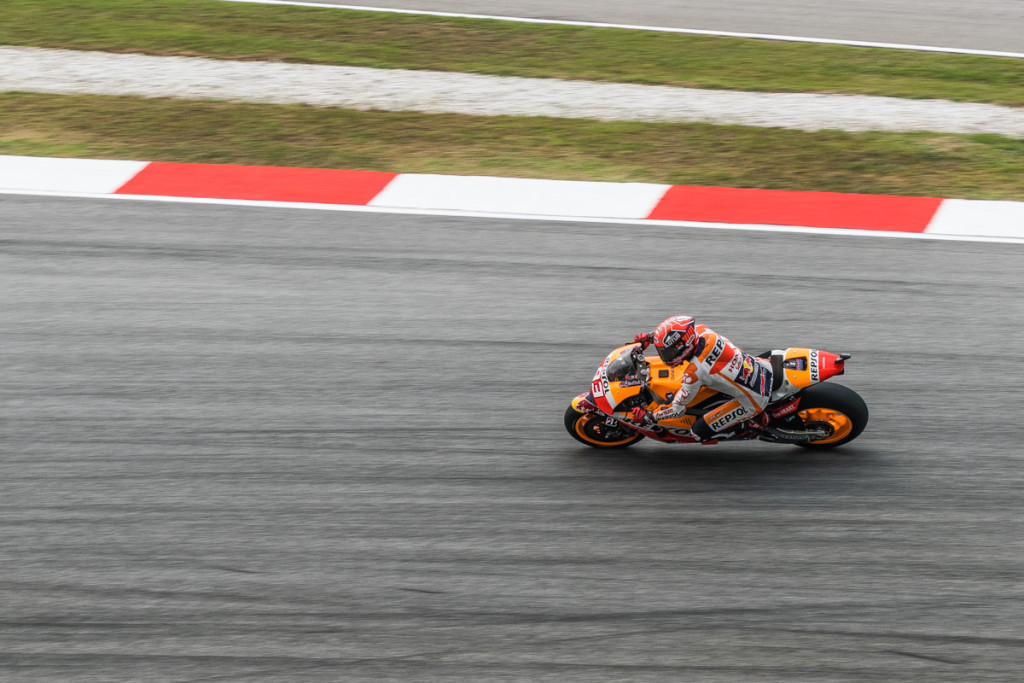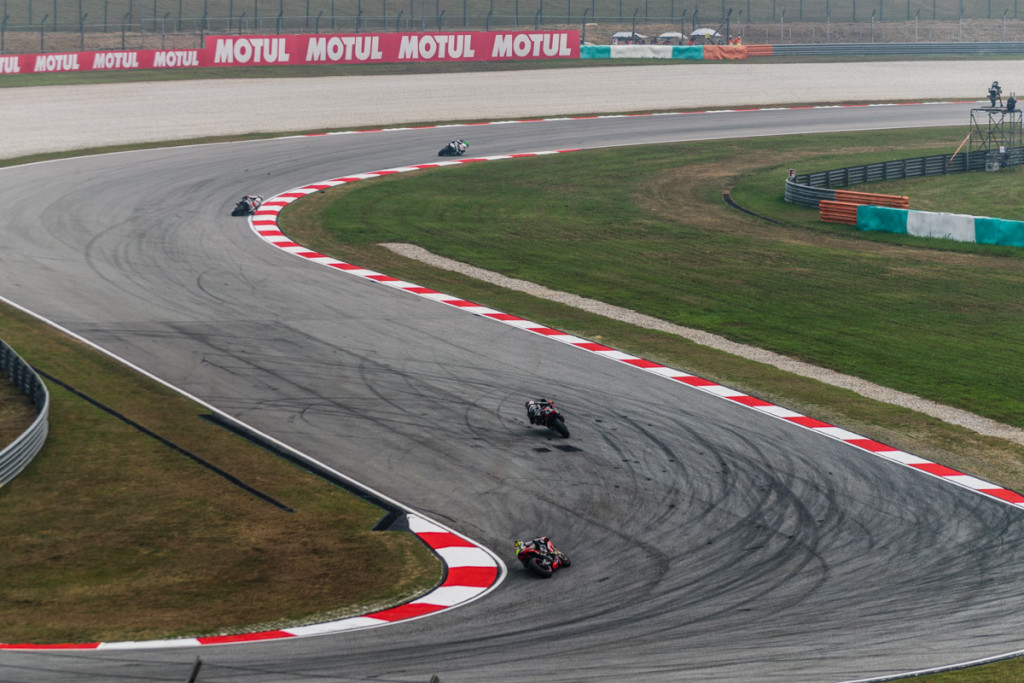 On a side note, I think MotoGP does a great job in being way more fan-friendly than F1. As examples, Friday was free admission to all areas of the track. There was a free autograph session by drivers for anyone willing to stand in line for 2 to 3 hours, as well as a free pit lane walk for the first 1500 ticket holders who queue up for it. Yes, the lines are long and it kind of sucks to wait for hours under the scorching sun, but dedicated fans can get a lot of value for their cheap tickets. Compare this to F1 where in order to get close to the pit lane one would probably have to spend over 1,000 USD.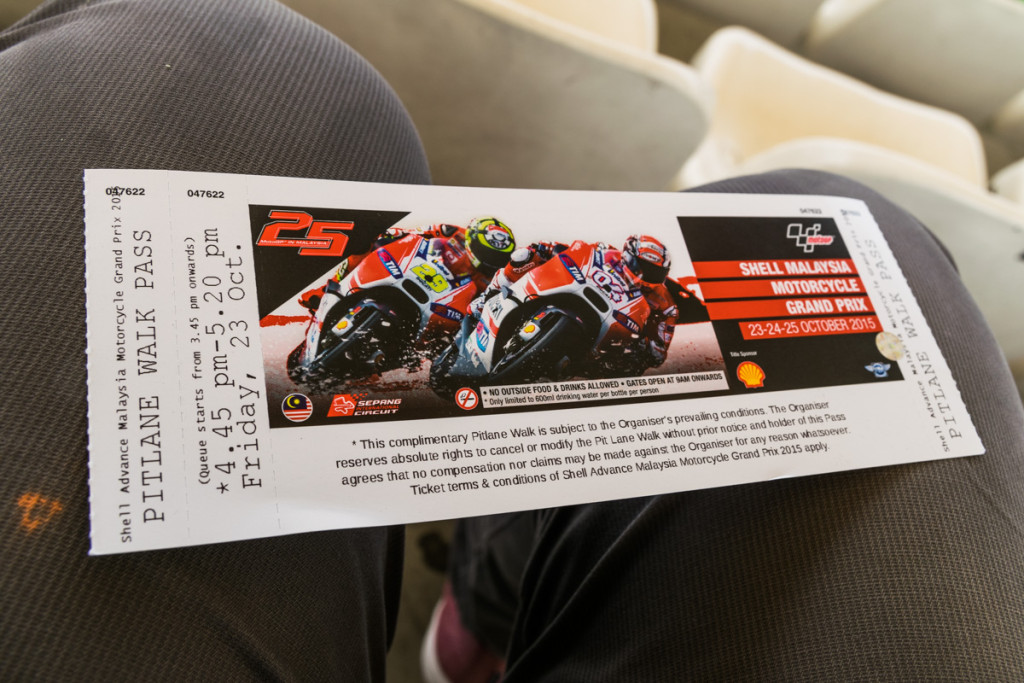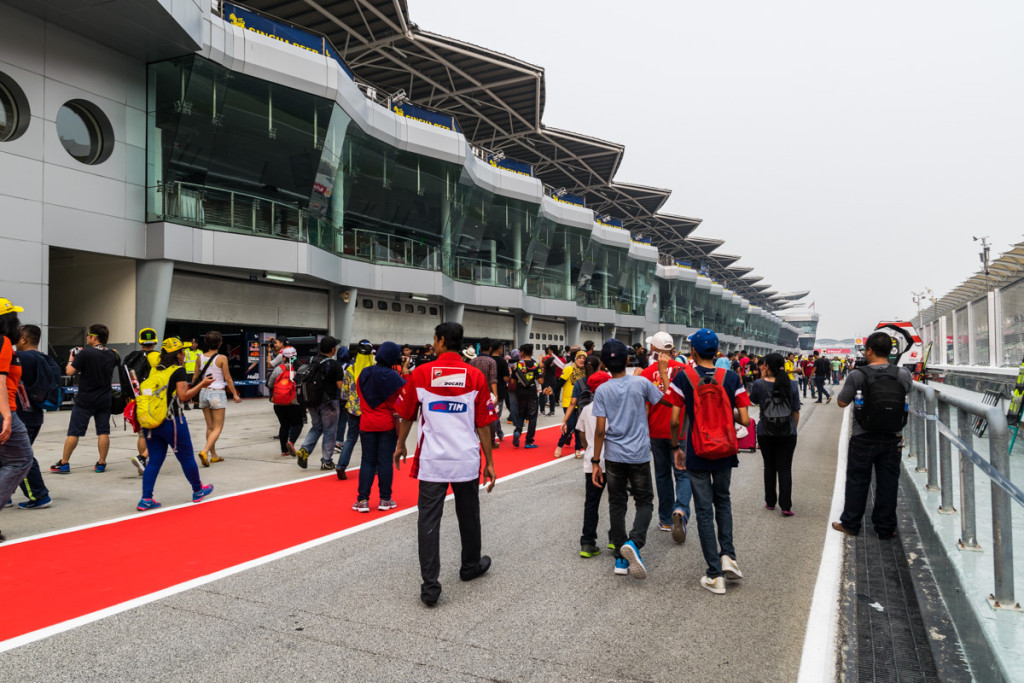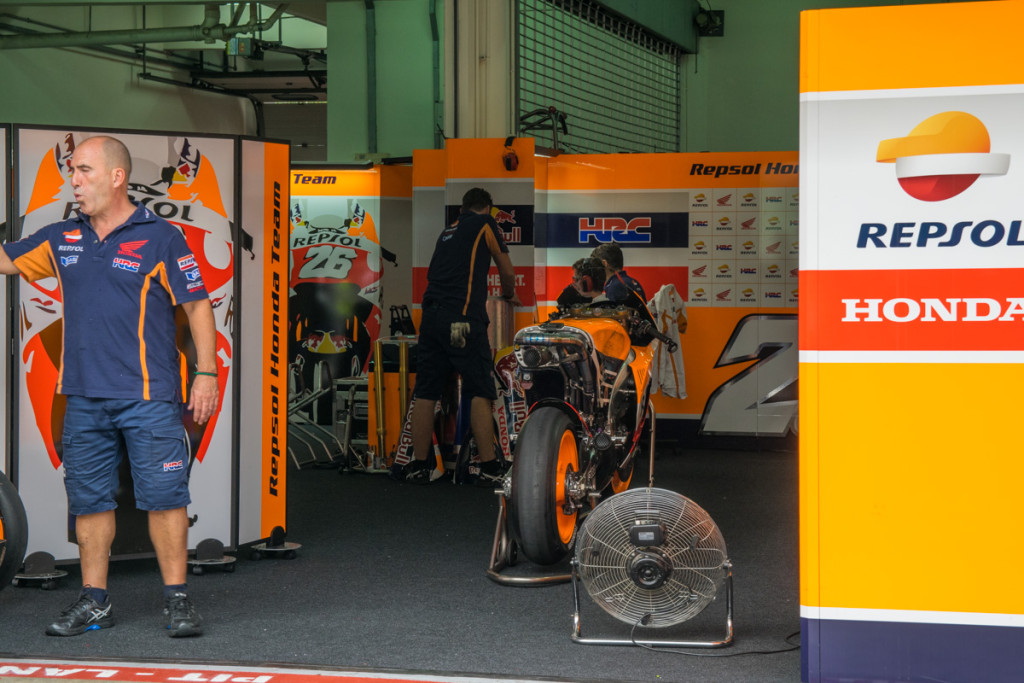 There's also a "mall area" with many booths. All the main motorcycle manufactures were there with many of their bike models on display, including the recently release Kawasaki H2R.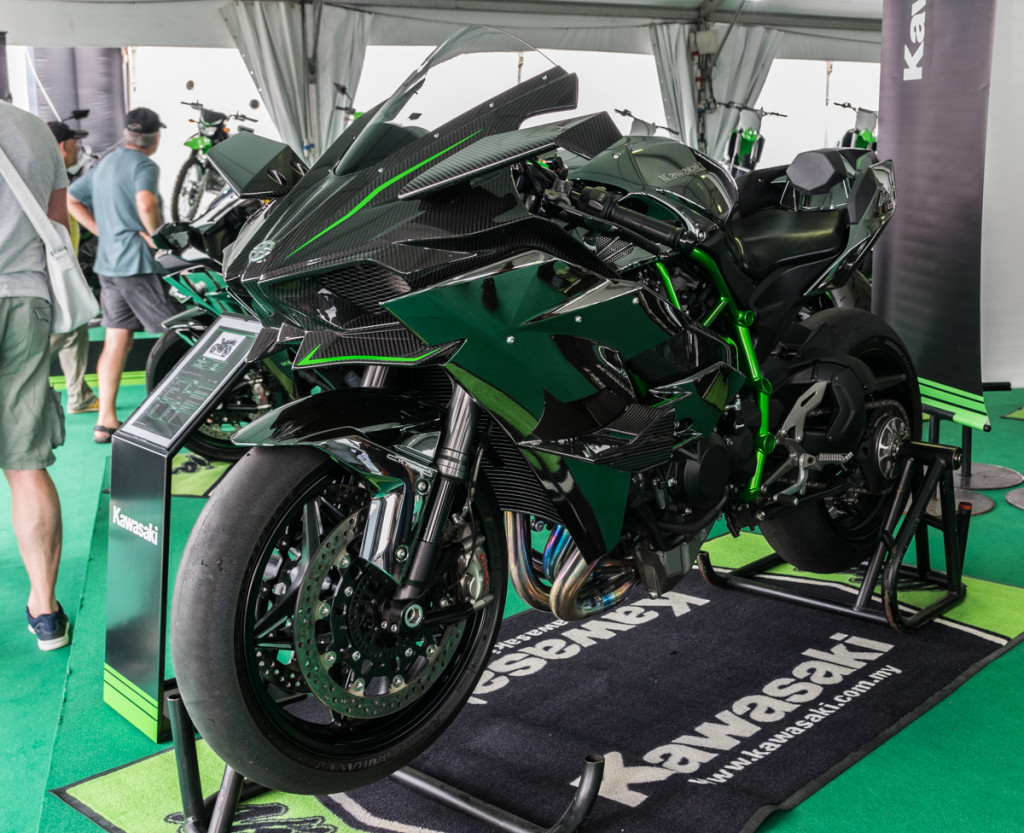 I watched Practice Session 3, and Qualifying on Saturday. Like so many fans around the world, I had become a Valentino Rossi fan, and he had a chance to clinch the world championship during this weekend. He ended up qualifying 3rd, and Jorge Lorenzo (his only remaining rival for the title) 4th.
And then Sunday finally arrived. Was I about to witness history on my first ever MotoGP race? Could Valentino win his 8th MotoGP championship at age 36?
Traffic was pretty bad on the way to the track. I saw lots of motorcycles (some very expensive ones) on the streets. There were hundreds of them in the parking lot, and many fans rode all the way from Thailand for the occasion.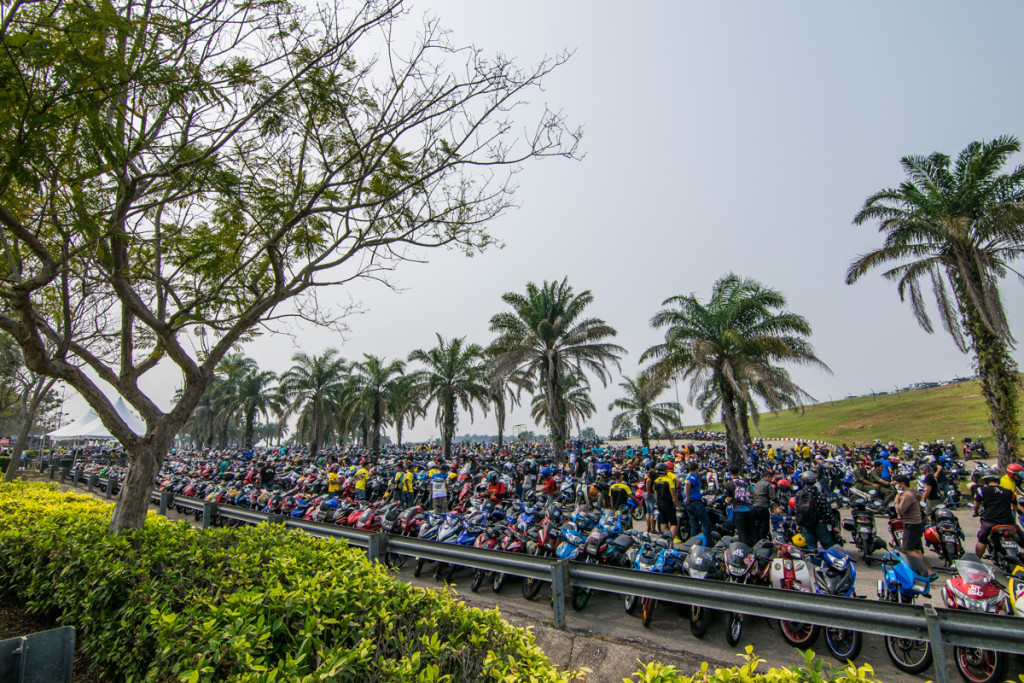 With a 3pm start time for the main race, the stands were already pretty packed at 10am, especially around the best sections to watch the race from. There are many areas with great views, but only a few with a big screen to follow the race. Without a screen, it's hard to fully experience and understand the race. I had decided to watch it from the section on the back straight where you can see half of the track and where there's also a big screen. Apparently many people had to same idea and there wasn't one single seat available. I had to settle with seating on the isle stairs. Not very comfortable, but at least I had nobody in front of me to block my view.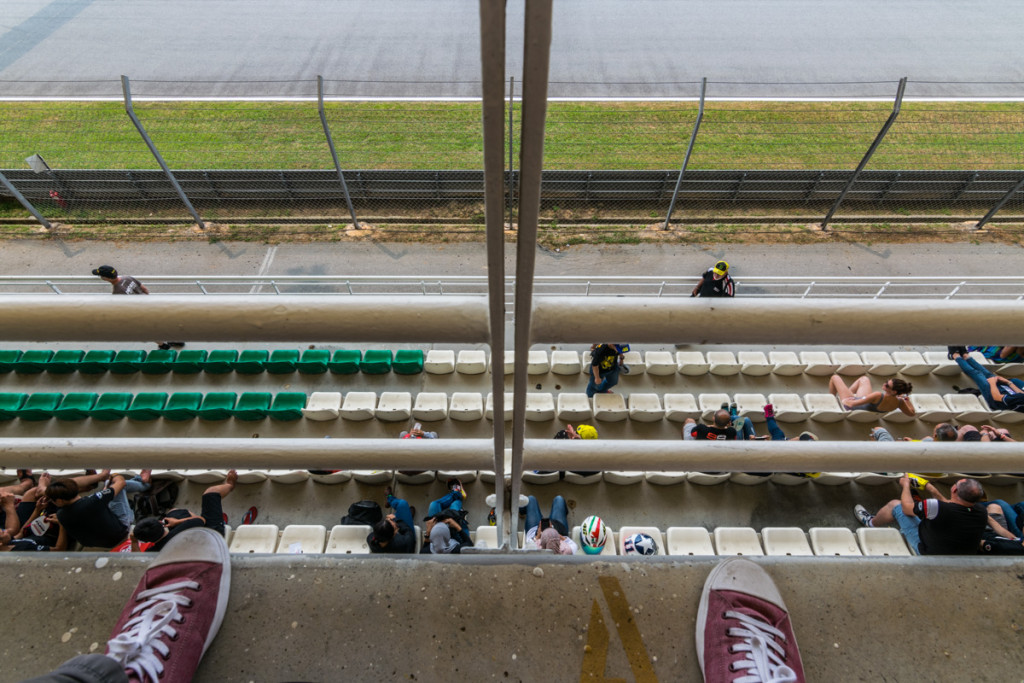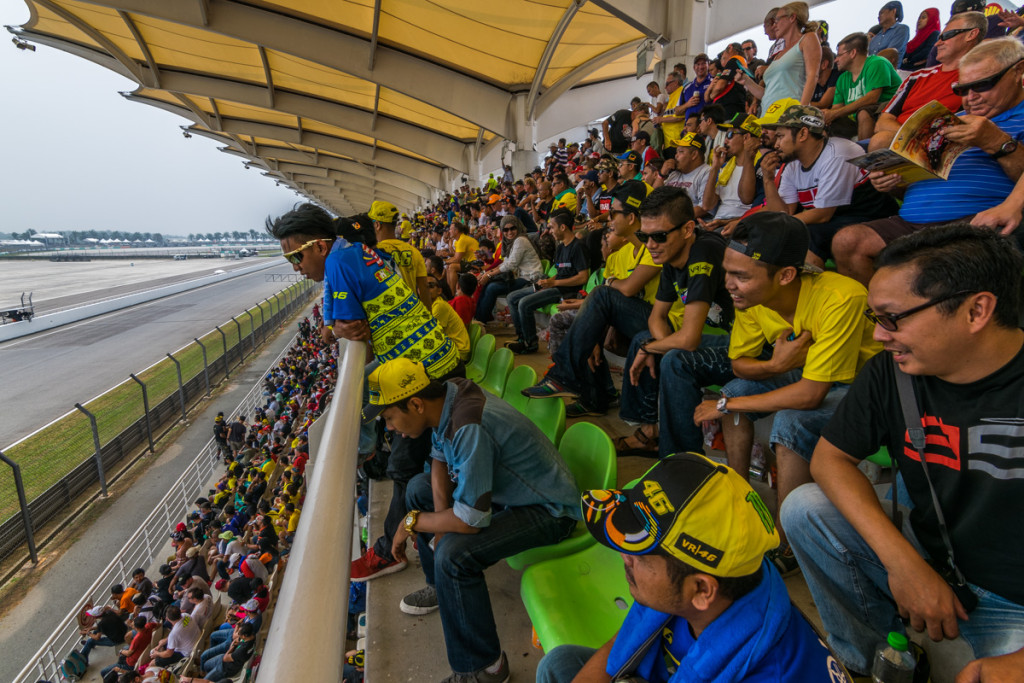 There were pretty entertaining preliminary races for the moto2 and moto3 categories. Lots of riders fell on the S curves right in front of me. After what seemed like forever, the MotoGP race was finally underway.
The crowd was overwhelmingly pro Valentino, as he battled with Marc Marquez for many laps, violently passing each other on multiple occasions. This was until lap 9, when Marquez bumped into Valentino's knee, and Valentino kicked him to the ground. This happened at the corner right before the back straight where I was sitting. The crowd went wild, but after watching the replay they were largely subdued for the rest of the race, probably because they realized that Valentino would most likely get penalized for what he had done. That is exactly what ended up happening, as he would be forced to start the last race of the season from the last place in the grid. The rest of the race (and maybe the season) was tarnished by that incident.
In summary, this was a fantastic experience for me. I'm so glad that I was able to watch a MotoGP race at such a great track and for such a low price. If I lived Asia, I would try to attend this race every single year.