Looking for a place relax after Myanmar, we decided to fly to Thailand for its beautiful beaches. I was shocked at how modern Bangkok was with its high-rise buildings, fancy cafes and restaurants, large shopping malls, and state-of-the-art transportation. But Bangkok was not why we came to this country, so after two nights there we headed southeast to the island of Koh Mak.
To get there, we took a minibus from Bangkok to the outskirts of Trat. After a shared taxi, we boarded a 1-hour fast boat which passed by the much larger island of Koh Chang and the much smaller Koh Wai, which looked very beautiful and peaceful. We convinced ourselves that we would have to go there later on.
We checked into our resort in Koh Mak, and was disappointed that the nearby beach was not very nice. The sand was dark and coarse, with ocean trash on it. The swimming pool was nice though, and we welcomed the rooms with A/C in the hot and humid weather. The next two days we rented a scooter and explored the island, finding much nicer beaches.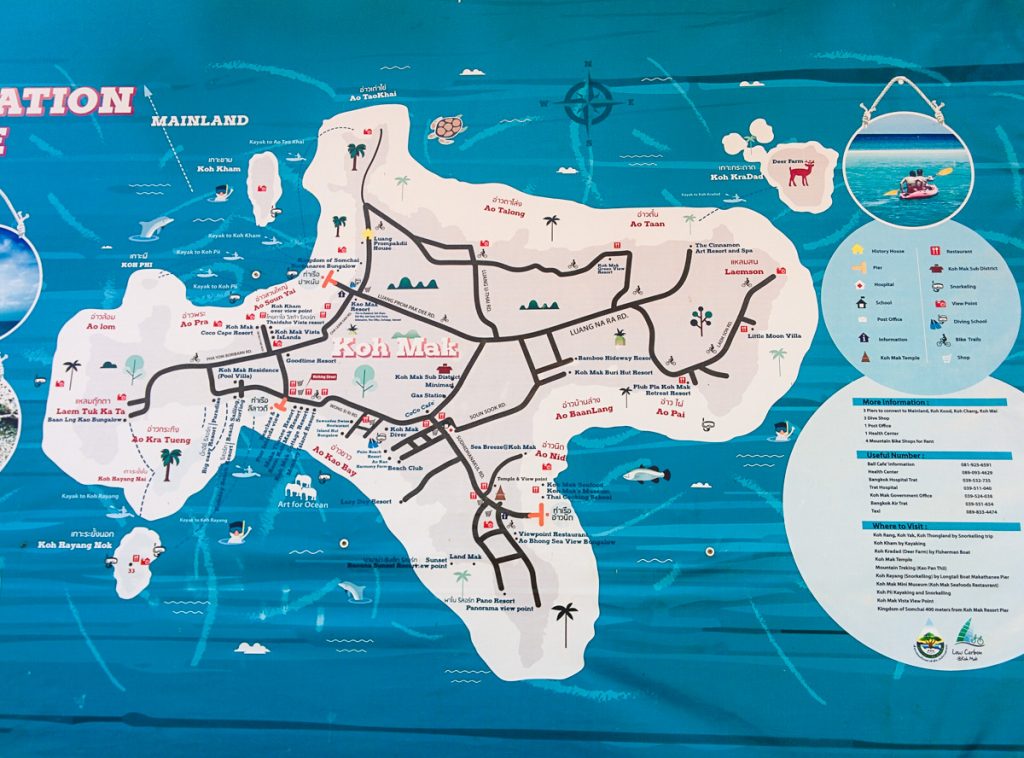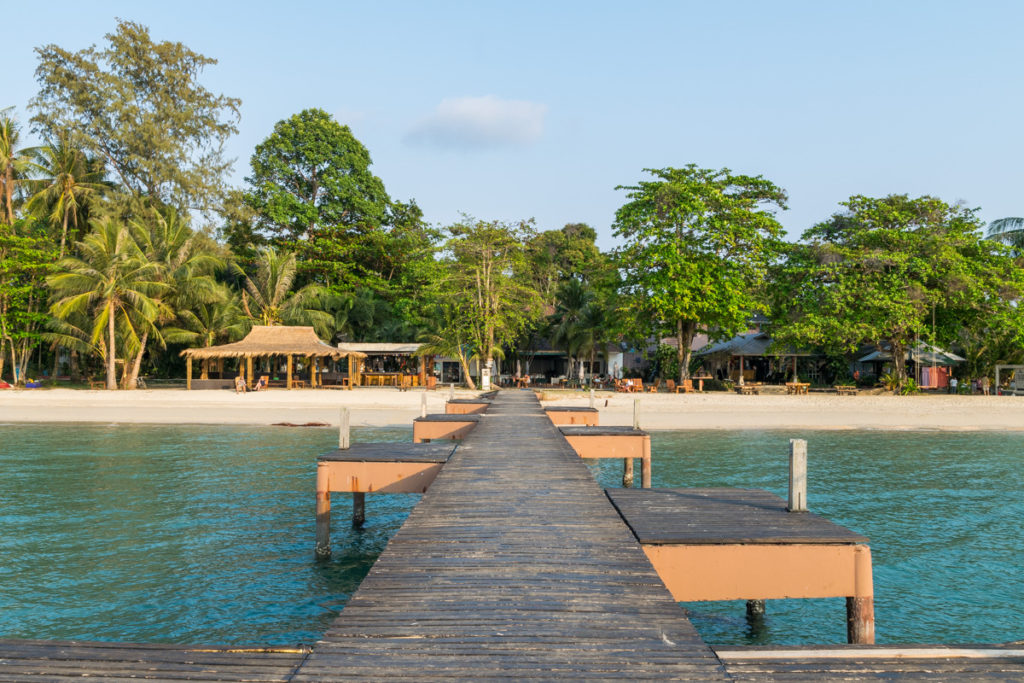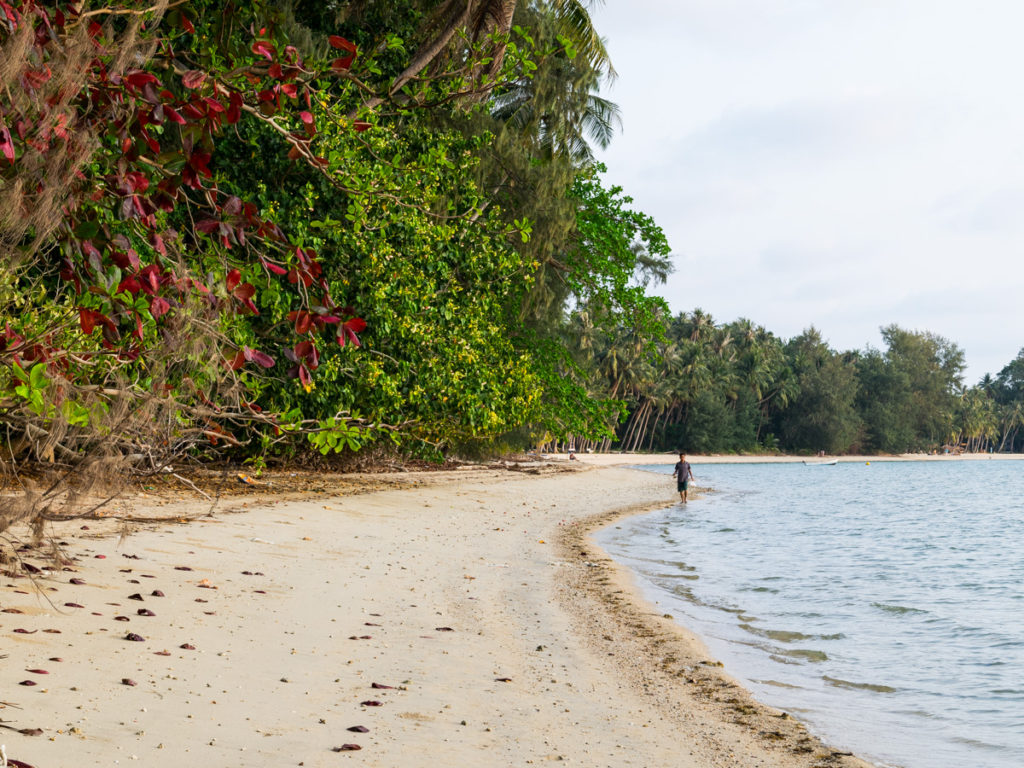 After four nights in Koh Mak, we were ready to make our way to Koh Wai. While Koh Mak had paved roads with cars and scooters, plenty of restaurants, electricity, and convenience stores, Koh Wai had none of these things. What it lacks in comfort, it makes up in tranquility and beauty. Aside from a few boats for snorkeling day trippers from late morning to early afternoon, the island is very calm and quiet. There are four small resorts with bungalows on the north side (joined by a walking trail), and there is a bigger and more modern resort in the south (which we didn't visit).
We booked a bungalow at Good Feeling for 400 bahts a night (about 12 USD). It was very basic, with a bed, a toilet (with a bucket for flushing), and not much else. There was no electricity except for between 6pm to 10pm. Needless to say, there was no wifi either. But I did get used to the lack of comfort after a couple of days. By then it didn't bother me anymore. We tried to extend our stay after three days, but were told that somebody else had already booked it and there were no more bungalows available.
We had to pack up and move to another resort on the island: Pakarang Resort. A basic bungalow there was twice as expensive at 800 bahts a night (about 23 USD), but had electricity all day, and a fan. There was free wifi at the restaurant, but I found it useless as it would take minutes to load a simple webpage.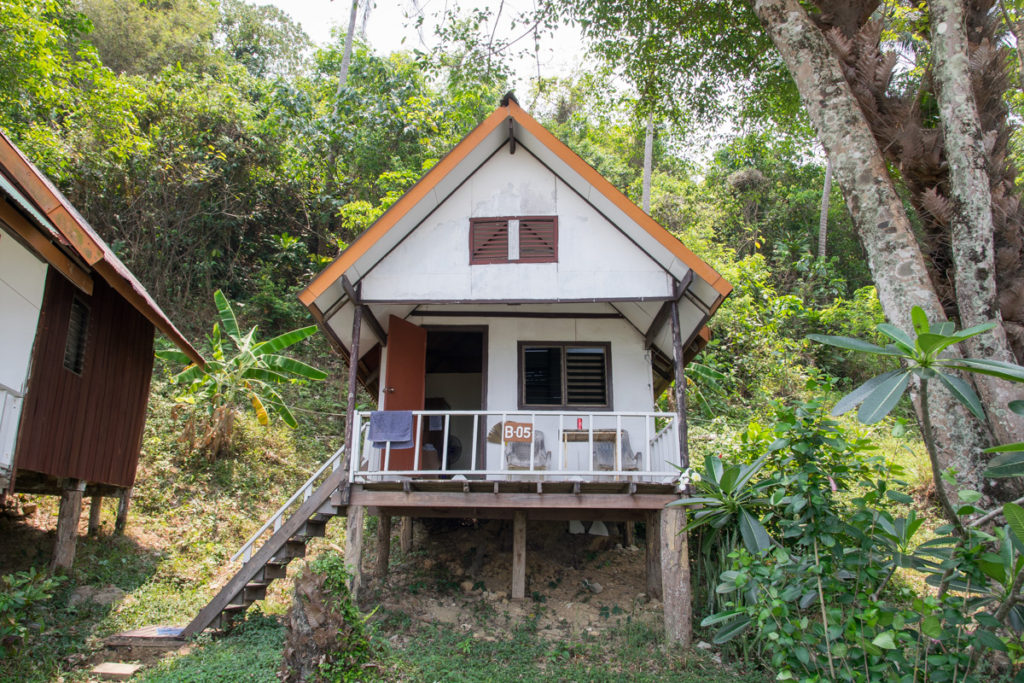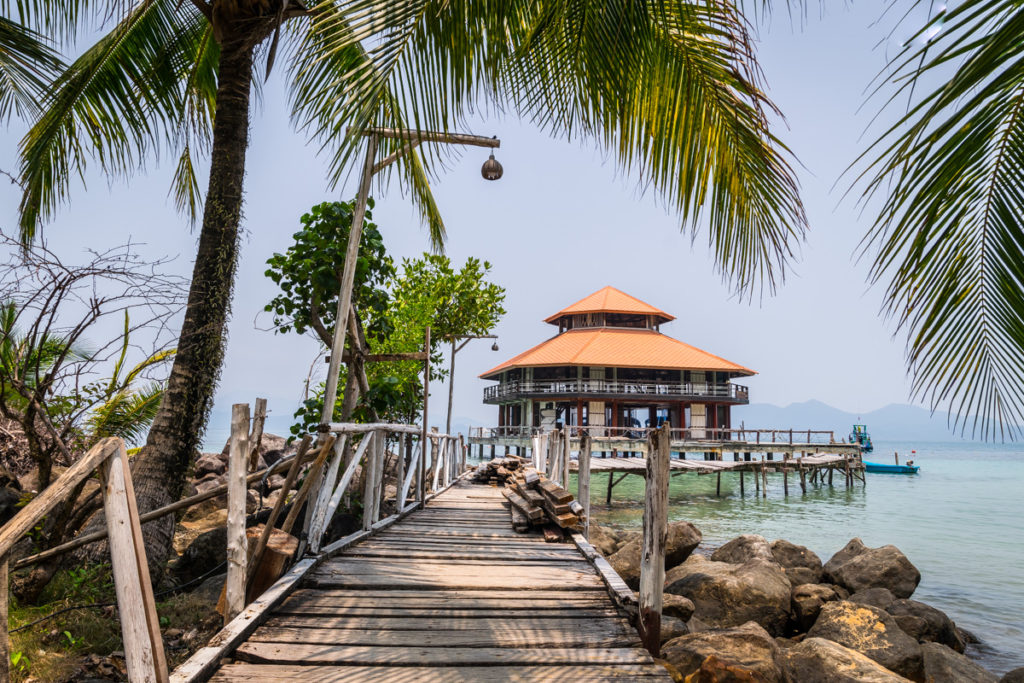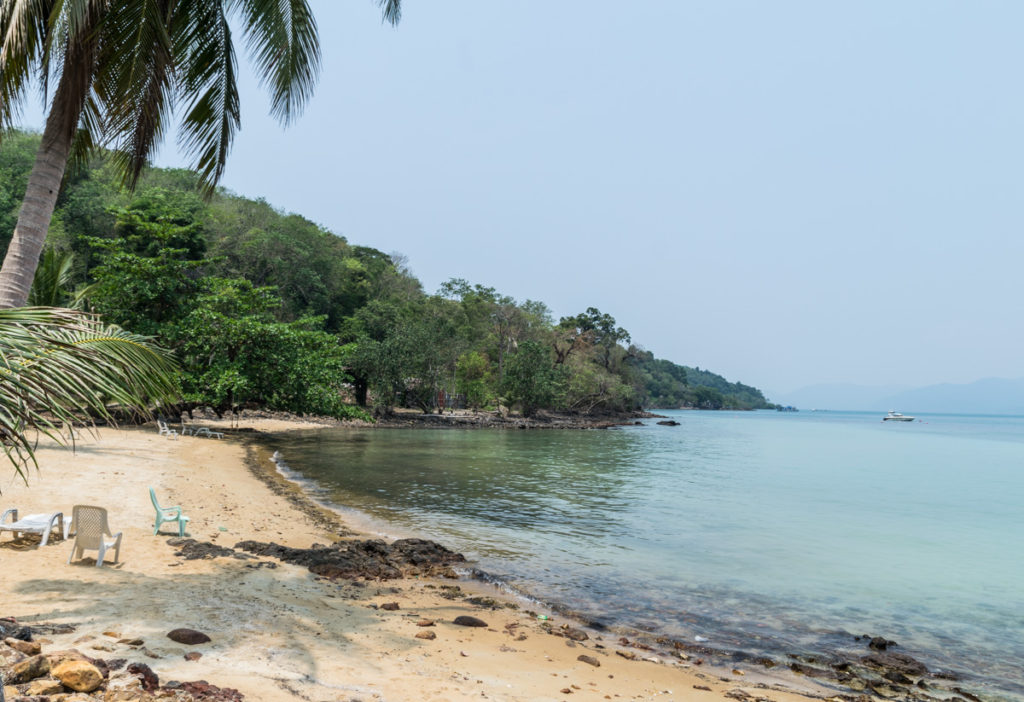 We ended up staying seven nights at Pakarang. Getting more and more lazy after each day. Neither of us was very motivated to do much, and the heat didn't help with that either. Our typical day would start by waking up between 7 and 8am. After going to the restaurant to get breakfast, we would go into the water for a swim. It would then start to get hot so we would take refuge from the sun inside the room or on the bungalow's veranda. Lunch was always at the same restaurant. An hour or two before sunset we would go to a more remote beach on the eastern end to see the sun go down. Most of the time we were the only ones there. Then it was back to the bungalow where we would fight with the twilight mosquitoes for a while before they retreated. We would then rush to get dinner at the restaurant before they closed at 8:30pm. Then it was back to our veranda to relax before bed.
We did this for a whole week, and the days started to all blur together. We would not know if a given day was a Wednesday or a Sunday. Sometimes we would rent snorkeling gear and go explore the pretty corals just off the beach (and find interesting fish with interesting names like the Many Spotted Sweetlips). I did take advantage of the free time to catch up with editing pictures and writing for this blog.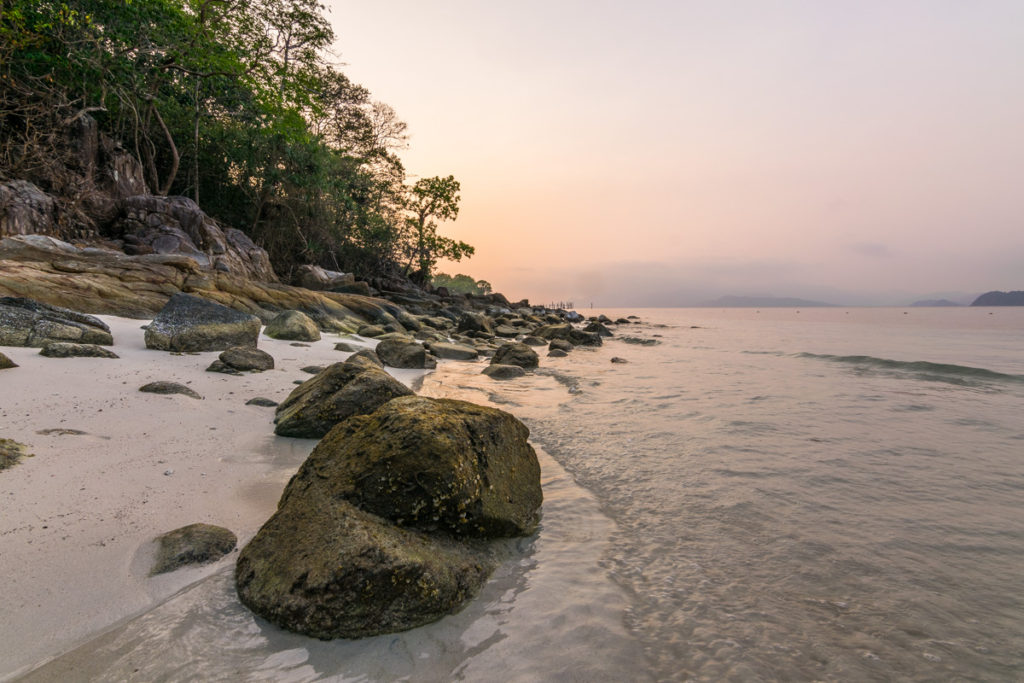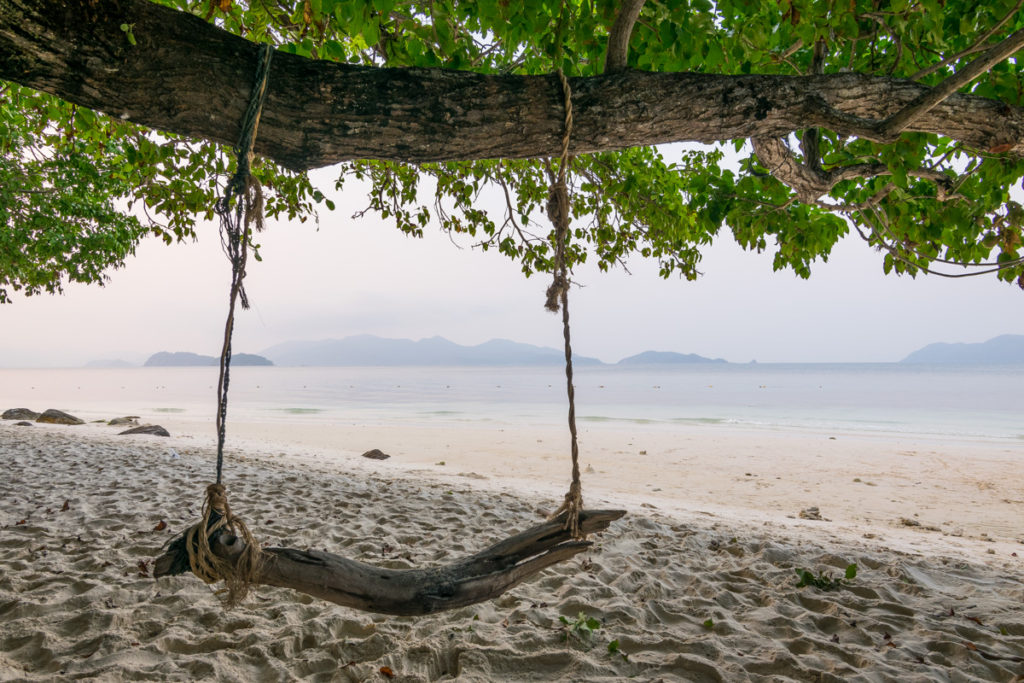 Being very close to the border with Cambodia, we decided that after Koh Mak we would head over to Angkor Wat, a place that I've been wanting to go for a while.