After a very relaxing time in Koh Wai, we took the ferry to and spent a night at that pleasant town of Trat. The following morning we were on a minibus on our way to the border town of Aranyaprathet, where we would cross the border to reach Siem Reap, Cambodia.
We had read blogs warning people of scams going on at the border crossing. They could try to sell you overpriced Cambodian visas on the Thai side. The buses once on the Cambodian side might intentionally stall for hours, hoping you would get tired of waiting and decide to take an overpriced taxi. They could also drop you off outside of Siem Reap, where you'd need (you guessed it) an overpriced taxi to get into town. Knowing this, we only purchased a bus ticket up to the border. This was arranged by our hotel and only cost 300 bahts per person (about 8.50 USD).
The minibus picked us up early in the morning from our hotel, and after a 4-hour ride we were at Aranyaprathet. They made us wait at a restaurant hoping that we'd eat there. After about 30 minutes another small minibus came to take us to the border, which was only 5 minutes away. We got off the car and walked over to the Thai immigration office to get our exit stamp.
After passing a bridge and an old-looking gate, we were officially in Poi Pet, Cambodia. Right away, you can see the difference in wealth between the two countries. On the Cambodia side the buildings and roads are not as modern, and everything appears a little more hectic.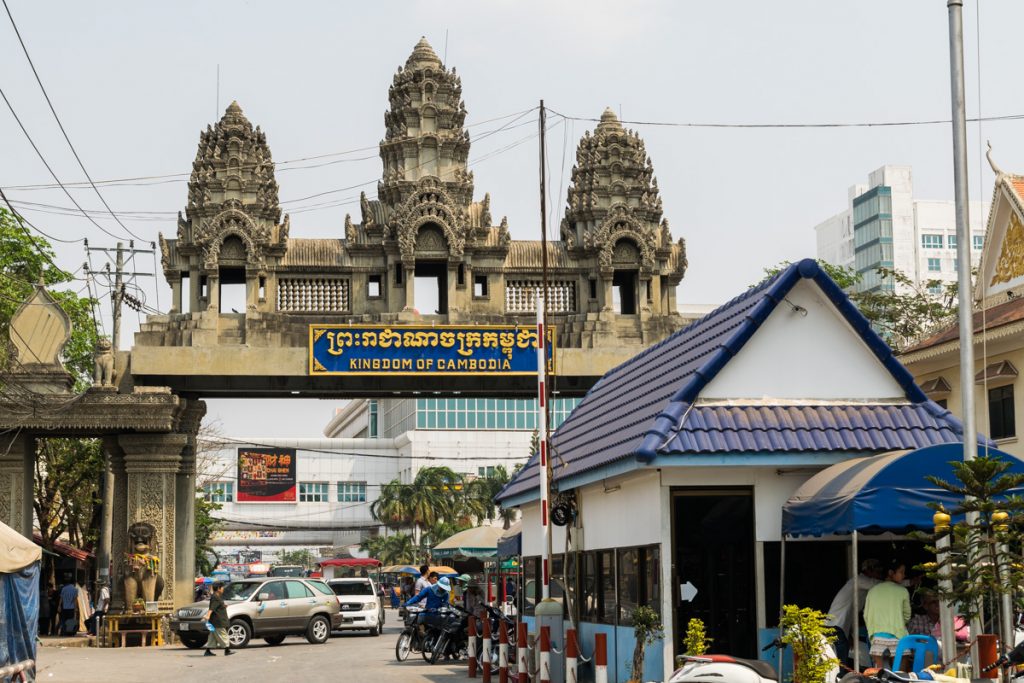 Since we had already gotten e-visas online (40 USD), we skipped the Cambodian visa office and went directly to their immigration office. There was a long line there but at the counter things went smoothly. They took my passport and printed out visa, and everything was finished within two minutes.
With our passports stamped, we walked a few hundred meters down the main road to get past the taxi touts. They were a bit persistent but nothing too bad. We then found a taxi that would take both of us to Siem Reap for 28 USD. It seemed cheap and we accepted. It turned out to be a shared taxi, and we had wait one hour before driving to some countryside house to pick up a couple of other passengers. We tried to not let the delay bother us, and enjoyed the scenery and atmosphere.
After 2.5 hours we arrived to our awesome hotel (Visoth Boutique Hotel) in Siem Reap at around 5pm.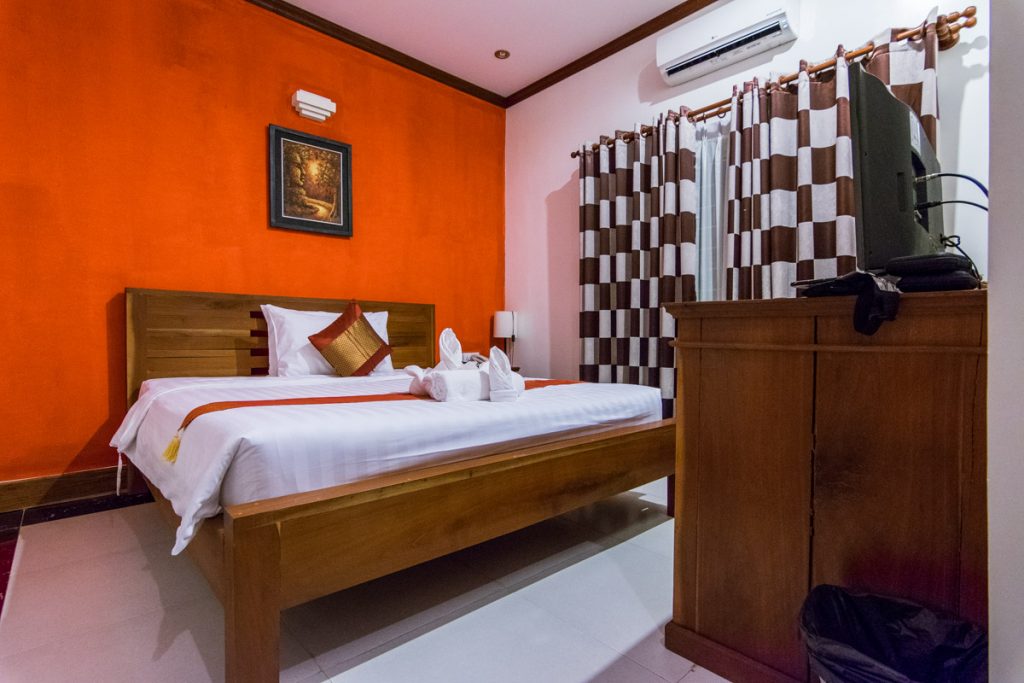 We had heard that if you take the direct bus from Trat and decide to go through all the unnecessary delays that they make you go through, you might not get to Siem Reap until after 10pm. We were definitely happy to get there before sunset.
I found the city to be extremely touristy. Pretty much everything is set up to profit from tourism. At the same time the hotels have high standards, and the customer service everywhere was excellent. We spent the night walking around the city and having our first taste of Khmer food.