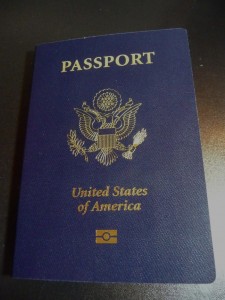 I recently renewed my old US passport that was set to expire in February 2012. There's now an option to get the thicker 52-page version instead of the regular 28-page version, with both costing the same. It used to be free to add extra pages to an existing passport, but now it costs $82 to do so. So if you don't get the extra pages now, you'll have to pay for them later on. With this in mind, and the possibility that I might end up using up all the pages of the slimmer version during my upcoming trip, I opted for the 52-page one.
I was really excited about getting the new passport. I checked online almost everyday on my application status. The regular service is supposed to take 4-6 weeks, but I got it under 3 weeks. I also got my old passport back in the mail a couple of days after the new one.
Aside from having more pages, the cover is also much thicker than the old one, probably because of the microchip they put in it now. Of the 52 pages, only 41 are available for visas and stamps, the rest contain miscellaneous information.
Assuming that I don't lose it or have it stolen, this little blue book is going to be my inseparable companion on many adventures around the world.