It's been almost a year and a half since I got my DSRL and since then I have taken over 10,000 pictures. Being an ultralight hiker, if you would have asked me 2 years ago if I would ever consider taking 5+ pounds of photography equipment around the world, I would have definitely said no. But now that I've had a taste of the possibilities available with a big camera, I just couldn't go without it.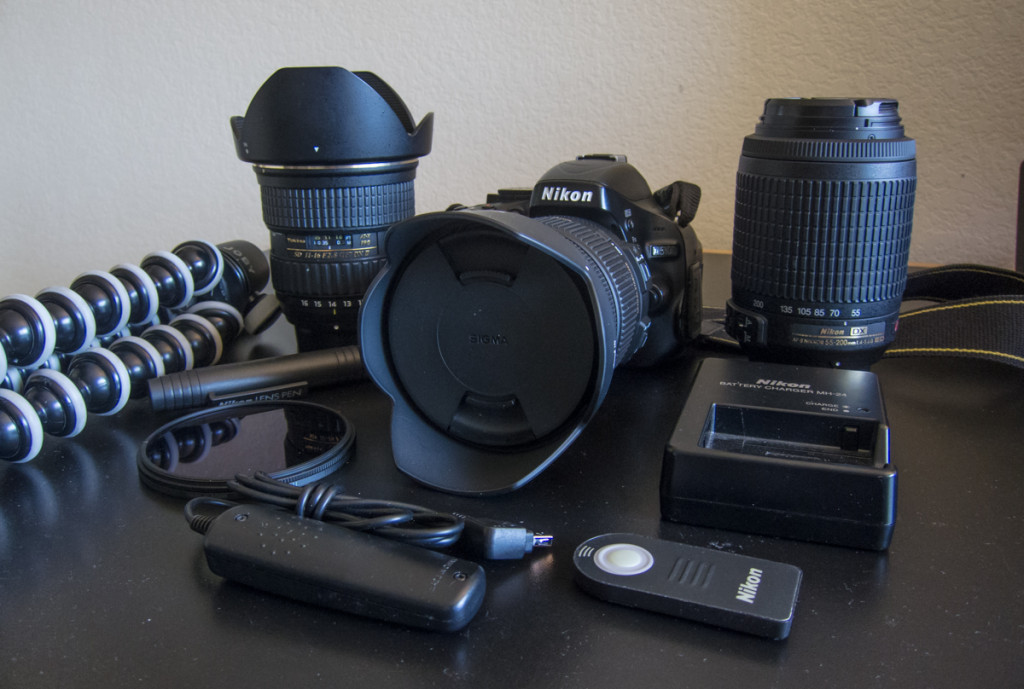 I have narrowed down my photography gear list to the following:
Nikon D5100
Sigma 17-50mm f/2.8 (recently bought)
Tokina 11-16mm f/2.8
Nikon 55-200mm (recently bought refurbished for very cheap)
Gorillapod SLR Zoom with Ballhead
Marumi DHG Super Cirular Polirizer Filter
Generic Shutter Release Cable
Nikon ML-L3 Remote Shutter Release
Nikon Lens Cleaning Pen
Nikon MH-24 Battery Charger
All of that comes to a whopping 6 pounds or 2.72 kg, which is insane to me since I cut the handlebars off toothbrushes to save weight. I really don't know how excited my body and ailing knees will feel after a few weeks of carrying all this. I figured that if I changed my mind, I could always just sell all the gear on the road.
The 6 lbs don't even include the camera bag that I still need to get. Another item on my long pre-departure to-do list.