Previous entry: Day 7: Posada Concepcion to El Rosario
Total miles for the day: 350 miles, 563 km
It was going to be another cold day, and I knew it would only get worse the further north I went. I decided to put the tank bag on the back so I could get my helmet really low and let the windshield block most of the wind. I also wore an extra sweater (4 total layers up top) and long johns. All of this helped a lot as the temperature was the same as the previous day, but it didn't feel nearly as chilly.
I wanted to avoid getting home too late since the temperature was going to drop into the 40's F back home, so I only stopped for gas and restrooms. I did have to stop to take some pictures when I saw this tarantula cross the highway.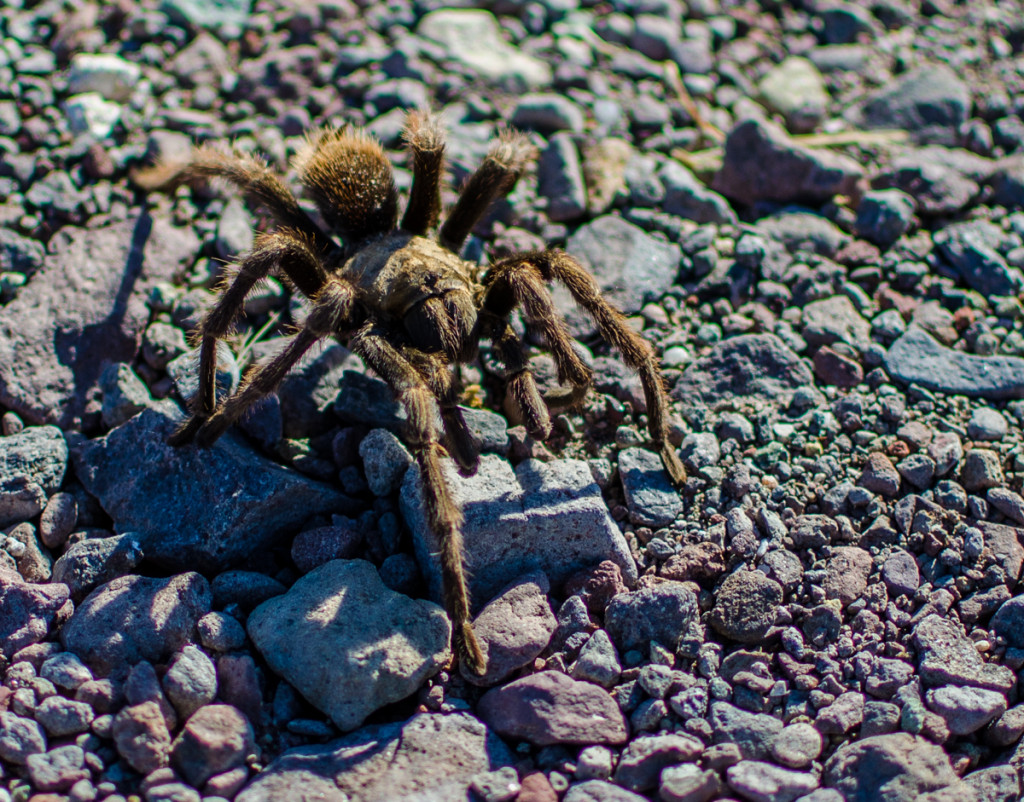 I made my way into Tijuana at around 2pm, but got lost for a while. I eventually found my way to the border crossing after asking for directions at a gas station.
Next came the exciting part of the day. For those who haven't been to Tijuana, this is the busiest land border crossing in the world. If going by car, the average wait time on a Sunday (the busiest day, and the day I was there) can be anywhere from 3 to 6 hours. By lane-splitting with the motorcycle, I was able to zip through it in about 25 minutes. It was really a sensory overload experience: vendors everywhere, people yelling, loud music coming from different places, all sorts of products being sold, the smell of different foods, and so on. I think this video explains it better.
I crossed the border without problems. The ride home felt long. I was pretty much in full tuck position the whole way and didn't feel too cold. As I pulled into my garage, I checked the odometer. I had done 2,555 miles (4112 km) in 8 days. Each mile was totally worth it. I wished I had more days though, maybe 14 instead of 8, as I didn't have much time to explore each town and take proper pictures.
Mexico was much safer than I imagined. I don't think I ever felt unsafe during the whole trip. The locals I met were all very polite and helpful.
I didn't ride for a whole week after coming back. I later realized that the rear tire was punctured as it was completely flat after not moving for a week. The puncture must have happened in the last day of the trip since I had checked the tire pressure that morning and it was fine. Oh well, it was time to change it anyway since it was getting squared off already after about 3,500 miles. I really love how the Pirelli Diablo Rosso II tires handle, but they really were not made for touring.
This was the trip that I will always think of when I think of my first motorcycle. I wanted something like this to remember my Ninja 250 by.