Journal entry for August 29-31, 2017
Leaving the town of Olympia, we stopped at Trader Joe's to re-stock before starting our 2.5-hour drive to Mt Rainier.
After a not very exciting drive, we arrived at Ohanapecosh Campground in the middle of the afternoon. There were plenty of campsites still available. While big, the campground is peaceful with lots of space between sites, and lots of trees to provide shade. We picked a nice isolated spot close to the bathroom. Both of us felt a little burned out from traveling too fast the previous days, so we decided to take it easy for the rest of the day. It was nice to not have to rush things since we were staying for two nights.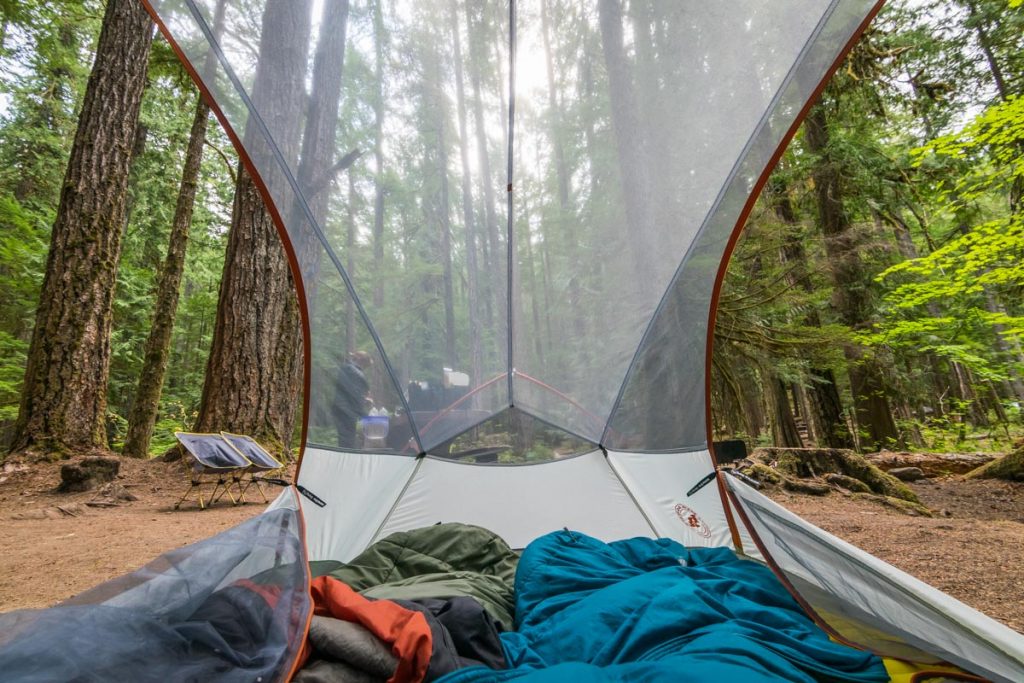 There's a visitor center inside the campground, and in there we got some maps and advise for hikes for the next two days. While they didn't sell firewood at the visitor center, there's a man that drives around in a truck at around 6pm selling wood bundles for $6. He even gives you some kindling for easy fire starting.
After the visitor center we then went back to our site, ate lunch, set up our tent, and watched a movie inside it. It felt like a weird thing to do, but as Jenni said, this is going to be our life for the next 2 1/2 months so it's fine to do regular life things like watching a movie from time to time.
It was nice to have a relaxing afternoon of doing nothing. But after a good 8-9 hours of sleep, we were ready to explore. We drove first to Paradise, on the southern base of Mount Rainier. On the way there we got the first glimpse of the famous mountain. It was a hazy morning, so we didn't see it until we were really close to it. The size of it caught me by surprise.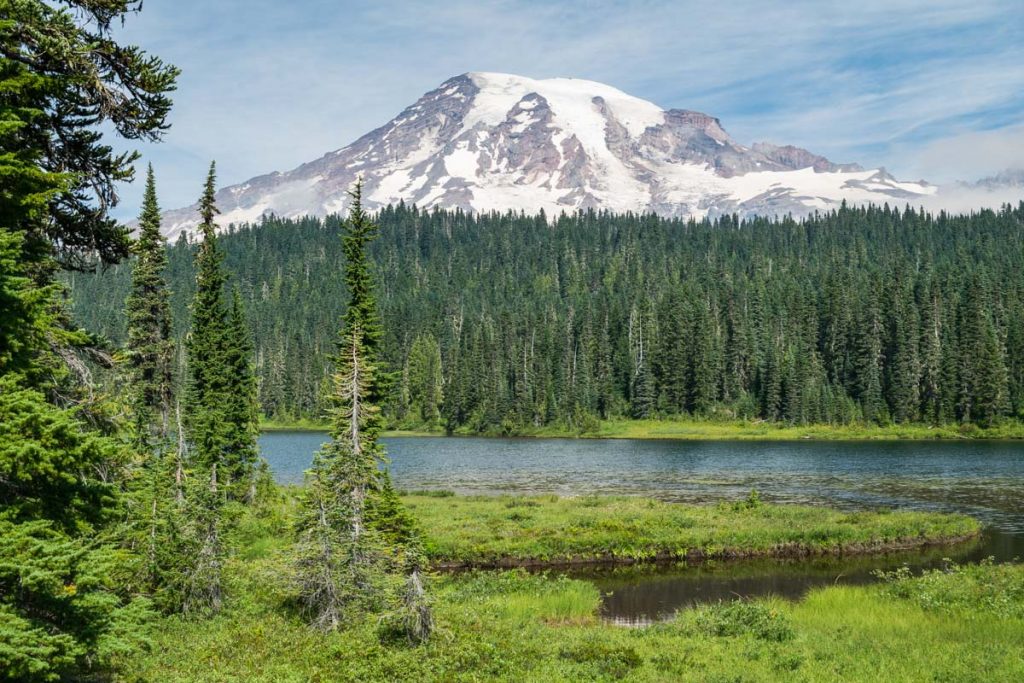 Paradise's Visitor Center area is very pretty but also extremely busy. We did the short hike up to Myrtle Falls, and then went up the mountain a bit more after that. It's a beautiful area with pretty flowers and meadows, and great views of Rainier. We also saw a marmot on the way down.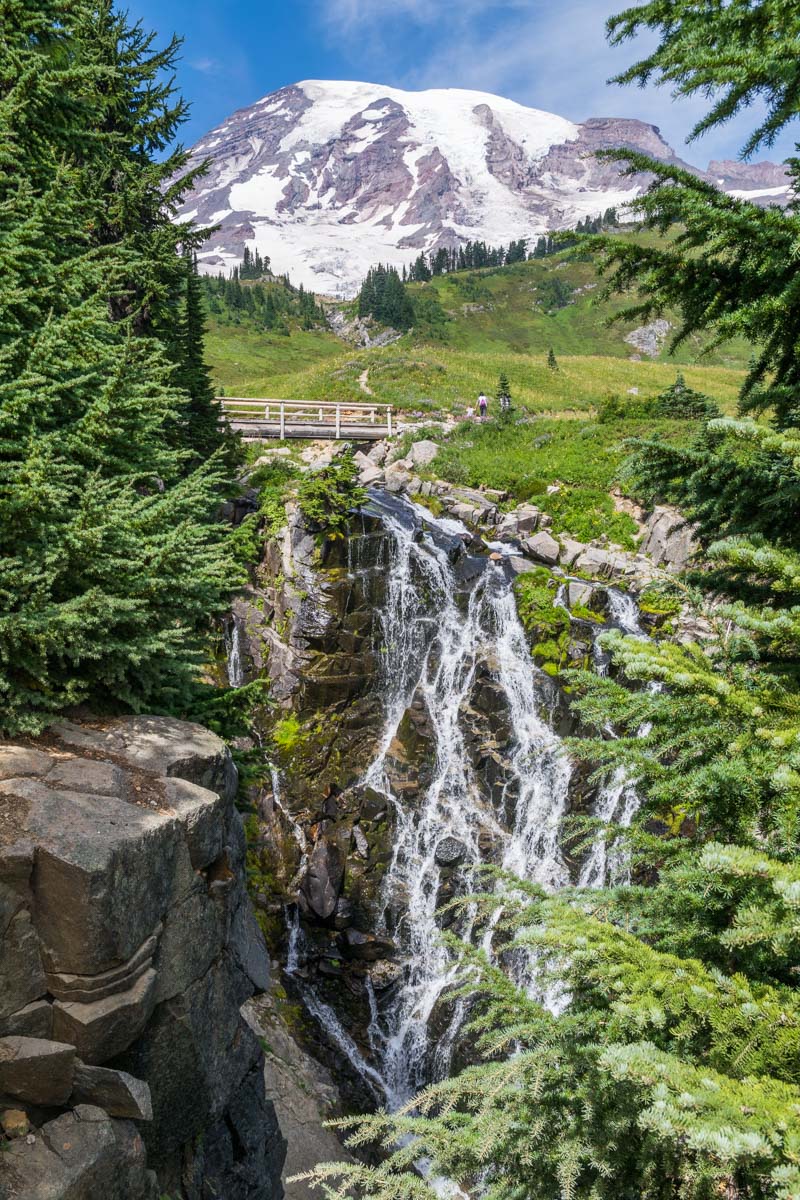 Jenni, who had been researching hikes in the area, wanted to go up to Pinnacle Peak. It's a short 1.5-mile hike up to a saddle right before the peak. The views up there were spectacular. We could see Rainer on the north, and Mt. Hood (and maybe Mt. Shasta too?) on the south. On one side of the saddle is Pinnacle Peak, which requires some scrambling to reach. On the other side is Plummer Peak, about the same height as Pinnacle but with an easier to follow trail. We did the latter and were rewarded with great views.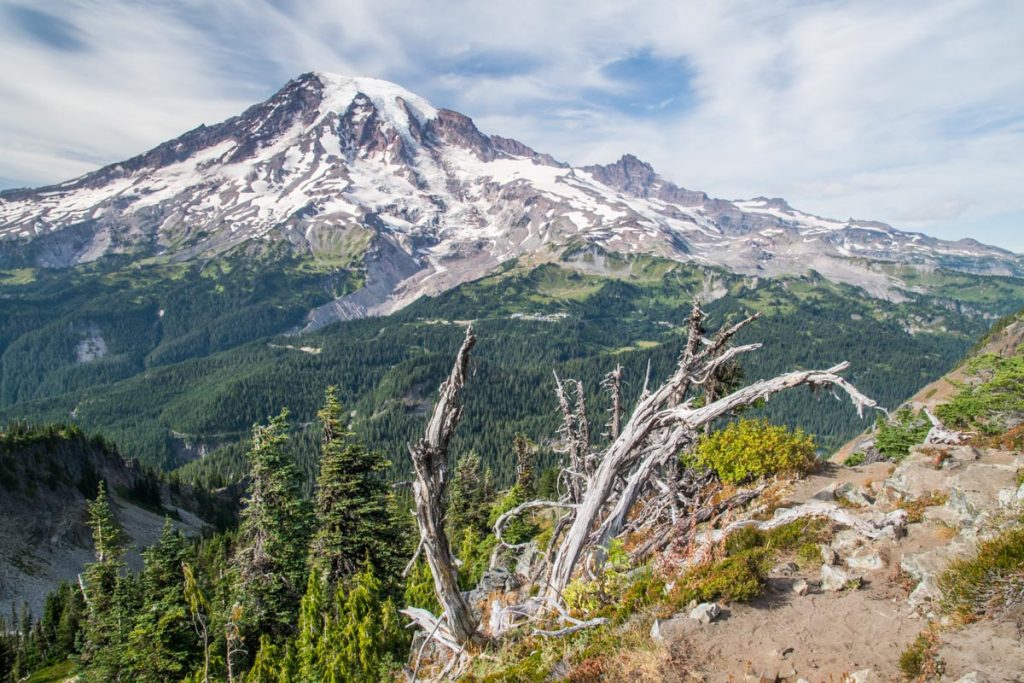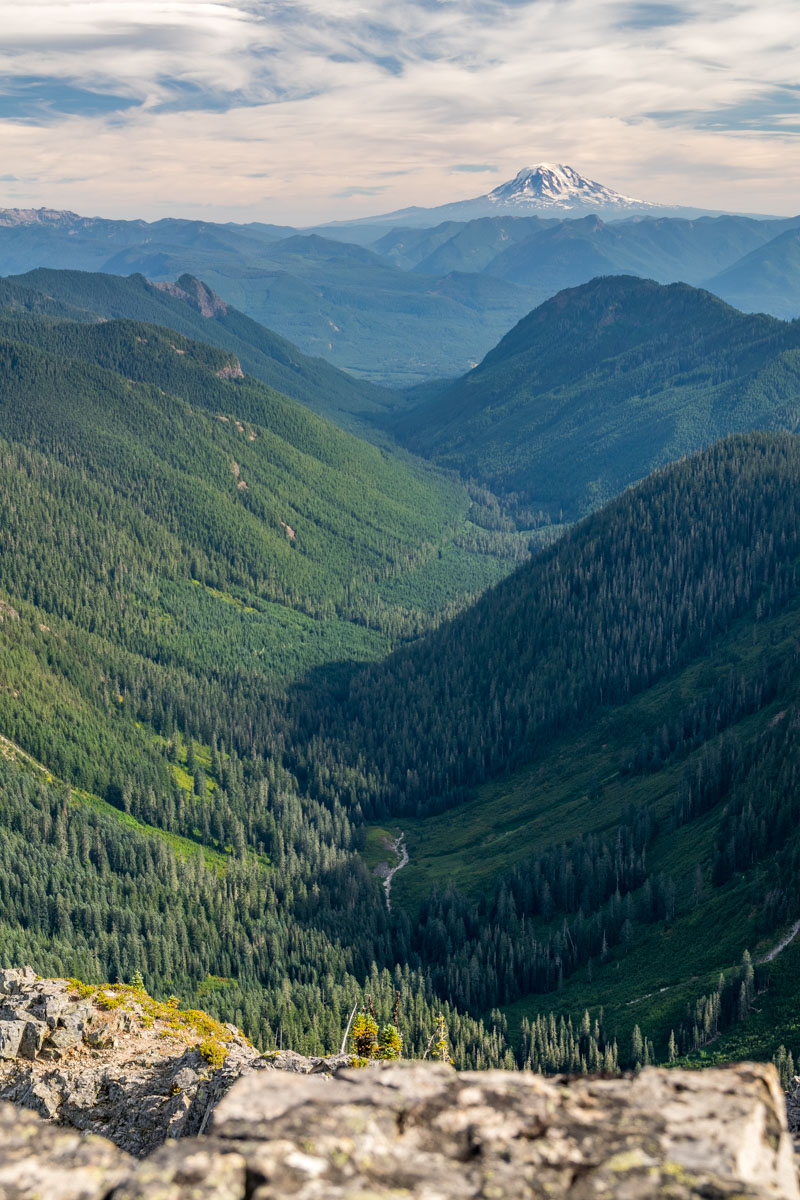 The next morning, on the way out of the park, we drove north to Sunset to get a different view of Rainier. After a moderate 5-6 mile hike that was crowded, we reached Mount Freemont Lookout. There's a nice cabin on top of the lookout, although you are not allowed to go inside.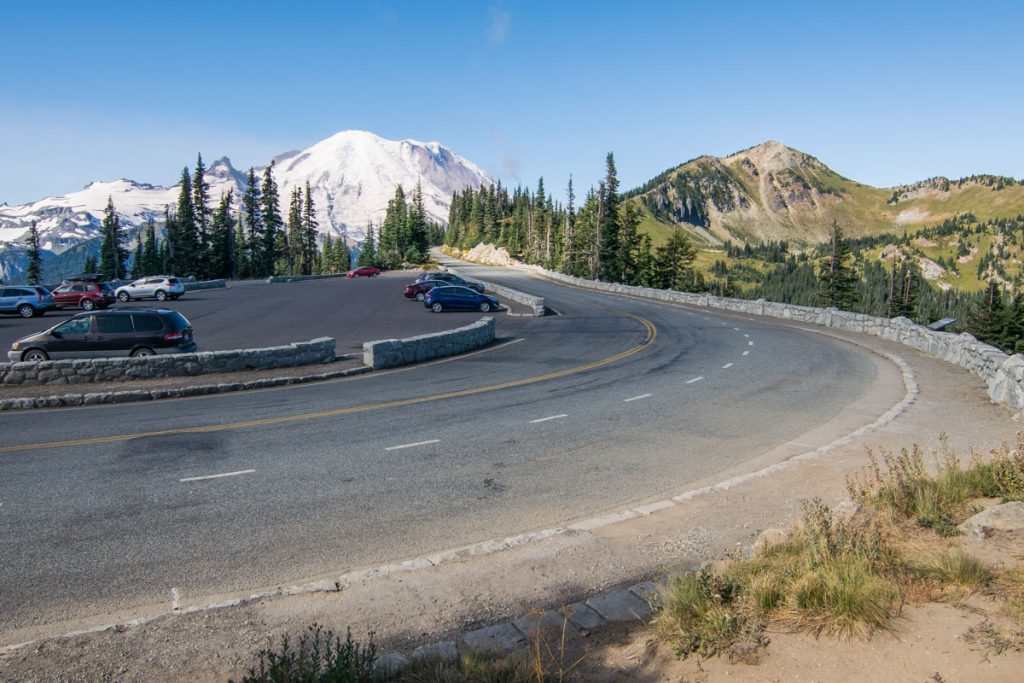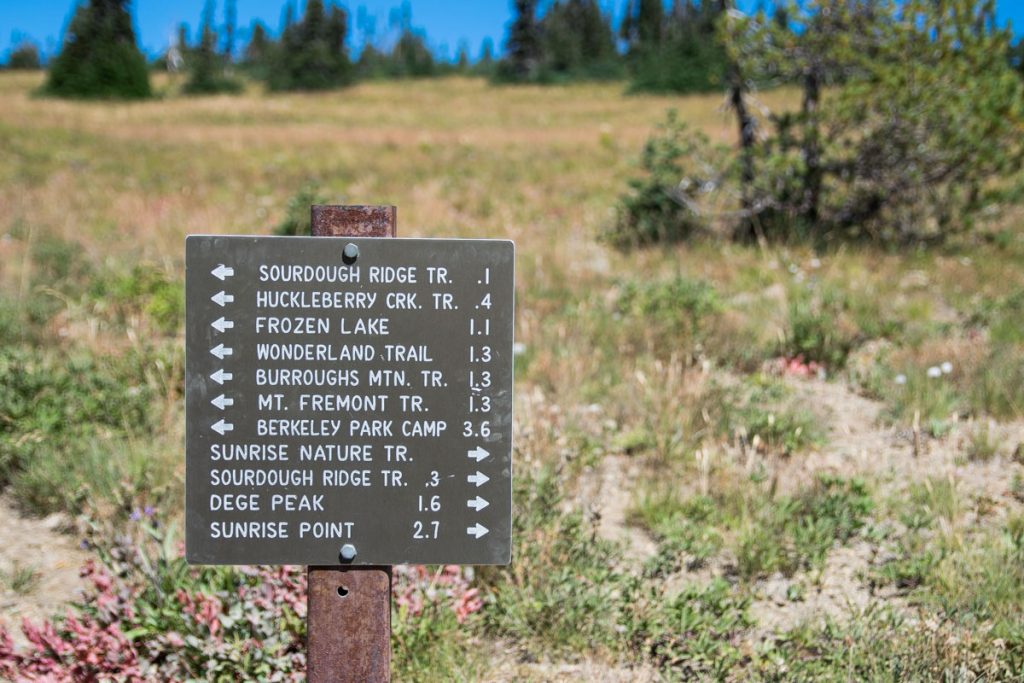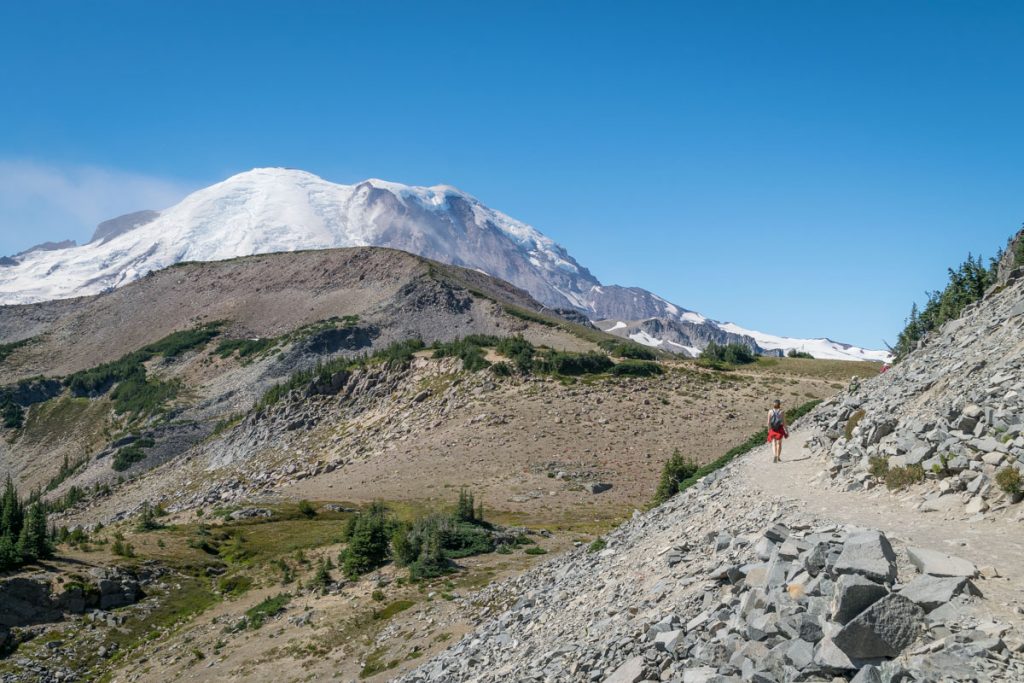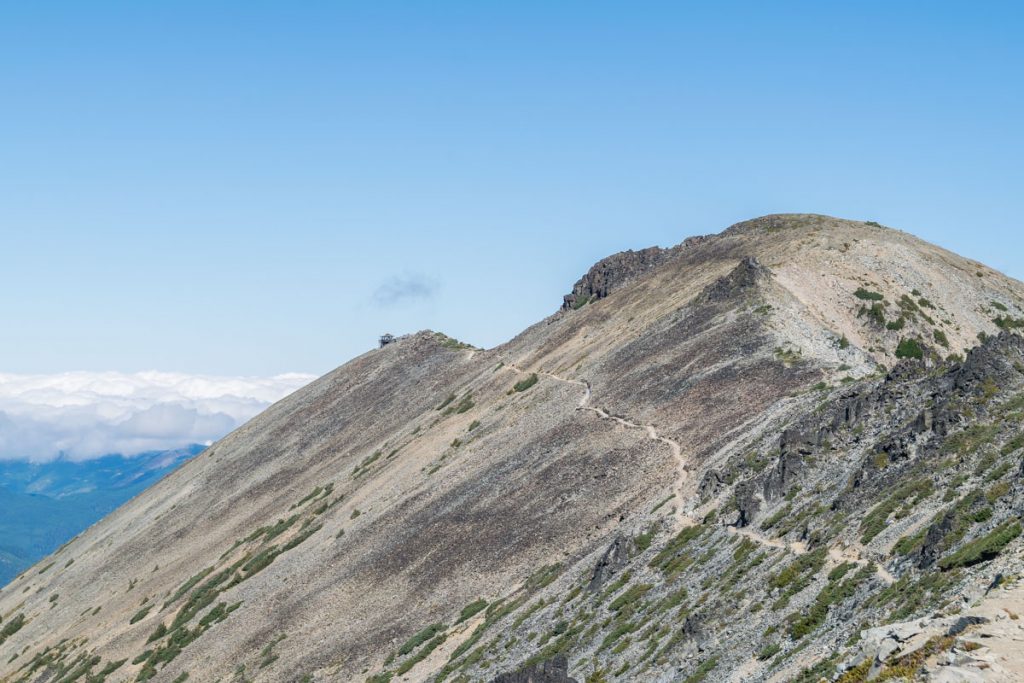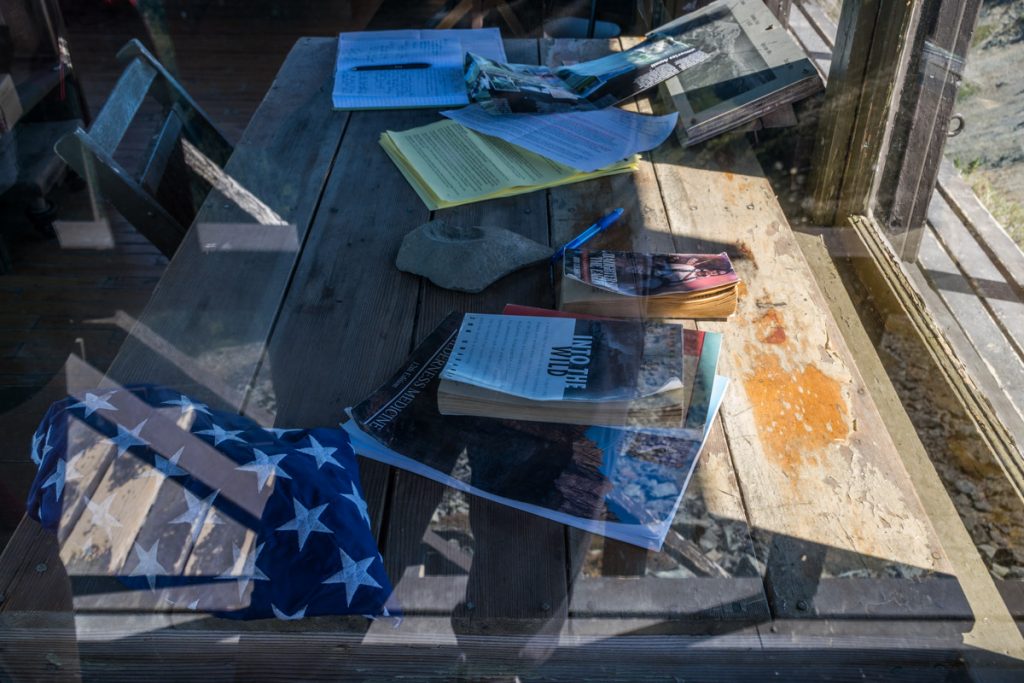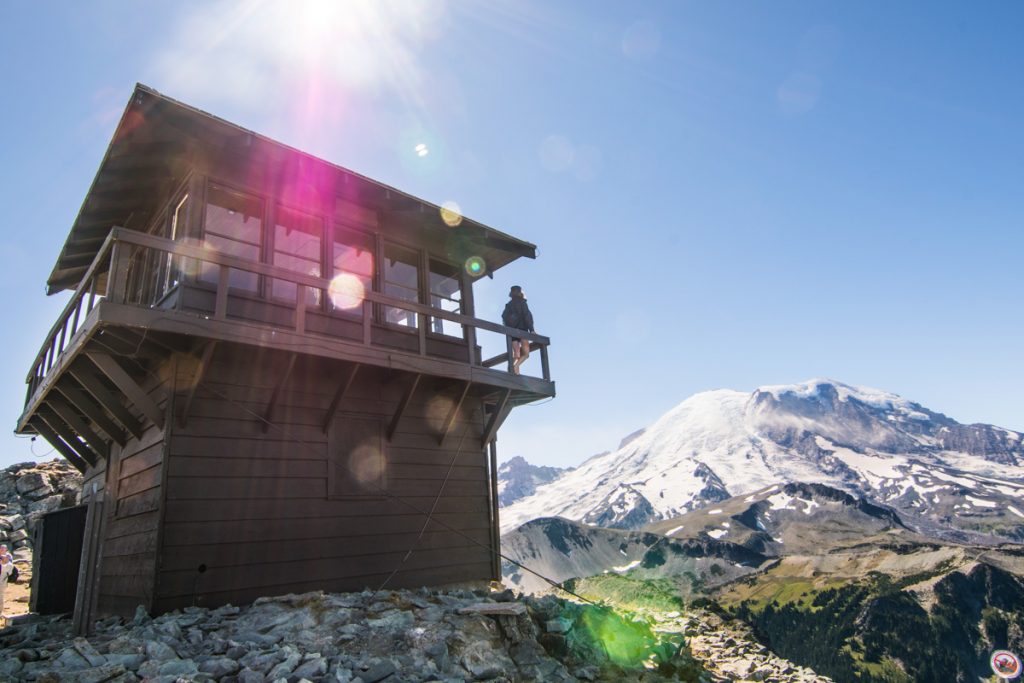 We stopped at the picnic tables at White River Campground for lunch, and then drove out of the park north to Seattle, not before stopping at the park sign for our customary selfie with the park entrance sign.
Mount Rainier National Park was great, but we felt that we didn't spend nearly enough time to properly explore it. As with many of the National Parks we visited during this road trip, it felt more like an introduction to it. We look forward to going back in the future.