Previous entry: Day 4 – Colpapampa to La Playa

The night was pretty warm. I got woken up in the middle of the night because of rain, which lasted for about one hour. When I woke up and looked up the sky, it was covered with clouds. Water started to drop soon again, and this time it didn't look like it was stopping anytime soon.
The lady from the restaurant advised us to not hike up to Llactapata, since the downhill trail on the other side can get very muddy and slippery with this storm that was supposed to last into the next day. We decided to keep on hiking.
The first 2 hours were hiked in constant rain, and my pants and shoes were completely soaked. Last time I camped at Llactapata, there was absolutely nothing there. We had been told this time that there was a kiosk up there, but with this weather I wasn't sure if it would be open. I was worried about our camping situation if the rain wouldn't let up. At times I thought that it would be better to not camp at Llactapata, and instead hike down to the Hidroelectica Station and catch a bus to Santa Teresa where we could find a dry place to sleep.
We started off on a dirt road and soon turned right into the trail that goes straight up into the mountains. I remembered that I was miserable the last time I did this section, but the cool weather and rain made it not as tiring. We passed another one of the ultra luxurious hotels, which is so contrasting when compared to the humble huts that the nearby locals leave in. I have a real problem with building these types of hotels on a trail like this. It is a semi-wilderness hike, and as such, one should be willing to give up a few comforts to do it. Building such a posh building right next to very humble locals living in basic huts is really insensitive to the people who inhabit the area.
Shortly after passing the top of the mountain, we found the ruins of Llactapata. Nine years ago they were barely visible, but they are now fully excavated and look very nice.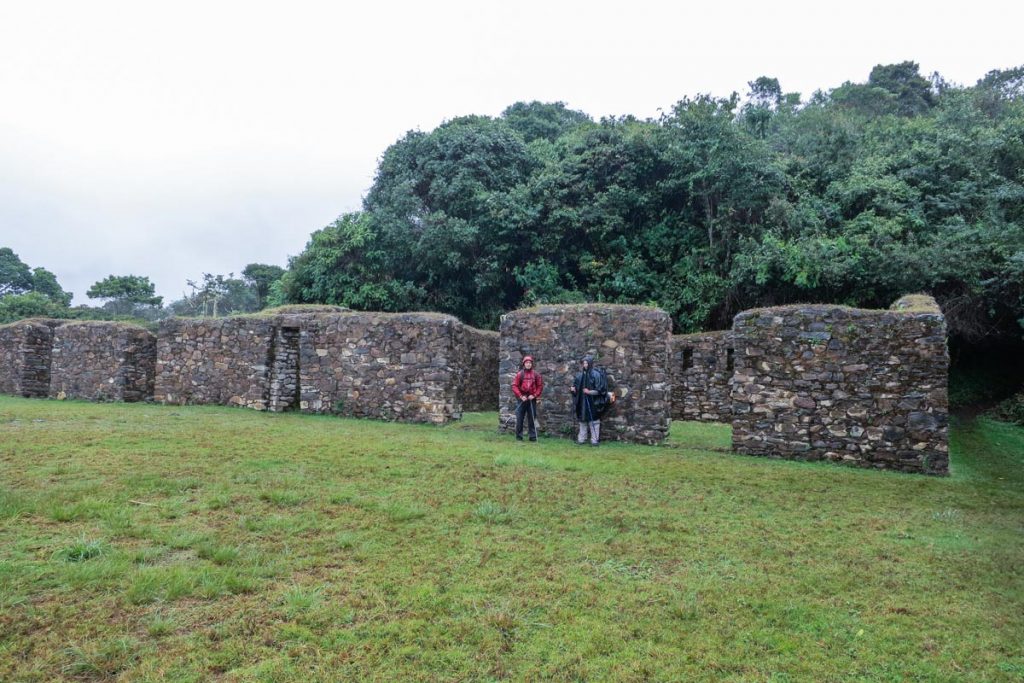 There was a sign saying that there was a campsite with hot showers and drinks 10 minutes away. What we found was so much more than that: a covered restaurant and covered drying racks for our wet clothes.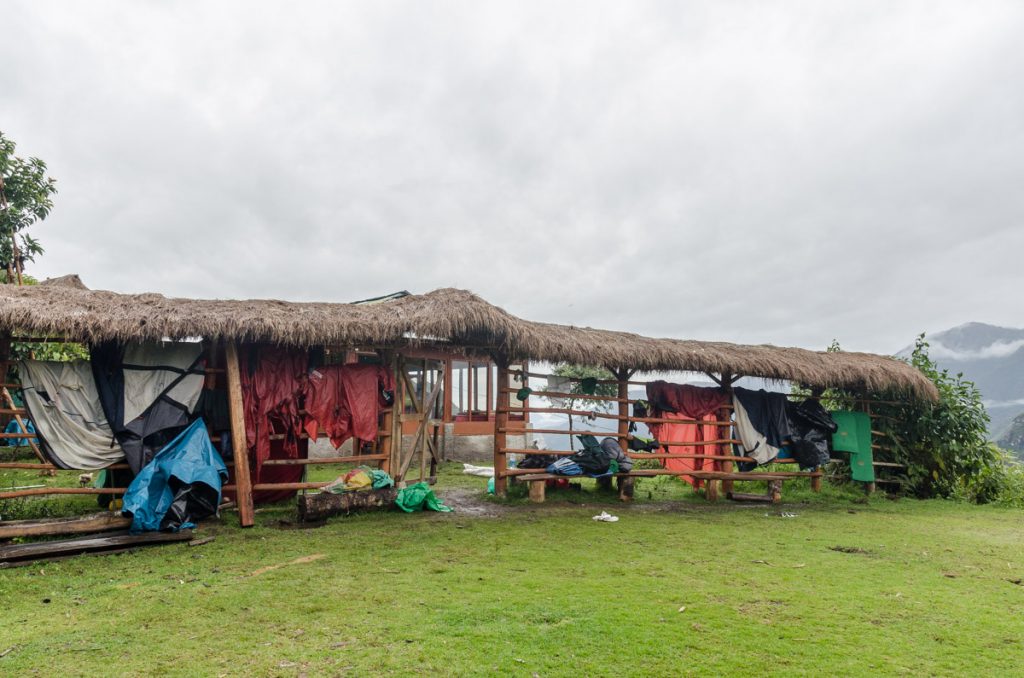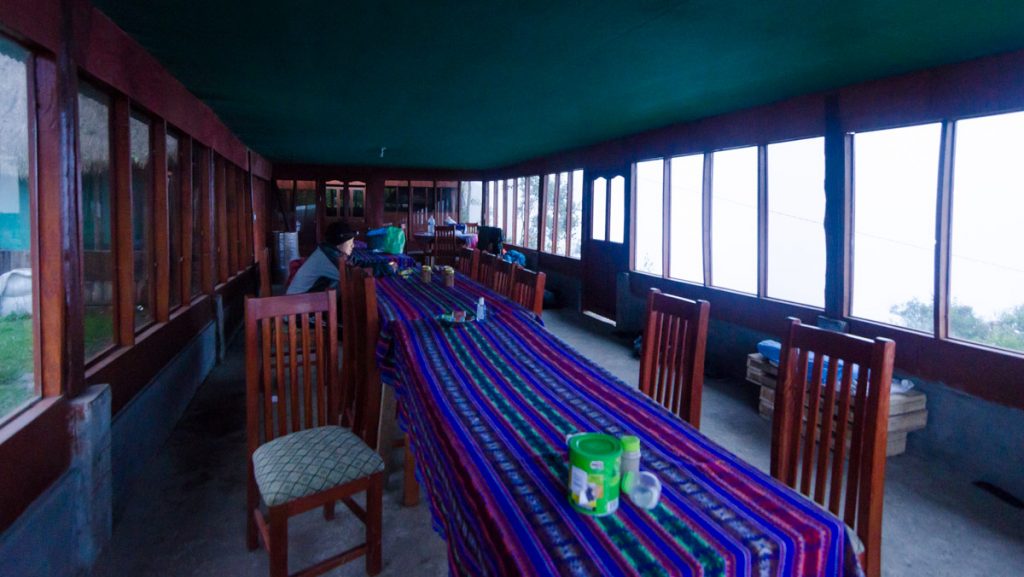 There was a tour group for 2 hikers from New York. Shortly after a solo hiker named Christian showed up. He sported a mean beard and looked like a real mountain man. We hang out with him for the rest of the day. Machu Picchu is visible from this spot in the distance, but with so much fog and clouds around, we could only see it from time to time.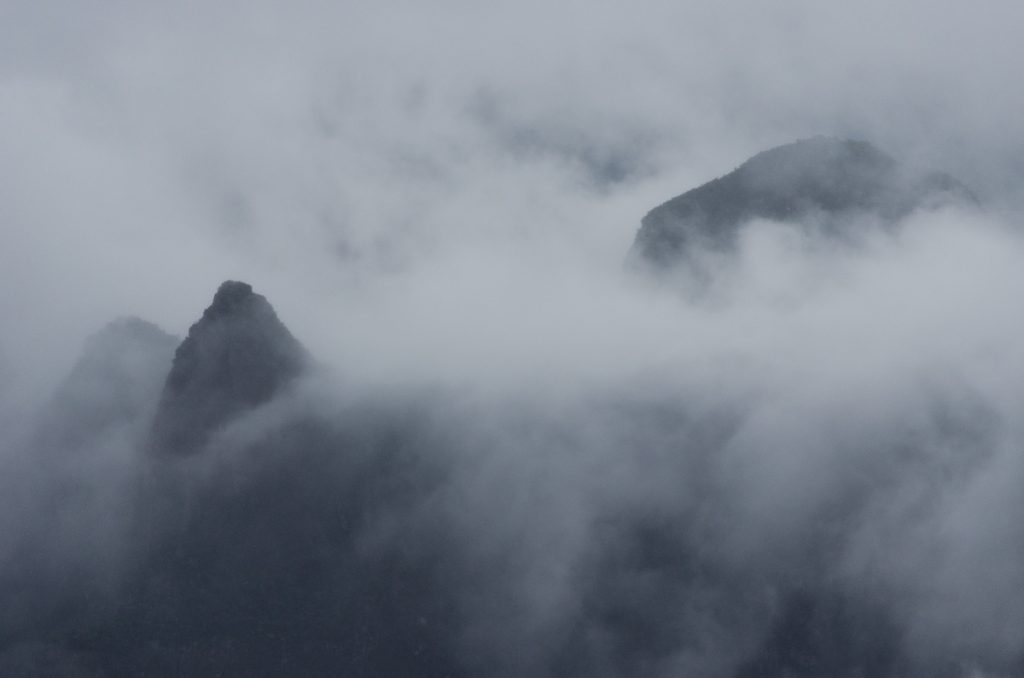 We ordered lunch despite being expensive at 20 soles each (grilled chicken, fried rice, salad, fries), but the portions were huge and the food was pretty tasty.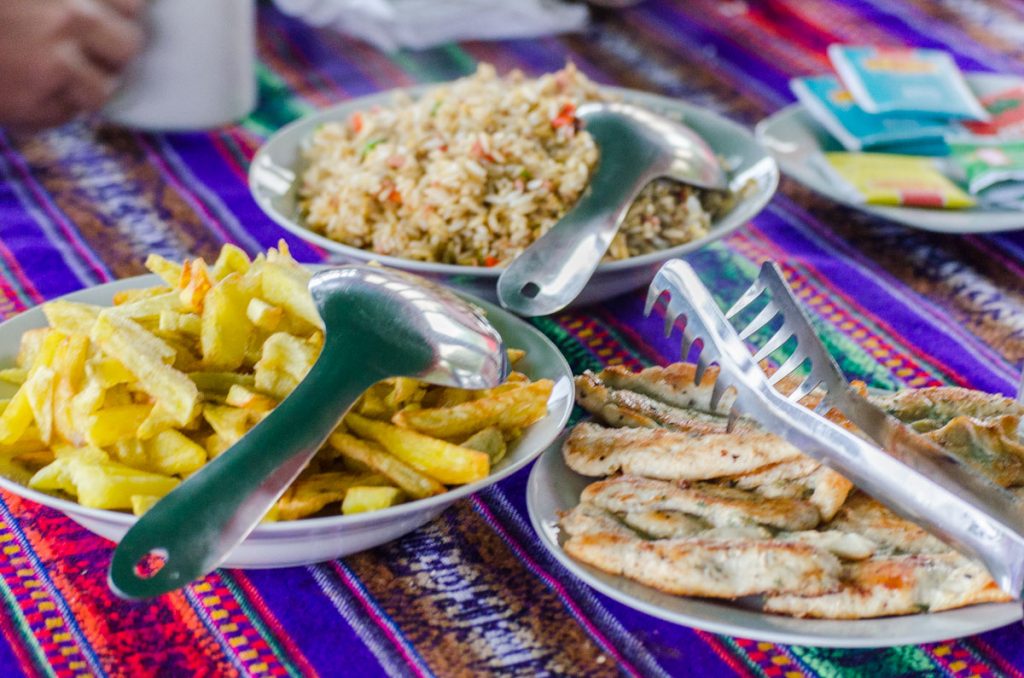 Earlier in the afternoon, when I tried to change into dry clothes I realized that the swim trunks in my backpack were wet. Despite having the backpack's rain cover on, the water had managed to slip in between my back and my backpack. I panicked and checked my down sleeping bag right away. It was wet too, which made it totally useless. It was totally my mistake since I should have put the sleeping bag in another plastic bag. I asked the owner of the restaurant if I could sleep on the restaurant floor. She not only let me do that, but also lent me a dry sleeping bag. I was so glad I didn't have to set up my tent since it was still wet (inside and out) from the previous night.
It rained pretty much all night, but I slept relatively well on the restaurant floor despite the circumstances.
Next entry: Day 6 – Llactapata to Aguas Calientes