Part of the Torres del Paine W-Circuit Journal
Previous entry: Day 3 – Campamento Italiano to Mirador Britanico to Refugio Los Cuernos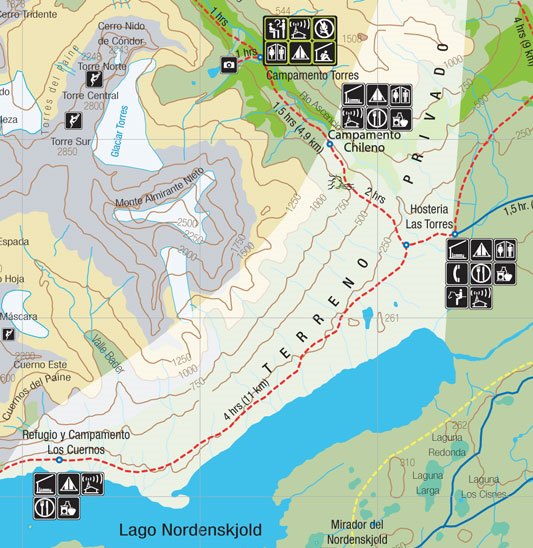 The plan for this day was to hike the 22km or so from Refugio Los Cuernos to the Campamento Torres, the campground closest to the peaks that everyone goes to this region to see. We woke to to very strong winds. The video below does a better job of describing it than words can do.
As we were leaving Refugio Los Cuernos, I got a good look at Cuernos del Paine ("cuernos" meaning horns in Spanish).
We had to deal with extremely strong gusty for the next few hours. Very often we had to stop just to brace ourselves to keep balance. My hiking poles helped a lot. You could always feel the winds, but at times it would turn up the intensity with no warning. It was as if someone came running silently from behind and tried to shove you to the ground. I felt one time but luckily no scrapes or injuries or broken hiking poles. It was exhausting dealing with it for so many hours, but for some masochistic reason I was also having fun at the same time. The winds are part of the Patagonian experience.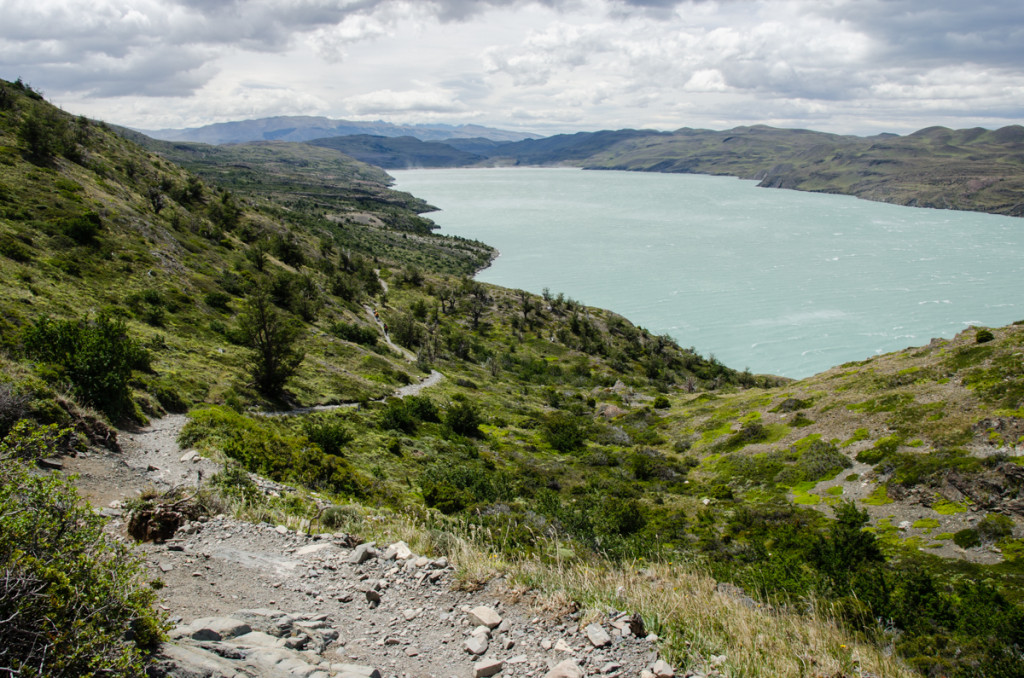 After stopping for lunch, we reached the shortcut that goes north to Campamento Chileno. It was from there that it started to rain. Very light at the beginning, very strong towards the end. The winds had subsided, but became stronger and stronger as we got closer to Campamento Chileno. Because of my experience in the Salkantay Trek to Machu Picchu a few months ago, I knew that the rain cover could not hold off water for extended periods of time. I was very worried about my down sleeping bag getting wet again, making it pretty much useless. Another worry I had was that I was pretty much soaked from the waist down, and with the lowering temperatures I feared that hypothermia might be an issue. The only way to keep myself warm was to pick up my pace and walk fast. Sometimes this was difficult with the strong winds and rain hitting my face. With all of this going on, I kept my camera inside my backpack, and didn't take any pictures.
We arrived at Campamento Chileno around 4pm, and I stopped to check on my sleeping bag. The lower part of my backpack was all wet from the outside. The sleeping bag pouch was starting to get wet, but the bag inside was still dry. With the ongoing rain and another 1.5 hours until Campamento Torres, I decided to just call it a day and camp at Campamento Chileno.
They had a nice fireplace going on and the warmth inside the main building provided a lot of comfort. They found us two pretty nice and secluded camping spots, and I really enjoyed the hot showers. Everything was right again.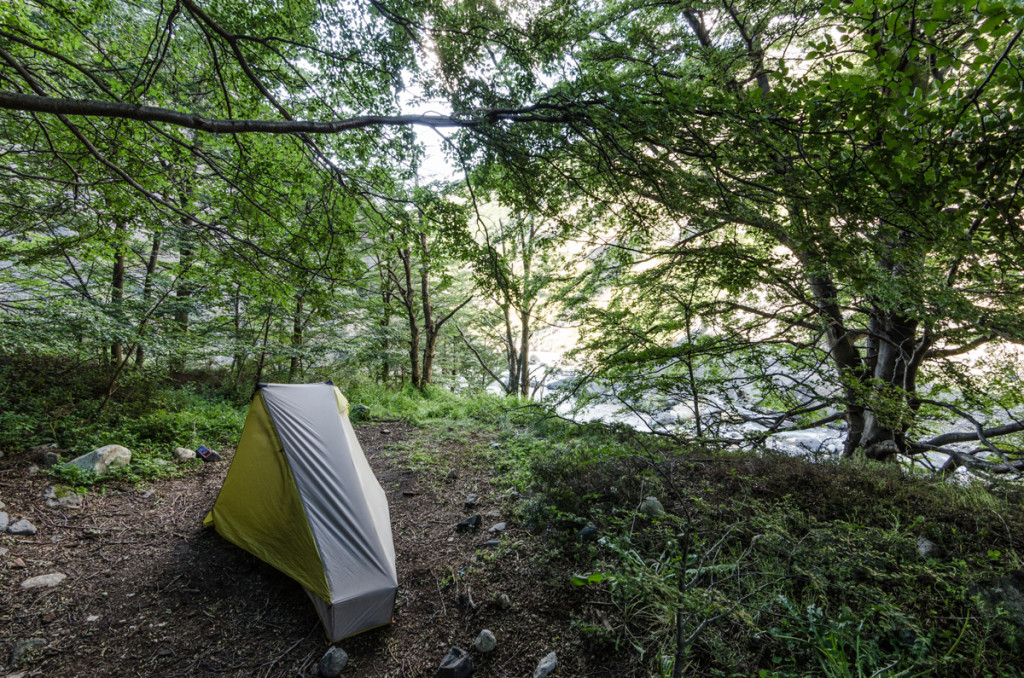 Inside their main building was a restaurant but also a room all the back with a furnace in it. A lot of hikers were here to warm themselves and try to dry off their wet clothes. In an attempt to put my shoes close to furnace, I tripped and almost landed face first into the burning pipe. Instead, I put my hand on it to push myself away. I ended up with slight burns on the palm of my hand, but it could have been much worse.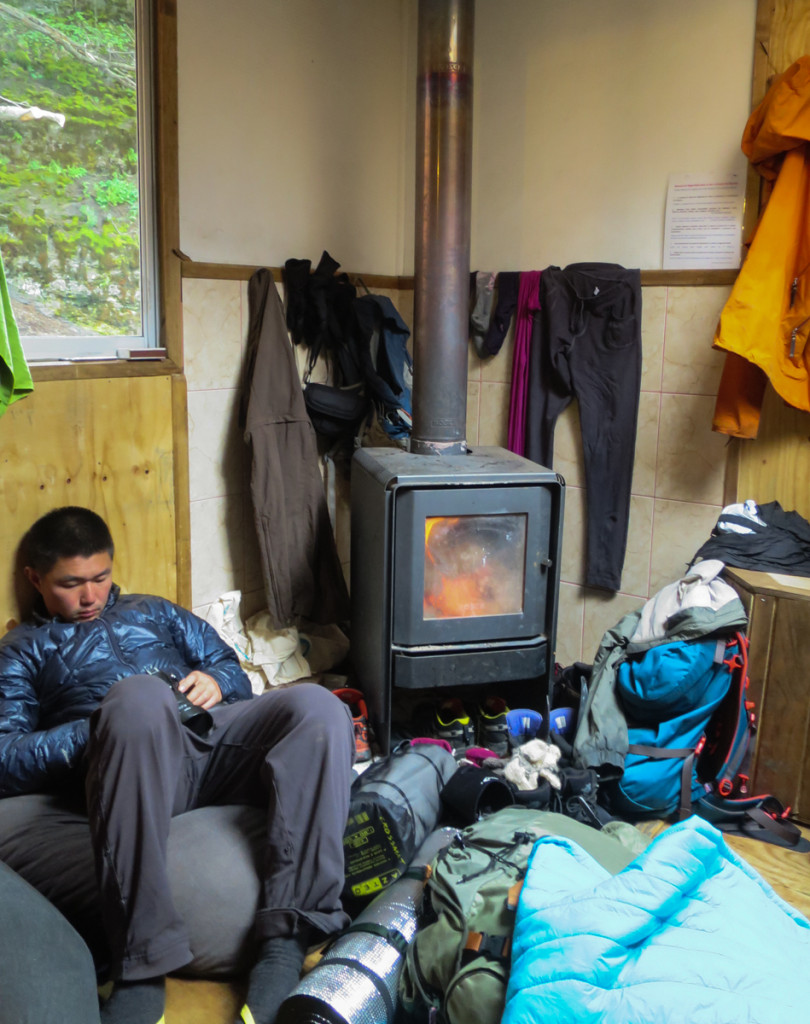 Dinner was soap and cous cous again. We retired to our tents early. Our idea was to hike to the base of Torres de Paine before dawn to enjoy the sunrise there. Since we stopped 1.5 hours before our intended campground, that meant that we would now have to hike an extra 1.5 hours in the dark. But none of that would be worth it if it was a very cloudy day with bad visibility. I set the alarm for 1:30am and if at that time the sky was clear, we would get up and do the hike. If not, we would just sleep in and go there later in the morning after the sun had risen.
Next entry: Day 5 – Campamento Chileno to Base de las Torres to Hotel Las Torres
Part of the Torres del Paine W-Circuit Journal