After Victor, Phillip, and I finished our time in Somaliland, our plan was to join a 7-day tour to Eritrea. If you look at a map, Somaliland and Eritrea are really close to each other but there's no direct flight between them. And going through the African air travel hub of Addis Ababa in Ethiopia was not possible since Eritrea and Ethiopia are still technically at war. The simplest way was to fly from Hargeisa (Somaliland) to Addis Ababa and then to Dubai. From there, there's a direct flight to Asmara, Eritrea. But we also wanted to visit some friends of Phillip in Kuwait, and since for some reason flying Kuwait > Dubai > Asmara was cheaper than just Dubai > Asmara, we decided to do a 9-hour layover in Kuwait.
All in all, and including the previous flights I took to go to Qatar/Djibouti/Somaliland and the ones I took after Eritrea, I had a crazy number of 13 flights in 20 days:
May 14 – Dubai > Doha
May 14 – Doha > Djibouti
May 17 – Djibouti > Addis Ababa
May 17 – Addis Ababa > Hargeisa
May 21 – Hargeisa > Addis Ababa
May 21 – Addis Ababa > Dubai
May 22 – Dubai > Kuwait
May 22 – Kuwait > Dubai
May 23 – Dubai > Asmara
May 30 – Asmara > Dubai
May 30 – Dubai > Kuwait
Jun 1 – Kuwait > Dubai
Jun 2 – Dubai > Mashhad
I'll pick it from where I left off in my last post, which was May 21, 2016 when we were leaving Hargeisa, Somaliland.
At the airport we had to go through three security checkpoints. The first one scanned our luggage and asked us to turn on our laptops. The second scanned our luggage again, and checked our cameras. The third one patted us down, and asked us to turn on our laptops again. It's as if they just didn't trust the previous checkpoints.
After a short flight we arrived at Addis Ababa, Ethiopia, where we had a 3 1/2 hour layover. Ethiopian Airlines was nice enough to give us a voucher for a free dinner. The line to go through security for our flight to Dubai was very long, with many people trying to cut in line.
We arrived at Dubai at 3:30am, and had to go from Terminal 3 to Terminal 2. In any other airport it wouldn't be a big deal, but at Dubai Airport Terminal 2 is all the way on the other side of the runway, with no easy way to go around it. We found out that there was a bus that could take us there, but we had to wait 30 minutes until the first bus of the day would start running. Walking there would have taken over an hour.
While checking in at Terminal 2, I saw a lady attempt (unsuccessfully) to check-in a big vehicle tire.
After a 2-hour flight we arrived in Kuwait City. Looking out the window before landing I saw only flat desert and lots of oil wells.
We had to fill out a form and get photocopies of our passport to get visas (all free for US citizens). The line was long and we had to wait over 30 minutes. Once outside, Issa (Phillip's friend) was already waiting for us. He was kind enough to pick us up and took us to a very nice Lebanese restaurant where we met with his brother Mustafa. We ate excessive amounts of food which will be detailed in another post.
I was running on two hours of sleep all day, and dozed off for a few seconds from time to time throughout the day in Kuwait City. At 11pm we flew back to Dubai but luckily didn't have to switch terminals this time. A bit after midnight I laid down on the floor of the airport and dozed off for a couple of hours. Then at 3:40am we headed to the gate and met with some of the people in our Eritrea tour group. Half of them were on this flight, while others had taken an earlier flight from Doha, Qatar.
I slept maybe one hour on the flight from Dubai to Asmara, the capital of Eritrea. The sun had just risen when we landed, ending a journey of 5 flights in 37 hours, going through 6 countries (UAE twice).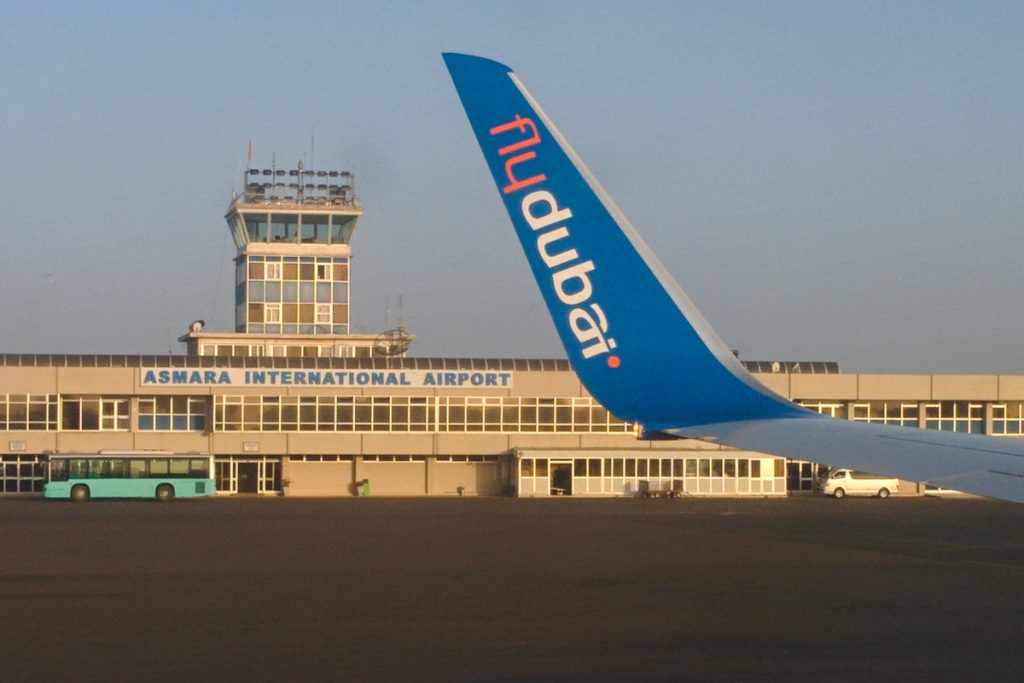 Just when we thought it was finally time to relax a bit, we were told that none of our luggage had arrived. They never loaded them on the plane in Dubai. FlyDubai was dealing with a backlog of luggage from previous flights, so they decided to leave all the ones for this flight behind so they could bring over stuff from previous flights. And since they only had two flights per week from Dubai, this meant that we didn't get our stuff back until four days later.
Throughout my life I had always enjoyed flying, but after this bunch of lights I didn't look forward to flights for many months to come.