Before going there, I thought that Angkor Wat was one single temple. It turns out that whole Angkor area is huge with many temple complexes scattered all over, the main one being Angkor Wat. One would need a week or more to see them all, especially the more remote ones.
The first thing I noticed arriving to Siem Reap was how developed it was for tourism. Seeing the many luxury hotels on the main highway, I imagined how crowded with people the temples must be. I had no idea that Angkor Wat had become such a mega tourist destination.
We took our first full day in Siem Reap off, making our way to the Angkor Wat area the following day. Since we had plenty of time, we decided to get the 3-day entrance for 60 USD, which gives you three visits in a span of seven days. We also decided to leave the main temples of Angkor Wat and Angkor Thom for the third visit, hoping to leave the best for last. Being late March, the weather was scorching hot at 38°C with high humidity. We wanted to only do half-days, either going early in the morning or late afternoon to avoid the heat.
For hired the tuk-tuk (a scooter with a small carriage behind) from the hotel for all three days. On the first day we visited the temples of Preah Khan, Neak Pean, Ta Som, and East Mebon, leaving Pre Rup for the sunset. I was very hot as expected, but riding the tuk-tuk does provide a much welcome breeze.
Having just seen the amazing temples of Bagan in Myanmar recently, we wondered if Angkor would not leave up to its reputation. Going through south gate of Angkor Thom was magical, and my worries of being underwhelmed soon disappeared.
Walking into Preah Khan I got the impression that at some point it was just a big pile of rubble, before being painfully restored. It was also massive in size, with a length of 800 meters.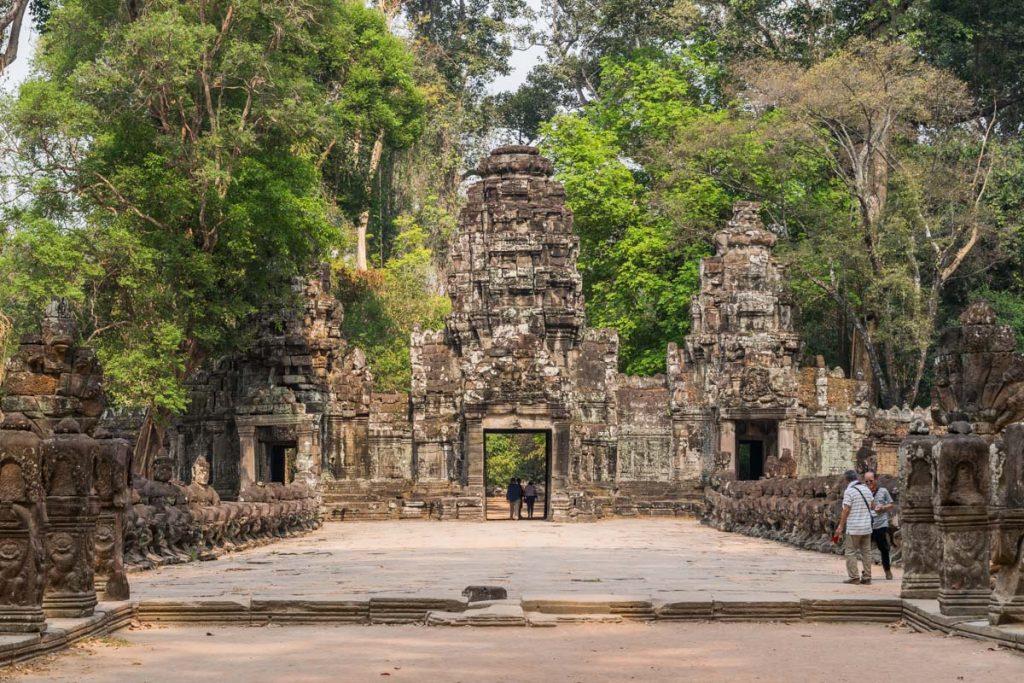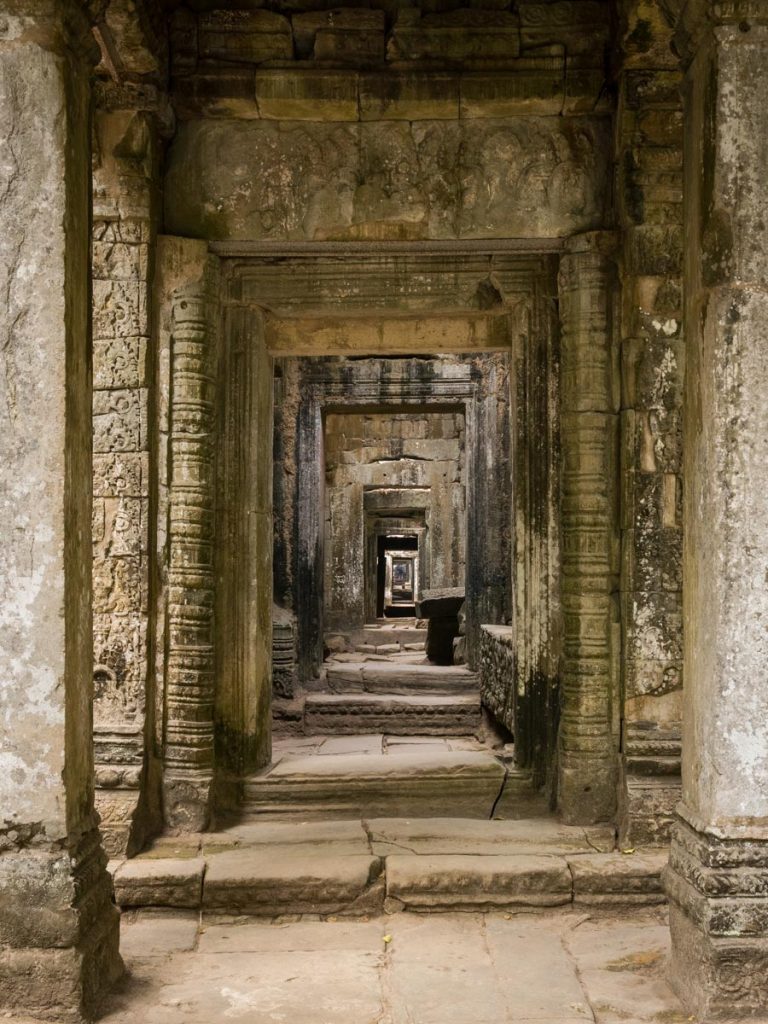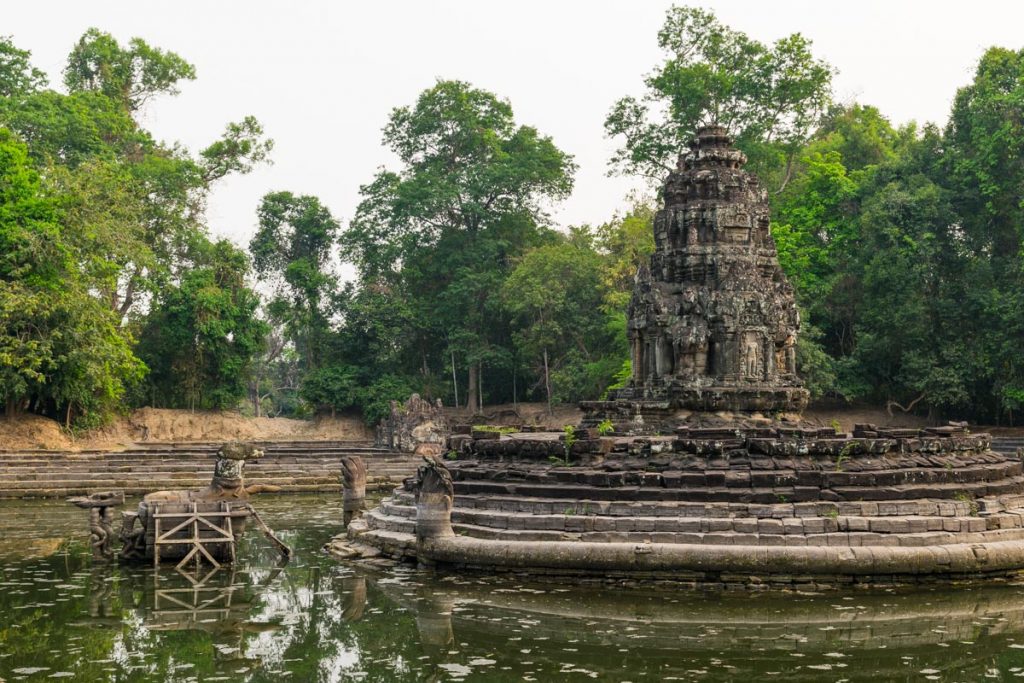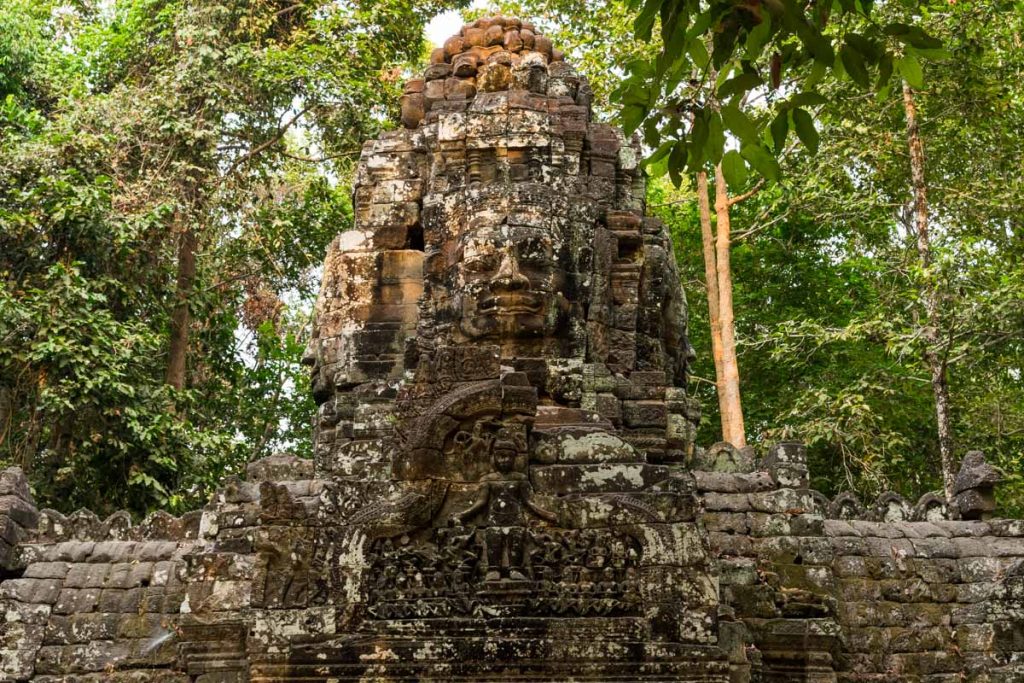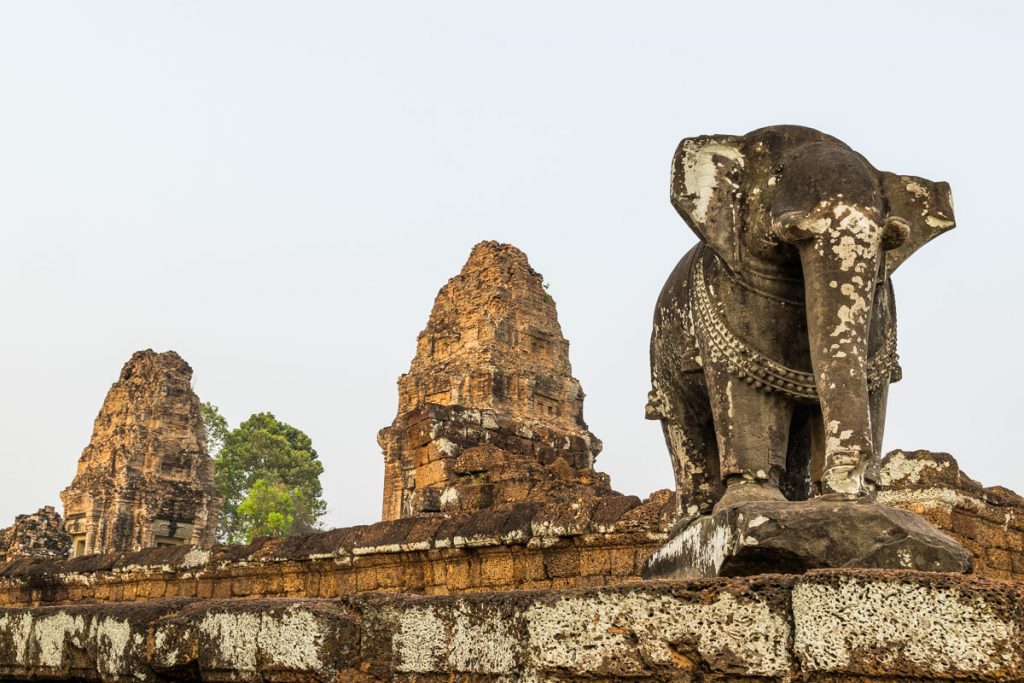 Pre Rup was very crowded during sunset, and there were no more available places to sit when we got there.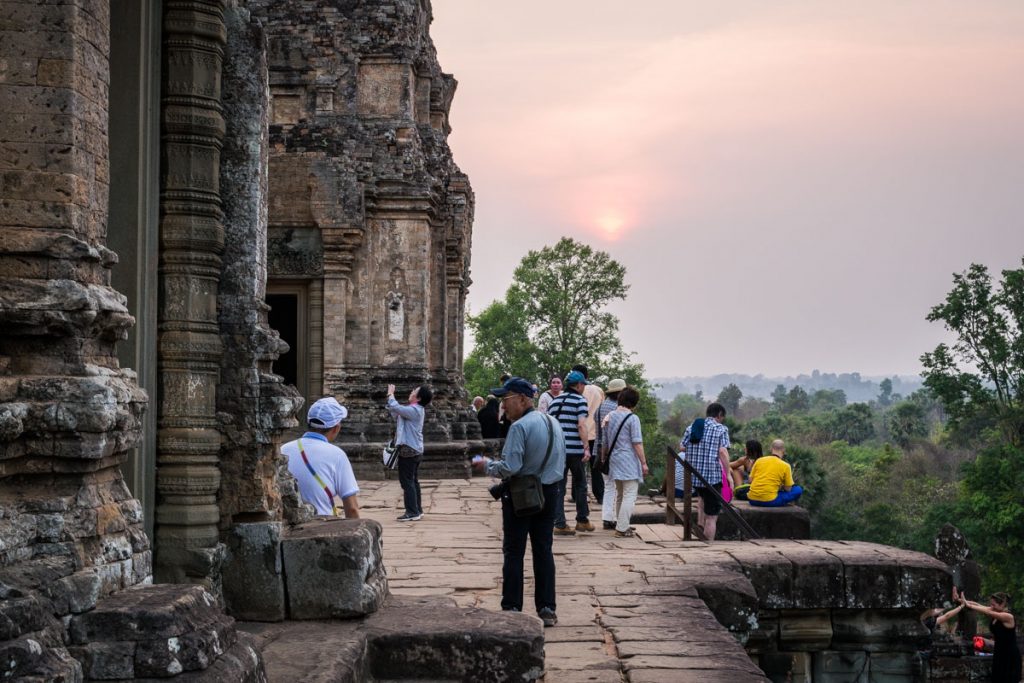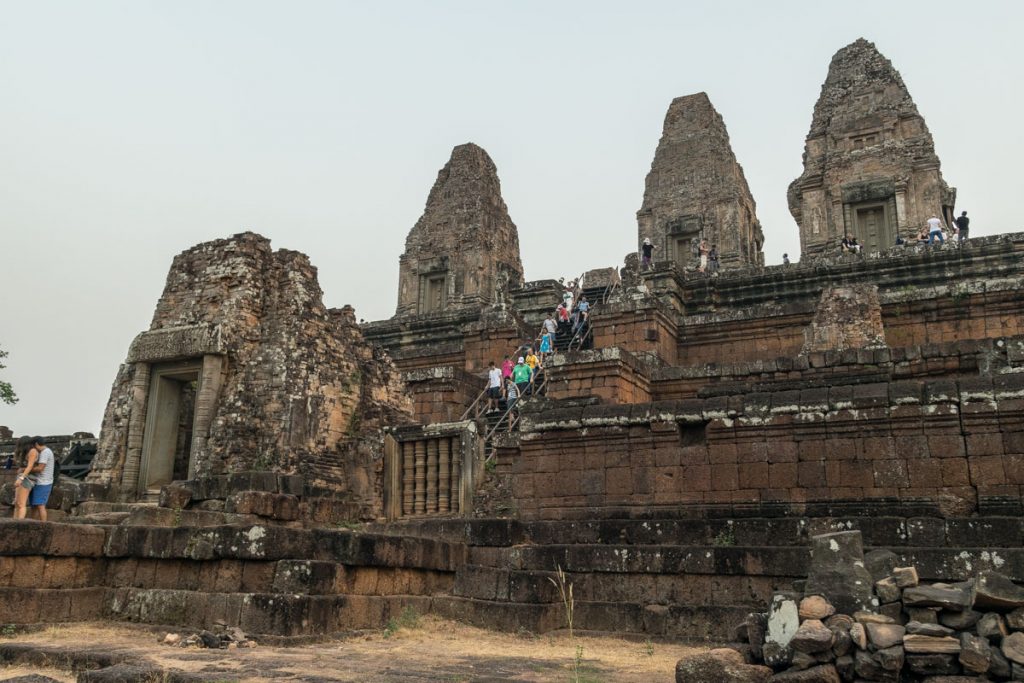 For the second day, we drove far to the temples of Banteay Srei. It took a while to get there, but the ride through the countryside was very enjoyable.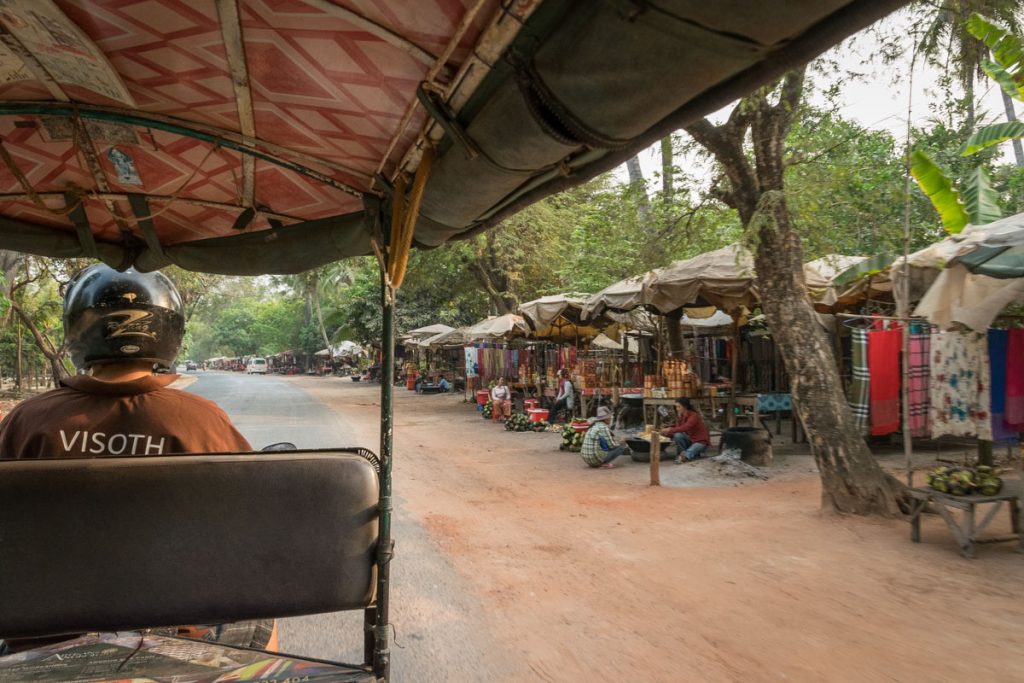 The reason to go all the way to Banteay Srei is to see the well preserved carvings, which were very beautiful and impressive. I did wonder how much they had been restored because they looked almost brand new. A lot of kids tried to sell us postcards here. While they were playful, they can also be quite persistent.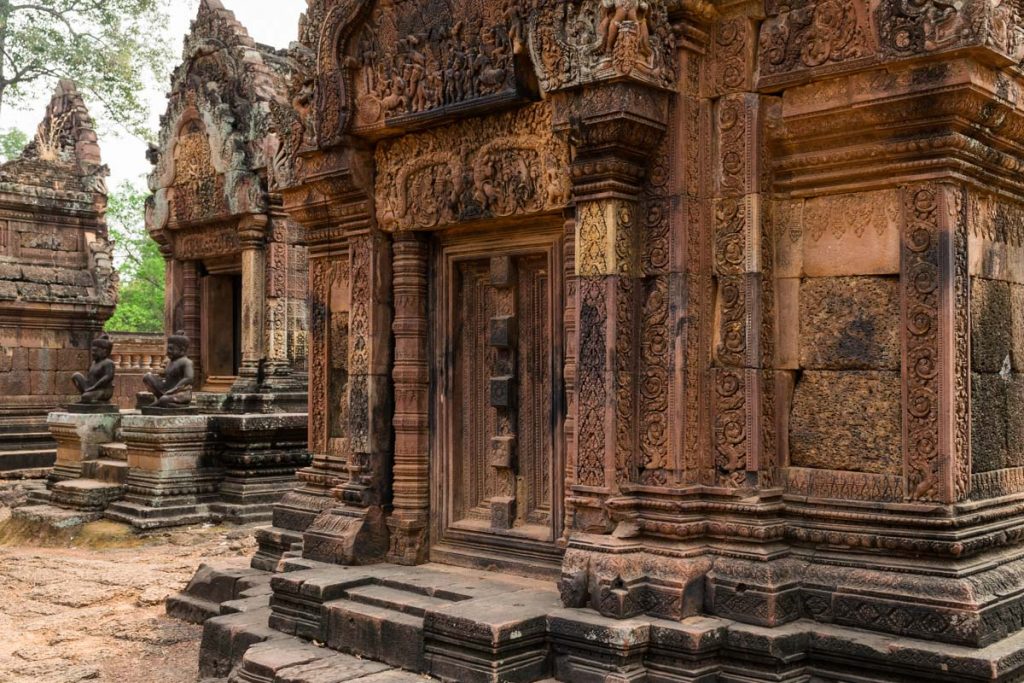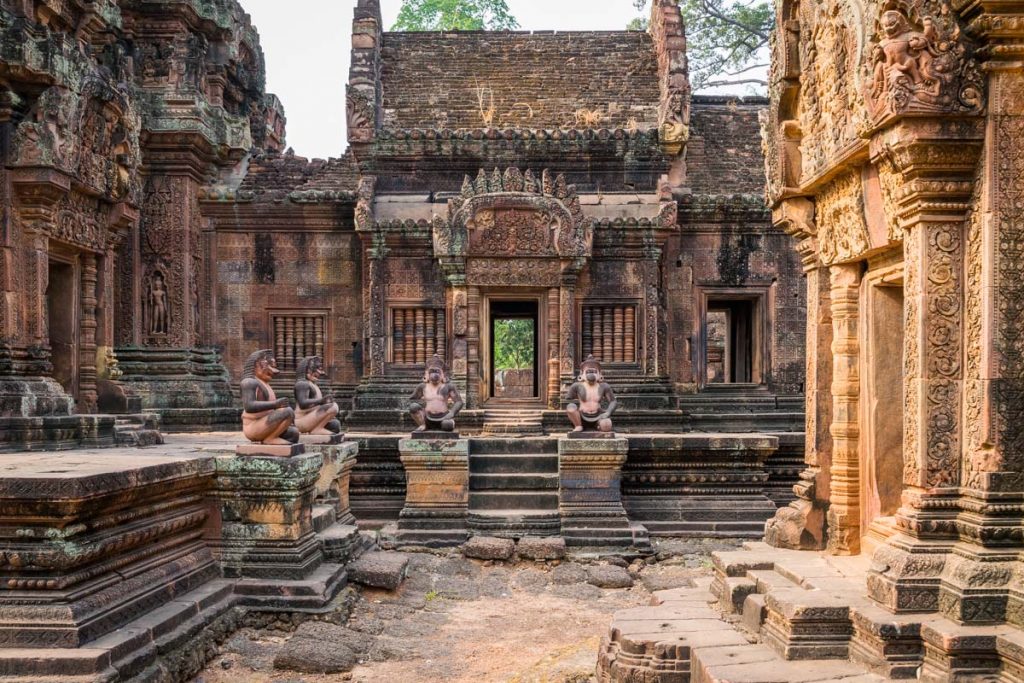 For sunset we went to Banteay Samre, which was very peaceful since there was barely anybody besides us.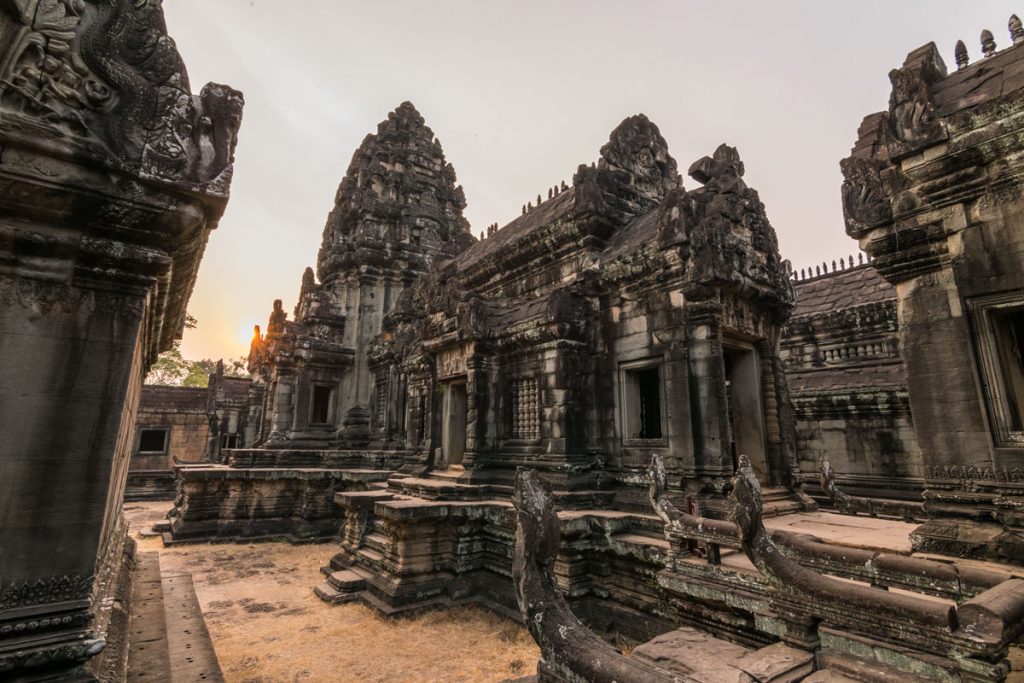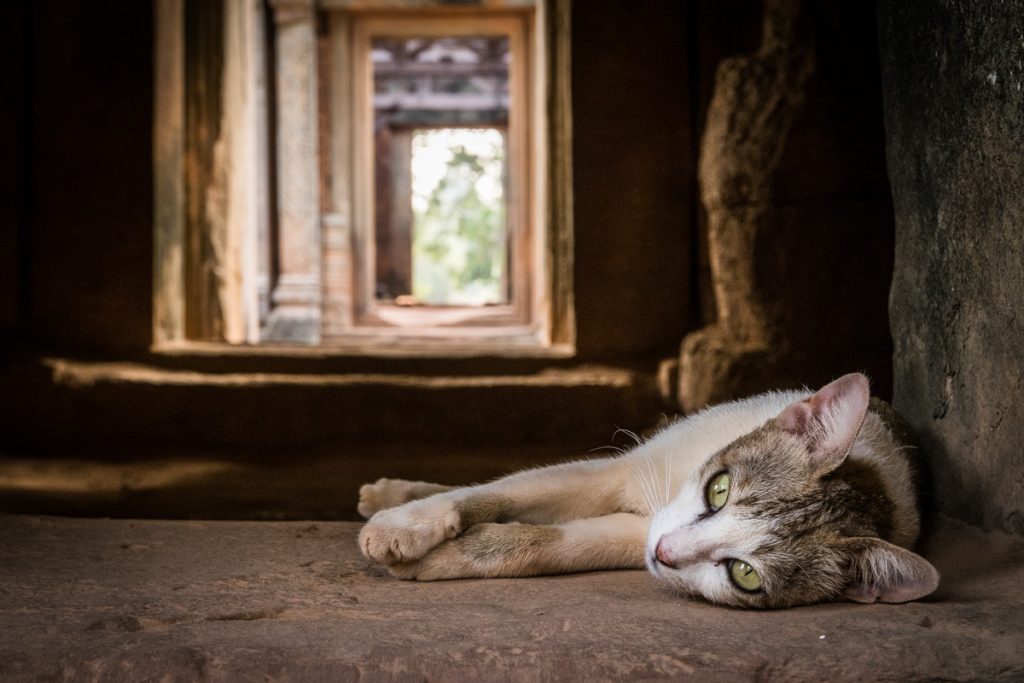 To avoid getting all "templed out" (temple saturation), we decided to take a day off before our final and third visit. After almost two years of traveling, there "days off" from my long vacation were becoming more and more frequent. On one hand I feel a little lazy for doing it, but on the other hand I know I would burn out badly if I didn't. I was just glad that Jenni and I shared the same pace of travel. It can be hard when a person wants to be way more active than the other.
Finally it was time for the grand finale: Angkor Wat. We left the hotel at 5:30am, while it was still dark outside to catch the sunrise. We debated whether we wanted to get up that early as we expected it to be super crowded (we are not a big fan of crowded places). But in the end we decided to just suck it up and do it. On the road out of Siem Reap we were joined by many other tuk-tuks. The rest of the city was quiet though, which was a change from its usual hecticness. It was still dark when we reached the gates of Angkor Wat. People used their phone flashlights to light the way into the temple.
I was a little disappointed by the size of the water pool in front of the temple. I had seen it in countless of pictures where they looked much more impressive than what I was witnessing there. It probably had little water because it was the dry season. Jenni and I found a spot away from the pool and from the people gathered in front of it. The sun took forever to rise over the temple.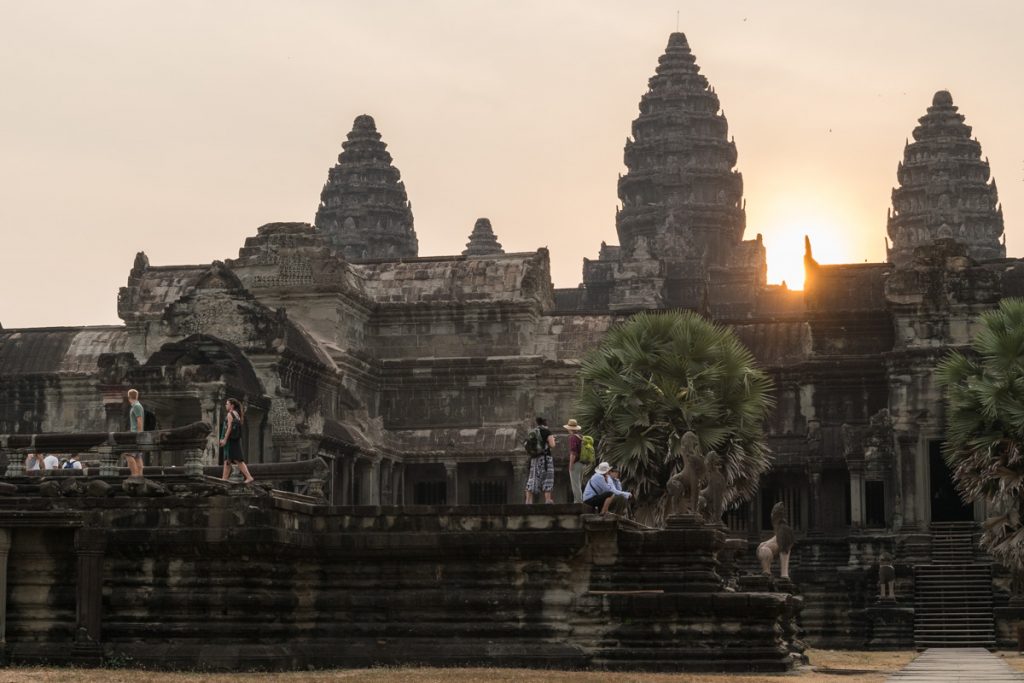 Once inside the temple I was impressed by how ornate and well preserved everything was.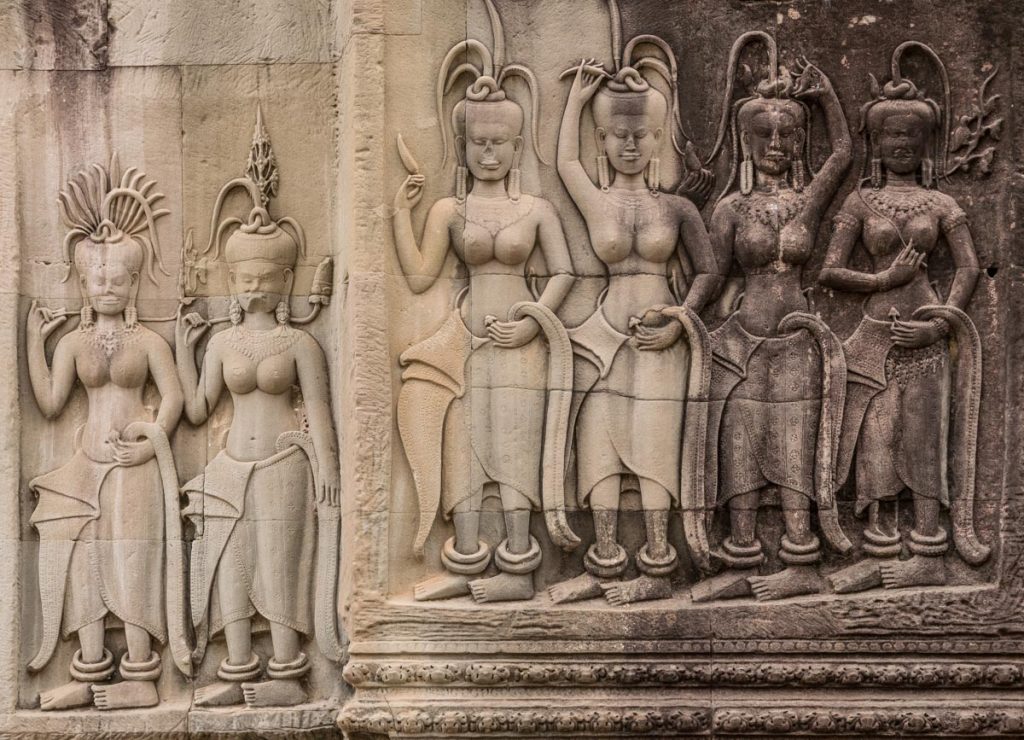 What you don't see in a lot of the pictures of the Angkor temples is how crowded it is.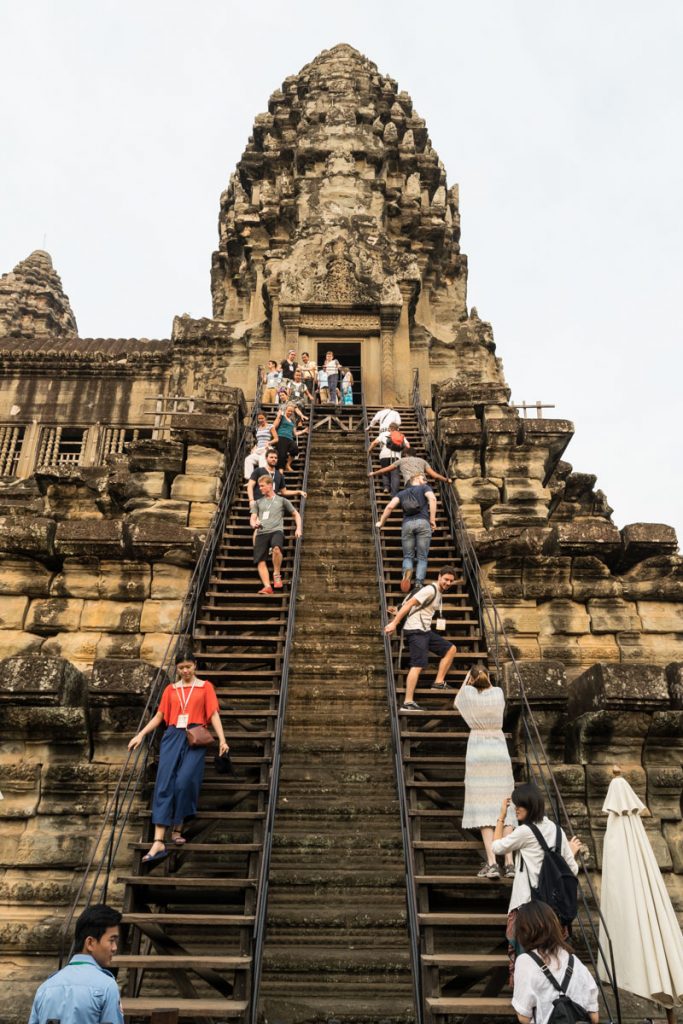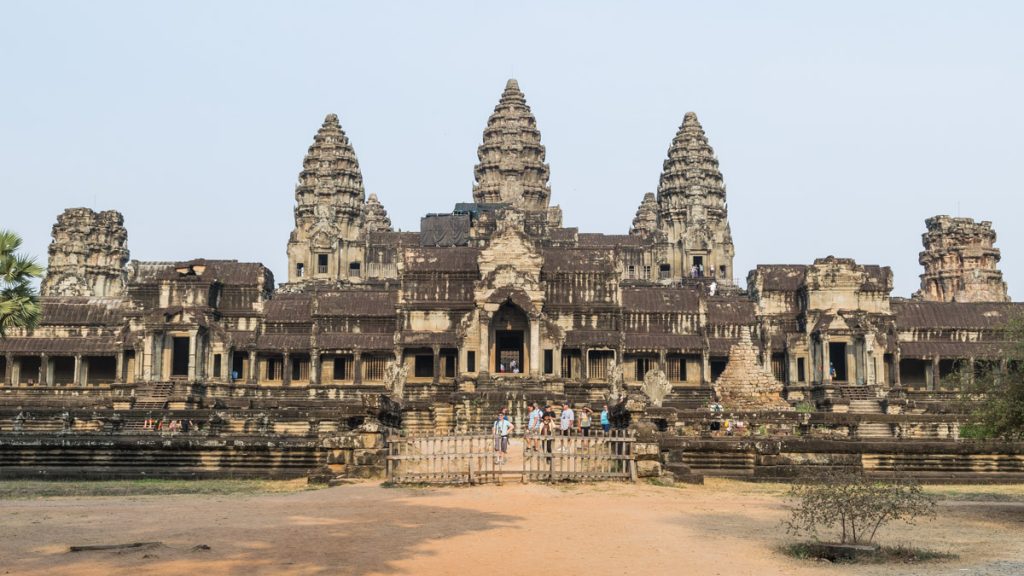 Next up was Angkor Thom, of Tomb Raider movie fame.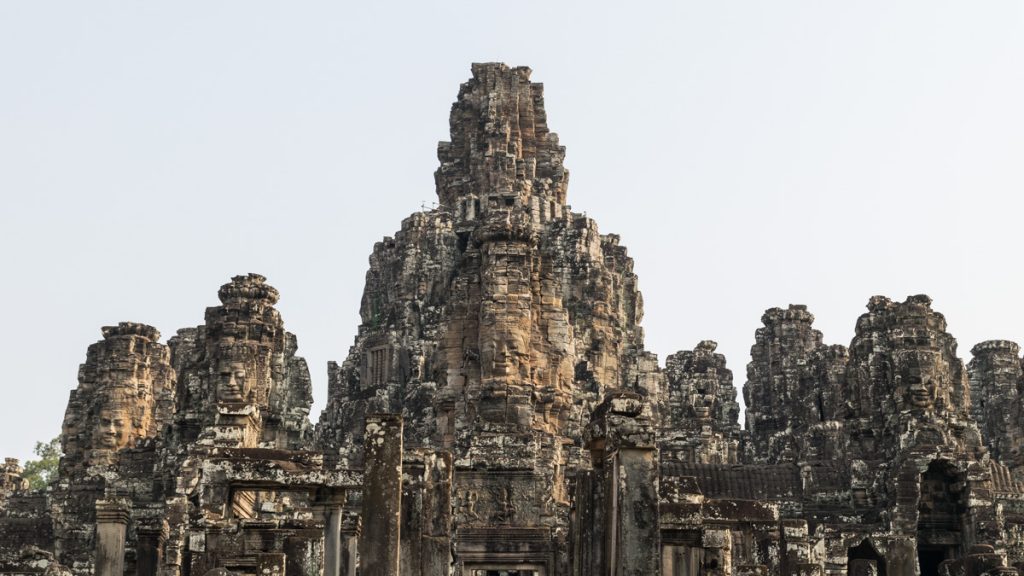 I was fascinated by the elephants around this area carrying tourists. But after doing some research on how bad they are treated, I wish they would stop using these poor beautiful animals for transportation and amusement.
Our last stop was Ta Prohm, the one with the big tree roots. It was probably the most fascinating of all the temples we visited here, but it was also extremely crowded.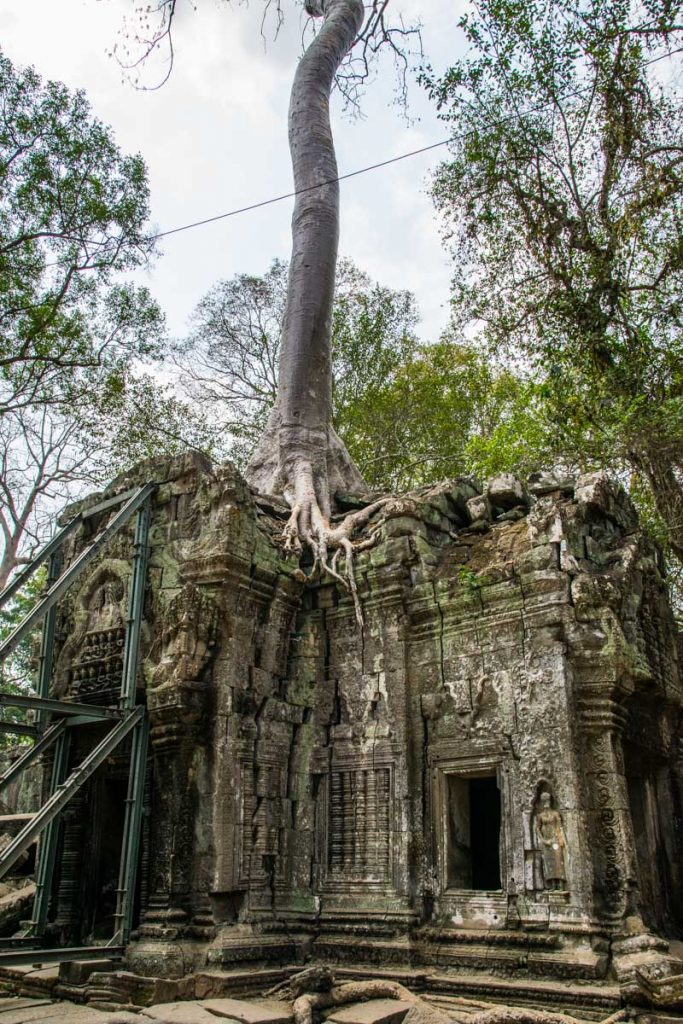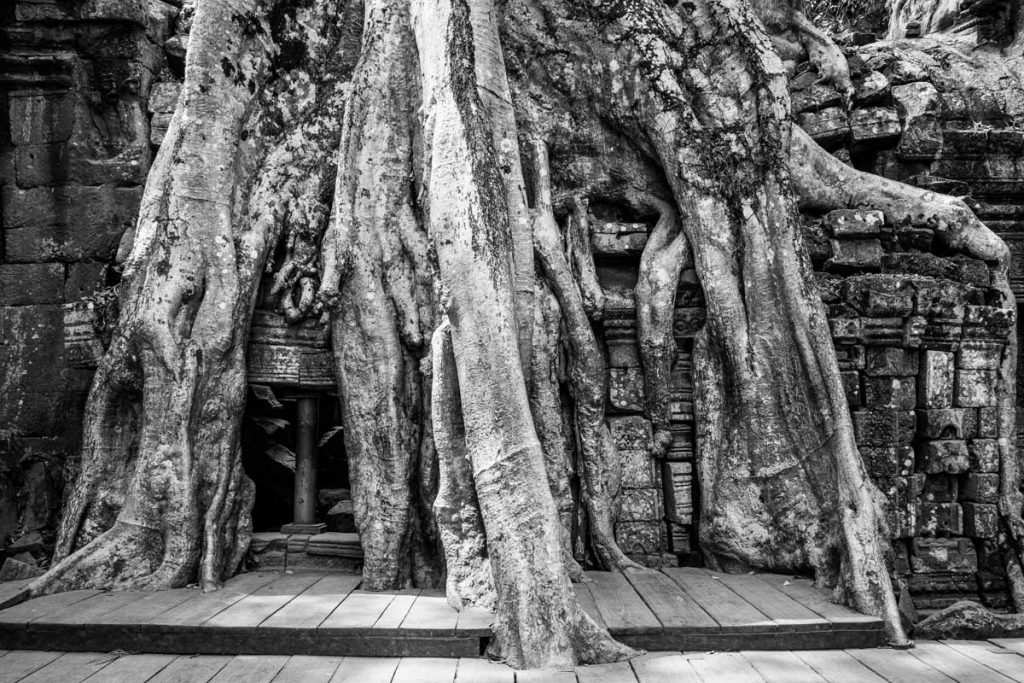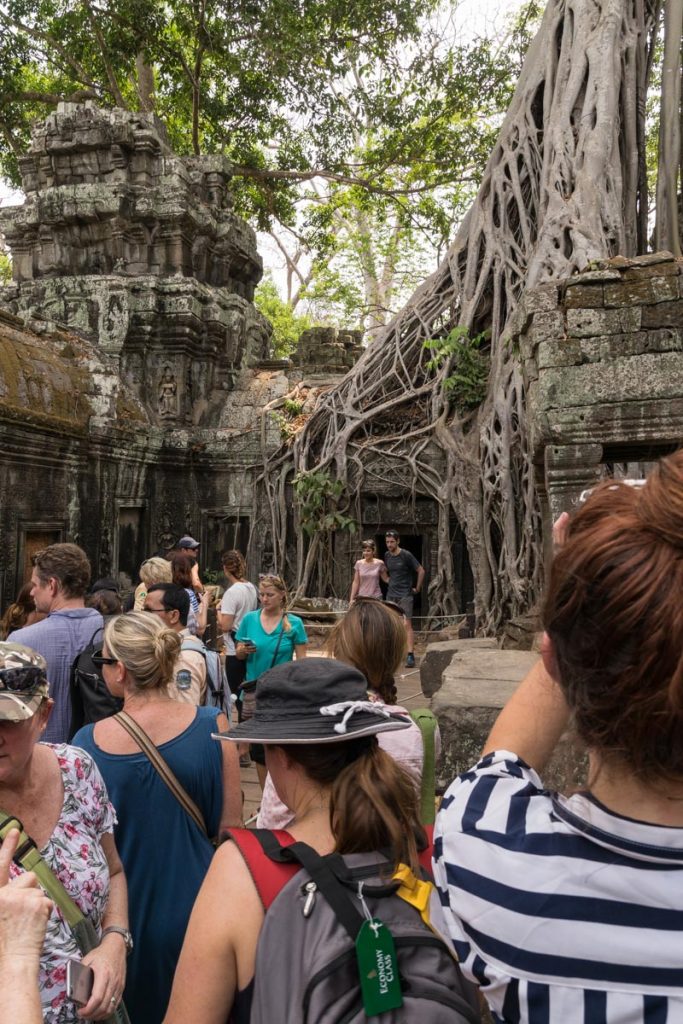 We visited Angkor during probably the worst month of the year (April) in terms of weather. Despite the scorching heat and the large crowds, I really enjoyed my time there. It's definitely worth visiting, and it lives up to the hype.
Aside from exploring the temples, I found Siem Reap to be a very nice place to relax. The hotels are very good and cheap. Same can be said about the food. We ended staying for twelve nights. With our batteries somehow recharged and looking for a different experience, we headed next to Battambang.