After Angkor Wat and Siem Reap , Jenni and I had one week left in South East Asia. I would then fly to Oman from Bangkok, while Jenni would fly to Australia. On the way to the Thai border we decided to make a 3-night stop at Battambang, hoping to see a more authentic side of Cambodia.
We arrived after a 3-hour bus ride, and got picked up by our hotel at the station. While still having a good number of chic modern restaurants and cafes geared more towards tourists, Battambang has a more relaxed feel to it compared to Siem Reap. The areas next to the river are a favorite among locals, with joyful kids playing at the playgrounds. If you didn't know any better, you would have never guessed the country went through such a dark period just few decades ago.
One of the highly recommended things to do in town is a circus called Phare. This is not an animal circus, but more of a light-version of Cirque du Soleil performed by local adolescents. The foundation that organizes it provides free education and training to hundreds of local kids, taking them off the streets and teaching unique skills that they can use later in life. The entrance is not cheap at 14 USD, but you are paying for more than just a performance.
The show was fantastic. The stage is small and intimate, with about 50-60 spectators the night we were there. It started with a some traditional dancing.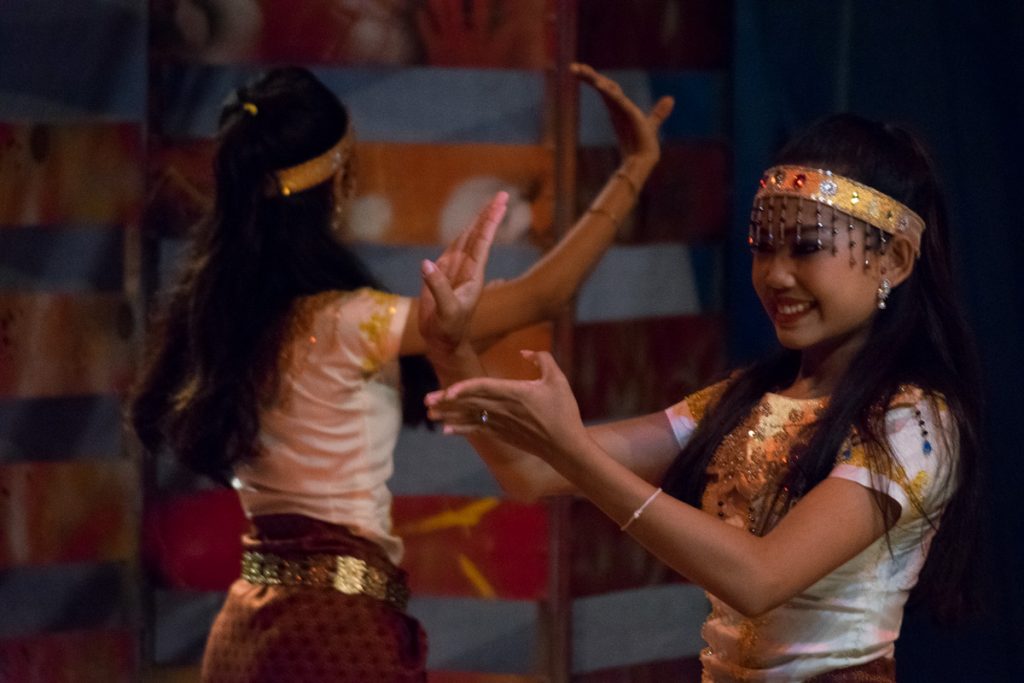 The main performance followed. Looking at their calendar, it seems that they rotate between different ones, with each of them revolving around a particular theme. This one was called "Weird". I wasn't expecting too much, but was blown away at the skill level of the performers. They tried some really difficult tricks. It's a high energy act mixed with humor. The story follows a family that needed a house constructed for them.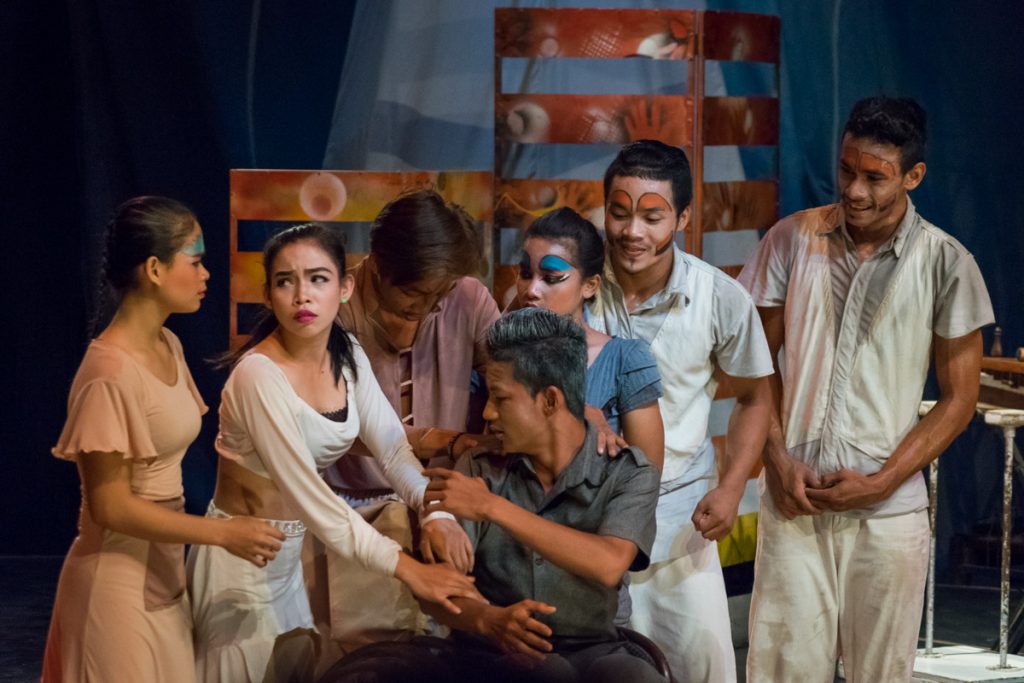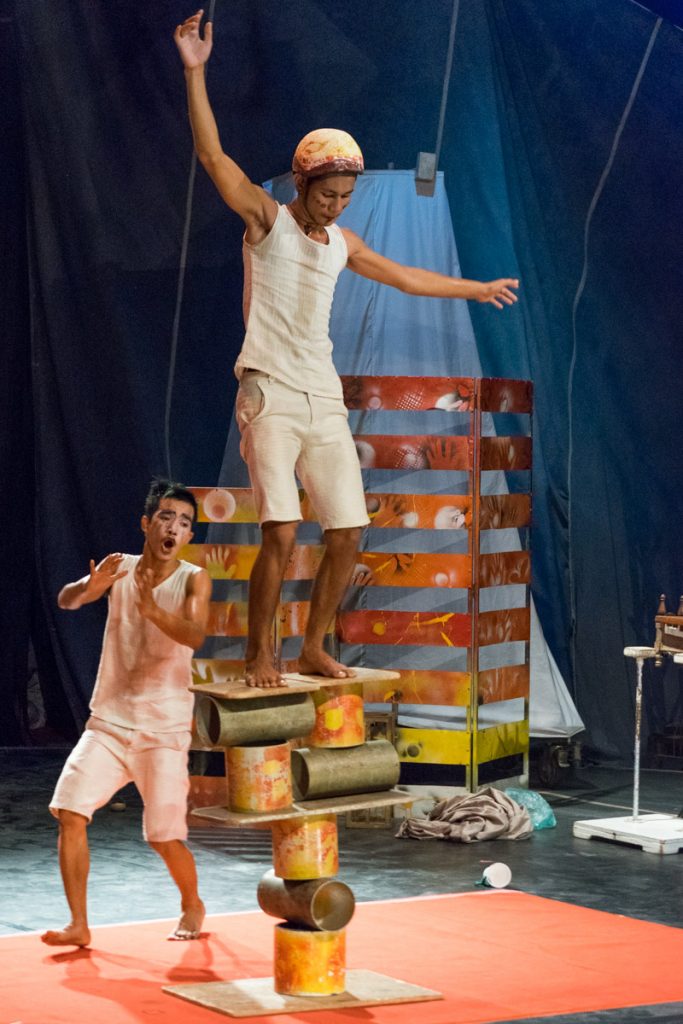 Another attraction of the area is the Bamboo Train. Cambodia doesn't have (yet) any passenger rail lines, so this is as close as you can get to riding one at the moment. It follows a 7 km stretch of tracks, but instead of riding in a regular train car, you ride on a small wooden platform with two sets of wheels underneath. Powered by a small engine, it's big enough to only fit about four people. The round trip costs 5 USD per person, which is expensive for the country.
You'll only see tourists here. The train leaves right away after you pay. I expected a very slow train, but it was actually pretty fast. The bumpy ride goes through nice countryside. We arrived at the other end at the village of O Sra Lav after about 15 minutes. There's a few huts there and everybody is trying to sell you things, from drinks to meals to souvenirs to bracelets. After about 20 minutes there, we made our way back. Halfway through the trip, we saw a train coming from the opposite direction. Since there's only a single track, one of the trains have to be disassembled and taken off the track to let the other train to go through. The drivers help each other, and do it fast and with ease.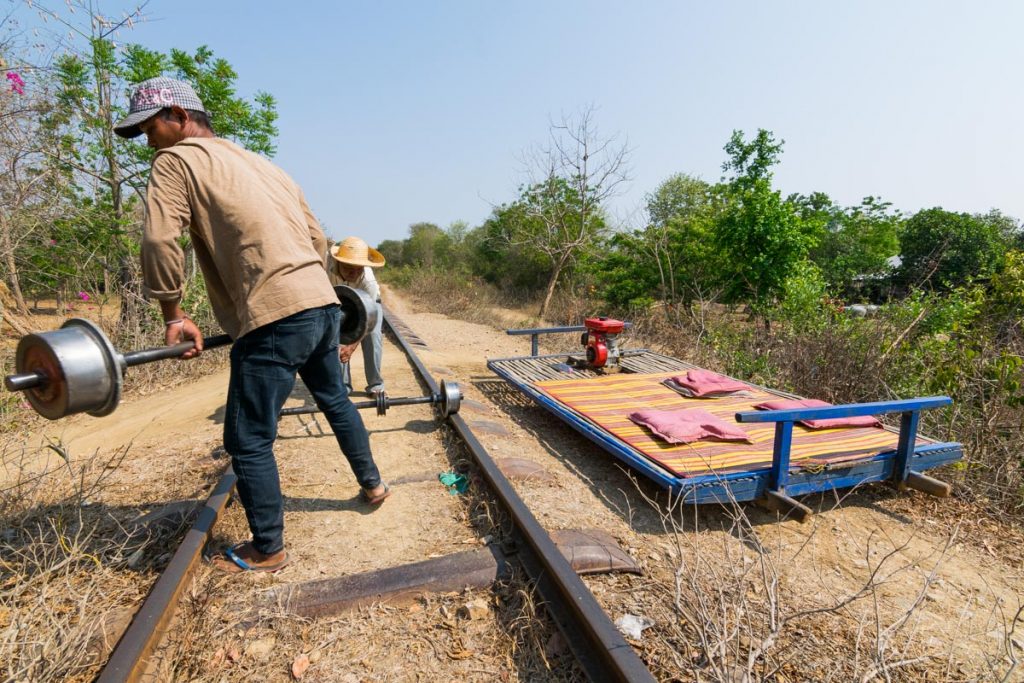 When we arrived at the starting point, an old man came to us to reminds us to tip the driver. It's a fun ride and an interesting thing to do, but the whole thing feels like a huge tourist trap: from the government official who was present there when we paid (I'm sure they take a cut), to the stop at the other end designed to make you spend money, to the request for a tip at the end.
The last place we visited in Battambang was Phnom Sampeau. Three things are of interest here: the bat caves, the Wat Banan temple, and the killing caves. We arrived by tuk tuk and walked up the hill to the killing caves under scorching 38-degree weather. The Khmer Rouge used this place to execute people and throw them down a deep skylight.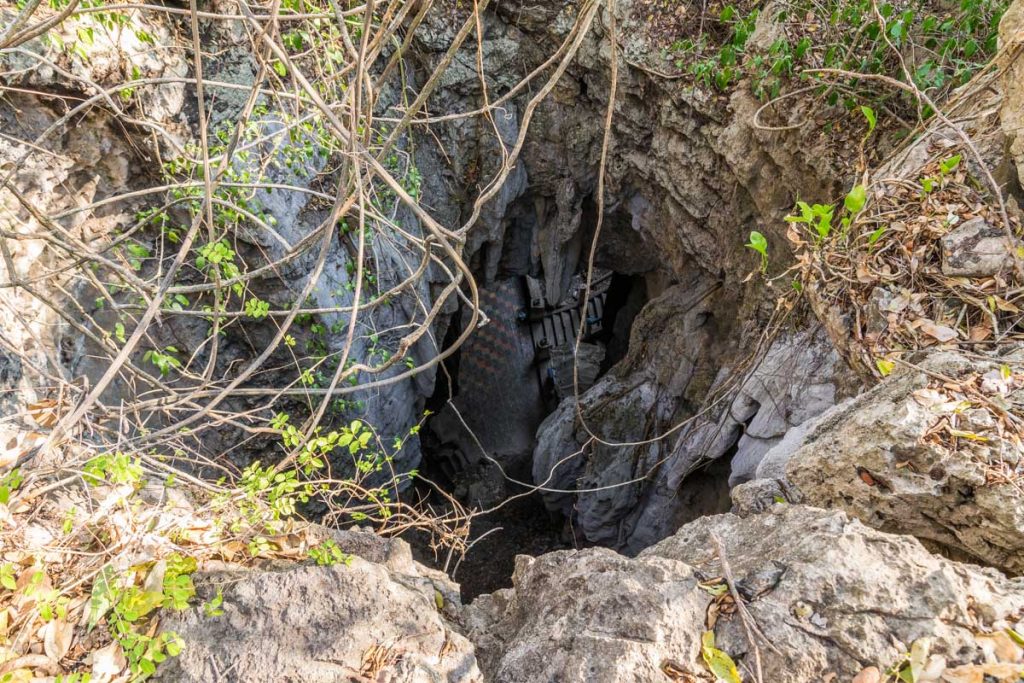 The bottom of the skylight can be reached by walking down some stairs. It's an eerie site. Next to a lying Buddha is a memorial with human bones inside. Nearby is another cage with bones inside. It's a depressing place, especially knowing that for many victims the dry red hills and trees surrounding the site were the last things they saw before their deaths.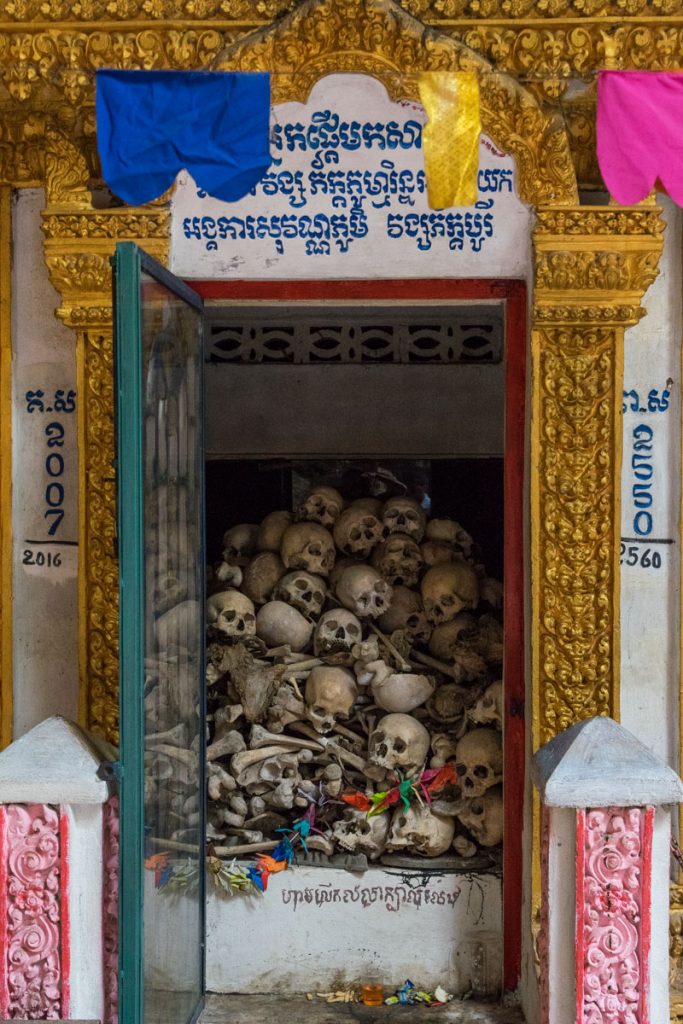 We decided to not hike all the way up the mountain for Wat Banan since the heat was just too much. The last stop for the day was the nearby bat caves. Every day at sunset, thousands bats come out of this big cave to go feed at a nearby forest. I read in the guidebook that there are so many of them that the sky darkens. While dozens if not hundreds of bats came out of the cave every second, this was another case of the guidebooks exaggerating a bit too much.
This was our last full day in Battambang, and Cambodia as well. It was a pleasant experience, and I found the people to be friendly. Nicknamed "Scambodia" by some, Cambodia has a sort of bad reputation among tourists. But I didn't find it any more "scammy" than any of the other countries I have visited.
The following day we took a minibus back to the Poi Pet border with Thailand, which we crossed by foot. Once on the other side, we took the train from Aranyaprathet to Bangkok.