As training for the John Muir Trail, I have done the Manker Flats to Mount Baldy (San Antonio) hike 2 and 1/2 times in the last 3 weeks. This is Hike #93 from the book Trails of the Angeles: 100 Hikes in the San Gabriels
The elevation gain is about 4000′, going from about 6000′ to 10064′ feet at the summit. All 3 times I descended the same way I went up for a total distance of 9 miles. I was told by a fellow hiker on the trail that coming down through Devil's Backbone is much more scenic than going down the same way, but it does add about 2.5 extra miles to the hike.
This is a challenging summit and trail runners or hiking shoes/boots with good traction should be worn due to the rocks and gravel on the trail. The Ski Hut at 8200′ serves as a nice spot to take a break and eat a snack at the benches and picnic tables. I encountered only 2 places to get water on the whole trail (both close to Ski Hut), so make sure you bring plenty (I brought 3 liters). The views from the summit are beautiful. Allow yourself enough time to enjoy it.
My backpack weight for all 3 hikes were about 11.5 lbs, including the 3L of water.
Attempt #1 – 7/11/09 – I started late at 3pm. Stopped about 1 mile from the summit, turned around and came back because I didn't want to hike in the dark. I could have probably made it all the way before sunset, but at the time I really didn't know how much farther was the summit.
Attempt #2 – 7/17/09 – Trail head to summit in 2h35m. Summit back to trail head in 1h45m. I tried to really push it and at one point I measured my pulse at 200 beats per minute, which I didn't think was possible.
Attempt #3 – 7/24/09 – Trail head to summit in 2h35m. Summit back to trail head in 1h48m. Woke up feeling sluggish and tired. The first 2 miles were brutal but then I found my rhythm. I tried to improve my previous time but wasn't able to.
I treated these hikes as workouts so I didn't bring my digital camera. I only snapped one picture of the plaque at the summit with my cell phone.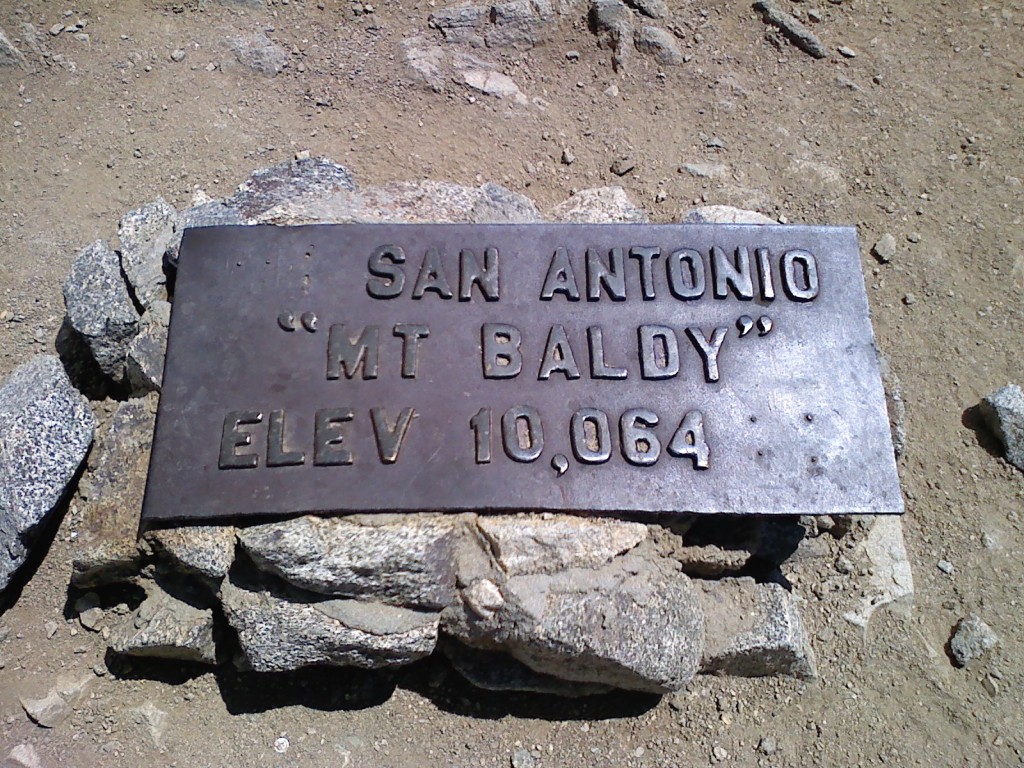 More info on this hike:
Dan's Hiking Pages – Look for the "Baldy Bowl Trail (Ski Hut Trail)" hike on that page. Has good info and a picture of the hard to spot junction of the Ski Hut Trail.
everytrail.com – Topo map and downloads available for Google Earth .kml file and GPS data. This is for the loop hike going up through Ski Hut Trail and going down Devil's Backbone.