Journal entry for August 23, 2009
Approximate distance hiked: 7.0 miles, 11.3 km
Rain was still falling at 6:30am. The winds were strong all night, waking me up a few times as the tent's rain fly flapped against the inner wall. I should have used the tent guy lines. The rain wasn't hard but it was steady.
One of the sacrifices I had to make for having a lightweight backpack was to go without rain gear, the only exception being my jacket. I didn't have waterproof pants or shoes. This meant that I couldn't really afford to hike in the rain for extended periods of time and have my lower body get wet and cold. I spent hours and hours in the tent, waiting for the storm to pass. I wasn't bored at all though, but my body was feeling a little restless. By 10:30am I was starting to get really hungry. The bear canister was about 50 feet from the tent and seeing that the storm gave no indications of slowing down, I made a run for it. I devoured the trail mix and Peanut M&Ms within seconds. My excursion outside the tent left my feet freezing, and it took about 2 hours inside the sleeping bag to warm them up again.
Finally at 1:45pm it stopped raining. Except for the bear canister run, I had been inside the tent for 19 hours. I was ready to get back on the trail, even if only for a few hours. It took a while to dry the tent, and I started to wonder if it was worth it at all to wait for the gear to dry before packing. Even when there's no rain, it usually takes about 1 hour every morning for the dew to dry. Outside the tent there was still a lot of fog, but as it always happens after raining, all the colors became more vivid.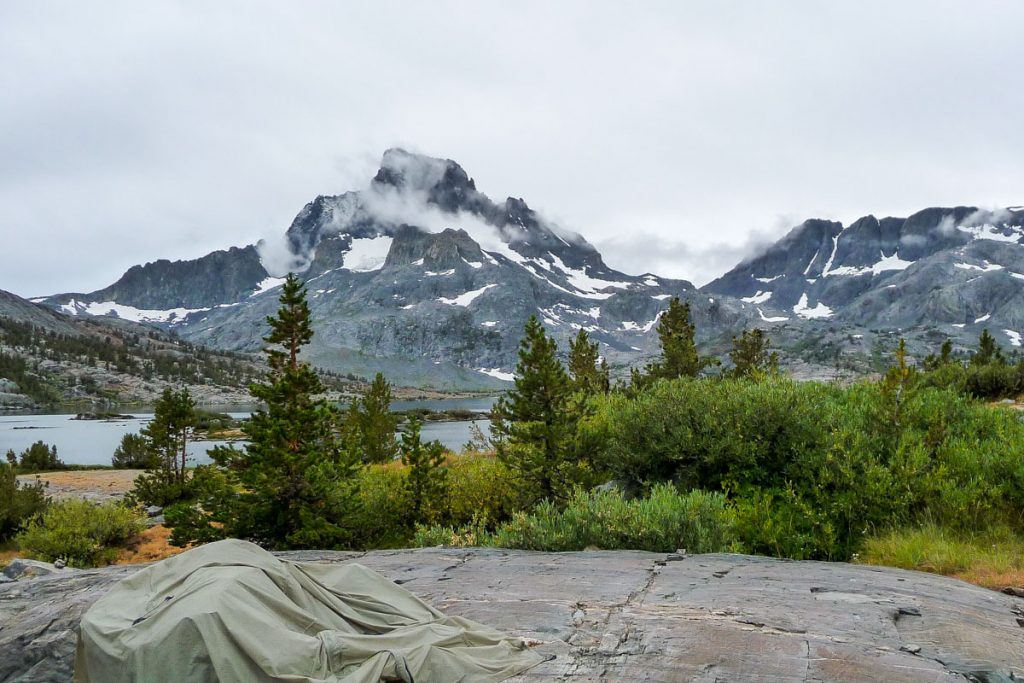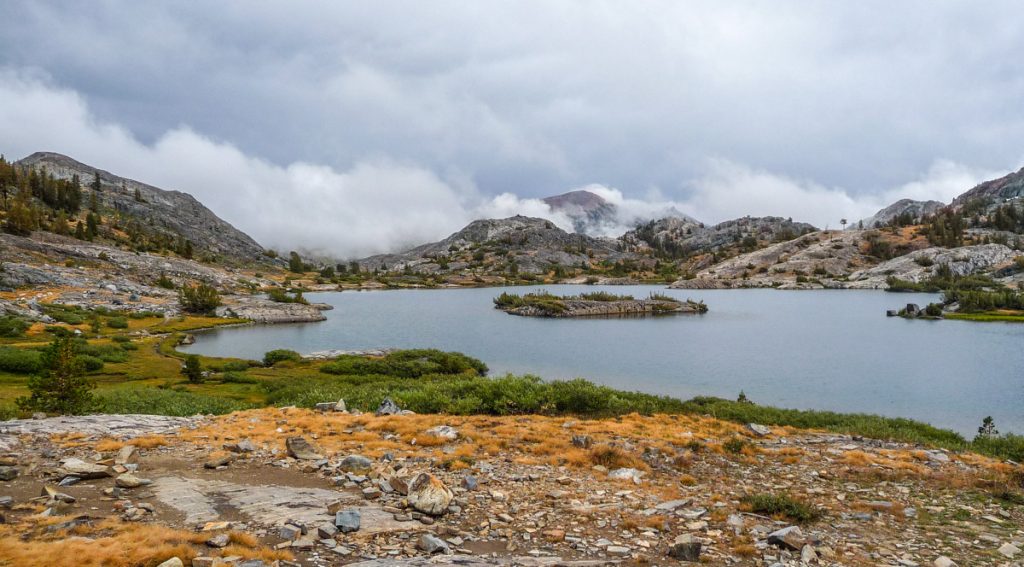 I left Thousand Island Lake and was back on the trail by 3:30. With only about 4 hours of sunlight left, the plan was to make it to Rosalie Lake, about 7 miles away. It was great to hike after the rain. The ground was softer, the weather not as hot, and there was no dust at all. I was felling great.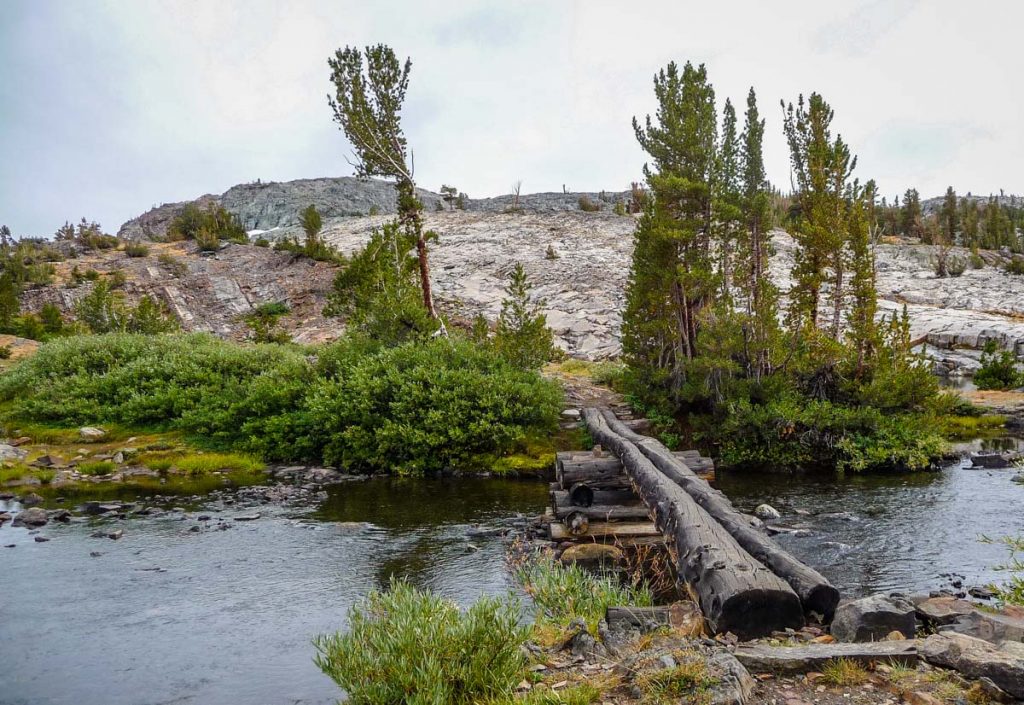 I arrived at Garnet Lake shortly after. Absolutely beautiful. It is very similar to Thousand Island Lake with little islands in the middle. I stopped for 10 minutes to take it all in and eat a quick snack.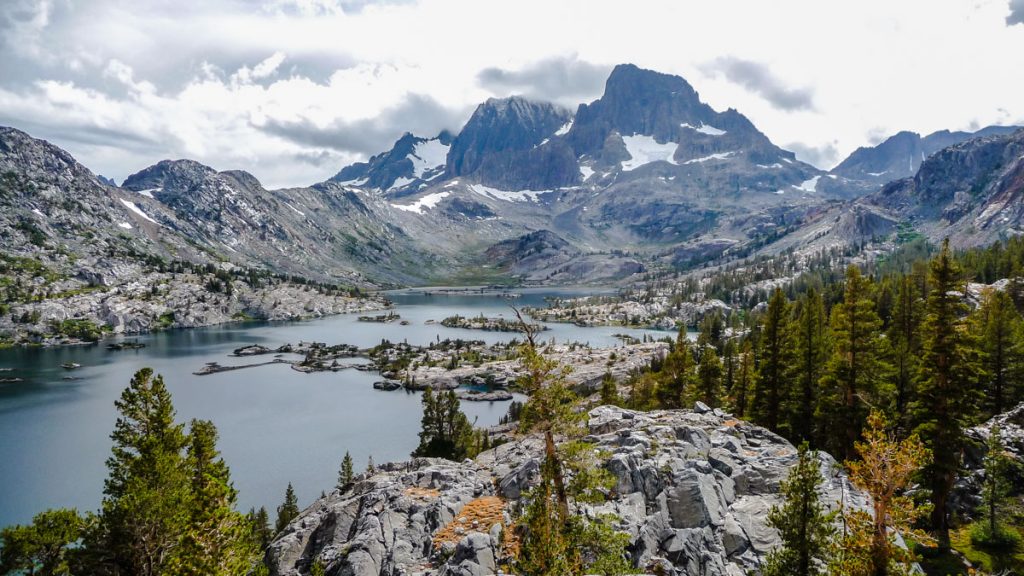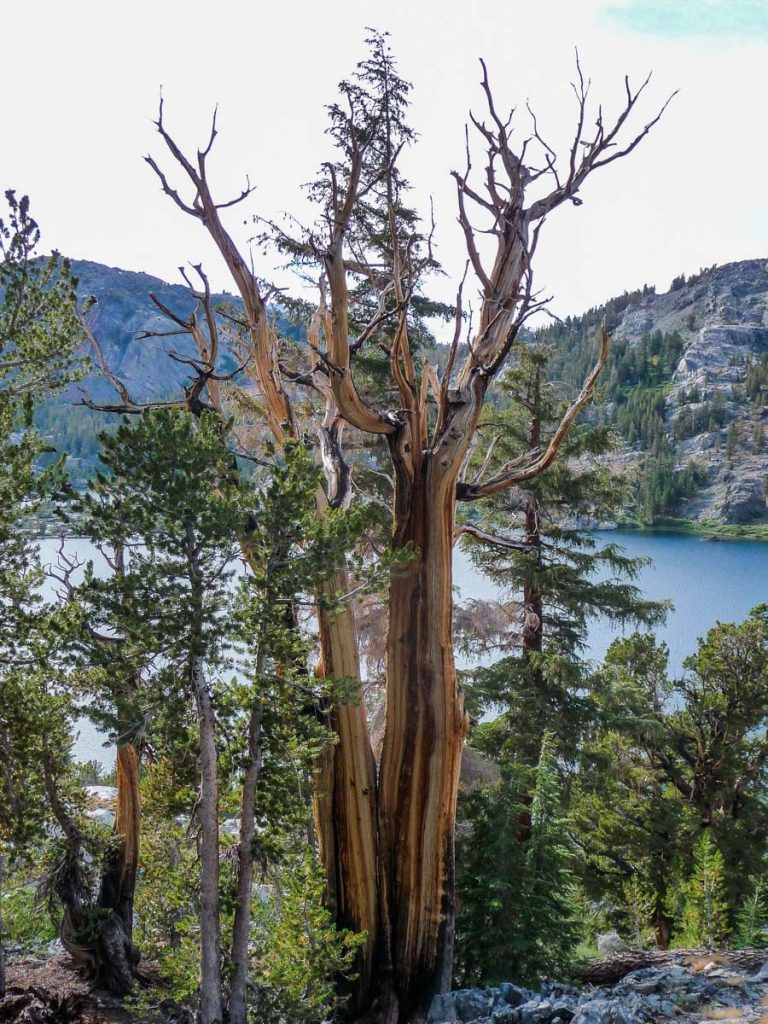 Back on the trail, the hike was very enjoyable, with a good number of short ascents and descents. I only saw 4 other hikers all day. Shadow Creek was impressive with it's raging waters.
Arrived at Shadow Lake at 6:30pm. It had a very quiet and peaceful vibe, along with a stunning reflection. Too bad I was in a hurry and couldn't spend all the time I wanted on this spot.
There is a good number of switchbacks going up right after Shadow Lake, but I was feeling great physically and kept a fast and steady pace. I got to Rosalie Lake at 7:10pm. I had done 7 miles in 3 hours 40 minutes. Not bad.
It was starting to get dark so I hurried to filter some water, set up the tent, and eat a quick dinner. Dinner was some bacon bits with cheese wrapped in a tortilla. I also had some beef jerky and dried fruit. I basically just grabbed whatever was the easiest and fastest to eat. Finding a place to hide the bear canister proved to be a little bit of the challenge since there were almost no flat spots around the campsite. I was afraid that a bear would start playing with the canister and it would roll all the way down to the lake. I put it in the best spot I could find and hoped for the best.