Journal entry for September 4, 2009
Approximate distance hiked: 14.0 miles, 22.5 km
It took me 2 and 1/2 hours since the moment I got up to when I hit the trail after 10am. I was on vacation, so I wanted to sleep well and not feel always rushed.
As soon as I started hiking, I heard a horse pack coming up behind me. It was a group of hikers on a guided tour doing the second half of the JMT. I picked up my pace right away, not because I was trying to avoid the hikers, but because I didn't want to walk on a trail full of fresh horse crap.
Physically, I was feeling great. The blister wasn't bothering me anymore, the switchbacks felt pretty easy to climb, and I almost didn't notice the weight of my backpack. The weather wasn't looking too good however, with lots of dark clouds in the sky. I went to visit the Bench Lake Ranger Station but couldn't find the ranger for some weather info.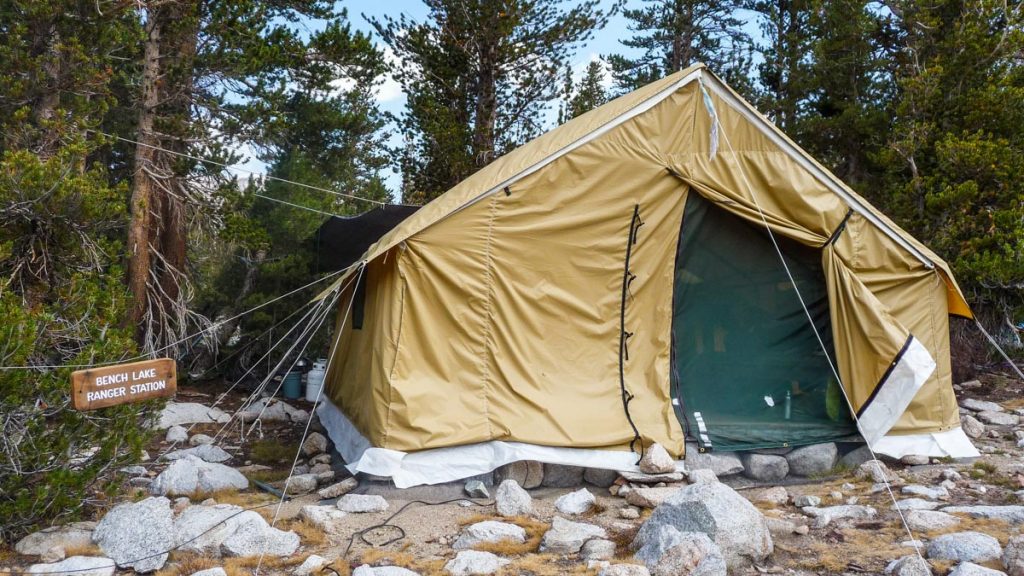 I saw the friendly ranger 5 minutes after getting back on the trail. He told me that a storm was expected for the afternoon and through the weekend. I started to hike faster, trying to go over Pinchot Pass before the rain.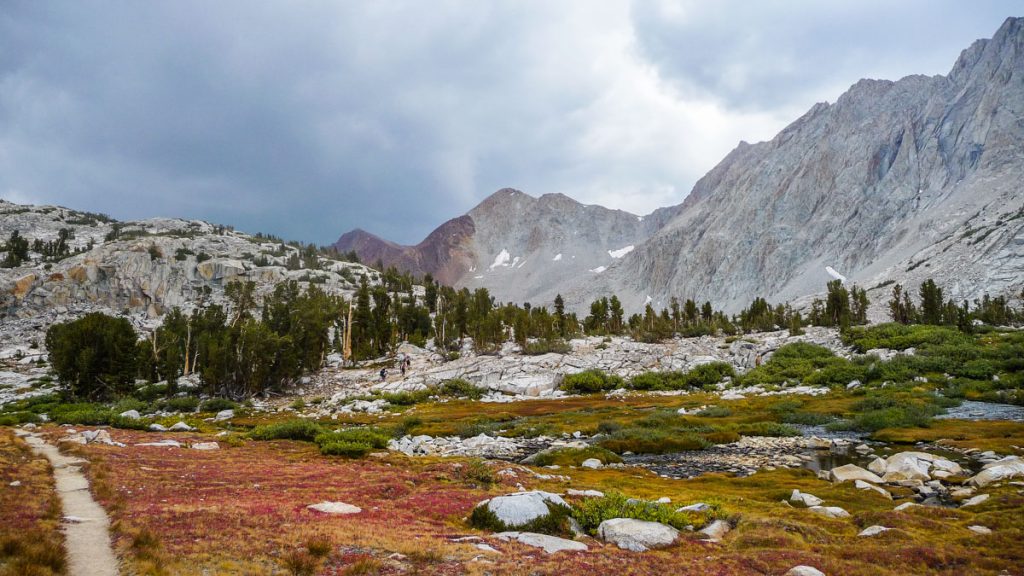 About 1/2 a mile before the pass, it started to rain. As I stopped to put on my rain jacket, I heard lightning and saw a thunder hit the top of the pass. I made a U-turn right away. I run into the guided tour group as they were marching on despite the storm. The guy who cared for the horses in the group asked me if I was turning around, I said yes and he told me that that was the smart thing to do. I asked him if he wasn't afraid and his reply was "No choice".
Suddenly rain turned into hail. I run around looking for a spot to set up my tent. I couldn't afford to get my clothes wet. I found a semi adequate spot and waited the storm out in the tent, which lasted only about 30 minutes, while eating lunch. I started to realize that I didn't plan enough sweet food in my diet. I was constantly craving for it.
I initiated my second attempt for Pinchot Pass (12,050 ft, 3673 m). As soon as I start hiking, it started to rain again, although lightly. I also heard thunder again, but it was from far away. I decided to suck it up and keep going. The climb was easy. Once on top, I took a quick video and got the hell out of there.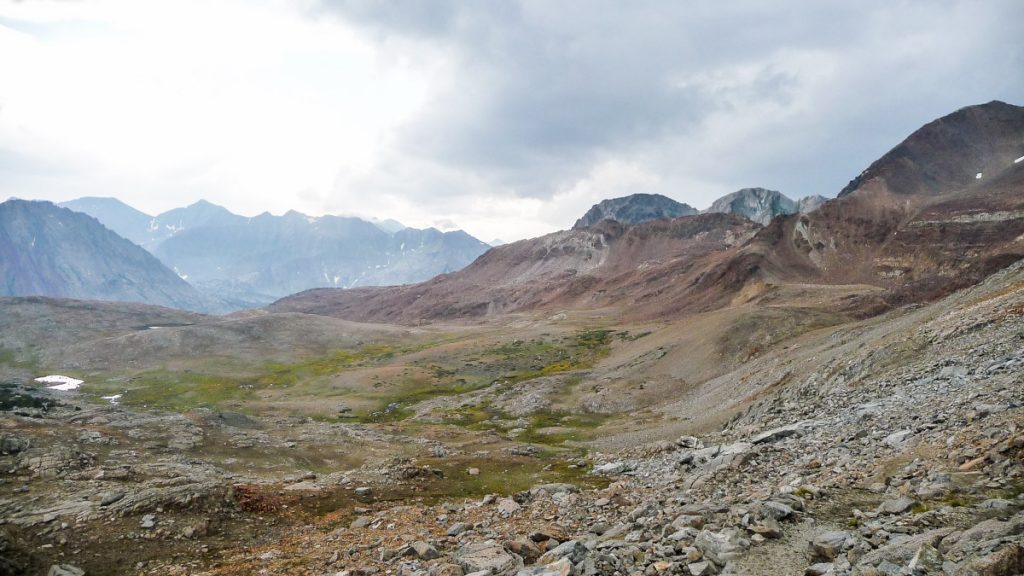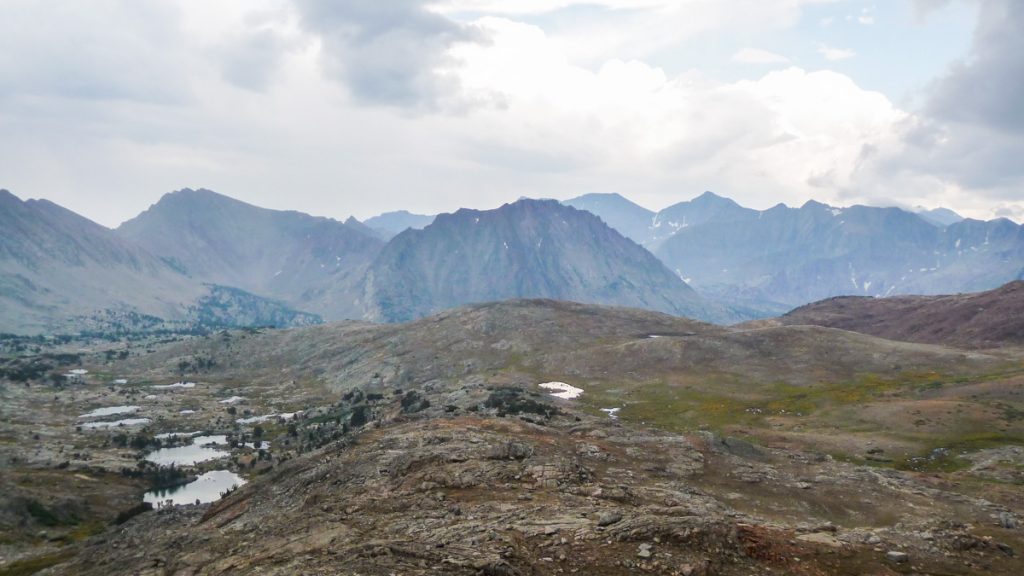 The 3.7 miles from Pinchot Pass to Sawmill Pass Junction was very enjoyable. It never stopped raining but it was never hard enough to damp my pants. I really liked hiking without the usual punishing sun. I did this section in no time and caught up to the horse pack.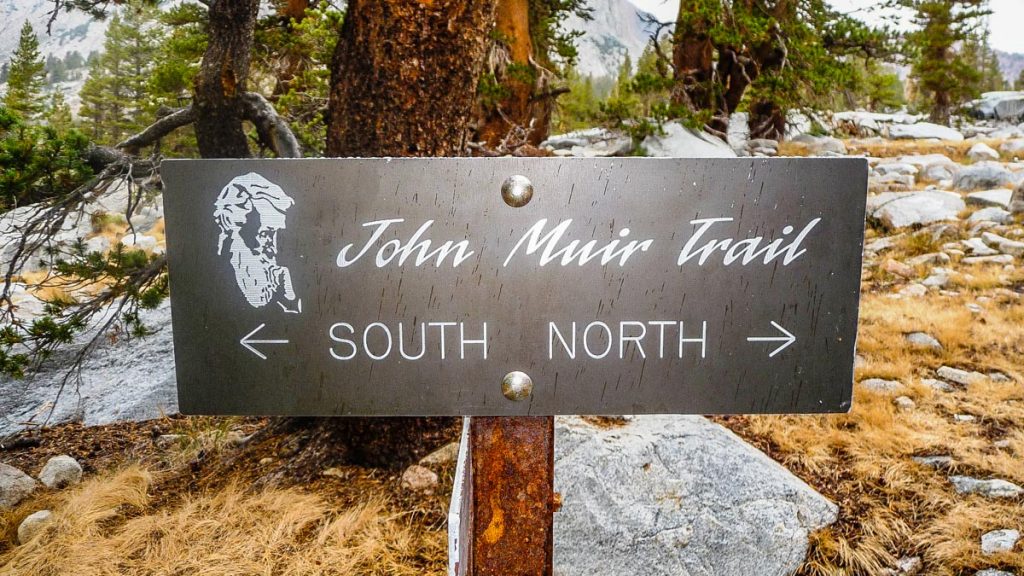 The terrain got tougher after the junction so I had to slow down a bit. The trail runs right next to Woods Creek for 3.5 miles before arriving at Woods Creek Junction, where I was going to end the day.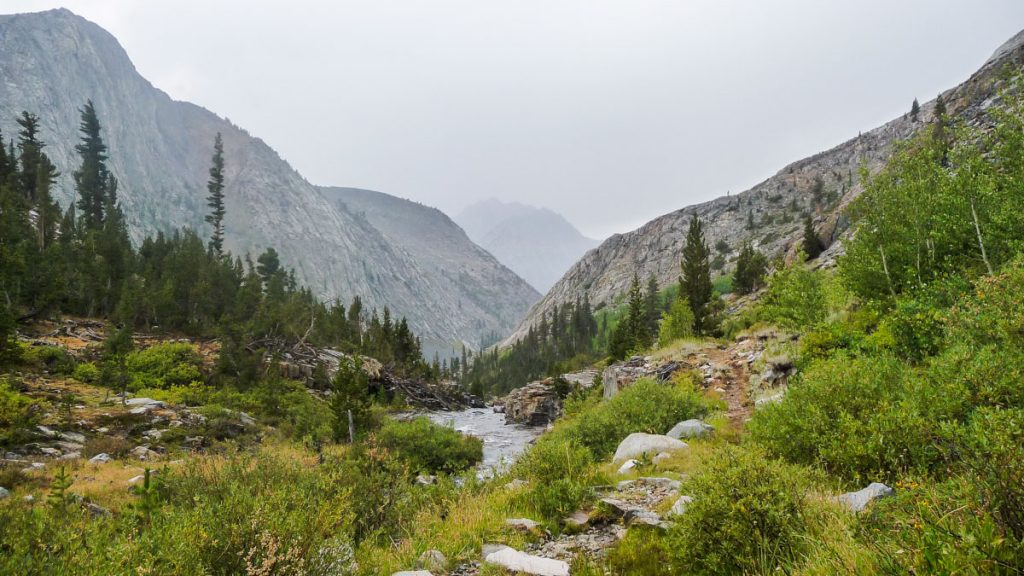 There was an note by one of the sings right before the junction, saying that there was a toilet available close by and urging hikers to use it instead of burying their waste.
There's a very cool suspension bridge to cross the actual creek. I had seen a video of the bridge before the trip and was really looking forward to cross it. It was a lot of fun.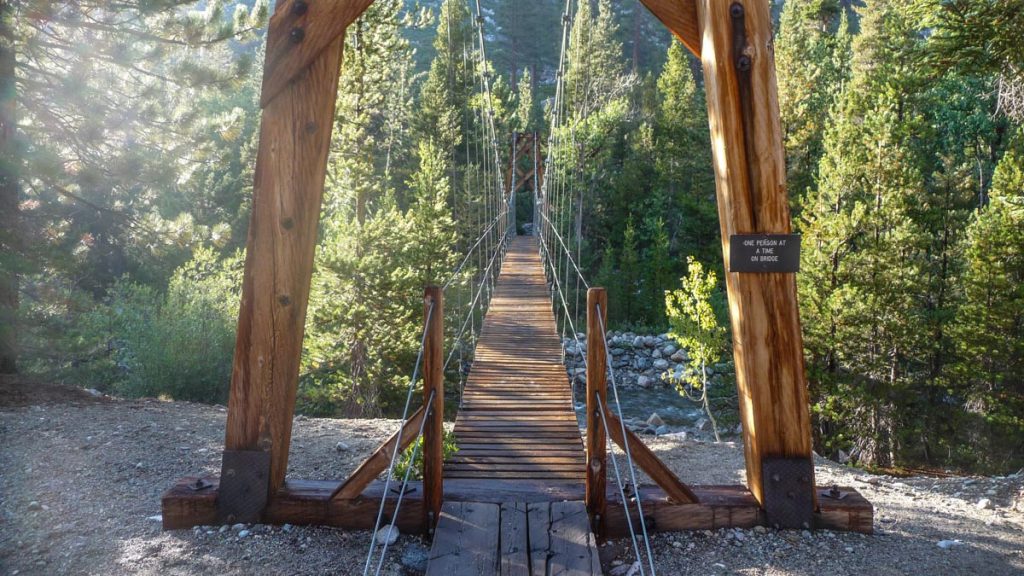 It waited 15 minutes to take the video of the bridge since there was someone cleaning up on the other end of it and I didn't want him to be in the video. There were a few campsites right by the bridge. I picked one right before the horse pack arrived. The same guy who cared for the horses I had talk to earlier told me that they were gonna set up nearby, and that if I wanted a little more piece and quiet, I could camp on the a few spots about 30 yards away. I followed his advice. One by one, the ten or so hikers in that group arrived at the site. It was quickly getting dark so I ate dinner and did my chores in a hurry.