Expenses
(All the numbers in this post are in US dollars)
| | Days | Total | Per Day | Notes |
| --- | --- | --- | --- | --- |
| Peru | 18 | $1,003 | $56 | |
| Bolivia | 10 | $657 | $66 | Includes $135 visa. |
| Argentina | 74 | $2,173 | $30 | Mostly didn't pay for accomodation. [2] |
| Brazil | 61 | $4,275 | $70 | Includes $160 visa. Excludes Word Cup ticket. |
| Uruguay | 3 | $163 | $54 | |
| Venezuela | 18 | $807 | $45 | |
| Colombia | 52 | $3,763 | $72 | Stayed in Airbnb apartments. [3] |
| Chile | 14 | $1,015 | $73 | |
| Flights | | $1,109 | | Buenos Aires → Rio, Buenos Aires → Salvador, Medellin → Santiago |
| South America Totals | 250 | $14,965 | $60 | |
[2] I stayed most of the time with friends and relatives while in Argentina. I also didn't sightsee that much when taking into account that I was there for almost 2.5 months.
[3] I stayed over a month in Medellin, Colombia, and almost exclusively in Airbnb apartments, for around 50-60 USD/night.
I only include the flights from one South American country to another. Domestic flights (if any) are included in the totals for each country.
Short trips to a country usually means higher than normal costs per day. This is because you tend to move faster (more transportation costs) and pack more activities in each day. An example of this is Bolivia. It is a cheap country in general, but tours and visa costs drove up the average over such a short period of time.
My Traveling Style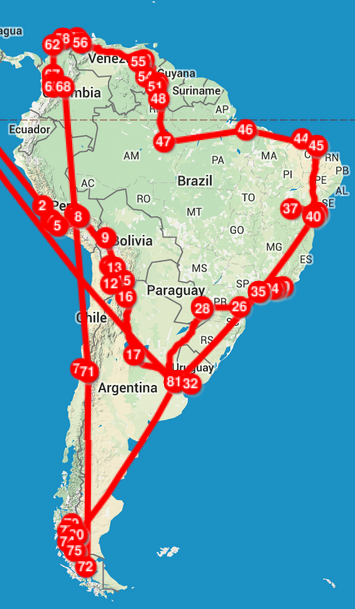 I backpacked and stayed in hostels, but occasionally got tired of them and stayed in private rooms/apartments for a while. While staying in hostels, I tend to pick rooms with fewer beds (4 to 6). I also usually pick one of the best reviewed hostels in the area, instead of one of the cheapest ones.
I'm not very particular about food, but I also rarely cooked while in South America. I tended to eat outside, but usually not in expensive places. When it comes to attractions though, I don't skimp. If there's something I want to do, I'll pay for it unless it's clearly a ripoff.
I don't drink alcohol every night. I might have a beer with my meal, but I'll drink more as a social thing when I meet other people.
I always bought sim cards and internet data for my phone in each country. For better or worse, I do consider the phone an important tool for traveling, especially the map app to help me navigate around cities.
How I Kept Track of Costs
I use the Google Keep app on my phone to keep track of each expense. I prefer this app because you can use even when you don't have wi-fi or data connection. Instead of using it after each time I spend money, I would record it only once a day or every other day. Once in a while I will not remember the exact amount of a particular expense that happened two days before, so I would just use the best estimate I could come up with.
Every 2 or 3 weeks I would migrate those numbers to my online Google Sheets spreadsheet. I create a tab for each country, and create a running total for each day in that country. I then convert everything to US dollar. A separate tab has a running total for all countries combined.
My Impressions of Each Country
| | Hostels | Food | Attractions | Transportation |
| --- | --- | --- | --- | --- |
| Peru | Cheap | Cheap | Moderate | Moderate |
| Bolivia | Cheap | Very Cheap | Cheap | Cheap |
| Argentina | Moderate | Moderate | Moderate | Moderate |
| Brazil | Expensive | Expensve | Expensive | Expensive |
| Uruguay | Cheap | Moderate | Moderate | Cheap |
| Venezuela | Very Cheap | Very Cheap | Cheap | Very Cheap |
| Colombia | Moderate | Moderate | Moderate | Cheap |
| Chile | Moderate | Moderate | Moderate | Moderate |
The costs in Argentina and Venezuela are using the black market's exchange rates.
These numbers were for the second half of 2014. Since then, many South American currencies have lost a lot of value to the US Dollar. For example, when I was in Brazil 1 USD was worth around 2.20 Reals, but as of today 1 USD is equal to 3.36 Reals. I don't know how much prices have gone up, but I bet everything is cheaper now than a year ago in relation to the dollar.
Hostels
A dorm bed in a 4-bed to 6-bed dorm.
Very Cheap: less than $7, Cheap: $7-10, Moderate: $10-15, Expensive: > $15
Food
A meal at a decent and cheap place.
Very Cheap: less than $5, Cheap: around $5, Moderate: $6-7, Expensive: more than $8
Attractions
Costs of tours and entrance fees.
Transportation
Local and long distance buses and trains.
Final Thoughts
South America is still cheap to travel compared to Western Europe, North America, or Oceania, but it's not like can just bum around for $20/day. I would say that $40-50/day is possible while still having fun and doing things by limiting your time in the more expensive countries like Chile or Brazil.
While I was saving for this round the world trip, my estimate budget was for an average of $60 per day. And that's exactly what I ended up spending after 250 days. I didn't however think about that number often, as I didn't make daily decisions based on it. I would rather have a shorter but more rewarding trip, if that meant a higher daily average. Having said that, it was nice that everything was going according to plan after the first leg of this long trip.